Help us tell the story of Canterbury 1914-1918
Canterbury 100 is a collaborative project, co-ordinated by the region's major cultural and heritage institutions including the South Canterbury Museum, telling the story and experiences of Canterbury people during the First World War.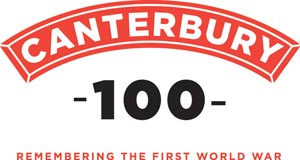 On Sunday 12 October 2014, a free community event was held at the Air Force Museum of New Zealand, where members of the public brought along personal stories and artefacts relating to Cantabrians during World War I; specifically in the period leading up to the Gallipoli campaign of 1915. Staff from each of the supporting institutions was on hand to document the material, as well as provide expertise in family history research and object identification and interpretation.
The stories and artefacts contributed by the public will provide the content for a community-based exhibition, opening in April 2015, which will tell the story of "Canterbury's Road to Gallipoli" (title to be confirmed). The exhibition will then be adapted to a more localised format for touring around communities throughout Canterbury.
It is intended that this will be repeated in the period leading up to the Centenary of the Battle of Passchendaele in 2017, and again to mark the Armistice and Peace celebrations in 2018. At the conclusion of the WWI Centenary commemorations, the stories will be archived to serve as a permanent memorial to the people of Canterbury who experienced the First World War.
Do you have a story to contribute?
We are looking for personal stories, photographs, diaries and papers, and artefacts relating to Cantabrians in World War One, from soldiers and nurses on the front line to the men, women and children who remained on the "Home Front" in New Zealand.
To tell us your story, or for more information about how you can get involved, please email canterbury100@airforcemuseum.co.nz or visit the Canterbury 100 project site to engage with other Canterbury-related WW1 stories.
Organisations supporting Canterbury 100:
Air Force Museum of New Zealand