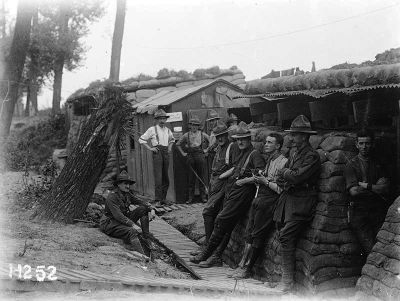 Pictured: New Zealanders at a fortified camp near Ypres, 19 September 1917.
[Alexander Turnbull Library 1/4-009490-G]
While the huge battles were the most visible aspect of the Western Front behind the clashes was an enormous war machine that was needed to continue the fighting. Troops had to be readied for war, transported, fed, supplied, cared for if wounded or sick, and properly laid to rest if killed. Without all this support and organization behind the lines the Allies war effort would have been quickly defeated.
Training and Organisation
The majority of New Zealanders served either in infantry or artillery units. South Canterbury men mostly served in the Canterbury Regiment. Some were also in the rifle brigade or other units such as the Medical Corps and the Maori Pioneer Battalion. Regional battalions drew recruits from their geographical area until September 1917, after which recruits could be posted to any unit.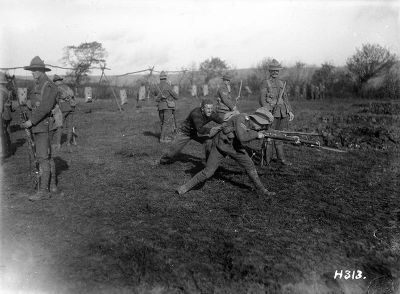 Pictured: An instructor teaches bayonet technique in France, 31 October 1917.
[Alexander Turnbull Library 1/2-012954-G]
Basic training was completed in New Zealand and then recruits were sent to England for advanced training. The final stop before the frontline was the infamous Etaples Camp in France where the instructors were known for their tough methods.
After an initial rush of enrolment in the forces volunteer numbers no longer filled the required number of reinforcements. To solve the shortage in 1916 the Government passed the Military Service Act which could force men to join up. Some refused for political or philosophical reasons and were labelled 'conscientious objectors'. These men were arrested and a small group were sent to the Western Front where they were treated brutally as an example to others. Conscription supplied just over quarter of the men who served in the New Zealand forces.
A New Type of War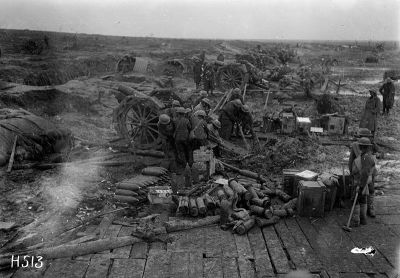 Pictured: New Zealand howitzers in action, 13 April 1918.
[Alexander Turnbull Library 1/2-013131-G]
In World War I new weapons changed the way war was fought. Modern rifles, machine guns and quick firing field artillery meant defending positions was far easier than attacking them. Huge casualties were suffered as commanders struggled to find ways to break enemy defences. To find shelter from the modern weapons soldiers were forced to dig trenches. Complex trench systems developed along with barbed wire obstacles. The space between opposing front lines was a lethal strip of ground given the name 'No Man's Land'.
Artillery was the Western Front's most lethal weapon causing 60% of all casualties. The New Zealand Division had field artillery batteries which were positioned behind the trench lines. They were far enough away from the frontline to avoid bullets but were in constant danger from German artillery. Artillery wiped out the landscape, reducing towns to ruins and churning fields into mud.
Trench Routine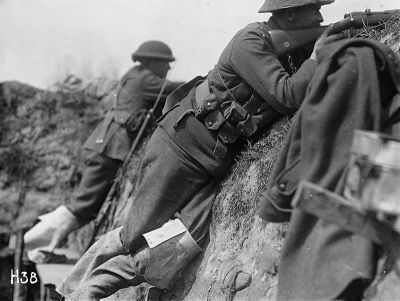 Pictured: New Zealand troops keep guard in a trench in the Messines sector, May 1917.
[Alexander Turnbull Library 1/4-009460-G]
Life was rough for infantry soldiers in the trenches. How rough it was depended on the weather and the season, and how well the trench was constructed.
When not in a major battle infantry worked on a rotation, generally spending eight days each in the frontline, in support trenches and then in reserve.
While in the trenches the soldiers worked to a routine undertaking sentry duty, equipment inspections, and similar tasks. The men had to endure rats, lice and the constant foul smell of the battlefield. Soldiers normally slept during the day since there were jobs to do at night, such as the dangerous mission of repairing barbed wire defences.
Food was brought up to the frontline during the night but sometimes it was stopped by enemy artillery and the men went hungry.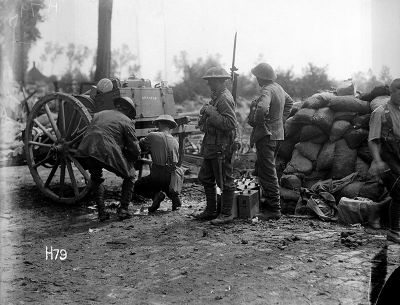 Pictured: Kiwi soldiers fill water bottles, 1917.
[Alexander Turnbull Library 1/2-012790-G]
Out of the Line
Life at war did not mean being in the trenches permanently for the soldiers. Their time was organised on a regular rotation system that meant time behind the front as well as in the trenches.
When rotated out of the front Kiwi soldiers lived in military camps or billets. After time roughing it in the trenches the soldiers welcomed a chance to relax and get clean. However, they were still kept very busy with work parties and training.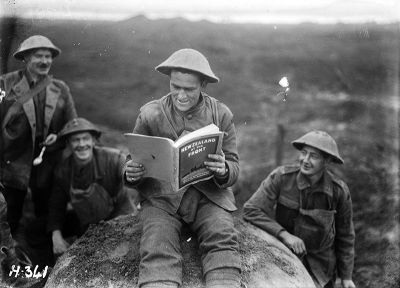 Pictured: A soldier takes a moment to read 'New Zealand at the Front', 20 November 1917.
[Alexander Turnbull Library 1/2-012978-G]
Wherever soldiers were stationed behind the lines local people started up cafes where the men could relax and socialise. The Young Men's Christian Organisation and the Salvation Army also provided recreation facilities and basic goods.
Occasionally soldiers were given leave of several days which gave them a chance to travel to England or Paris. The availability of prostitutes and the hopeful policy of thinking the soldiers should simply avoid them for moral reasons meant many men caught venereal disease.
Thanks to the campaigning of New Zealand's Ettie Rout the army finally started issuing condoms for soldiers on leave and the rate of venereal disease dropped.
Kiwi Women at War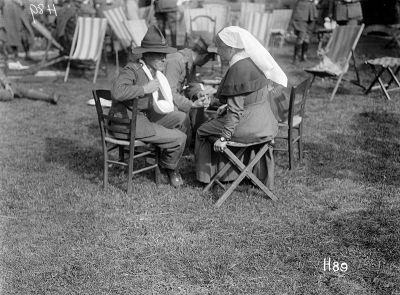 Pictured: A nurse talks to a wounded soldier during a New Zealand hospital garden party, 24 June 1917.
[Alexander Turnbull Library 1/2-012800-G]
The main way New Zealand women served on the Western Front was in the NZ Army Nursing Service. Some 500 Kiwi women worked as nurses during the war in military hospitals and hospital ships. While not on the frontline they were still in harm's way from artillery or aircraft. In 1915 the troop transport Marquette was sunk by a German submarine and 10 New Zealand nurses lost their lives, including three from Waimate.
---
Explore SCRoll - South Cantabrians who served:
Caring for the Wounded
New Zealanders wounded on the Western Front were looked after by a well organised medical system.
An efficient medical system was essential to handle the huge number of casualties and their terrible wounds. Artillery caused dreadful injuries from the blast and flying metal fragments. Bullets caused severe puncture wounds while gas burned its victims. The war was before the use of antibiotics so infection was a constant risk. Often the only treatment was to amputate the infected area.
On the battlefield wounded soldiers would get primary treatment at a Regimental Aid Post. Field Ambulance troops then took the wounded a few hundred metres behind the frontline to an Advanced Dressing Station which processed and evacuated men as quickly as possible. Here fatally wounded were made as comfortable as possible as they died.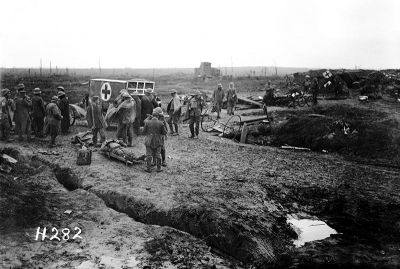 Pictured: An Advanced Dress Station behind the lines near Passchendaele, October 1917.
[Alexander Turnbull Library 1/2-012928-G]
Casualties moved along the chain to a Main Dressing Station and then to a Casualty Clearing Station where they got more serious attention. A Casualty Clearing Station was normally 10-20 kilometres behind the lines and might be home for a solider for several weeks. Most Kiwis ended up in New Zealand hospitals in England before spending time in convalescent hospitals prior to re-joining their unit. Those considered unfit were sent home to New Zealand.
The terrible strain of battle sometimes saw men suffer psychological conditions, such as loss of physical control. At the time this was known as Shell Shock, but is now called Post-Traumatic Stress Disorder. Most men suffering from this returned to their unit after treatment but some returned home to be cared for in New Zealand hospitals.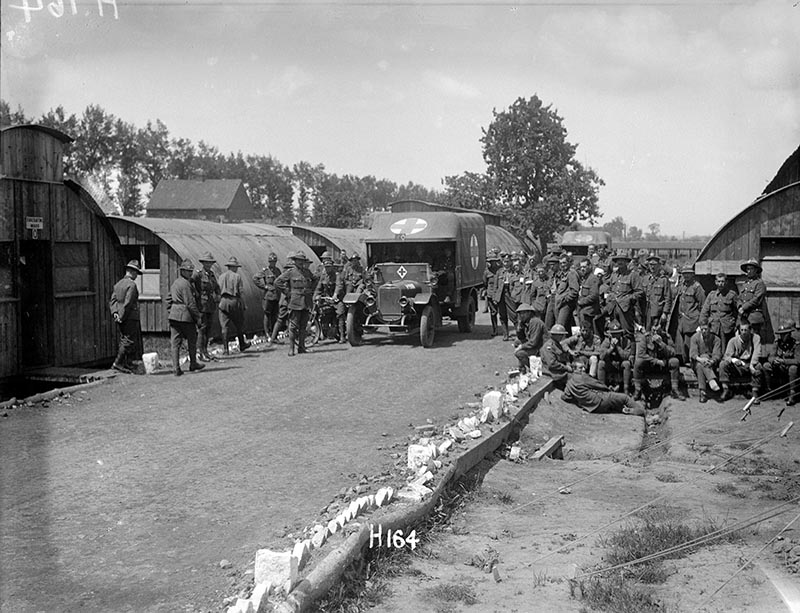 Pictured: One of the Kiwi Field Ambulance brigades stationed on the Western Front, 23 July 1917.
[Alexander Turnbull Library 1/2-012864-G]