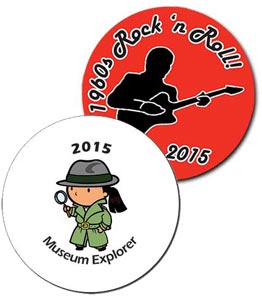 A regular or occasional Museum visitor? Join the Explorers' Club to find out more about what's happening for kids at the Museum - and collect rewards for simply for visiting the Museum or coming to special events!
All Explorers will get a lanyard, Museum Passport, and Explorers Club badge. Each time you visit get your passport stamped and have the chance to collect more badges (all totally free). Get five stamps to complete a passport and gain the next level Explorers badge or come to new exhibits, holiday programmes, or special events and get more (still all free!) Earn, swap, or trade the badges to build your collection.
All Explorers will also get sent our latest Explorers Club newsletters and information about our upcoming events for kids - including holiday programmes and special events like Museum in the Dark and more!
Check out our frequently asked questions (FAQ) or contact us to join the Museum Explorers Club for primary school-aged students - it's free!