Now On: Fishing the Bight
Explore the history of Timaru's independent fishermen who have been plying their trade in the inshore fisheries of the Canterbury Bight since the early 1900s in the South Canterbury Museum's latest exhibition 'Fishing the Bight'.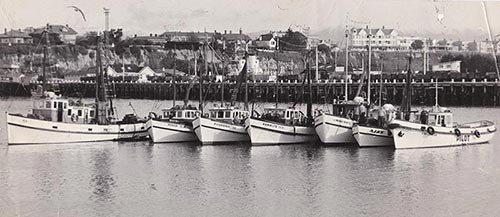 The exhibition is based on the work of local oral historians, Linda Hepburn and Ruth Low, who conducted twenty interviews of local fishermen in 2015. Their aim was to capture the stories, particularly of the old time fishermen, before they were lost.
It is a story of boom, bust and change, as individual fishermen struggled to cope with changes that potentially threatened their livelihoods. It is a story of hard-workers who woke at 3am to start their day in the waters off Timaru, fiercely competitive but willing to risk their lives to help others in times of crisis. Of fishing families, where generations worked on family owned vessels, of 'mates' and 'boys' who worked long hours, and of the owners and entrepreneurs who grasped opportunities that sometimes ended in success, but other times in failure
The exhibition seeks to introduce the public to the world of the fishermen who have worked the Bight. It acknowledges and celebrates the part they have played in the South Canterbury community.
Open from 10 June to 2 September 2017
________________________________________________
While you are here .....
For a fantastic free day out in Timaru visit the South Canterbury Museum.
Explore our two levels full of local nature, history and culture, including film presentations in our Heritage Theatre.
With loads of interactive exhibits and special programmes for children and adults, there is something for everyone to enjoy. Don't miss a great day out!
Please contact us if you would like more information on our special programmes.