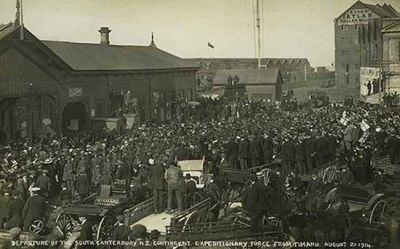 Pictured: The first contingent of South Canterbury troops leaving to fight in August 1914, only a few short weeks after the declaration of war.
[South Canterbury Museum 2010/048.01(b)]
World War I was a pivotal moment in New Zealand's history. Between 1914 and 1918 South Canterbury, along with the rest of the country, endured hardships and devastation. Rolls of honour chronicled locals killed in battle while people at home worked to support the war effort from afar.
As part of the war's centenary South Canterbury Museum staged seven different exhibitions, presented talks, hosted theatre performances, and supported numerous community remembrance efforts. Those exhibitions and activities form the basis of this online material. Explore the main campaigns, life at war, life at home, and links to stories of South Cantabrians who served in our other major commemorative project, SCRoll (South Canterbury Roll of Honour).
---
---
Middle East Campaigns
Pictured: The Main Body arrival at Port Said, December 1914.
[Album, Major David Grant, South Canterbury Museum 2014/077.01]
As the first of New Zealand's troops sailed to war the Ottoman Empire joined the war on the side of Germany. Instead of continuing to Europe they landed in Egypt and prepared to face the new threat. First the Kiwis found themselves part of the disastrous Gallipoli Campaign.
After Gallipoli New Zealand forces re-organised and the majority moved to Europe while most Mounted Rifle units stayed to fight in the Middle East. After a hard fought campaign the Ottoman forces were defeated in 1918.
---
---
The Western Front

Pictured: An advanced headquarters at Passchendaele,
19 October 1917.
[Alexander Turnbull Library 1/2-012927-G]
After the disaster at Gallipoli the majority of New Zealand's troops travelled to fight in Europe in 1916.
The war in west Europe had bogged down into a deadly stalemate of trenches and defences known as the Western Front. The Allies clashed with Germany along a 700km front.
Here New Zealanders would experience tragic defeat and costly success.
---
---