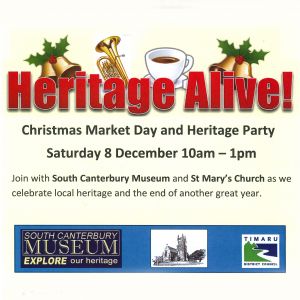 Join with the South Canterbury Museum and St Mary's Church as we celebrate local heritage and the end of another great year.
See the new local history area at the Museum - a blast from your recent past
Lucky ticket draws, a free sausage and drink, Xmas cake
Special mystery quiz with prizes at the Museum
Fun activities and games
Misic on the lawn: Dixieland Jazz Band, children's choir
Free St Mary's guided tours (from the front door)
Strawberries & ice-cream ($3) from the Church hall
Why not join us for a fun morning out with the family? Then make sure you head down to see us this Saturday, 8 December for this year's Heritage alive day - we'll see you there!