FOSTER, Charles William
(Service number 23/424)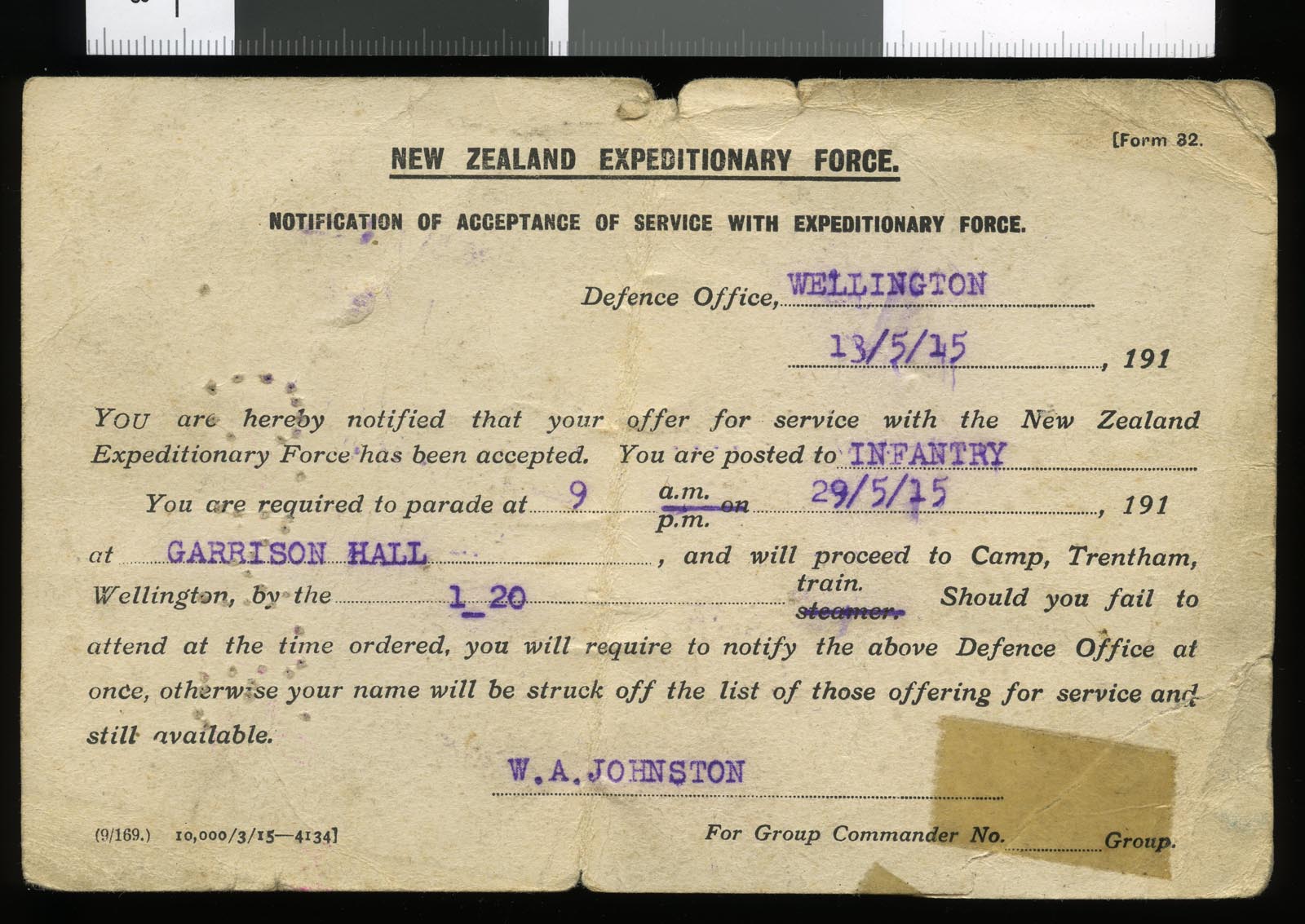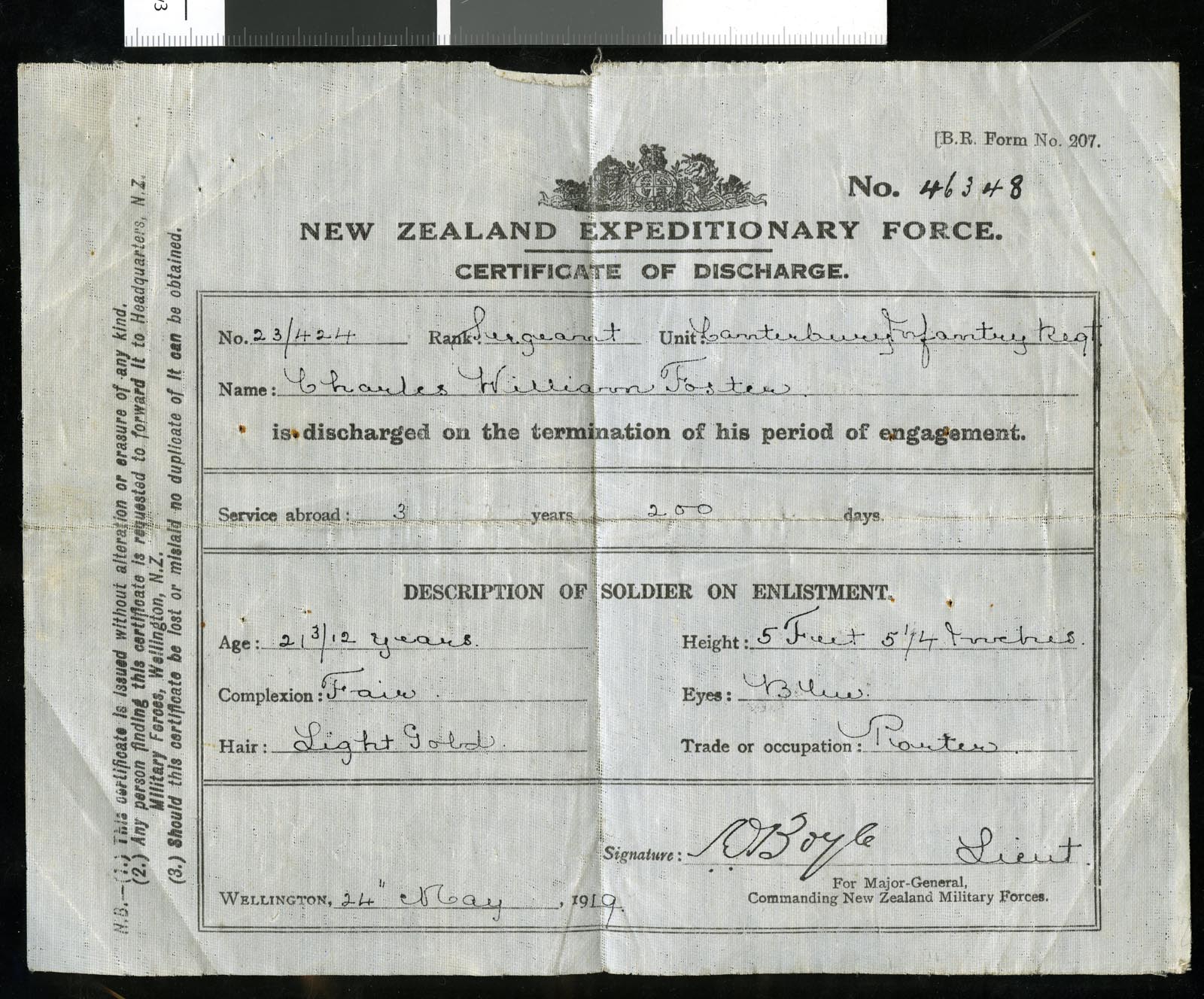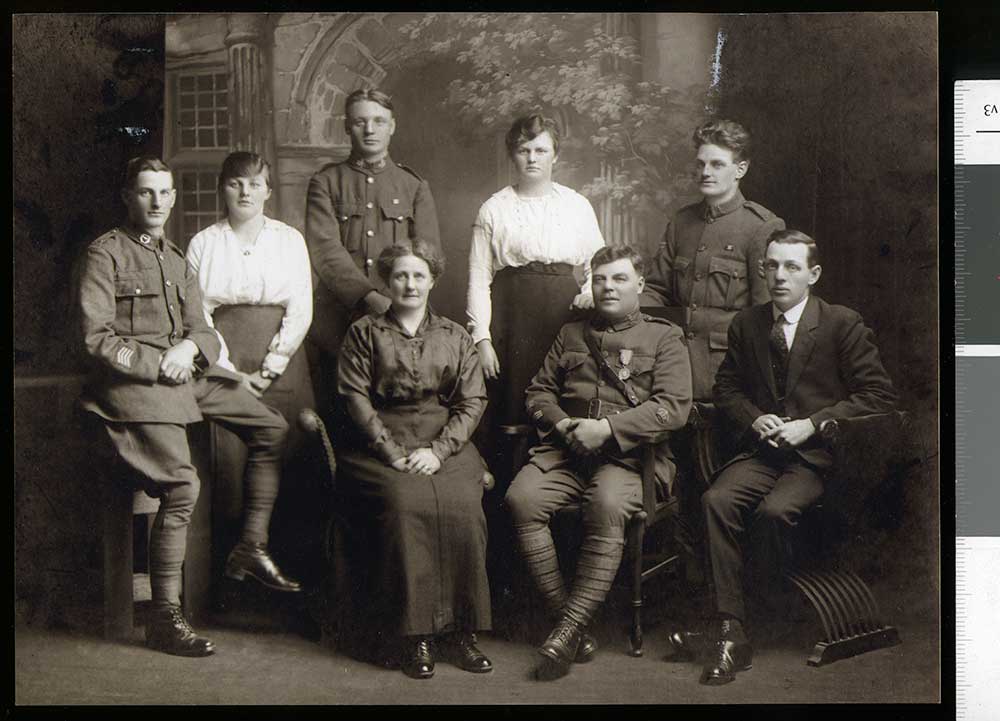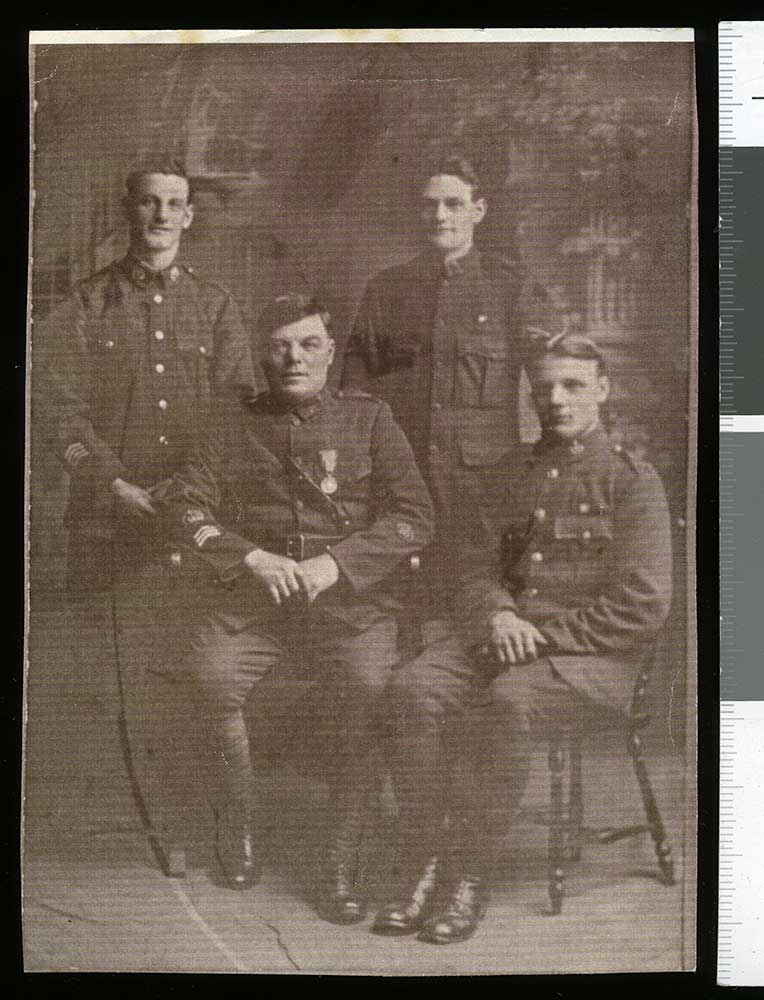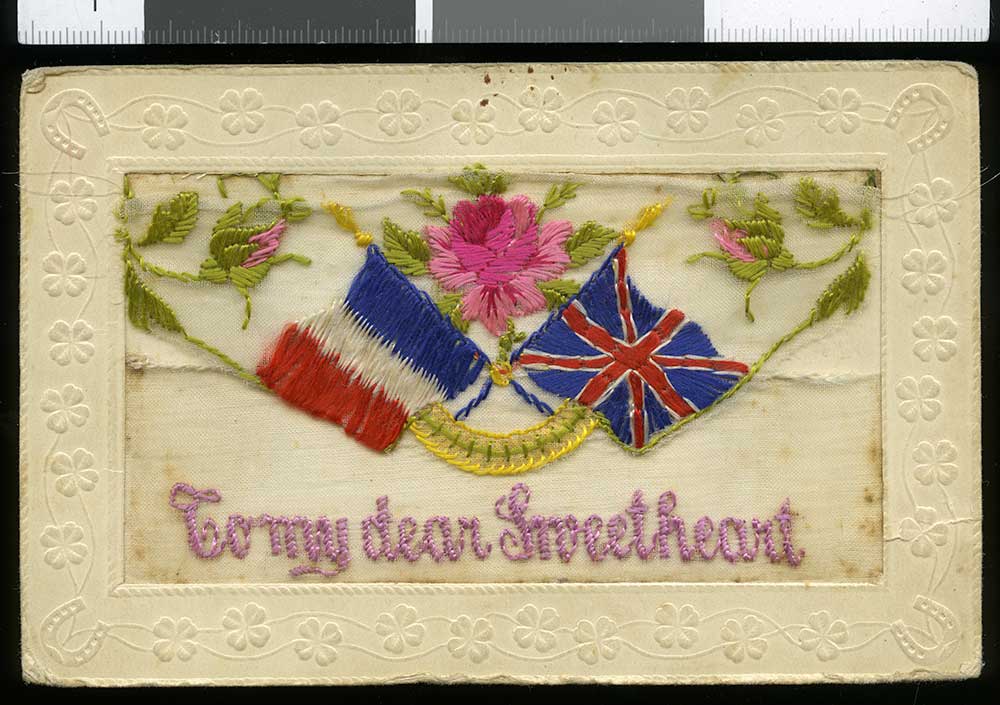 Aliases
Known as Charlie
First Rank
Rifleman
Last Rank
Sergeant
Birth
Date
4 February 1894
Place

of Birth

Timaru
Enlistment Information
Date
31 May 1915
Age
21 years
Address

at Enlistment

74 Tinakori Road, Wellington, New Zealand
Occupation
Porter

Previous

Military Experience
N Z Railways Engineers 19.11.1912, 1912-1913, 1913-1914
Marital Status
Single. Married 1918, England.
Next of Kin
William FOSTER (father), Victoria Street, Timaru, New Zealand. Later Mrs L. R. FOSTER (wife), 97 Howard Street, Oxford; then 184 New Road, Portsmouth
Religion
Presbyterian
Medical

Information

Height 5 feet 5¼ inches. Weight 144 lbs. Chest measurement 34½-37 inches. Complexion fair. Eyes blue. Hair light gold. Sight - both eyes 6/6. Hearing & colour vision both good. Limbs well formed. full & perfect movement of all joints. Chest well formed. Heart & lungs normal. Teeth fair. Free from hernia, varicocele, varicose veins, haemorrhoids, inveterate or contagious skin disease. Vaccinated. Long linear scar on upper surface of foot left. Scar over lower end of ulna left - wound.
Military Service
Served with
NZ Armed Forces
Served in
Army

Military

District
Embarkation Information
Body

on Embarkation

New Zealand Rifle Brigade
Unit

, Squadron, or Ship

1st Battalion, B Company
Date
9 October 1915
Transport
Maunganui or Tahiti or Aparima or Navua or Warrimoo

Embarked

From
Wellington, New Zealand
Destination
Suez, Egypt
Other Units

Served With

Last Unit

Served With

Rifle Brigade
Military Awards
Campaigns
Egyptian; Western European
Service Medals
1914-15 Star; British War Medal; Victory Medal

Military

Awards
Award Circumstances and Date
No information
Prisoner of War Information
Date of Capture
Where Captured

and by Whom

Actions Prior to Capture
PoW Serial Number
PoW Camps
Days Interned
Liberation Date
Discharge
| | | | |
| --- | --- | --- | --- |
| Date | 24 May 1919 | Reason | Termination of period of engagement. |
Hospitals, Wounds, Diseases and Illnesses
1 October 1916 - reported wounded - gunshot wounds to abdomen & back; embarked on Hospital Ship "Brighton" for England where he was admitted to 3rd Southern Hospital, Oxford; progress only fair. 6 December 1916 admitted to NZ General Hospital, Brockenhurst. 29 December transferred to Base Depot at Codford. 7 April 1917 - admitted NZ Convalescence Section at Codford (Ven. Ward). 11 May 1917 discharged from Ven Section to Base Depot, Codford. 14 July 1917 admitted to 3rd NZ General Hospital, Codford - scabies. 1 August 1917 discharged to Convalescent Depot, Codford. 3 September 1917 admitted to 3rd NZ General Hospital, Codford - scabies. 11 September 1917 discharged to Convalescent Depot, Codford. 5 October 1918 - wounded in action, 2nd occasion. 11 October 1918 rejoined unit. 28 November 1918 - admitted to hospital sick, then on 29 November admitted to hospital after he was accidentally wounded in the forehead at Rouen, France, and was to be reported as "Injured". 6 December 1918 transferred to Convalesent Depot in France. 8 December discharged to Base depot.
Post-war Occupations
Auctioneer's storeman
Death
Date
19 May 1965
Age
71 years
Place

of Death

Timaru
Cause
Notices
Timaru Herald, 20 May 1965
Memorial or Cemetery
Timaru Cemetery
Memorial Reference
General Section, Row 140, Plot 208
N

ew

Z

ealand

Memorials
Biographical Notes
Charles William Foster was born on 4 February 1894 at Timaru, the second son of William and Ellen Matilda (Nellie Marie, née Tacon) Foster. William was born in Dunedin while Ellen's mother was a "Strathallan" migrant. They married in 1892 at Timaru and had four sons and two daughters. Charlie was educated at Timaru Main School, then Timaru South School and Waimataitai School respectively as the family moved to Victoria Street in 1901 and Thomas Street in 1904. It was at the break-up ceremony and presentation of prizes at Waimataitai on 15 December 1905 that Charles received a Standard V attendance prize. In 1907 at the Waimataitai School Charles was one of the Standard VI South Canterbury pupils to gain a proficiency certificate. And in 1915 the headmaster reported that the name of C. W. Foster was one added to the Timaru South School roll of honour. The children at the school had made a big number of articles (e.g. socks, handerkerchiefs) for the Red Cross Fund.
"A little boy (Charlie Foster) played a mite capitally, with amusingly serious responsibility for his part." This occurred at the production of "Lost for Gold', a Barrie Marschel melodrama at the Theatre Royal on 7 August 1902. Charlie's father, William Foster, joined Barrie Marschel on many occasions. Local swimming notes appeared in the Timaru Herald of 11 February 1911 – "Charlie Foster is now swimming the crawl, and it is to be hoped that he will keep in form to show it to advantage." He may well have been in the Timaru Amateur Swimming Club's team which won the 200 yards relay the week before. In January 1912, he competed in the 50 yards Inter-Club Handicap, finishing second in his heat.
Charles stood at 5 feet 5¼ inches, weighed 144 pounds, and had a chest measurement of 34½-37 inches. His complexion was fair, his eyes blue, and his hair light gold. His sight, hearing and colour vision were all good, his limbs and chest well formed, and his heart and lungs normal, while his teeth were fair. He was free from diseases and was vaccinated. He had a long linear scar on upper surface of his left foot left and a scar over lower end of his ulna, the result of a wound. At the time of enlisting (31 May 1915) he was residing in Wellington and working as a porter. His nominated next-of-kin was his father – William Foster, Victoria Street, Timaru. He was later to meet his father in the battlefield in France. Rifleman C. W. Foster embarked with the New Zealand Rifle Brigade at Wellington on 9 October 1915 destined for Egypt. The New Zealand Rifle Brigade, which was formed on 1 May 1915, was also known as the Earl of Liverpool's Own, or familiarly as The Dinks. In the latter part of 1915 he was probably engaged in the fighting in Egypt.
On 2 March 1916 he was posted to the 2nd Battalion of the Canterbury Infantry Regiment. In May following he was appointed Lance Corporal. On 30 December 1916 from Brockenhurst he was taken on strength at the NZ Command Depot. There in February 1917 he was transferred to the Operation Section Light Railways, ten days later to NZ Engineers, and seven days afterwards to the Canterbury Regiment and posted to C Company. After various movements at Sling Camp, in September 1917 he was going to Rouen. On 3 November 1917 he was to be corporal. In February 1918 he transferred from C Company to A Company. In August 1918 from hospital he proceeded overseas to Rouen. The following month he transferred to the 1st Battalion of the 3rd NZ Rifle Brigade. 11 October 1918 he rejoined his unit from the Field Ambulance and soon after was promoted to sergeant. In December 1918 he was attached to the NZ Recept Camp and detached to the United Kingdom.
All this coming-and-going was interspersed with illness and severe wounds. Lance-corporal Charles William Foster, of the NZ Rifle Brigade, was reported wounded on 1 October 1916 - gunshot wounds to abdomen and back, suffered at Le Transloy when he fell back into a trench and landed on a duckboard. After ten days in a dressing station he embarked on the Hospital Ship "Brighton" for England where he was admitted to 3rd Southern Hospital, Oxford. His mother was advised that he was progressing favourably, though his file records that progress was only fair. Three lead balls were lodged in his stomach but an operation found only two, which were removed. Some time later, while he was walking around the hospital, his right leg locked up – the third ball was found in his right hip. As of October 1916, his brothers were at the Front and his father was in Timaru on final. On 6 December 1916 he was admitted to NZ General Hospital, Brockenhurst – not severe case; and on 29 December transferred to Base Depot at Codford. 7 April 1917 he was admitted NZ Convalescence Section at Codford (Ven. Ward), and subsequenty, on 11 May 1917, discharged from Ven. Section to Base Depot, Codford. On 14 July 1917 he was admitted to 3rd NZ General Hospital, Codford, this time with scabies. On 1 August 1917 he was discharged to Convalescent Depot, Codford, only to be re-admitted to 3rd NZ General Hospital, Codford, on 3 September 1917, again with scabies. On 11 September 1917 discharged to Convalescent Depot, Codford. On 5 October 1918, Corporal Charles William Foster, 23/424, NZRB, was wounded in action, the 2nd occasion. 11 October 1918 he rejoined his unit. On 28 November 1918, just after the signing of the armistice, he went to hospital sick, then on 29 November he was admitted to hospital after he was accidentally wounded in the forehead at Rouen, France, and was to be reported as "Injured". On 6 December 1918 he was transferred to the Convalescent Depot in France, before being discharged on 8 December to Base depot.
C. W. Foster saw fighting in Egypt, going into action on Christmas Day, 1915, and in France on the Western Front, spending close to three years overseas before embarkation per the "Ionic" to return home on 24 April 1919 and his subsequent discharge in May 1919. By the first express from Christchurch on 26 April 1919 six soldiers returned to Timaru, among them Sergt. Foster, who with two others had brought his English brides. In extending a cordial welcome home to the men, His Worship the Mayor said that was the fourth occasion that week on which they had had the pleasure of receiving back a draft of men who had been away fighting the battles of the Empire. They were delighted to have the privilege of welcoming them home after their gallant work abroad, and to acknowledge what they had done for the Empire. It was now for those who had remained at home in safety and comfort, to do their little bit, and thus show their gratitude in a practical way. They could best do this by helping the returned men in every possible way, and he hoped that everyone would do this. He also extended a hearty welcome to the English brides. Very hearty cheers were given, after which the soldiers were taken to their several homes in cars provided for that purpose. "It is worthy of note that Sergt. Foster was met by his father who last saw his son on the battlefield in France, where they were both soldiers of the King." His brothers, Alfred George and Ernest Robert Foster, and his father William also served in World War I. Both brothers were at the front when Charles was wounded in October 1916. His father, of the 19th Reinforcement, was on final leave. Like his brother Albert, Charles brought home an English bride, Lilian Rose Price (Rose), whom he married on 14 April 1918 at Cowley St John, Oxford. Thereafter, his wife became his next-of-kin – Mrs L. R. Foster, 97 Howard Street, Oxford, then 184 New Road, Portsmouth. For his service Charles Foster was awarded the 1914-1915 Star, the British War Medal and the Victory Medal.
Charles William Foster had registered with the Territorial Commission scheme when it began in March 1911. He served in the New Zealand Military Forces with the N Z Railways Engineers 19.11.1912, 1912-1913, 1913-1914. He passed the examination for Sergeant 1st Battalion N.Z.R.B. He later completed a full course in physical training at Fontaine and a full course of Lewis Gun instruction. On 9 November 1920 he was recommended for the Unattached List as 2nd Lieutenant. He was posted to a Cadet Company at Timaru. As he did not attend several parades and ignored memos, he took the option of being transferred to the Reserve of Officers in November 1925. "One of the largest ceremonial parades, if not the largest, ever seen m Timaru took place yesterday morning, when the war colours of the 2nd (South Canterbury) Regiment were deposited in St Mary's Church for safe keeping. There were 19 officers and 521 of other ranks on parade, and they made an exceedingly fine showing. That interest in the military is still as keen as during the war period was seen in the way the people lined the streets along the route of march from the rendezvous the drill shed, and crowded into the church while seats were available. . . . . . . While the parade was a bright ceremonial affair there was a note of sadness about it in that it marked the passing of the old second (South Canterbury) Regiment, which, under the new organisation has been merged in the First (Canterbury) Battalion with headquarters at Christchurch. In addition to those formally on parade there were many onlookers who attended to see, as they said, "the last of the good old regiment." The parade was in charge of . . . . . , and Lieutenant C. W. Foster as adjutant, . . . . . The reserve of officers present included . . . . . , Lieutenant W. Foster ("B" Company), . . . . . The order of march was: — . . . . . . . There were also some M.R. men . . . . . , and members or the R.S.A. in. civilian dress. . . . . . . . At the commencement of the service the ceremony of presentation of the flag took place, the commanding officer saying: — "We desire that this flag, the Colours of the 2nd South Canterbury Regiment, be handed to the care of this Church for safe keeping, in memory of the fallen, until such time as it may be again required." The vicar, . . . . . , on behalf of the church authorities, accepted the flag for safe keeping, and placed it reverently beside the altar table until a permanent place is fixed for it. The flag is similar in size and design to the Mounted Rifles flag which was fixed some nine years ago above the pulpit. The design of each flag is a Union Jack, in silk, with the St George's Cross broader than usual to give room for a golden crown in the upper bar and the name of the regiment on the right hand arm. The old S.C.M.R. flag bears the name of the regiment and "South Africa 1900-1902." The flag deposited yesterday has the crown, but does not bear a regimental name. It however is well marked with inscriptions of honour: — "South Africa 1900-2. Gallipoli 1914. Egypt 1914, 1915, 1916. France 1917, 1918. Germany 1918." . . . . . . . At the close of the sermon the vicar announced that marble tablets to the memory of fallen soldiers would he dedicated in the church at an early date, and he hoped that as many as possible of those present would attend the dedication ceremony. The singing of the National Anthem closed the service. After the service the parade was reformed and marched to Alexandra Square, where all were arranged on the grass, and Mr Havelock Williams took a swing-round photograph of the whole. . . . . . . . . . . The "Timaru Herald" of Friday, September 27, 1907 — fourteen years ago — contained a description of the ceremony of proclaiming "Dominion Day" in Timaru, and telegrams on the subject from other centres. In the presence of . . . . . . . . , the Mayor (Mr J. Craigie) read from the Borough Council steps the King's Proclamation that the title "The Dominion of New Zealand" was substituted for "The Colony of New Zealand." An ensign was unfurled, cheers given, and the National Anthem sung." . . . . . . . . . . [Timaru Herald, 14 November 1921]
When a new miniature rifle range – considered the finest range of its kind in the South Island - was opened on 2 August 1923, a display was given by two companies in the Drill Shed. "From the display given, the deduction certainly was that the primary aim of the scheme was to build up a manhood of handy, muscular physique." Present were Lt. C. W. Foster, officer i.c. physical training and Lt. W. Foster, officer i.c. B. Coy. 2nd (Cadet) Battalion Canterbury Regiment. "When the Great War ended in 1918 it was oftentimes said, and it has often been repeated since, that the heroism, and courage, and faithfulness to duty of our soldiers would soon be forgotten, but though some years have passed since then, the great deeds of the gallant men who left these shores has not been forgotten; and judging by the very large assemblage of South Canterbury people in King George's Place yesterday afternoon, when the Anzac Memorial Service was held, the honoured dead are still held in affectionate remembrance. The weather was beautifully fine, and the commemoration service, which was arranged by the R.S.A., was a most impressive one." [Timaru Herald. 26 April 1924.] There again were Lieutenant C. Foster and Lieutenant W. Foster, O.C. In 1925, Lieutenant C. Foster and Lieutenant W. Foster paraded with officers of the Active, Reserve, and Retired Lists. The 1926 Anzac Day Memorial Service saw B Co., 8th Cadet Battalion, C.R., parading under Lieut. W. Foster, O.C. There, too, was Lieut. C. Foster in a commander position.
Charles was one of the well-known amateurs who assisted in the production of "Titus O'Toole" in aid of the Returned Soldiers' funds in August 1919. The cast contained all the best talent in the Returned Soldiers' Association, including Billy Foster (Charlie's father). This was the first time a live Irish comedy had been produced in Timaru, and it was too good to miss. A special souvenir programme was prepared for the performance which included amongst its illustrations a unique view of Anzac Beach, believed to be the only one in existence taken of the beach at that time the New Zealanders landed. Others are views taken on all the fronts where the New Zealand soldiers fought. The souvenir programme was well worth sixpence. The proceeds of sweets sold during the evening went to St. Saviour's Orphanage and the R.S.A. The following January he was a member of the cast of "Amarama" which played to a packed audience in the Theatre Royal. In 1923, his name was "borrowed" by a man charged with gathering alms by false representation.
Fortunately, when a chimney at the residence of Mr C. W. Foster, Church Street West, occasioned the turning out of the Brigade on the evening of 5 August 1924, the outbreak was promptly extinguished. In April 1929, he was nominated for and duly elected to the Timaru West School committee, and soon after elected to the social committee. At the annual meeting of the West End Swimming club in late October 1929, Charles was appointed hon. secretary and treasurer. He was also appointed as a club delegate to the South Canterbury Swimming Centre, where he was duly present at the annual meeting two weeks later. At the 1931 annual meeting, it was noted that a debt of gratitude was owed to Mr Foster (secretary), who had been untiring in his efforts.
Charles and Lilian remained in Timaru for the remainder of their lives, Charles employed as an auctioneer's storeman from about 1940. During the depression he knew unemployment but was given some work on relief schemes. He was a member of the Legion of Frontiersmen and enjoyed the many tasks they performed. The fourth annual reunion of the Timaru Troop of the legion of Frontiersmen was held in August 1938. In proposing the toast of "Civic Authorities," Frontiersman C. W. Foster welcomed the Mayor and Councillor F. Hawkey and referred to the good treatment received by the Troop from the local authorities. In reply, the Mayor expressed the thanks of the Council to the Legion of Frontiersmen for their assistance in the matter of traffic control and stated that this co-operation was much appreciated. He congratulated the Troop on the fact that the members were prepared to give voluntary service to the community. An organisation with such objects was a valuable asset to the town. Frontiersman C. W. Foster proposed the same toast at the fifth re-union in August 1939. The mayor thanked Frontiersman Foster for the compliments paid the Council and local bodies, and said the Legion deserved the fullest co-operation of the public. He was sorry the membership was not larger in Timaru, as they were undoubtedly capable of doing good work whenever called upon. It was unfortunate that the public did not realise the good work the Legion had done and was doing for the Empire. In 1954 a request reached Army Headquarters, Wellington, from London, from a Mrs L. A. Iddon seeking her goddaughter who, in 1918, married a New Zealand soldier. That soldier was Corporal C. W. Foster, whose address could not be disclosed but a sealed letter could be forwarded to him. The last communication between Headquarters and C. W. Foster had been in 1920 when his address was 98 Church Street West, Timaru. It is to be hoped that Mrs Iddon made contact with her goddaughter Lilian.
Charles William Foster died on 19 May 1965, after some years of ill health, at the age of 71 years, and was buried in the Timaru Cemetery where a services plaque is attached to the headstone. He was survived by his wife, three daughters and a son. Members of the South Canterbury RSA paid their respects at his funeral. His father and brothers Ernest Robert Foster and Alfred George Foster also served in World War One (and returned). "The luck or chance in war is a very uncertain item. One soldier goes through Gallipoli to the finish without a scratch, another makes the supreme sacrifice at his first engagement. It is seldom, indeed, that all male members of one family came through without a scratch after several engagements (remarks the Timaru Herald). Such is the experience of Mr William Foster, recently returned, and his three sons. The youngest son first volunteered and fought at Gallipoli. The second enlisted later and fought chiefly in France, as also did the third son. The father then enlisted and fought side by side with a son at the Battle of the Somme, all four coming through the ordeal unscathed." [Feilding Star, 26 April 1919.] In fact, none of the sons came home unscathed. Both Alfred and Charles came home with an English bride. Their eldest brother, Richard John Foster, married in December 1915 at Chalmers Church, Timaru. After his name was drawn in a ballot, his appeal was allowed in June 1917, as he had been passed fit only for Home Service. A married man with two adult children, Richard had a seizure while driving to Pleasant Point on 22 December 1943 and died almost instantly. Richard's son, Robert James Corrie Foster, saw service in World War Two (25568), as did Ernest's younger son, Eric Raymond Foster (10525 RNZN). An appeal was lodged, and dismissed, on behalf of Lawrence Richard Foster, of Timaru, the elder surviving son of Alfred and Edith and an employee of the Railways Department, in January 1942. His name had been drawn in the ballot in October 1941. Lawrence did follow the occupation of a soldier for some years in the 1950s and 1960s. Charles Edward Foster, the younger son of Alfred and Edith, was called up in the ballot of November 1944, after he had reached the age of 18. In August 1917, N. and M. Foster gave 5 shillings for Christmas comforts for the trenches – surely Nellie and May, the two young sisters of Charles Foster. Their mother, Mrs Ellen Foster, died suddenly on 23 June 1935 and their father, William Foster, died suddenly on 13 September 1941. Both are buried with the elder daughter, Ellen Evelyn (Nellie), who died in July 1922.
Sources
Auckland War Memorial Museum Cenotaph database [25 September 2014]; NZ Defence Force Personnel Records (Archives NZ Ref. AABK 18805 W5537 0041529) [14 August 2015], NZ Defence Force Personnel Records (Archives NZ Ref. AABK 18805 W5937 0359335) [24 May 2016]; School Admission Registers (South Canterbury Branch NZSG) [19 January 2015, 20 May 2016]; Timaru Cemetery headstone image (Timaru District Council) [19 January 2015]; Timaru Herald, 8 August 1902, 16 December 1905, 20 December 1907, 8 & 11 February 1911, 24 January 1912, 2 July 1915, 8 September 1915, 7 January 1916, 14 & 16 October 1916, 20 November 1916, 9 May 1917, 20 June 1917, 8 August 1917, 22 October 1918, 11 February 1919, 11, 17 & 28 April 1919, 7 & 12 August 1919, 21 January 1920, 14 October 1921, 3 August 1923, 6 August 1924, 27 April 1925, 16 & 23 April 1929, 1 & 16 November 1929, 21 October 1931, 15 August 1938, 29 August 1939, 23 & 24 December 1943, 29 January 1944, Press, 7 January 1916, 12 July 1923, Lyttelton Times, 14 October 1916, Star, 15 December 1916, New Zealand Times, 15 December 1916, 22 October 1918, New Zealand Herald, 16 December 1916, Sun, 14 April 1918 (Papers Past) [12 August 2015; 10, 21 & 22 May 2016; 10, 11 & 12 May 2023]; Timaru Herald, 20 May 1965 (Timaru District Library) [20 May 2016]; NZ Electoral Rolls (ancestry.com.au) [21 & 23 May 2016]; The Foster Men (details provided to South Canterbury Museum by Bern Foster, son of Charles William Foster) [15 January 2015]
External Links
Related Documents
Researched and Written by
Tony Rippin, South Canterbury Museum; Teresa Scott, South Canterbury Genealogy Society
Currently Assigned to
TS
Licensed under a Creative Commons Attribution-NonCommercial 4.0 International License unless otherwise stated.
Tell us more
Do you have information that could be added to this story? Or related images that you are happy to share? Submit them here!