FOSTER, Ernest Robert
(Service number 11266)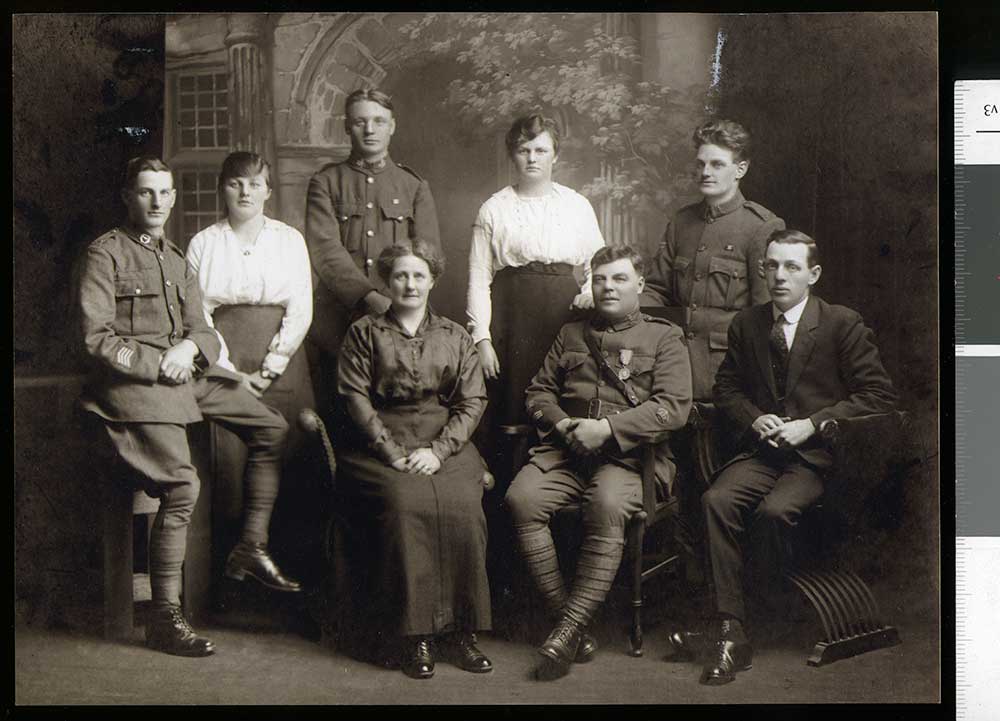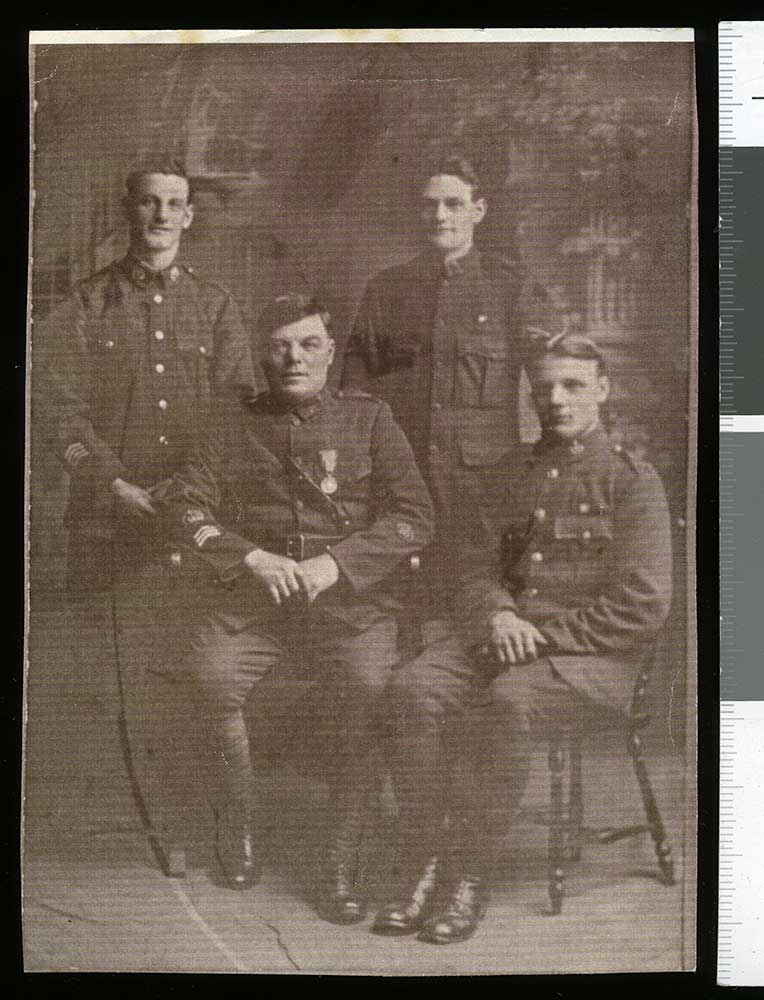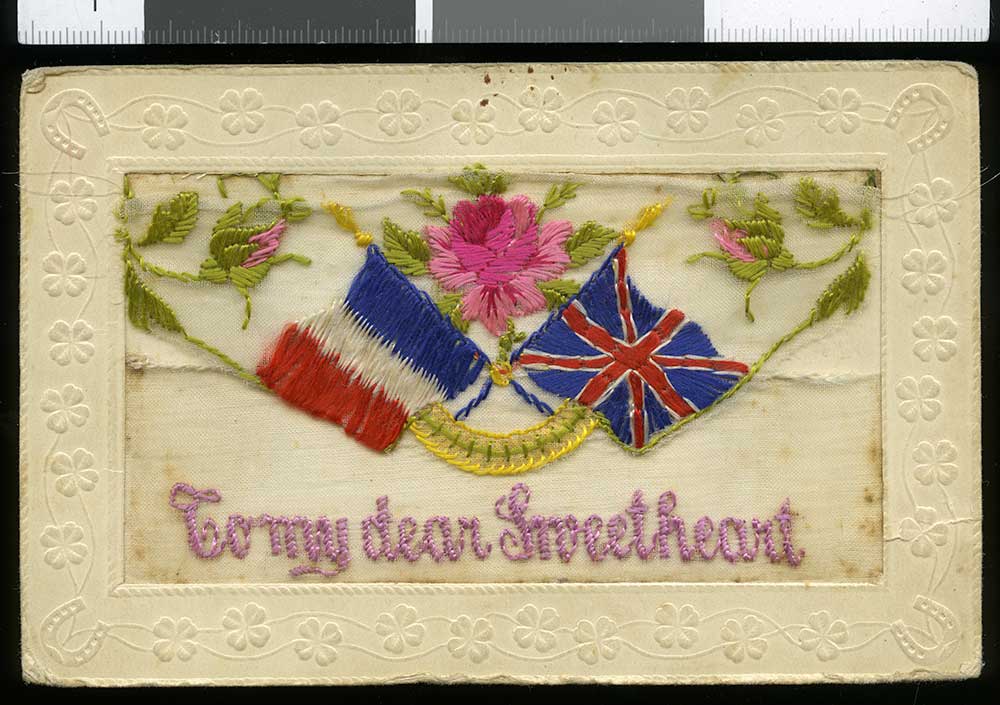 Aliases
First Rank
Corporal
Last Rank
Private
Birth
Date
24 May 1895
Place

of Birth

Timaru
Enlistment Information
Date
14 February 1915
Age
19 years 8 months
Address

at Enlistment

Victoria Street, Timaru
Occupation
Grocer's assistant or Omnibus conductor (Timaru Borough Council)

Previous

Military Experience
2nd South Canterbury Regiment - 2 years; Timaru Cadets
Marital Status
Single
Next of Kin
Mrs N. Foster (mother), Victoria Street, Timaru, New Zealand
Religion
Presbyterian
Medical

Information

Height 5 feet 5 inches. Weight 124 lbs. Chest measurement 30½-33 inches. Complexion fair. Eyes grey. Hair brown. Sight and hearing both good. Colour vision correct. Limbs well formed. Full and perfect movement of joints. Chest well formed. Heart and lungs normal. Teeth good. Free from hernia, varicocele, varicose veins, haemorrhoids, inveterate or contagious skin disease. Vaccinated. Good bodily and mental health. No slight defects.
Military Service
Served with
NZ Armed Forces
Served in
Army

Military

District
Embarkation Information
Body

on Embarkation

New Zealand Expeditionary Force
Unit

, Squadron, or Ship

14th Reinforcements Otago Infantry Battalion, D Company
Date
26 June 1916
Transport
Maunganui or Tahiti

Embarked

From
Wellington, New Zealand
Destination
Devonport, England
Other Units

Served With

Last Unit

Served With

Wellington Regiment
Military Awards
Campaigns
Western European
Service Medals
British War Medal; Victory Medal

Military

Awards
Award Circumstances and Date
No information
Prisoner of War Information
Date of Capture
Where Captured

and by Whom

Actions Prior to Capture
PoW Serial Number
PoW Camps
Days Interned
Liberation Date
Discharge
| | | | |
| --- | --- | --- | --- |
| Date | 7 August 1920 | Reason | No longer physically fit for War Service on account of illness contracted on Active Service. |
Hospitals, Wounds, Diseases and Illnesses
23 November 1917 to hospital, sick. 23 November 1917 admitted to Casualty Clearing Station; 25 November 1917 to No. 51 General Hospital (Venereal Hospital), Rouen; 14 December 1917 discharged on 14 December 1917. 27 December 1917 admitted to No. 46 Stationary Hospital, France - laryngitis. 23 January 1918 admitted to No. 20 General Hospital, Camiers, France - scabies & mild laryngitis. 18 February 1918 embarked for England per hospital ship & admitted to Military Hospital, Fulham, London. 25 February 1918 transferred to NZ Convalescent Hospital, Hornchurch; 3 March 1918 from Hornchurch to 3 NZ General Hospital, Codford (VD Section); 6 April. 19 May 1918 admitted to 3 NZ General Hospital, UK (VD).
Post-war Occupations
Postman; agent
Death
Date
21 December 1946
Age
51 years
Place

of Death

19 Luxford Street, Wellington
Cause
Notices
Timaru Herald, 23 December 1946
Memorial or Cemetery
Karori Cemetery, Wellington
Memorial Reference
Soldiers Section, Plot 10
N

ew

Z

ealand

Memorials
Biographical Notes
Ernest Robert Foster was born on 24 May 1895 at Timaru, the third son of William and Ellen Matilda (Nellie Marie, née Tacon) Foster. William was born in Dunedin while Ellen's mother was a "Strathallan" migrant. They married in 1892 at Timaru and had four sons and two daughters. Ernest joined his brothers at Timaru Main School, but briefly, transferring to Timaru South School in February 1901 when the family moved to Victoria Street, then on to Waimataitai School in mid-1904 when they moved to Thomas Street. It was at the break-up ceremony and presentation of prizes at Waimataitai on 15 December 1905 that Ernest received a Standard II attendance prize.
In early August 1914 at Timaru, a number of defaulting territorials faced court action. E. R. Foster applied for exemption but was refused as his hours of work permitted his attendance at drills. When Ernest enlisted on 14 February 1915 at Trentham, he had not even turned twenty. He was then an omnibus conductor for the Timaru Borough Council. He named his father as next-of-kin – Wm Foster, Victoria Street, Timaru. He had undergone the medical examination on 30 January 1915. He was 5 feet 5 inches tall, weighed 124 pounds, and had a chest measurement of 30½-33 inches. His complexion was fair, his eyes grey and his hair brown. His sight, hearing, colour vision and teeth were all good, his limbs and chest well formed, and his heart and lungs normal. Vaccinated and free from diseases, he was in good bodily and mental health. He had served with the Timaru Senior Cadets until he joined the Territorials, and he had been serving with the 2nd South Canterbury Regiment for two years and was still serving. He had registered for compulsory military training. At the annual meeting of the Star Football Club in April 1915, correspondence was received from the South Canterbury Rugby Union, requesting the club to let them have a list of all members at present on active service, for the compilation of a New Zealand Roll of Honour. The information was to be given. Among the members of the club attached to the Expeditionary Forces at that time were E. Foster and W. Foster.
But come January 1916 and Ernest was a grocer's assistant, still single, Presbyterian and still residing at home. He named his mother as next-of-kin – Mrs N. Foster, Victoria Street, Timaru. Having enlisted in the 11th Reinforcements, he received notice to join South Canterbury's quota at Trentham and proceeded to camp by the second express on 4 January. He was the third son of Mr W. Foster, of Timaru, to join the New Zealand Forces. Alfred left with the Fifth Reinforcements and had gone through much of the big fighting at Gallipoli, and was not wounded, but falling sick, he was sent to England, where he was on furlough as of January 1916. Charles left with the First Liverpool's Own and was probably in the late 1915 fighting in Egypt. In mid-January at Trentham Camp, Private E. R. Foster, of H Company, 11th Reinforcements, was promoted to corporal. By March 1916, the name of E. R. Foster had been added to the Timaru South School Roll of Honour. At that time the girls in the standard classes were engaged in sewing for the Red Cross.
He experienced several transfers in the first six months of 1916. Corporal E. R. Foster embarked at Wellington on 26 June 1916 with the Otago Infantry Battalion of the 14th Reinforcements. He disembarked at Devonport on 22 August and marched into Sling, where he was posted to the Wellington Company on 23 August 1916, then proceeded overseas to France on 19 September, joining the 1st Wellington Infantry Battalion on 4 October. In June 1917 he spent a week at the NZ Wings 2nd Anzac Reinforcements Camp in France before re-joining his Battalion. From 5th to 21st November 1917, he was on leave.
He went to hospital, sick, on 23 November 1917. Admitted first to the Casualty Clearing Station [23/11/1917] and then to No. 51 General Hospital (Venereal Hospital) at Rouen, France, on 25 November 1917, he was discharged on 14 December 1917 and attached to Strength. Then, on 27 December 1917 he was admitted to No. 46 Stationary Hospital in France, suffering from laryngitis. On 23 January 1918 he was admitted to No. 20 General Hospital at Camiers, France, with scabies and mild laryngitis. Still suffering from the same complaint (laryngitis), he embarked for England per hospital ship on 18 February 1918 and was admitted to the Military Hospital at Fulham, London. He was transferred to the New Zealand Convalescent Hospital at Hornchurch on 25 February, and from Hornchurch to 3 NZ General Hospital at Codford (VD Section) on 3 March and discharged on 6 April. The casualty list published in February 1918, however, reported Private E. R. Foster of Timaru as a not severe case, as did that published in June 1918. Discharged to the Command Depot at Codford on 22 May 1918, he was again admitted to 3 NZ General Hospital in the UK (VD) on 29 May 1918.
He was transferred to the New Zealand Discharge Depot at Torquay, England, on 2 July 1918 and classified as unfit by the Medical Board. In the latter part of his time abroad, Foster incurred a penalty – confined to barracks for two days in August 1918 after he had been absent without leave. 11266 Private E. R. Foster returned home by Draft 191 of soldiers, the "Remuera", embarking at Liverpool on 7 September 1918 and arriving on 23 October. Mrs W. Foster, by then in Rose Street, received advice to this effect in mid-October. Many of the soldiers for Timaru came by the express train from Christchurch. A large crowd assembled at the Timaru station to welcome the men. A few words of welcome were addressed to the men before they were driven to their homes.
Back in New Zealand, Ernest incurred two more penalties. He was reprimanded on 26 April 1919 at Featherston for conduct that was prejudicial to good order and military discipline in a letter which he wrote. Still at Featherston, on 6 May 1919 he forfeited two days' pay and was fined £1 for absence and overstaying his pass. Ernest Robert Foster was initially discharged on 20 June 1919, being no longer physically fit for War Service on account of illness contracted on Active service. He was granted indefinite leave from 1 July 1919. Discharge was confirmed on 7 August 1920 at Wellington. He had served in New Zealand for over a year and in Egypt and Western Europe for over two years, for which he was awarded the British War Medal and the Victory Medal. After a brief stay at home, he headed for Wellington. There he was initially a postman, then an agent.
Ernest Robert Foster married Minnie Esther Cowley on 25 October 1920 at Wellington, in a very pretty wedding. "After the ceremony about thirty guests sat down to the wedding breakfast . . . . . . The happy couple were the recipients of many handsome and useful presents, also of congratulatory telegrams from various parts of the Dominion." Ernest and Minnie lived in Wellington, he employed as a postman, agent and motorman. They had two sons and two daughters, their elder son, Norman Ernest Foster, serving in World War Two. Ernest paid a visit home to Timaru in 1924, when he was groomsman at the wedding of his sister Irene May Foster to James Densem on 9 September at the Bank Street Methodist Church.
Ernest Robert Foster died on 21 December 1946 at his residence, 19 Luxford Street, Wellington, aged 51 years. He was buried in the Soldiers Section of Karori Cemetery, Wellington, his grave marked by a services stone. He was survived by three of his siblings – Charlie, Fred and May. His sister Ellen Evelyn Foster (Nellie) died in 1922 at the Timaru Hospital, aged 20. Because of her death her father was unable to take his part in a performance at the Theatre Royal. His oldest brother, Richard, died at Timaru in 1943. Minnie Esther Foster died in 1963 and was buried at Hamilton.
His father and brothers Charles William Foster and Alfred George Foster also served in World War One (and returned). "The luck or chance in war is a very uncertain item. One soldier goes through Gallipoli to the finish without a scratch, another makes the supreme sacrifice at his first engagement. It is seldom, indeed, that all male members of one family came through without a scratch after several engagements (remarks the Timaru Herald). Such is the experience of Mr William Foster, recently returned, and his three sons. The youngest son first volunteered and fought at Gallipoli. The second enlisted later and fought chiefly in France, as also did the third son. The father then enlisted and fought side by side with a son at the Battle of the Somme, all four coming through the ordeal unscathed." [Feilding Star, 26 April 1919.] In fact, none of the sons came home unscathed. Both Alfred and Charles came home with an English bride. Their eldest brother, Richard John Foster, married in December 1915 at Chalmers Church, Timaru. After his name was drawn in a ballot, his appeal was allowed in June 1917, as he had been passed fit only for Home Service. A married man with two adult children, Richard had a seizure while driving to Pleasant Point on 22 December 1943 and died almost instantly. Richard's son, Robert James Corrie Foster, saw service in World War Two (25568), as did Ernest's younger son, Eric Raymond Foster (10525 RNZN). An appeal was lodged, and dismissed, on behalf of Lawrence Richard Foster, of Timaru, the elder surviving son of Alfred and Edith and an employee of the Railways Department, in January 1942. His name had been drawn in the ballot in October 1941. Lawrence did follow the occupation of a soldier for some years in the 1950s and 1960s. Charles Edward Foster, the younger son of Alfred and Edith, was called up in the ballot of November 1944, after he had reached the age of 18. In August 1917, N. and M. Foster gave 5 shillings for Christmas comforts for the trenches – surely Nellie and May, the two young sisters of Ernest Foster. Their mother, Mrs Ellen Foster, died suddenly on 23 June 1935 and their father, William Foster, died suddenly on 13 September 1941. Both are buried with the elder daughter, Ellen Evelyn (Nellie), who died in July 1922.
South Canterbury Museum portrait L2014/014.01 depicts him wearing what appears to be a Ruahine Co (Wellington Infantry Regiment) collar badge and four service stripes, each indicating a year of service during the war.
Sources
Auckland War Memorial Museum Cenotaph database [9 October 2014]; NZ Defence Force Personnel Records (Archives NZ Ref. AABK 18805 W5537 0041541) [9 September 2015]; School Admission records (South Canterbury Branch NZSG) [19 January 2015]; Timaru Herald, 16 December 1905, 4 August 1914, 16 April 1915, 5 & 7 January 1916, 7 March 1916, 9 May 1917, 20 June 1917, 8 August 1917, 14, 17 & 24 October 1918, 19 & 20 November 1920, 11 July 1922, 4 October 1924, 23 & 24 December 1943, 29 January 1944, Press, 7 January 1916, 27 February 1918, 7 June 1918, Dominion, 21 January 1916, Sun, 6 June 1918, Evening Post, 14 October 1918, 30 October 1920, Sun, 14 October 1918, Feilding Star, 26 April 1919 (Papers Past) [12 August 2015; 21 & 22 May 2016; 03 March 2020; 10, 11 & 12 May 2023]; Karori Cemetery headstone image & burial record (Wellington City Council) [ 12 August 2015]; Timaru Herald, 23 December 1946 (Timaru District Library) [20 May 2016]; NZ Electoral Rolls (ancestry.com.au) [21 & 23 May 2016; 19 March 2023]
External Links
Related Documents
Researched and Written by
Tony Rippin, South Canterbury Museum; Teresa Scott, South Canterbury Genealogy Society
Currently Assigned to
TS
Licensed under a Creative Commons Attribution-NonCommercial 4.0 International License unless otherwise stated.
Tell us more
Do you have information that could be added to this story? Or related images that you are happy to share? Submit them here!