FOSTER, William
(Service number 26740)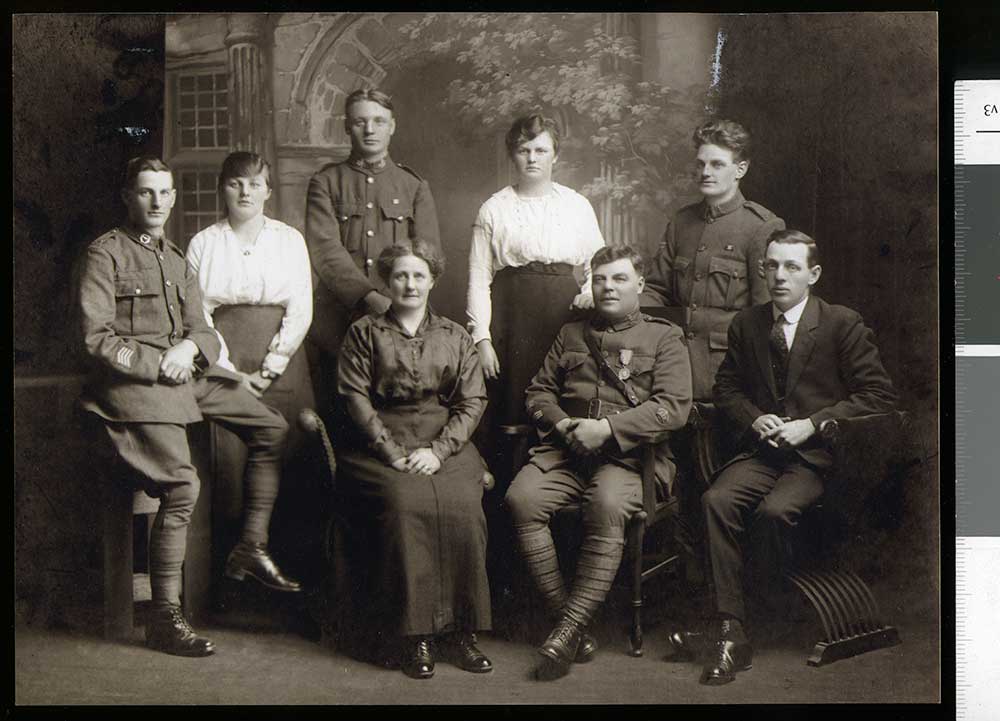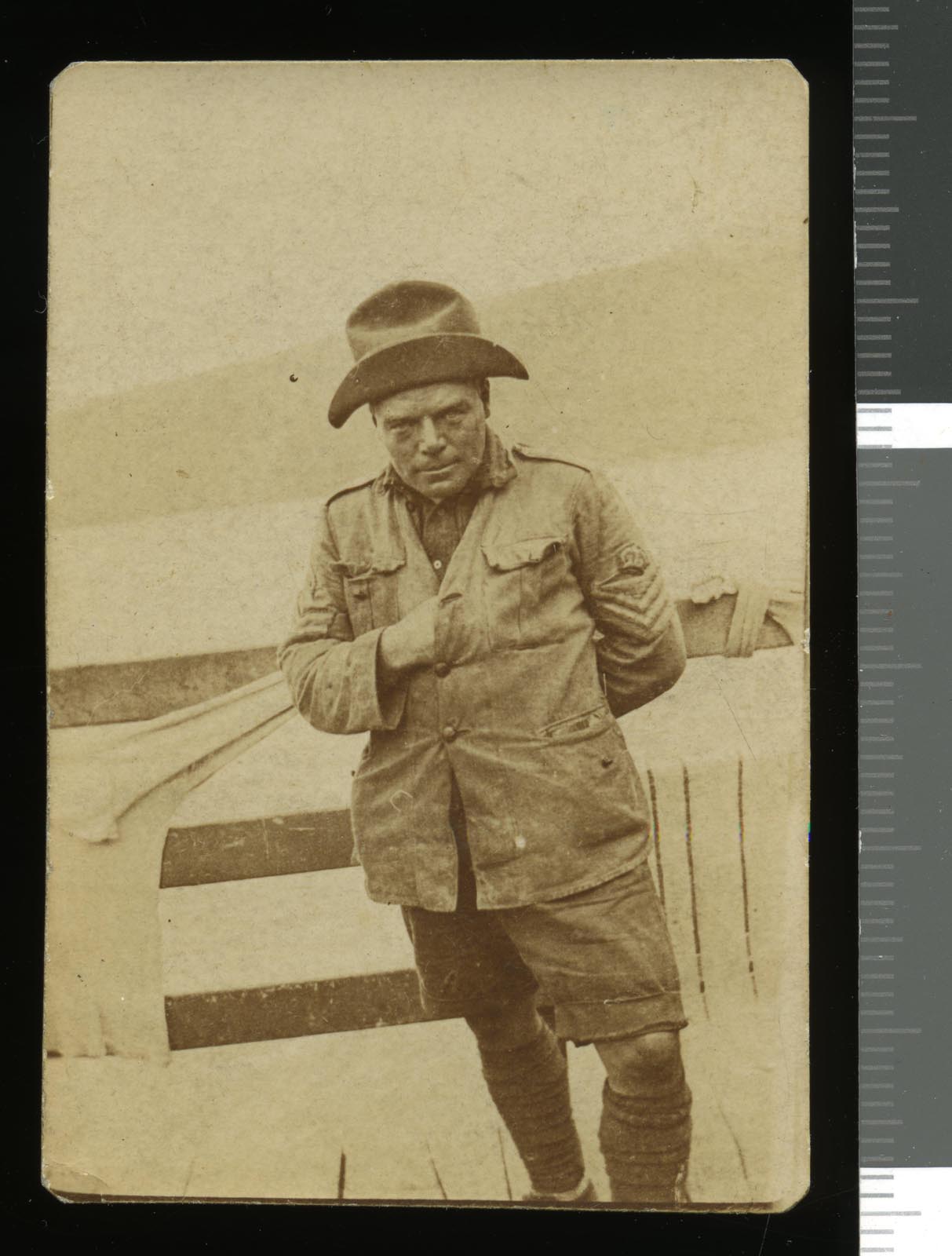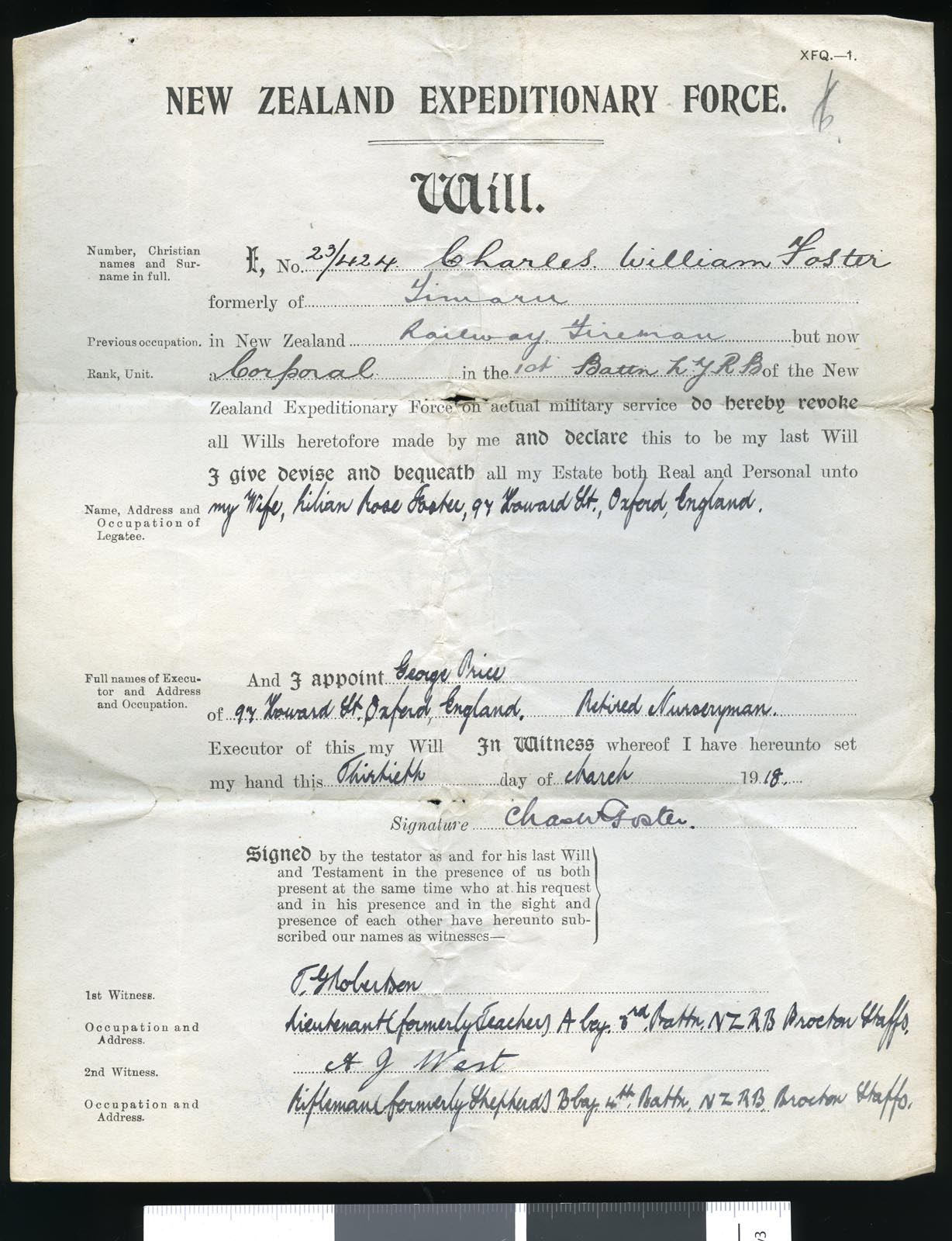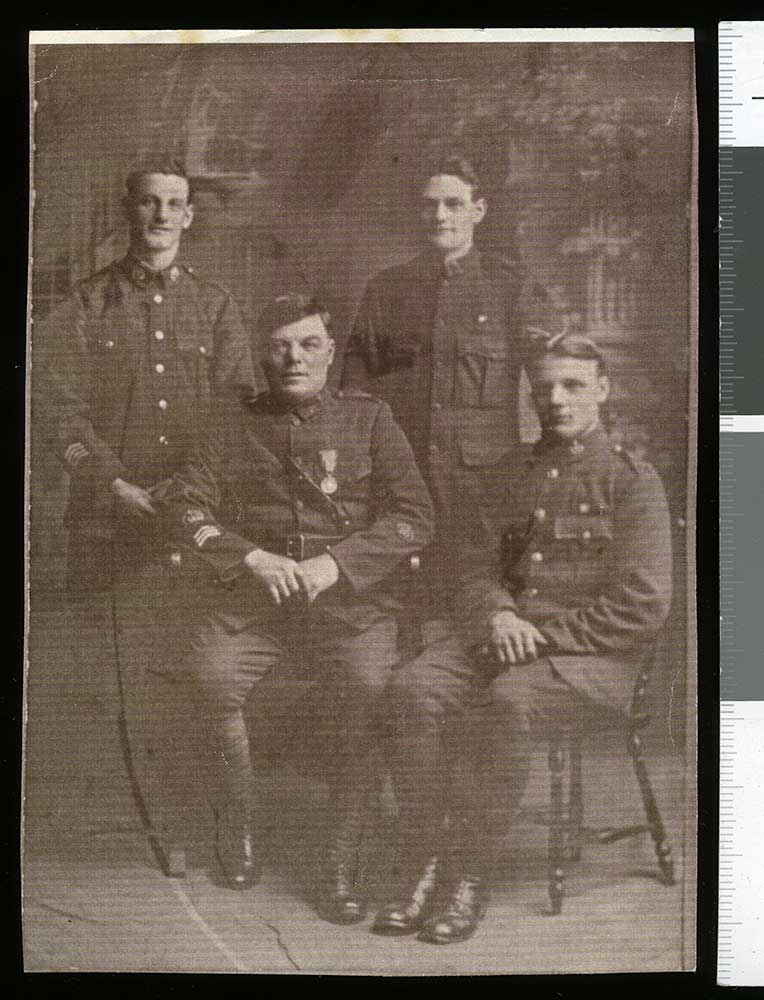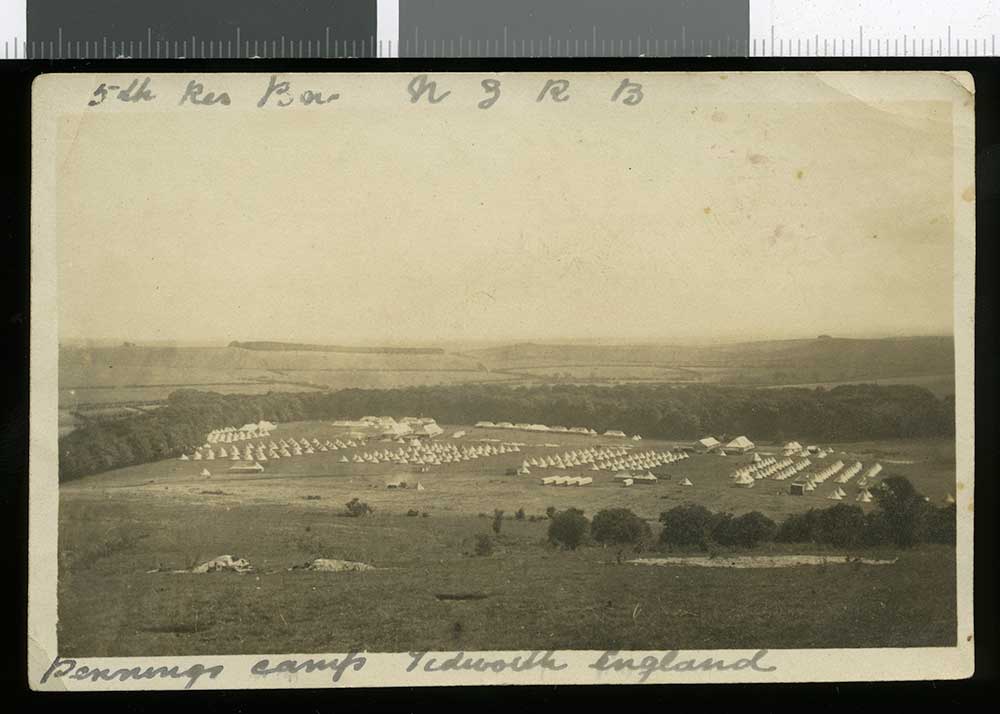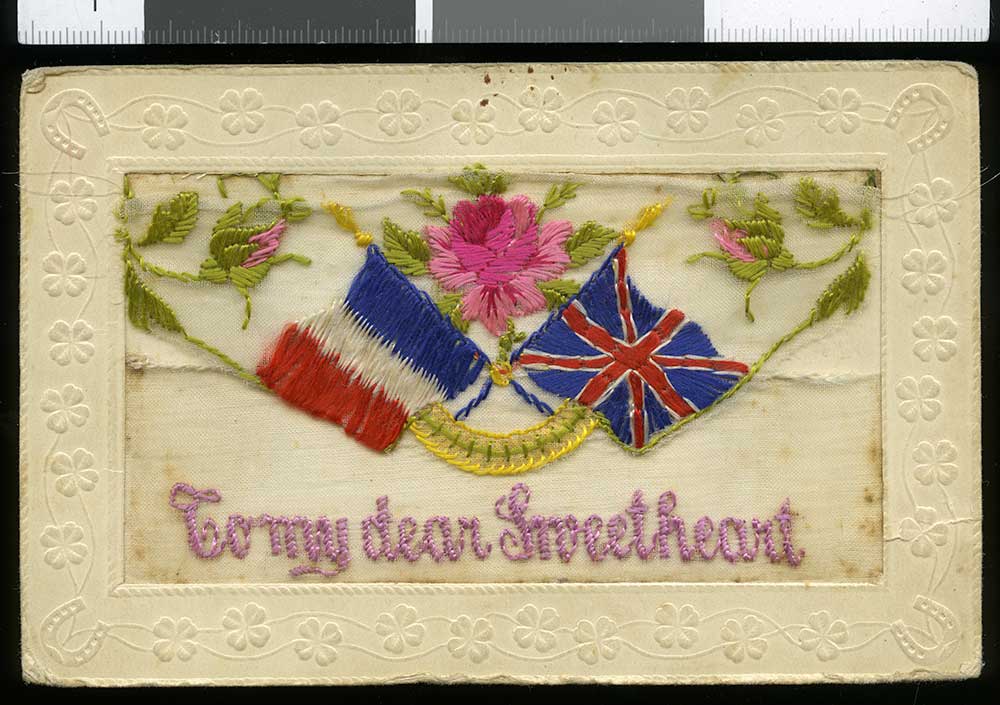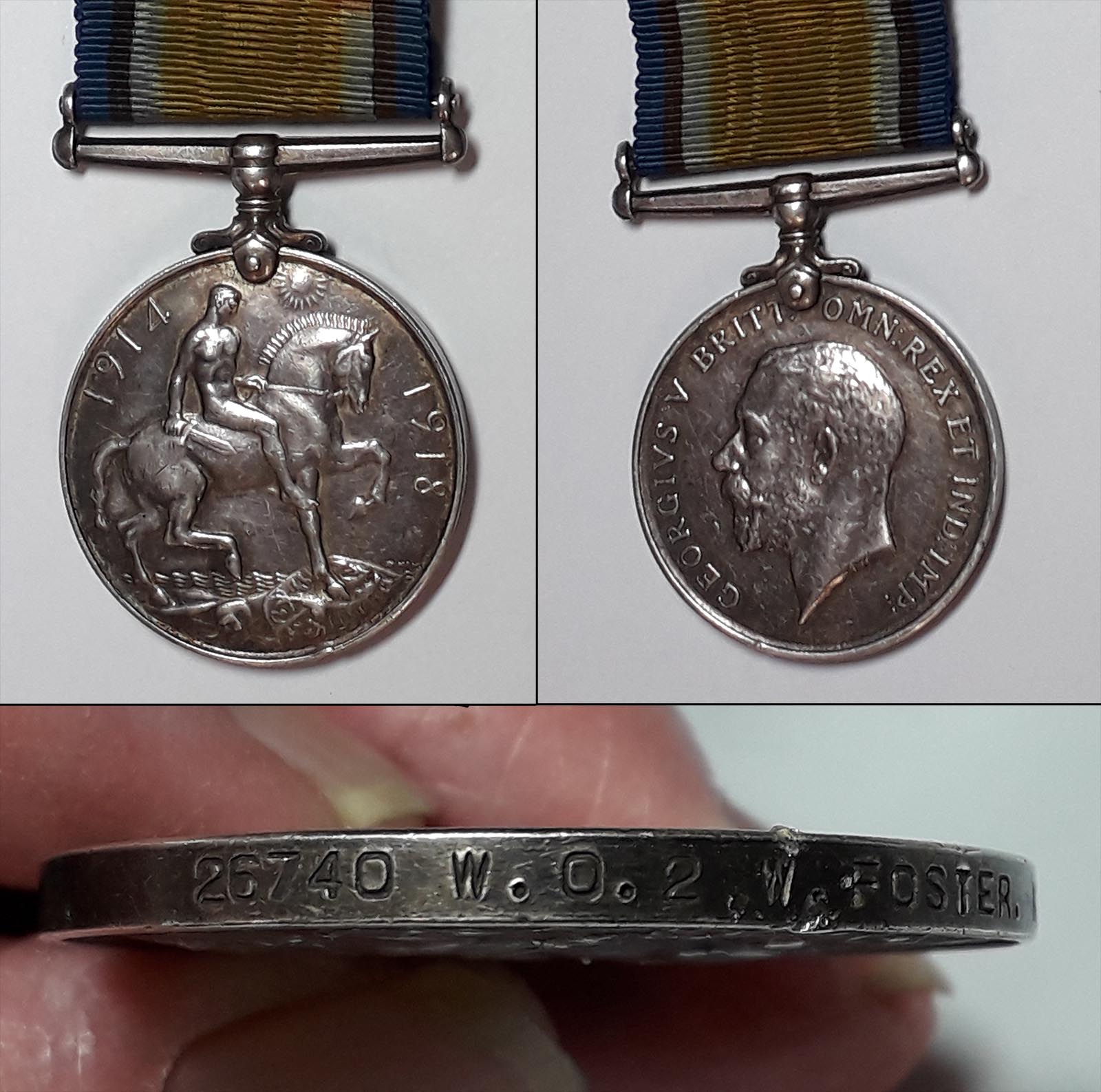 Aliases
Known as Billy
First Rank
Sergeant Major
Last Rank
Company Sergeant Major
Birth
Date
18 November 1869
Place

of Birth

Dunedin
Enlistment Information
Date
1 June 1916
Age
47 years
Address

at Enlistment

89 Victoria Street, Timaru
Occupation
Storeman

Previous

Military Experience
Defence Rifle Club (still member); Timaru Port Guards for 15 years 9 months - disbanded.
Marital Status
Married. Six children - four sons adults, two daughters younger.
Next of Kin
Mrs Ellen Foster (wife), 89 Victoria Street, Timaru; 88 Rose Street, Timaru, New Zealand
Religion
Presbyterian
Medical

Information

Height 5 feet 2 inches. Weight 160 lbs. Chest measurement 35-38 inches. Complexion between dark & fair. Eyes blue. Hair brown turning grey. Sight - both eyes 6/6. Hearing good. Colour vision correct. Limbs well formed. Full and perfect movement of all joints. Chest well formed. Heart and lungs normal. No illnesses. Free from hernia, varicocele, varicose veins, haemorrhoids, inveterate or contagious skin disease. Vaccinated. Good bodily and mental health. No slight defects. No fits. Off work - dislocated internal semilunar cartilage (left); removed by operation 3 years ago. Vertical scar forehead 1 inch long inner and right eyebrow; operation scar (curved) inner left knee joint.
Military Service
Served with
NZ Armed Forces
Served in
Army

Military

District
Embarkation Information
Body

on Embarkation

New Zealand Rifle Brigade
Unit

, Squadron, or Ship

10th Reinforcements 3rd Battalion, G Company
Date
15 November 1916
Transport
Maunganui

Embarked

From
Wellington, New Zealand
Destination
Plymouth, England
Other Units

Served With

Last Unit

Served With

NZ Entrenching Battalion, New Zealand Rifle Brigade
Military Awards
Campaigns
Western European
Service Medals
NZ Service Medal; General Service Medal; British War Medal; Victory Medal; NZ Long and Efficient Service Medal; Colonial Auxiliary Forces Long-Service Medal.

Military

Awards
Award Circumstances and Date
No information
Prisoner of War Information
Date of Capture
Where Captured

and by Whom

Actions Prior to Capture
PoW Serial Number
PoW Camps
Days Interned
Liberation Date
Discharge
| | | | |
| --- | --- | --- | --- |
| Date | 21 January 1919 | Reason | No longer physically fit for War Service (over age) |
Hospitals, Wounds, Diseases and Illnesses
25 August 1916 admitted to Featherston Hospital – influenza; discharged 27 August.
Post-war Occupations
Labourer; salesman
Death
Date
13 September 1941
Age
72 years
Place

of Death

2 Catherine Street, Timaru (residence)
Cause
Angina pectoris - 1 month; coronary disease of heart - some months
Notices
Timaru Herald, 15 September 1941
Memorial or Cemetery
Timaru Cemetery
Memorial Reference
General Section, Row 33, Plot 238
N

ew

Z

ealand

Memorials
Biographical Notes
William Foster was born on 12 November 1870 at Dunedin, his military file records in one instance. The funeral director's record gives William Jack Foster and Margaret Waddell as his parents. His father was born in England while his mother was born in Scotland. 12 November is recorded consistently as his birth date, but the year recorded in military records ranges from 1861 to 1870. His age at death (13 September 1941) supports 1869 as his birth year. William married Timaru-born Ellen Matilda Tacon (also known as Nellie Marie Tacon) on 1 October 1892 at Timaru. They had four sons and two daughters, all born and educated at Timaru – Richard John on 12 November 1891, Charles William on 4 February 1894, Ernest Robert on 25 May 1895, Alfred George on 2 January 1897, Irene May (May) on 23 May 1901 and Ellen Evelyn (Nellie) on 6 May 1902. These children were educated variously at Timaru Main, Timaru South and Waimataitai schools.
Mr Foster was an enthusiastic member of the Timaru Navals and Port Guards until their disbandment on the inception of compulsory training, when he joined the Defence Rifle Club. As of November 1895, members of the Timaru Naval Artillery were shooting for Mr W. Foster's trophy, shooting again for this trophy in January 1897. This is the same William Foster who joined Timaru Naval Artillery on 8 February 1897 with rank of Gunner (26 years) and was promoted to Corporal on 9 October 1899. Private Foster had been in line to be selected in the Timaru Port Guards team to fire a match against the Temuka Rifles Morris Tube Club at Temuka in August 1899. He was in the team for a re-match at the Timaru drill shed in September, and again in August 1900. Corporal Foster finished with the fourth highest score when the Timaru Post Guards fired for the Westport Coal Company's trophy on Boxing Day 1900. He won first prize in a competition in December 1903. After the fortnightly parade of the Timaru Port Guards was held on the evening of 27 August 1906, a meeting was held to elect a shooting and handicapping committee for the coming year, Sergeant Foster being one of those unanimously elected. In September 1914 a rifle match was fired between Timaru and Geraldine teams of Honorary Territorials. Geraldine ran out the winners, but W. Foster had the second best score for Timaru. He was elected to the shooting committee at the annual meeting of the South Canterbury Honorary Territorials Association, held on 28 September 1914. The following month he competed in the Timaru Defence Rifle Club's Labour Day match. In November 1914, the Honorary Territorials provided entertainment at the 8th Mounted Rifles Territorials' camp, W. Foster being one who contributed.
When the Crystal Spring Lodge, I.O.G.T. celebrated its eighth anniversary with a concert in August 1898, Mr W. Foster contributed a song and had to reappear. Mr Foster was one who gave songs at the Congregational Band of Hope concert in aid of its funds in August 1898. The following month he gave a song at the Lifeboat Lodge anniversary, and was encored. The "comic songs of Mr Foster were of course a special feature, . ." reported the newspaper of 9 December 1898 on the annual prize fund concert of Timaru South School. On 24 January 1900, he gave a comic song at the Grand Patriotic entertainment, and was well received. At the Southburn School concert in June 1900, "Mr W. Foster was a decided favourite with his comic items, carrying his audience rjght away, and he had to respond to unanimous encores on both occasions." At the celebration of the 25th anniversary of the establishment of the Lifeboat Lodge, I.O.G.T., in October 1900, the comic element was supplied by the ever popular Mr W. Foster, who kept the audience in good humour with his renderings of "Up Comes Jones," "Giving them all a Turn," and other amusing items. At the annual entertainment in aid of the Washdyke School funds, in July 1902, Mr W. Foster provided a good deal of fun by his humourous [sic] impersonations, and he was specially successful in his character songs, "How They Nursed the Baby" and "My Honolulu Lady." His clever conjuring was the cause of much wonder.
"A complimentary benefit will be tendered to Mr W. Foster, the well-known and popular local comedian, in the Theatre Royal on Thursday, August 6th. A member of Mr Foster's family having been in failing health for some time, his medical adviser has ordered a complete change of climate. To assist Mr Foster in doing this the Marschel Company and friends have generously offered their services towards giving an entertainment on his behalf. Mr Foster's ability and versatility as a public entertainer is undoubted; many will remember his very clever and amusing clown acts in the never-to-be-forgotten Timaru circus; also his fine burnt cork comedian and end man turns in various local minstrel entertainments, and latterly his very good character-acting both in comedy and drama. Mr Foster has always most willingly given his services towards entertainments for charitable or other purposes. . . ." [Timaru Herald. 24 July 1903.]
The Timaru Operatic Society's presentation of "H.M.S. Pinafore" in October 1908, was perhaps the ideal opportunity for Mr Foster to combine his shooting and musical talents. "The part of Dick Deadeye, a sublimate essence of a mischief-maker, was taken by Mr W. Foster. He was the comedian of the caste and was well received. His make up was grotesque, his stage build being a three-corner mannikin." In October 1909, Mr Will Foster appeared in the caste for "Pirates of Penzance" at the Theatre Royal. He was "well placed as the Sergeant of Police. He introduced a lot of side play, and generally helped things along. His patter songs were good." In 1910 he was selected for the role of Lambertuccio (an olive grower) in the comic opera "Boccaccio" to be produced by the Operatic Society. In late June 1912, Mr William Foster (Timaru) was as far afield as Morven where he supplied the comic element at the school concert, to the great amusement of all. At the Scotch and variety concert in March 1913, Mr Will Foster, "our local comedian", again supplied the comic element. In addition to his singing, he was also stage manager on occasions, producer of shows, and accompanist.
W. Foster handed in his name for active service in March 1916 at Timaru. He was only 5 feet 2 inches tall, weighed 160 pounds, and had a chest measurement of 35-38 inches. His complexion was between dark and fair, while his eyes were blue and his hair brown turning grey. His sight, hearing and colour vision were all good, his limbs and chest well formed, and his heart and lungs normal. Free from illness and diseases, this 47-year-old man who was medically examined at Timaru on 18 April 1916, was in good bodily and mental health. He had been off work with a dislocated internal semilunar cartilage (left), which was removed by operation 3 years ago. He bore two scars – vertical scar on his forehead 1 inch long inner and right eyebrow; operation scar (curved) inner left knee joint. A storeman and Presbyterian, he named his wife as next-of-kin – Mrs Ellen Foster, 89 Victoria Street, Timaru. He had served with the Timaru Port Guards for 15 years 9 months until they were disbanded and he was currently serving with the Defence Rifle Club.
Mrs Ellen Foster had already seen three sons leave for battle, now her husband was to go. "Mr William Foster, who is leaving with the Reinforcements to-day, was met in the Board Room by the Directors and staff of Guinness and LeCren Ltd., yesterday afternoon. Mr Guinness, Chairman of Directors, in making the presentation of a safety razor, shaving outfit, purse of sovereigns, and a small gift for Mrs Foster, stated that it was a pleasure to perform the duty, as Mr Foster not only had two sons at present in the fighting line, and one in camp, but not being satisfied with that, was going himself. He thought he had established one of few records that had been made in New Zealand, where father and sons had all volunteered. Mr Foster had been in the employment of the firm for 21 years, had been a faithful servant, well-liked by all with whom he had come in contact, and they were sorry to lose him. At the same time they felt proud that he was offering his services to his King and Country, and wished him good health and a safe return. Messrs Maling and Hutchinson on behalf of the firm and employees, assured him that he carried all good wishes for a safe and speedy return, and hoped to see him back again soon at his old post. Mr Foster briefly thanked one and all for their kind remarks and the presents, and also for the kindness and consideration shown to him by the members of the staff." [Timaru Herald. 31 May 1916.]
South Canterbury's quota of the 17th Reinforcements left Timaru by the second north-going express on 31 May. At noon they were entertained at dinner by the lady members of the South Canterbury War Relief Society, in Stafford Tea Rooms. At 3.30 p.m. the soldiers assembled at the Drill Hall, where they were farewelled by the Mayor and others. Among the non-commissioned officers for a later reinforcement was W. Foster. Enlisting on 1 June 1916 at Trentham, he joined the 19th Reinforcements and was promoted to the rank of Corporal. The annual general meeting of the Timaru Defence Rifle Club was held in early June 1916. At the conclusion of the meeting, the president, on behalf of himself and members of the club, presented to Rifleman W. Foster a wristlet watch, as a small token of their esteem. Several other members endorsed the president's remarks, and all hoped that Rifleman Foster would have a safe return home. Rifleman Foster suitably replied. William was admitted to Featherston Hospital on 25 August 1916, with influenza, and was discharged two days later. In October 1916, following his son Charles' wounding, Sergeant W. Foster, of the 19th Reinforcements, was in Timaru on final leave. About 9 November 1916, Mrs W. Foster, accompanied by her daughter-in-law (Mrs R. J. Foster), went to Wellington to say farewell to Sergeant W. Foster before he sailed with the Nineteenth Reinforcements. Just the month before, she had been advised that her son Charles had been wounded and admitted to hospital. Corporal William Foster was promoted to the rank of Sergeant on 2 August 1916, and to the rank of Sergeant-Major on 13 November 1916 before sailing.
Sergeant Major William Foster embarked with the New Zealand Rifle Brigade of the 10th Reinforcements per the "Maunganui", departing from Wellington for Plymouth, England, on 15 November 1916. Disembarking at Devonport, he marched in to Sling on 29 January 1917 and reverted to Temporary Sergeant before being confirmed in the rank of Sergeant on passing the School of Instruction on 21 February 1917. He was taken on Strength with the 5th Reserve NZ Rifle Brigade on 31 March. In the UK, he passed the Chelsea Infantry Course in 1917 and the York Infantry Course in 1918. At the end of April 1917, Mrs Guinness, the former mayoress, received a few letters of thanks. Sergeant W. Foster, D. Company, 5th Reserve Battalion, N.Z.R.B., wrote from Sling Camp, Bulford, on March 3rd. He thanked Mrs Guinness and the ladies of the Timaru Patriotic Society on behalf of the men of G. Company for useful parcels and cake distributed among them on board the troopship at Christmas time. The men were fortunate in getting Timaru parcels as they were much better than some from other parts of New Zealand. He mentions that cigarettes were not allowed to be distributed on board, but tobacco was. They had a good passage, though a long one — 17 days — of which they were 1, 2, 4 and 17 days at different ports of call. Since arriving the weather had been cold and wet and he had forgotten what sunshine was like. He had had four days' leave in London and mentioned what he saw there. He had been put on the staff at Sling Camp, and would not be going to France for some time. The general feeling was that things were well in hand and the hope was that the victorious end would soon come.
On 20 July 1917, he was appointed Acting Company Sergeant Major and on 31 July Temporary Company Sergeant Major with the 5th Reserve, NZRB. It was 15 May 1918 when he left Brocton for France and reverted to Sergeant. He marched in at Etaples and joined his battalion in the Field on 19 May. William Foster was appointed Temporary Warrant Officer (Temporary Company Sergeant Major) with the 3 Entrenching Battalion on 27 May 1918 in the Field. T/C.S.M. William Foster, 26740, N.Z.R.B., was examined by the Medical Board on 2 October 1918 at Etaples, France. His age given then was 49. His disability was (a) overage, (b) I.D.K Left, which dated to pre-war, about 1912, in New Zealand. He stated that he had not felt fit for long marches during the past few months. In 1913 an operation was performed on his left knee and a loose body was removed. His knee had been giving him trouble before the operation, a bale of wool having fallen on his left knee about 1910. The report on the present condition of the patient read – He looks his age. Arteries are atheromatous; and accommodation for near vision is defective. Scar of operation on inside of Left Knee Joint. Knee becomes painful in wet weather, but is never distended. It was recommended that he return to New Zealand for discharge as P.U. [physically unfit]. For pension purposes, he was assessed at less than 20% for 6 months. He was detached to England on 6 October 1918 and marched in at Torquay on 8 October. A further Medical Board was assembled on the Troopship "Ayrshire" on 4 December 1918. Drafts 199 and 200, which were expected in late December 1918, were bringing home 23 officers, two nurses, a clergyman, and 791 ranks, as well as a supplementary roll of 13 additional names. Among them was 26740 T/C. Sergeant-Major W. Foster, Timaru (Draft 199), who had embarked per the "Ayrshire" on 6 November 1918 at Plymouth. He was discharged on 21 January 1919, no longer physically fit for War Service (over age). 26740 C.S.M. Wm. Foster, of 88 Rose Street, Timaru, had acknowledged receipt of silver war badge No. 13764 on 14 January 1919.
At the annual meeting of the Timaru Defence Rifle Club on 28 May 1919, Rifleman W. Foster, who had lately returned from the Front, was given an enthusiastic welcome. "Half an hour was devoted to speech making, all present having something to say regarding their experiences at shooting competitions, and the apparently bright future ahead of the Club. The point was stressed that miniature rifle shooting was the best possible training for shooting with the larger weapon; and Rifleman Foster, who gave a most interesting account of the training which the soldiers were given in marksmanship in England, said that the military authorities there recognised that shooting with the miniature rifle was the best grounding a soldier could have. He added that no man was allowed to leave England for the Front until he had become thoroughly efficient with the rifle." At the same meeting mention was made that the Club sent copies of the "Timaru Herald" to all their members who were on active service, postage costing them approximately £10 a year. Mr W. Foster said that as one who had been to the war and received these papers, he would like to have a little to say on the matter. From the day that he left New Zealand till the day he left France on his return, there was not an issue of the "Timaru Herald" of which he had not received a copy. "And I can tell you," he added, "they made very pleasant reading, not only for me but for every South Canterbury man who had the luck to get hold of them. They were read with avidity, and I appreciate very highly the way the 'Herald' Company despatched them, and the action of the Club in paying the postage. I cannot quite express my feelings in the matter, but I can tell you there were times when 'this little bit of news from home' was the very best thing we could have, and did us more good than anything else could have done." The President said the Club members were glad to know that the papers had been so much appreciated. The Club were certainly indebted very greatly to the "Timaru Herald" Company for what they had done in the matter. Year after year with unfailing regularity, they had posted a copy of each issue of the paper to every member of the Club who was at the war; and they had not only attended to the despatch of the papers, but had also given them, and all the Club had to do was to pay the postage. He had much pleasure in proposing a very hearty vote of thanks to the "Timaru Herald" Company.
In November 1920, the Timaru Defence Office forwarded to Canterbury Military District Headquarters for special approval an application for Commission on behalf of William Foster, late N.Z.E.F. Although he was over the age laid down in N.Z. Regulations, "Mr Foster is particularly keen to do work with the Senior Cadets, is a very active man, physically fit and a good disciplinarian, . . ." In view of his capable service as Regimental Sergeant Major in the N.Z. Rifle Brigade and in view of the shortage of officers in the district of his appointment, he was duly appointed to an Officers (Territorial Force) Commission. This document recorded his birth date as 12 November 1869. As of 29 November 1920, he was to be 2nd Lieutenant (on probation) on the Unattached List. He passed the examination for rank of Lieutenant held at Timaru on 14 July 1921, his appointment confirmed in the NZ Gazette of 29 September 1921. The examination covered Infantry Drill, Musketry, Map reading and NZ Regulations. It was noted that he was able to impart instruction and was fit for promotion. After passing the examination held on 23 March 1922, 2nd Lieutenant William Foster, 8th (Cadet) Battalion, Canterbury Regiment, a wool salesman, was recommended for the rank of Lieutenant. This was gazetted on 8 March 1923. Lieutenant William Foster applied on 20 April 1925 for transfer to the Reserve of Officers, but as he was 55 years of age (his birth date given on this occasion being 12 November 1870) he was required to retire, the maximum age for Officers of the rank of Lieutenant on the Reserve of Officers being 50 years. He duly retired on 23 May 1925, bringing to a close a lengthy and efficient military career. On 2 October 1925, he acknowledged receipt of a New Zealand Long and Efficient Service Medal, and on 18 November 1925 receipt of a Colonial Auxiliary Forces Long-Service Medal. The statement of his service read thus – Timaru Naval Volunteers 8.2.1897 – 28.2.1911 (14 years 21 days); N.Z.E.F. 1.6.1916 – 21.1.1919 (2 years 235 days); Unattached List 29.11.1920 – 21.7.1921 and Canterbury Regiment 22.7.1921 – 23.5.1925 (4 years 175 days; that is, total broken efficient service of 23 years 107 days. Before 1925 was over, William Foster had been awarded several military medals - NZ Service Medal; General Service Medal; British War Medal; Victory Medal; NZ Long and Efficient Service Medal; Colonial Auxiliary Forces Long-Service Medal.
Mr Foster was nominated for the War Memorial Committee as early as July 1919, and was subsequently appointed to the Publicity sub-committee. The committee members were disappointed in the initial response to their appeal for subscriptions. In May 1920 he was appointed to the Amusement committee of the Timaru branch of the Returned Soldiers' Association. At the same meeting he reported that decisions regarding the War Memorial had been hampered because of the financial position. "One of the largest ceremonial parades, if not the largest, ever seen m Timaru took place yesterday morning, when the war colours of the 2nd (South Canterbury) Regiment were deposited in St Mary's Church for safe keeping. There were 19 officers and 521 of other ranks on parade, and they made an exceedingly fine showing. That interest in the military is still as keen as during the war period was seen in the way the people lined the streets along the route of march from the rendezvous the drill shed, and crowded into the church while seats were available. . . . . . . While the parade was a bright ceremonial affair there was a note of sadness about it in that it marked the passing of the old second (South Canterbury) Regiment, which, under the new organisation has been merged in the First (Canterbury) Battalion with headquarters at Christchurch. In addition to those formally on parade there were many onlookers who attended to see, as they said, "the last of the good old regiment." The parade was in charge of . . . . . , and Lieutenant C. W. Foster as adjutant, . . . . . The reserve of officers present included . . . . . , Lieutenant W. Foster ("B" Company), . . . . . The order of march was: — . . . . . . . There were also some M.R. men . . . . . , and members or the R.S.A. in. civilian dress. . . . . . . . At the commencement of the service the ceremony of presentation of the flag took place, the commanding officer saying: — "We desire that this flag, the Colours of the 2nd South Canterbury Regiment, be handed to the care of this Church for safe keeping, in memory of the fallen, until such time as it may be again required." The vicar, . . . . . , on behalf of the church authorities, accepted the flag for safe keeping, and placed it reverently beside the altar table until a permanent place is fixed for it. The flag is similar in size and design to the Mounted Rifles flag which was fixed some nine years ago above the pulpit. The design of each flag is a Union Jack, in silk, with the St George's Cross broader than usual to give room for a golden crown in the upper bar and the name of the regiment on the right hand arm. The old S.C.M.R. flag bears the name of the regiment and "South Africa 1900-1902." The flag deposited yesterday has the crown, but does not bear a regimental name. It however is well marked with inscriptions of honour: — "South Africa 1900-2. Gallipoli 1914. Egypt 1914, 1915, 1916. France 1917, 1918. Germany 1918." . . . . . . . At the close of the sermon the vicar announced that marble tablets to the memory of fallen soldiers would he dedicated in the church at an early date, and he hoped that as many as possible of those present would attend the dedication ceremony. The singing of the National Anthem closed the service. After the service the parade was reformed and marched to Alexandra Square, where all were arranged on the grass, and Mr Havelock Williams took a swing-round photograph of the whole. . . . . . . . . . . The "Timaru Herald" of Friday, September 27, 1907 — fourteen years ago — contained a description of the ceremony of proclaiming "Dominion Day" in Timaru, and telegrams on the subject from other centres. In the presence of . . . . . . . . , the Mayor (Mr J. Craigie) read from the Borough Council steps the King's Proclamation that the title "The Dominion of New Zealand" was substituted for "The Colony of New Zealand." An ensign was unfurled, cheers given, and the National Anthem sung." . . . . . . . . . . [Timaru Herald, 14 November 1921]
At an extraordinary meeting of the South Canterbury branch of the R.S.A. in mid-March 1922, Mr W. Foster moved "That, in view of the large amount of unemployment among returned soldiers, the Canteen Funds Board be requested to consider the advisableness of loaning part of the Canteen Board's funds to City and County Councils on the understanding that such funds be used to provide work for returned men." Anzac Day 1922 was observed with due solemnity in Timaru, a united service taking pace in the afternoon in King George's Place. "A dais was erected near the main door of the Municipal Chambers, for the speakers who took part in the service, and on the little flower plot adjoining the Chambers a large wooden cross with rocks at its base, was erected, . . . . . On the improvised grave many beautiful floral tributes were reverently placed m memory of the heroes of the war. The military were located immediately in front of the specially erected platform, and they made a fine showing. In all there were 711 on parade — 22 officers and 689 other ranks. B. Coy. Cadets paraded under Lieut. W. Foster. At a special meeting of the War Memorial Committee in July 1922, regarding the siting of a memorial, Mr Foster "recommended Alexandra Square, and suggested moving the Troopers' Memorial into the Square, and putting all other public memorials there in future. In the Old Country one sees that done." More debate followed in January 1923.
When a new miniature rifle range – considered the finest range of its kind in the South Island - was opened on 2 August 1923, a display was given by two companies in the Drill Shed. "From the display given, the deduction certainly was that the primary aim of the scheme was to build up a manhood of handy, muscular physique." Present were Lt. W. Foster, officer i.c. B. Coy. 2nd (Cadet) Battalion Canterbury Regiment and Lt. C. W. Foster, officer i.c. physical training. "When the Great War ended in 1918 it was oftentimes said, and it has often been repeated since, that the heroism, and courage, and faithfulness to duty of our soldiers would soon be forgotten, but though some years have passed since then, the great deeds of the gallant men who left these shores has not been forgotten; and judging by the very large assemblage of South Canterbury people in King George's Place yesterday afternoon, when the Anzac Memorial Service was held, the honoured dead are still held in affectionate remembrance. The weather was beautifully fine, and the commemoration service, which was arranged by the R.S.A., was a most impressive one." [Timaru Herald. 26 April 1924.] There again were Lieutenant W. Foster, O.C., and Lieutenant C. Foster. In 1925, Lieutenant W. Foster and Lieutenant C. W. Foster and Lieutenant C. Foster paraded with officers of the Active, Reserve, and Retired Lists. The 1926 Anzac Day Memorial Service saw B Co., 8th Cadet Battalion, C.R., parading under Lieut. W. Foster, O.C. There, too, was Lieut. C. Foster in a commander position.
At the annual meeting of the South Canterbury R.S.A. on 30 April 1923, Mr W. Foster spoke in general support of a motion that approved persons, not being members of the R.S.A., and being over the age of 18 years, should be admitted to membership of the club on payment of an annual fee of 10s each, though he recommended a fee of 5s. He was also elected to the executive committee. At the War Memorial meeting in early February 1924, Mr Wm. Foster moved the motion that the Timaru Park be the site for the memorial. At a very well attended meeting of the South Canterbury Returned Soldiers' Association on 10 March 1932, it "was unanimously decided, on the motion of Mr W. Foster, that a remit be sent to the Dominion conference protesting against the deduction of the unemployment wages tax from money earned under the Poppy Day, or similar funds."
Once home from the war, Mr Foster was right back into his contributions to the entertainment scene. On 12 August 1919, under the direction of the S.C.R.S.A., a talented company gave a performance of the arousing 2-act Irish comedy, "Titus O'Toole." The cast contained all the best talent in the Returned Soldiers' Association, including Billy Foster and Tim O'Connor, who had had a lot of experience both locally and at Home. Billy Foster, while in England, produced several comedies, and several well known English professional artists were included in the casts. Other well-known amateurs included Charles Foster. This was the first time a live Irish comedy had been produced in Timaru, and it was too good to miss. A special souvenir programme was prepared for the performance which included amongst its illustrations an unique view of Anzac Beach, believed to be the only one in existence taken of the beach at that time the New Zealanders landed. Others are views taken on all the fronts where the New Zealand soldiers fought. The souvenir programme was well worth sixpence. The proceeds of sweets sold during the evening went to St. Saviour's Orphanage and the R.S.A.
William Foster died suddenly at his Timaru residence, 3 Catherine Street, on 13 September 1941, his age recorded as 72 years. He had suffered from angina pectoris for one month and coronary disease of the heart for some months. He was buried in the Timaru Public Cemetery with his wife Ellen who had died suddenly in June 1935 and his elder daughter, Ellen Evelyn (Nellie), who died in July 1922. Members of the South Canterbury RSA were requested to attend his funeral at the Timaru Cemetery. William Foster signed his Will not long after his wife's death, appointing a Timaru accountant and a Timaru solicitor as executors and trustees. After necessary payments, the residue of his estate was to be held in equal shares for such of the named children who were living – his sons Charles William Foster, Ernest Robert Foster and Alfred George Foster, and his daughter Irene May Densem. No mention was made of his eldest son Richard John Foster. Charles confirmed that his father was born at Dunedin. With the death of William Foster, a very full, generous, active and varied life had come to a close – family, employment, community, entertainment, theatre, military.
Three of William Foster's sons served with him in the war (and returned) – Charles William Foster, Ernest Robert Foster and Alfred George Foster. "The luck or chance in war is a very uncertain item. One soldier goes through Gallipoli to the finish without a scratch, another makes the supreme sacrifice at his first engagement. It is seldom, indeed, that all male members of one family came through without a scratch after several engagements (remarks the Timaru Herald). Such is the experience of Mr William Foster, recently returned, and his three sons. The youngest son first volunteered and fought at Gallipoli. The second enlisted later and fought chiefly in France, as also did the third son. The father then enlisted and fought side by side with a son at the Battle of the Somme, all four coming through the ordeal unscathed. [Feilding Star, 26 April 1919.] In fact, none of the sons came home unscathed. Both Alfred and Charles came home with an English bride. Richard John Foster, the eldest son of Mr and Mrs William Foster, married in December 1915 at Chalmers Church, Timaru. After his name was drawn in a ballot, his appeal was allowed in June 1917, as he had been passed fit only for Home Service. A married man with two adult children, Richard had a seizure while driving to Pleasant Point on 22 December 1943 and died almost instantly. Richard's son, Robert James Corrie Foster, saw service in World War Two (25568). In August 1917, N. and M. Foster gave 5 shillings for Christmas comforts for the trenches – surely Nellie and May, the two young daughters of William and Ellen.
Sources
Auckland War Memorial Museum Cenotaph Database [25 September 2014]; NZ Defence Force Personnel Records (Archives NZ Ref. AABK 18805 W5537 0041645) [20 January 2015]; NZ Defence Force Personnel Records (Archives NZ Ref. AABK 18805 W5937 0359341) [27 May 2016]; Timaru Cemetery headstone image (Timaru District Council) [19 January 2015]; South Canterbury Times, 12 August 1898, 16 September 1898, 9 December 1898, 8 August 1899, 19 September 1899, 23 August 1900, Timaru Herald, 21 November 1895, 27 January 1897, 24 & 25 January 1900, 15 June 1900, 6 October 1900, 27 December 1900, 28 July 1902, 24 July 1903, 6 August 1903, 12 December 1903, 28 August 1906, 29 October 1908, 23 & 27 October 1909, 17 August 1910, 2 July 1912, 13 March 1913, 5 February 1916, 29 March 1916, 31 May 1916 [x 2], 6 & 14 June 1916, 11 & 20 November 1916, 3 & 9 May 1917, 20 June 1917, 8 August 1917, 13 December 1918, 29 May 1919 [x 2], 17 July 1919, 12 & 26 August 1919, 9 October 1919, 24 May 1920, 14 November 1921, 16 March 1922, 26 April 1922, 22 July 1922, 26 January 1923, 26 April 1923, 1 May 1923, 3 August 1923, 8 February 1924, 26 April 1924, 27 April 1925, 11 March 1932, Press, 1 June 1916, NZ Times, 12 December 1918, Dominion, 12 December 1918, Feilding Star, 26 April 1919 (Papers Past) [12 August 2015; 21, 22 & 28 May 2016; 28 August 2020; 10, 11 & 24 March 2023; 10, 13 & 15 May 2023]; Probate record (Family Search/Archives NZ) [10 May 2016]; Timaru Herald, 15 & 20 September 1941 (Timaru District Library) [20 May 2016 07 June 2017]; NZ Electoral Rolls (ancestry.com.au) [21 & 23 May 2916]; Funeral Director's card (South Canterbury Branch NZSG) [06 June 2017]
External Links
Related Documents
Researched and Written by
Tony Rippin, South Canterbury Museum; Teresa Scott, South Canterbury Genealogy Society
Currently Assigned to
TS
Licensed under a Creative Commons Attribution-NonCommercial 4.0 International License unless otherwise stated.
Tell us more
Do you have information that could be added to this story? Or related images that you are happy to share? Submit them here!