FOSTER, Alfred George
(Service number 6/2128)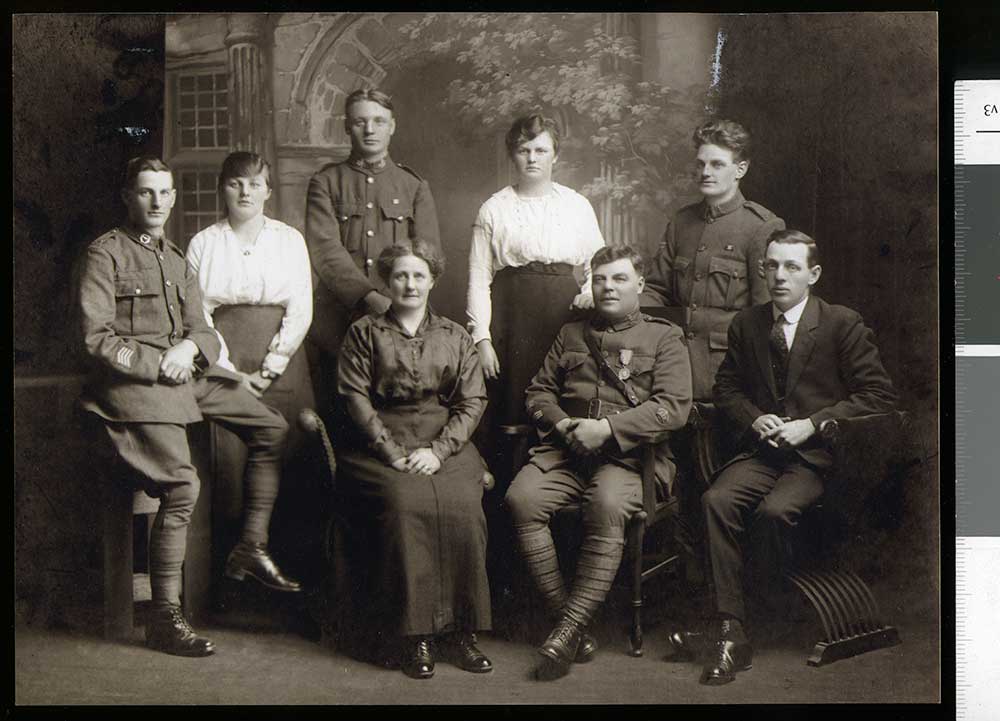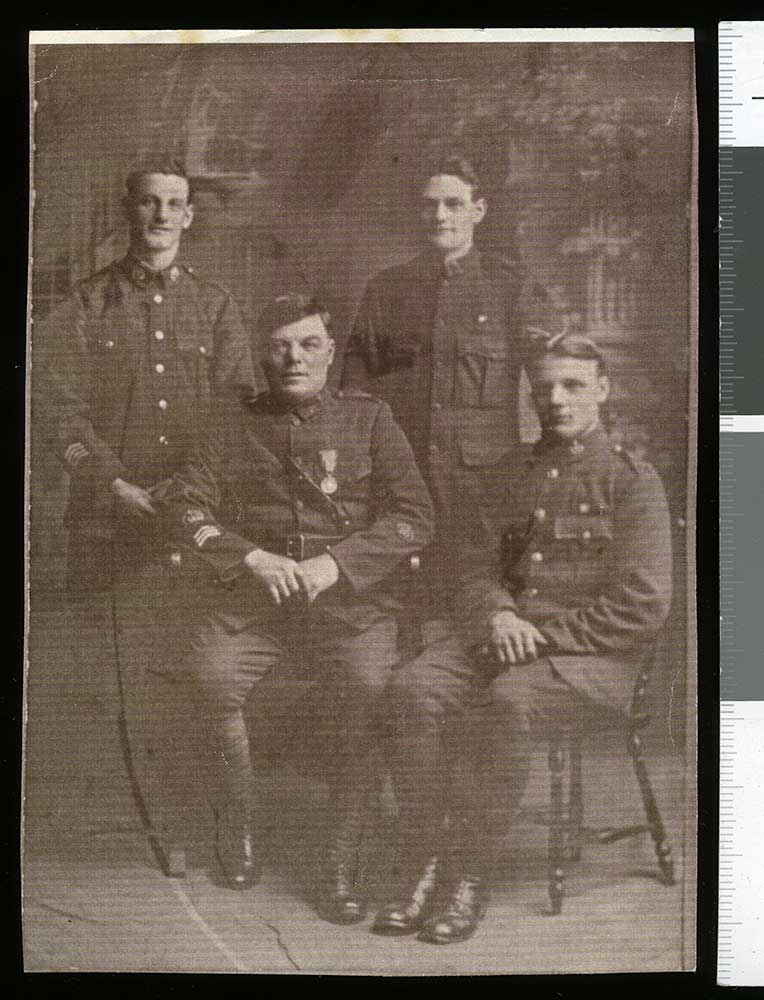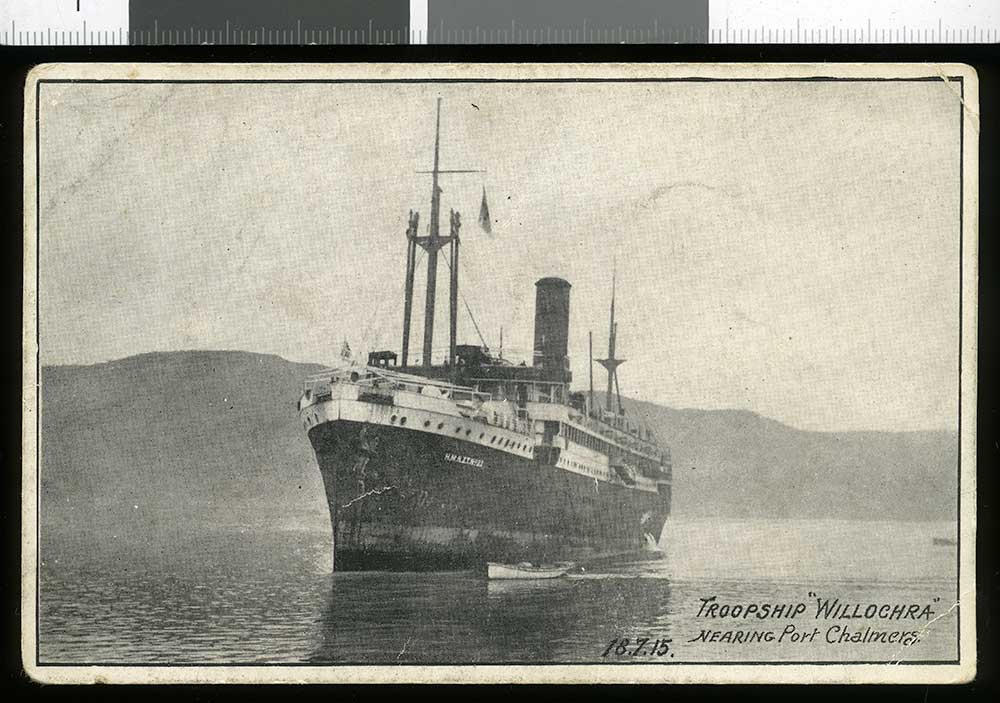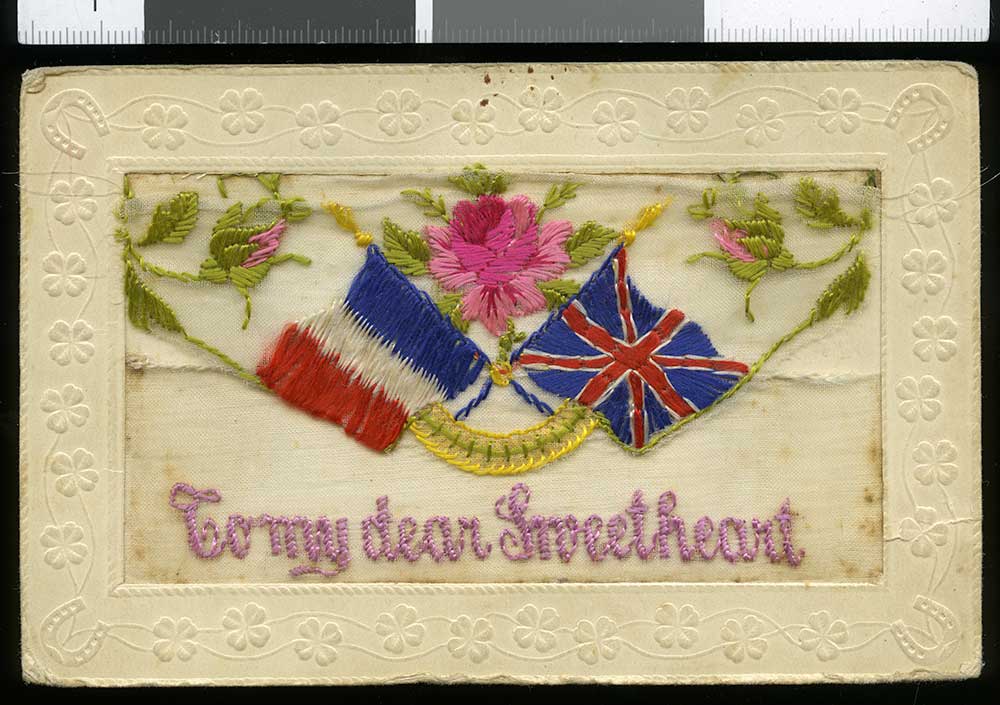 Aliases
Known as Fred
First Rank
Private
Last Rank
Private
Birth
Date
2 January 1897
Place

of Birth

Timaru
Enlistment Information
Date
Age
18 years
Address

at Enlistment

Victoria Street, Timaru
Occupation
Hardware assistant

Previous

Military Experience
Marital Status
Single. Married 1918, England.
Next of Kin
William FOSTER (father), Victoria Street, Timaru, New Zealand. Later Mrs E. A. FOSTER (wife), Arthur Villa, 95 George Street, Romford, Essex; then Rata Road, Nai Nai, Lower Hutt
Religion
Presbyterian
Medical

Information

Height 5 feet 5 inches. Complexion fair. Eyes grey. Hair brown.
Military Service
Served with
NZ Armed Forces
Served in
Army

Military

District
Embarkation Information
Body

on Embarkation

4th Reinforcements
Unit

, Squadron, or Ship

Canterbury Infantry Battalion
Date
17 April 1915
Transport
Willochra (or possibly Knight Templar or Waitomo)

Embarked

From
Wellington, New Zealand
Destination
Suez, Egypt
Other Units

Served With

Last Unit

Served With

NZ Cycle Corps
Military Awards
Campaigns
Egyptian; Balkan - Gallipoli; Western European
Service Medals
1914-15 Star; British War Medal; Victory Medal

Military

Awards
Award Circumstances and Date
No information
Prisoner of War Information
Date of Capture
Where Captured

and by Whom

Actions Prior to Capture
PoW Serial Number
PoW Camps
Days Interned
Liberation Date
Discharge
| | | | |
| --- | --- | --- | --- |
| Date | 24 August 1919 | Reason | No longer physically fit for war service on account of illness contracted on Active Service. |
Hospitals, Wounds, Diseases and Illnesses
10 September 1915 disembarked at Malta from hospital ship "Neveralia" - slightly sick; admitted to hospital at Malta - dysentery. 22 September 1915 admitted to Royal Victoria Hospital at Netley, England - enteric. 25 March 1916 advised that recovered from enteric fever. 15 September 1917 evacuated sick to hospital; admitted to Field Ambulance - diarrhoea. 18 January 1918 evacuated sick; admitted firstly to Field Ambulance then to Casualty Clearing Station; 20 January 1918 transferred to No. 31 Ambulance Train & to hospital at Boulogne. February 1918 suffering from hernia & admitted to hospital in France. Transferred to hospital ship, admitted to No. 2 NZ General Hospital at Walton-on-Thames on 12 February 1918 - adenitis. 8 April 1918 transferred to NZ Convalescent Hospital at Hornchurch. 5 July 1918 admitted to NZ General Hospital at Hornchurch - influenza. Classified unfit.
Post-war Occupations
Tramway employee; labourer; storeman
Death
Date
8 June 1959
Age
62 years
Place

of Death

Timaru
Cause
Notices
Timaru Herald, 10 June 1959
Memorial or Cemetery
Timaru Cemetery
Memorial Reference
Services Section, Row 109, Plot 15
N

ew

Z

ealand

Memorials
Biographical Notes
Alfred George Foster, known as Fred, was born on 2 January 1897 at Timaru, the fourth and youngest son of William and Ellen Matilda (Nellie Marie, née Tacon) Foster. William was born in Dunedin while Ellen's mother was a "Strathallan" migrant. They married in 1892 at Timaru and had four sons and two daughters. Fred started at the Timaru South School when he turned five, the family then living on Victoria Street, and transferred to Waimataitai School in mid-1904 when they moved to Thomas Street.
A. G. Foster was named among several adjourned defence cases that were before the Timaru Court in late May 1914. His was dismissed as he had attended parades and drills since his appearance before Court. The first of the family to volunteer, Alfred enlisted early in the war, when he was only 18 years old, having put his age up two years. Working in hardware, single, Presbyterian and living at home, he named his father as next-of-kin – William Foster, Victoria Street, Timaru. He stood at 5 feet 5 inches, and had a fair complexion, grey eyes and brown hair. Private A. G Foster embarked at Wellington on 17 April 1915 with the Canterbury Infantry Battalion of the 4th Reinforcements. He was posted to the 5th Reinforcements in July. He joined his battalion on 28 July 1915 at the Dardanelles, where he went through much of the big fighting. Just six weeks later, however, on 10 September 1915, Private Foster disembarked at Malta from the hospital ship "Neveralia", slightly sick, and was admitted to hospital at Malta, with dysentery. On 22 September he was admitted to the Royal Victoria Hospital at Netley, England, with enteric. By December he had been discharged, convalescent, or was still hospitalized at Netley. As of January 1916, when Ernest left for Trentham, Fred was on furlough in the Homeland.
The High Commissioner advised on 25 March 1916 that he had recovered from enteric fever and was then at Base. He had been attached to the New Zealand Base Depot at Grey Towers on 24 February. On 6 July 1916 he was transferred from the Convalescent Camp to the Command Depot at Codford. He proceeded to Sling on 16 January 1917. There were regimental transfers and movement between Sling and Codford in the early months of 1917, before he proceeded overseas to France on 21 June 1917. He was posted to the New Zealand Cycling Corps in France on 14 July 1917, but two months after he was evacuated sick to hospital. Admitted to the Field Ambulance with diarrhoea, he was discharged and re-joined his unit on 21 September.
He was again evacuated sick – admitted firstly to the Field Ambulance then to the Casualty Clearing Station on 18 January 1918, before being transferred to No. 31 Ambulance Train and to hospital at Boulogne on 20 January. The official hospital report published on 8 February 1918 listed Private A. G. Foster, of Timaru, as a not severe case. The word received a week or more later was that he was suffering from hernia and had been admitted to hospital in France. Transferred to the hospital ship, he was admitted to No. 2 NZ General Hospital at Walton-on-Thames on 12 February, with adenitis. By March, he was progressing favourably, and in May would return for duty. Transferred to the NZ Convalescent Hospital at Hornchurch on 8 April 1918, he was discharged to duty on 24 April. He was given a period of leave in June 1918, but two days after reporting to Codford, he was again admitted to the New Zealand General Hospital at Hornchurch (5 July 1918), this time suffering from influenza. It was mid-July when he again left Hornchurch and reported to Codford. Classified unfit, he was placed on the NZ Roll for return to New Zealand.
Private A. G. Foster, of Timaru, embarked at Plymouth on 7 June 1919 to return to New Zealand aboard the "Ruapehu", which was due at Wellington on 21 July 1919. It was in the evening of 29 July that four soldiers (all married) arrived at Timaru by train, one of them Albert George Foster. His intended address was initially care of Mrs W. Foster, 88 Rose Street, Timaru, but this was amended to a Lower Hutt address. Indeed, Alfred was in Wellington for a few years, a tramway employee, until he and Edith settled at Timaru later in the 1920s.
Albert George Foster did have a few transgressions while abroad. In March 1916 at Grey Towers, he was confined to barracks for two days for being improperly dressed on parade. For absence without leave at Sling in February 1917, he forfeited 2 days pay and was awarded 96 hours detention. He was found guilty of absence without leave in England from 27 April 1917 until he surrendered himself to civil police on 4 May, for which he was awarded 35 days detention and forfeited 8 days pay. In July 1917 in France, he was awarded 168 hours detention. He again forfeited 2 days pay for absence from parade while with the Cycling Corps in August 1917.
Alfred G. Foster was discharged on 24 August 1919, being no longer physically fit for war service on account of illness contracted on Active Service. He had served for well over four years overseas – at Gallipoli and in Egypt and Western Europe, for which he was awarded the 1914-1915 Star, the British War Medal and the Victory Medal.
Alfred George Foster married Edith Amelia Harding on 20 June 1918 at St Edward the Confessor, Romford, Essex, England. Thereafter, Edith became his next-of-kin – Mrs E. A. Foster, Arthur Villa, 95 George Street, Romford, Essex. Their daughter, May Edith Foster, was born on 28 January 1919 at Romford, and baptized on 23 February 1919 at St Edward the Confessor. Six more children were born in New Zealand, the first-born son dying in Wellington at 3 months. An appeal was lodged, and dismissed, on behalf of Lawrence Richard Foster, of Timaru, the elder surviving son of Alfred and Edith and an employee of the Railways Department, in January 1942. His name had been drawn in the ballot in October 1941. Lawrence did follow the occupation of a soldier for some years in the 1950s and 1960s. Their younger son, Charles Edward Foster, was called up in the ballot of November 1944, after he had reached the age of 18.
The question of whether or not a prohibited person, Alfred George Foster, attended the annual re-union of the South Canterbury Returned Soldiers' Association and refrained from taking liquor there, was decided at a sitting of the Timaru Magistrate's Court on 30 May 1928. On being charged with procuring liquor during the currency of a prohibition order, Foster pleaded not guilty. "Defendant stated that he did not have any strong drink at the re-union. He confined himself to soft drinks — ginger ale, he thought." Although he had witnesses on his side, one saying that defendant had a peculiar walk, and it was quite likely that a person might take it that he was drunk, Foster had a bit of run-in with the constable on duty. The Magistrate said that the charge against defendant was not that of drunkenness, but of procuring liquor. Finding Foster's story unconvincing, he convicted him and fined him 20sh and costs 10s.
Come 1940 and Alfred George Foster (511683) attested for service in World War Two, his name having been drawn in a ballot. His next-of-kin was his wife – Mrs Edith Amelia Foster, 135 Evans Street, Timaru, South Canterbury. As at 1940, his sight, hearing and colour vision were all normal, his limbs and chest well formed. He was free of diseases but had had a gall bladder operation in 1922. He had also had a pension for war disability. He spent two periods in camp – the first at Burnham where he was discharged in 1941 at his own request, and the second from January 1942 until he was discharged on 12 October 1944. In June 1942 he was admitted to Timaru Hospital. In February 1944 he was granted sick leave, being no longer fit to live in camp. He returned his equipment to Burnham. He was granted a permanent war pension in 1949 on account of disability.
Alfred George Foster (Fred) died suddenly on 8 June 1959 at Timaru, aged 62 years. He was survived by his wife, two sons and four daughters. He was buried in the services section of Timaru Cemetery, where a services stone marks his grave. R.S.A. members met at the Cemetery Gates to attend his funeral. Edith died in March 1971 and was buried at Timaru with her daughter-in-law who had died in 1962. Fred Foster "performed many services behind the scenes in the community life of this district." He had stage experience, was a gatekeeper for the South Canterbury Rugby Union, had "a particular affection" for the Timaru Municipal Band, was a keen member of the R.S.A., and contributed to the Anzac concerts, Timaru Choral Society and Timaru Boys' High School.
In July 1915 a Roll of Honour board was unveiled at Timaru South School, containing the names of twenty ex-pupils who had joined the New Zealand Expeditionary forces – including Private A. G Foster. Five of them had already given their lives. On unveiling the board, the Rev. T. Stinson said that it would remind boys and girls of the brave young men who had belonged to the school, and of their self-sacrificing devotion to the cause of honour and freedom. The ceremony concluded with the sounding of "The Last Post" by cadet-buglers. Alf. Foster was one of many ex-pupils who had gone or were on their way to the front and whose names appeared on the Waimataitai School "Roll of Honour" drawn up in August 1915.
His father and brothers Charles William Foster and Ernest Robert Foster also served in World War One, all four overseas together (and returned). "The luck or chance in war is a very uncertain item. One soldier goes through Gallipoli to the finish without a scratch, another makes the supreme sacrifice at his first engagement. It is seldom, indeed, that all male members of one family came through without a scratch after several engagements (remarks the Timaru Herald). Such is the experience of Mr William Foster, recently returned, and his three sons. The youngest son first volunteered and fought at Gallipoli. The second enlisted later and fought chiefly in France, as also did the third son. The father then enlisted and fought side by side with a son at the Battle of the Somme, all four coming through the ordeal unscathed." [Feilding Star, 26 April 1919.] In fact, none of the sons came home unscathed. Both Alfred and Charles came home with an English bride. Their eldest brother, Richard John Foster, married in December 1915 at Chalmers Church, Timaru. After his name was drawn in a ballot, his appeal was allowed in June 1917, as he had been passed fit only for Home Service. A married man with two adult children, Richard had a seizure while driving to Pleasant Point on 22 December 1943 and died almost instantly. Richard's son, Robert James Corrie Foster, saw service in World War Two (25568), as did Ernest's younger son, Eric Raymond Foster (10525 RNZN). In August 1917, N. and M. Foster gave 5 shillings for Christmas comforts for the trenches – surely Nellie and May, the two young sisters of Alfred (Fred) Foster. Their mother, Mrs Ellen Foster, died suddenly on 23 June 1935 and their father, William Foster, died suddenly on 13 September 1941. Both are buried with the elder daughter, Ellen Evelyn (Nellie), who died in July 1922.
Sources
Auckland War Memorial Museum Cenotaph database [25 September 2014]; NZ Defence Force Personnel Records (Archives NZ Ref. AABK 18805 W5922 0041508) [9 September 2015]; School Admission records (South Canterbury Branch NZSG) [19 January 2015; 12 August 2015]; Timaru Cemetery headstone images (Timaru District Council) [19 January 2015]; Timaru Herald, 10 June 1959 (Timaru District Library) [18 March 2015]; Timaru Herald, 23 July 1915, 30 August 1915, 3 December 1915, 5 & 7 January 1916, 9 May 1917, 20 June 1917, 8 August 1917, 8 & 12 February 1918, 7 & 30 July 1919, 14 June 1926, 31 May 1928, 9 October 1941, 21 January 1942, 23 & 24 December 1943, 29 January 1944, 22 November 1944, Wanganui Herald, 29 September 1915, Sun, 29 September 1915, 8 October 1915, 2 December 1915, NZ Times, 9 October 1915, 3 December 1915, Star, 2 December 1915, Press, 8 October 1915, 20 February 1918, 3 July 1919, Ashburton Guardian, 6 & 19 February 1918, Feilding Star, 26 April 1919 (Papers Past) [21, 20 & 22 May 2016; 14 February 2018; 02 May 2021; 17 March 2023; 12 & 14 May 2023]; NZ Electoral Rolls (ancestry.com.au) [21 & 23 May 2016; 14 May 2023]; Timaru Herald, 13 June 1959 (Timaru District Library) [sighted 20 June 2016; scanned 18 May 2023]; England marriage & baptism transcriptions (ancestry.com.au) [14 May 2023]
External Links
Related Documents
Researched and Written by
Tony Rippin, South Canterbury Museum; Teresa Scott, South Canterbury Genealogy Society
Currently Assigned to
TS
Licensed under a Creative Commons Attribution-NonCommercial 4.0 International License unless otherwise stated.
Tell us more
Do you have information that could be added to this story? Or related images that you are happy to share? Submit them here!