ELMSLIE, Hamilton Burns
(Service number 7/438)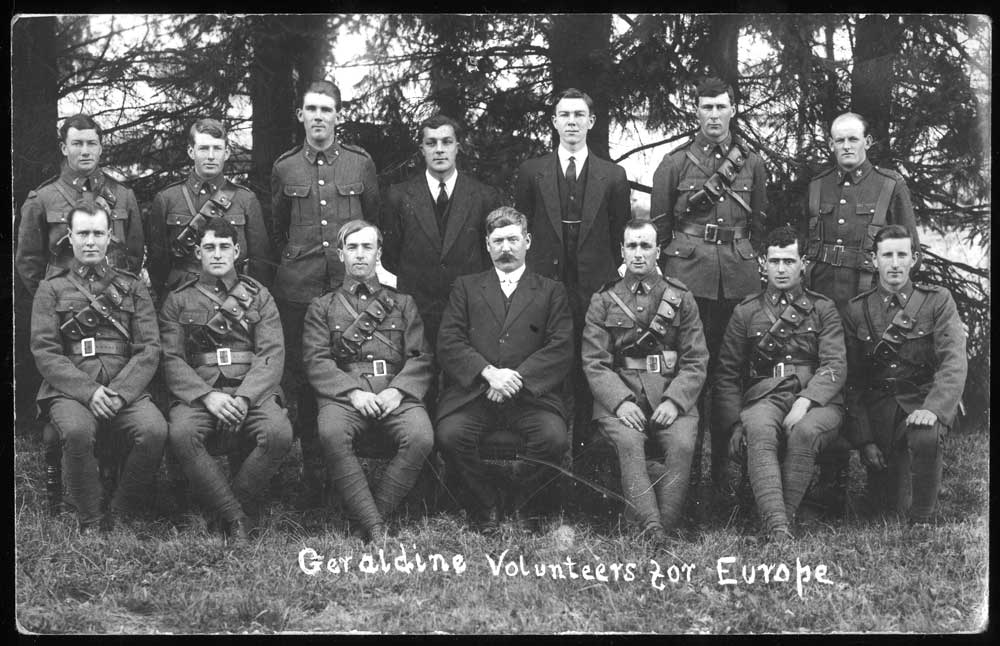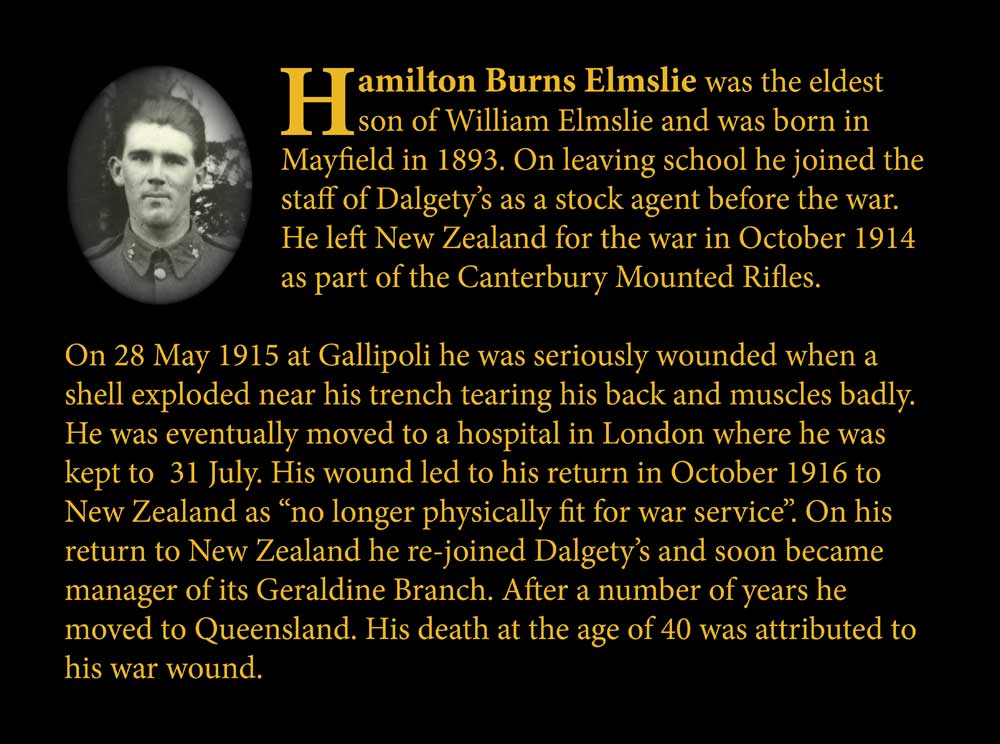 Aliases
Hamilton Burn Elmslie on Cenotaph Database.
First Rank
Trooper
Last Rank
Birth
Date
3 September 1893
Place

of Birth

Christchurch, N Z
Enlistment Information
Date
13 August 1914
Age
20 years 11 months
Address

at Enlistment

Geraldine
Occupation
Stock agent (Dalgety & Co. Geraldine)

Previous

Military Experience
8th Regiment Mounted Rifles
Marital Status
Single
Next of Kin
W. P. S. ELMSLIE, Geraldine
Religion
Presbyterian
Medical

Information

Height 5 feet 11 inches. Weight 153 lbs. Chest measurement 33½-36 inches. Complexion dark. Eyes brown. Hair light brown. Sight, hearing and colour vision all normal. Limbs and chest well formed. Full and perfect movement of all joints. Heart and lungs normal. Teeth good. Free from hernia, varicocele, varicose veins, haemorrhoids, inveterate or contagious skin disease. Not vaccinated. Good bodily and mental health. No slight defects.
Military Service
Served with
NZ Armed Forces
Served in
Army

Military

District
Embarkation Information
Body

on Embarkation

Main Body
Unit

, Squadron, or Ship

Canterbury Mounted Rifles
Date
16 October 1914
Transport
Tahiti or Athenic

Embarked

From
Lyttelton, NZ
Destination
Suez, Egypt
Other Units

Served With

Last Unit

Served With
Military Awards
Campaigns
Egyptian; Balkans (Gallipoli)
Service Medals
1914-1915 Star; British War Medal; Victory Medal

Military

Awards
Award Circumstances and Date
No information
Prisoner of War Information
Date of Capture
Where Captured

and by Whom

Actions Prior to Capture
PoW Serial Number
PoW Camps
Days Interned
Liberation Date
Discharge
| | | | |
| --- | --- | --- | --- |
| Date | 18 October 1916 | Reason | No longer physically fit for war service on account of wounds received in action |
Hospitals, Wounds, Diseases and Illnesses
Wounded on 28 May 1915. Severely wounded at Galliopoli - shrapnel in back - admitted to Military Hospital at Hampstead. .
Post-war Occupations
Stock agent; salesman
Death
Date
14 February 1942
Age
48 years
Place

of Death

Bundaberg, Queensland, Australia
Cause
War wound suffered on Gallipoli
Notices
Memorial or Cemetery
Bundaberg Cemetery, Queensland, Australia
Memorial Reference
Location B(D), General Section, Grave Number P1810
N

ew

Z

ealand

Memorials
Biographical Notes
Hamilton Burns ELMSLIE, born on 3 September 1893 at Christchurch, was the elder son of William Perry Smith ELMSLIE and Helen Maud née GUALTER. He attended the Geraldine Primary School and the Geraldine District High School. On leaving school he joined the firm of Dalgety and Company and became a stock agent, a position he gave up on the outbreak of war.
Hamilton was a fine sportsman, winning medals for shooting and swimming. In March 1907 he won the 60 yards Geraldine Swimming Club club handicap event; in December he participated in the 45 yards junior (under 17) handicap and 60 yards club handicap events at a well supported Geraldine swimming carnival. In 1908 he finished 2nd in the 50 yards breaststroke after winning the third heat, and he was 2nd in a heat of the 100 yards any stroke. Later in 1908, as a member the Geraldine rifle shooting team, Private Hamilton Elmslie (cadets) contributed with a score of 60 to secure Geraldine's second placing in the South Island section of the "The Weekly Press" Challenge Shields for District High Schools.
He was also a keen fisherman, and he bred and showed some of the finest birds in New Zealand, winning an award for exhibiting pigeons. At the Ashburton Poultry Show in June 1910, showing in the Pigeon classes, Hamilton got first for Magpie black cock, first for red or yellow cock, and first for red or yellow hen. A few days later at the Temuka show he was successful with Brown Leghorns hen and Bantams black game pullet, and very highly commended with Black Leghorns pullet. The Timaru Poultry Society show held later in the same month brought more awards – Magpies black, Magpies rung, Magpies any other colour, Flying Homers selling classes and champion teams class. In July the successes came at the Waimate Winter Show – Pigeons most likely flyer and fancy pigeons. Similar results were experienced in 1911 and 1912. And the 1911 Fairlie Poultry Show brought further recognition – 2nd for Pigeon black cock or hen, 1st and 3rd for Pigeon rung, and 1st, 2nd and 3rd for Pigeon any other colour cock or hen. The Temuka Poultry, Pigeon and Canary Society annual show starting on 12 July 1911 was a bonus one – 3rd for Leghorn hen, 1st for Utility Classes light breeds cock, followed by six firsts and three seconds in the Pigeon Classes. March 1912 saw Hamilton exhibiting at the Christchurch Pigeon Club's annual show. Here he again won several awards – Tumbler ringed, Magpie yellow cock and Magpie hen; and in the junior classes – Magpie cock and Fancy Pigeon cock.
Hamilton was "a fine specimen of young manhood, standing 6 feet 2 inches tall". He was one of the first to volunteer, a few weeks before his 21st birthday, and was among the Geraldine volunteers who occupied the seats of honour and were cordially farewelled at a smoke concert in August 1914. The Mayor made the observation that it was the "most quiet and even tempered who were the first to volunteer, and they showed that their patriotism was deeper than the singing of songs." Hamilton was one of those who responded and expressed gratitude to the ladies for providing them with comforts. The next morning (Saturday) shortly after 7.30 "The Boys" departed for Timaru. There the Mounted Contingent from South Canterbury entrained at the Show Grounds at 11am on 15 August, after a muster at 7.45am for the final inspection.
On 16 October 1914 Trooper H. B. Elmslie was on his way to Egypt with the Main Body and serving in the Canterbury Mounted Rifles. He reached Alexandria on 3 December. Serving then in Gallipoli, Trooper Hamilton Elmslie was badly wounded at the Dardanelles on 28 May 1915, as reported in Casualty List No. 60. After two months at the Abbassia Hospital in Cairo, he spent time convalescing with relatives in England at "North Park", Epsom Downs, Surrey. Sergeant Hubert Arthur Hamilton, in a letter to his father, Canon Hamilton of Geraldine, in July 1915, describes how Hamilton Elmslie was wounded at Gallipoli - "He and another fellow were cutting steps in the hillside near the bottom, when a shell burst over the top, and a large piece of shell-casing, about four inches square, struck him across the back, ripping an ugly flesh wound about eight inches long. Fortunately it just missed his spine, and the doctor says it is not at all dangerous, as it cut the thick muscles of the back only. We hope he will soon be all right again. The piece of shell was afterwards picked up, and is being kept for him."
The official medical report read – "Whilst in a trench just behind the firing line a high explosive shell burst near and a piece struck him on the back, tearing the muscles badly and causing a deep gash. It was healed quickly but the scar remained tender and weak for many weeks." After this severe wounding at Gallipoli, Hamilton returned, invalided, to New Zealand, having been granted special permission to leave London on 11 August 1916, per the "Ionic", in charge of some livestock. The "Ionic" reached Auckland on 2 October.
Soon after he was welcomed home and heartily cheered at a gathering in the Geraldine Drill Hall. Credit for their work in the field was attributed to the returned soldiers. Hamilton's mother was very active in Geraldine in raising funds to support the troops and in organising patriotic entertainment. In September 1916 at the Orari Domain both Hamilton and his father participated in the selling and reselling of a flag, Hamilton bidding £10 and his father the highest bid of £26.
Although previously engaged (1920), in September 1922 in a very pretty wedding at St Mary's Church, Merivale, Christchurch, Hamilton married Marjorie Eleanor NEILL née HARPER, the widow of Lyonel Clare Fyans NEILL who had died of illness in 1917 (First World War). Thereafter they resided at their property "Hazelmere", Orari, where Hamilton resumed his role as a stock agent and became the manager for Dalgety's Geraldine agency, until they moved to Queensland in 1933. Marjorie had a son (Frederick F. Neill) and a daughter (Joan W. Neill) from her first marriage; and Hamilton and Marjorie had a son, Nigel Hamilton Elmslie, born on 8 July 1923 at "Hazelmere", a daughter Vivienne born in 1928 at Geraldine, and another daughter born later. Sadly Vivienne died in 1938 in Queensland and Nigel died in 1916 in Dunedin.
Hamilton enjoyed success with his Shropshire sheep at the Mayfield A. and P. Association show, coming first in the Ram 2-shear and over and first in the Ram lamb, and being very highly commended for the Ewe lamb at the 1929 show. Similar success followed in 1930 – very highly commended for Ram two-shear and over, for Ram one-shear, for Ram lamb, for Ewe two-shear and over, for Ewe two-shear, and second place for ewe lamb.
In June 1932 Hamilton and his wife, as members, represented the Royal Christchurch Musical Society at a funeral in the city. It was soon after this that Hamilton and Marjorie and their family went to Queensland.
Hamilton Burns Elmslie died on 14 February 1942 at Bundaberg, Queensland, Australia, aged 48 years. His death was the result of the war wound which he suffered at Gallipoli. He is buried in the Bundaberg Cemetery, Queensland. His widow returned to New Zealand in 1944 and died in 1964 at Christchurch where she is buried. Hamilton Elmslie signed his will on 23 June 1923, not long before the birth of his first child, but it was not brought to probate until two years after Marjorie returned to New Zealand. He still owned a small freehold farm of 40 acres (with a mortgage) near Geraldine and 25 shares of £1 each in N.Z. Insulators Limited. He bequeathed all interest and revenue to his wife and, after her death, to be divided amongst any children who survived her; if none surviving, one half to become part of his brother's estate and the remainder to be divided between his two step-children.
Following his discharge on the grounds that he was no longer physically fit for service on account of the wounds he suffered in action, Hamilton Burns Elmslie was awarded the 1914-1915 Star, the British War Medal and the Victory Medal. His name was recorded on an earlier Timaru Borough Roll of Honour (of men who fell and men who served).
Sources
Auckland War Memorial Museum Cenotaph Database [18 June 2014]; NZ Defence Force Personnel Records (Archives NZ Ref. AABK 18805 W5537 0037874) [05 August 2014]; Timaru Herald, 02 March 1907, 14 December 1907, 02 March 1908, 13 & 16 June 1910, 9 July 1910, 25 May 1911, 15 & 17 August 1914, 26 July 1915, 26 September 1916, 9 October 1916, 19 October 1916, 24 September 1917, 17 April 1918, 26 October 1918, 16 October 1920, Press, 29 December 1908, 24 August 1914, 16 June 1915, 7 August 1915, 1 & 21 September 1922, 25 March 1929, 24 March 1930, 7 June 1932, Star, 29 March 1912, Oamaru Mail, 10 June 1915, 10 August 1915, Otago Daily Times, 28 June 1915, 10 July 1923, Auckland Star, 3 October 1916 (Papers Past) [18 June 2014; 05 August 2014; 15 March 2015; 29 May 2015; 08 August 2015; 01 & 02 May 2016]; The Courier-Mail, Brisbane, QLD, Australia (trove.nla.au) [08 August 2015]; Bundaberg Cemetery Records (Bundaberg Regional Council - bundaberg.qild.gov.au) [18 June 2014]; Australian Death Index (ancestry.com.au) [20 June 2014]; New Zealand & Australian Electoral Rolls (ancestry.com.au) [26 June 2014]; School Admission Records (South Canterbury Branch NZSG) [04 August 2014; 01 May 2016]; Probate records (Archives NZ/FamilySearch) [01 May 2016]; Northern Cemetery, Dunedin, burial record (Dunedin City Council) [08 August 2015]; UK Outward Passenger Lists (ancestry.com.au) [08 August 2015]; NZ Births Index (Department of Internal Affairs) [01 May 2016]; Timaru Herald, 21 February 1942, 30 May 1964 (Timaru District Library) [02 May 2016]; Ayr Cemetery, Queensland (Find-A-Grave per ancestry.com.au) [02 May 2016]; Strathallan County Public Memorials (South Canterbury Branch NZSG cemetery records microfiche) [08 August 2015]
External Links
Related Documents
Researched and Written by
Teresa Scott, Sc branch NZSG
Currently Assigned to
TS
Licensed under a Creative Commons Attribution-NonCommercial 4.0 International License unless otherwise stated.
Tell us more
Do you have information that could be added to this story? Or related images that you are happy to share? Submit them here!