MARSHALL, Herbert
(Service number 23/1727)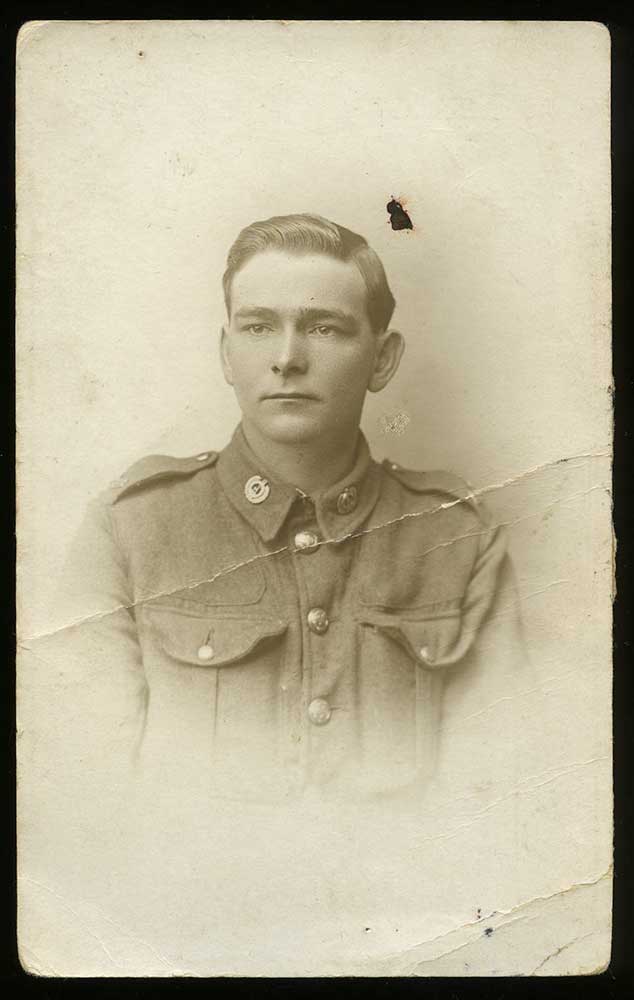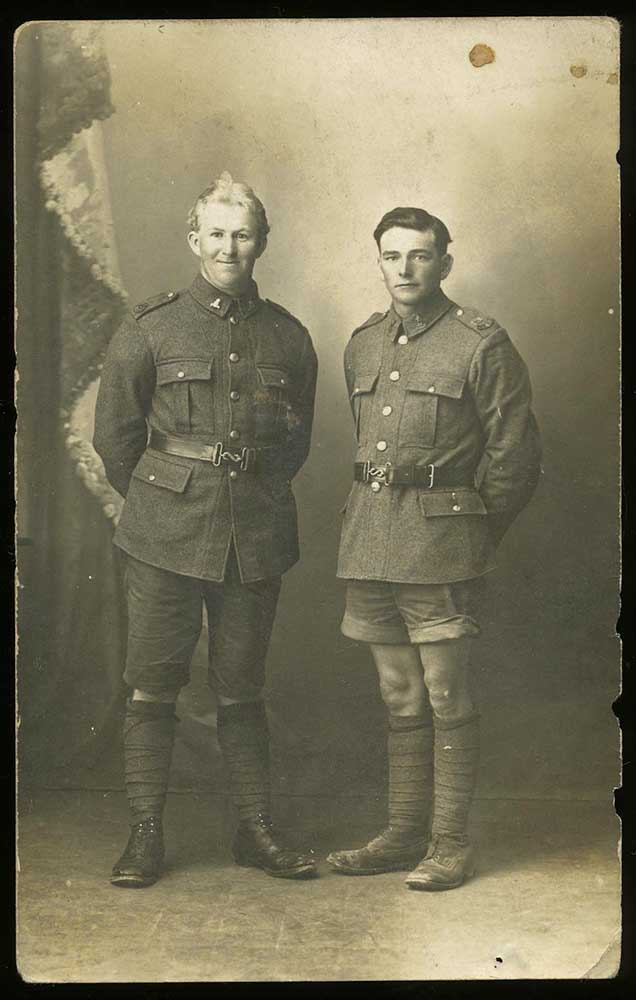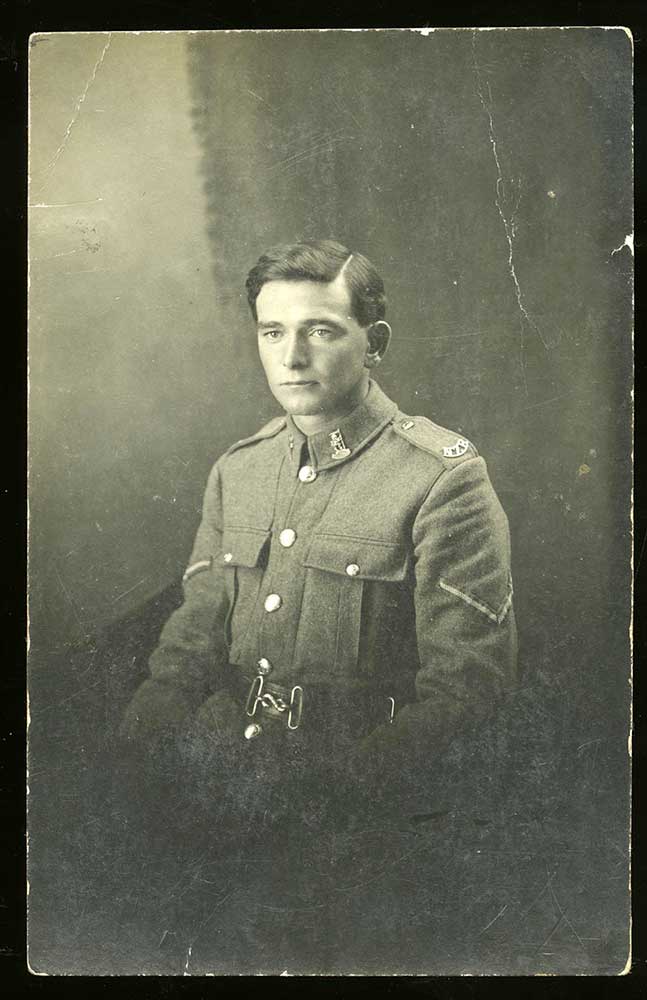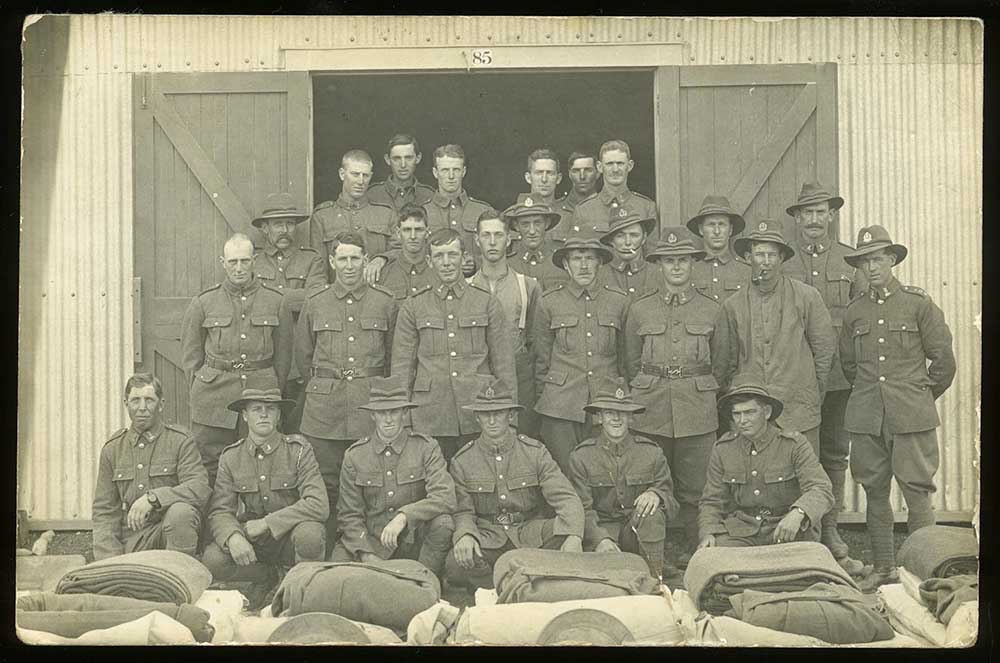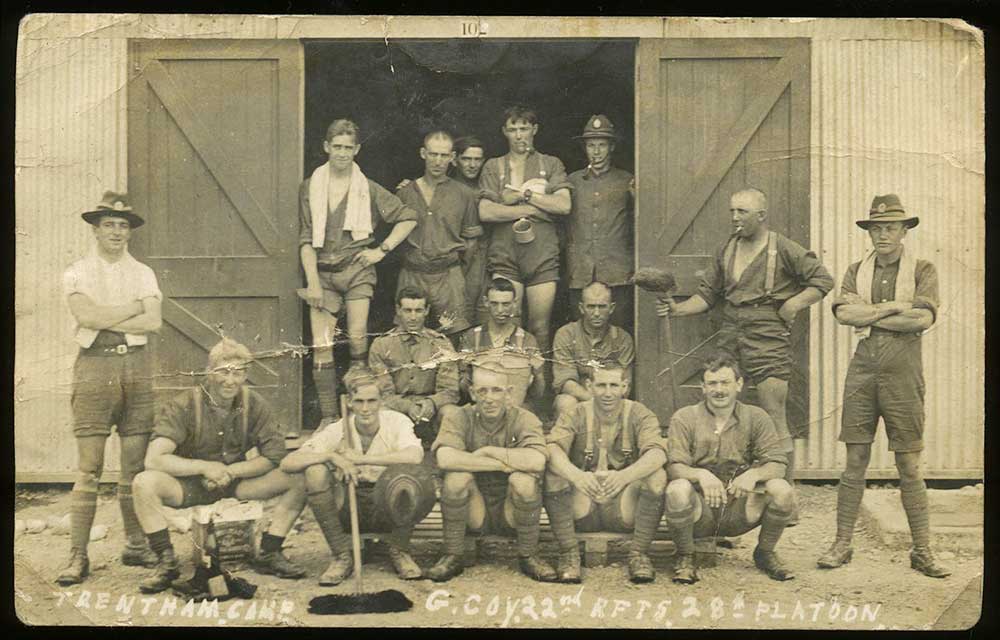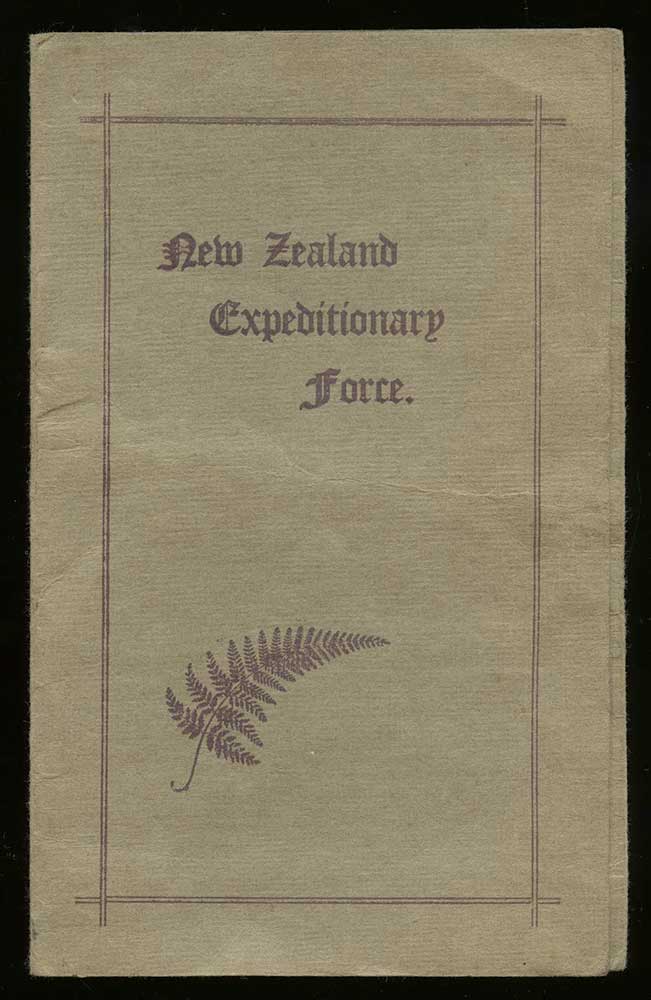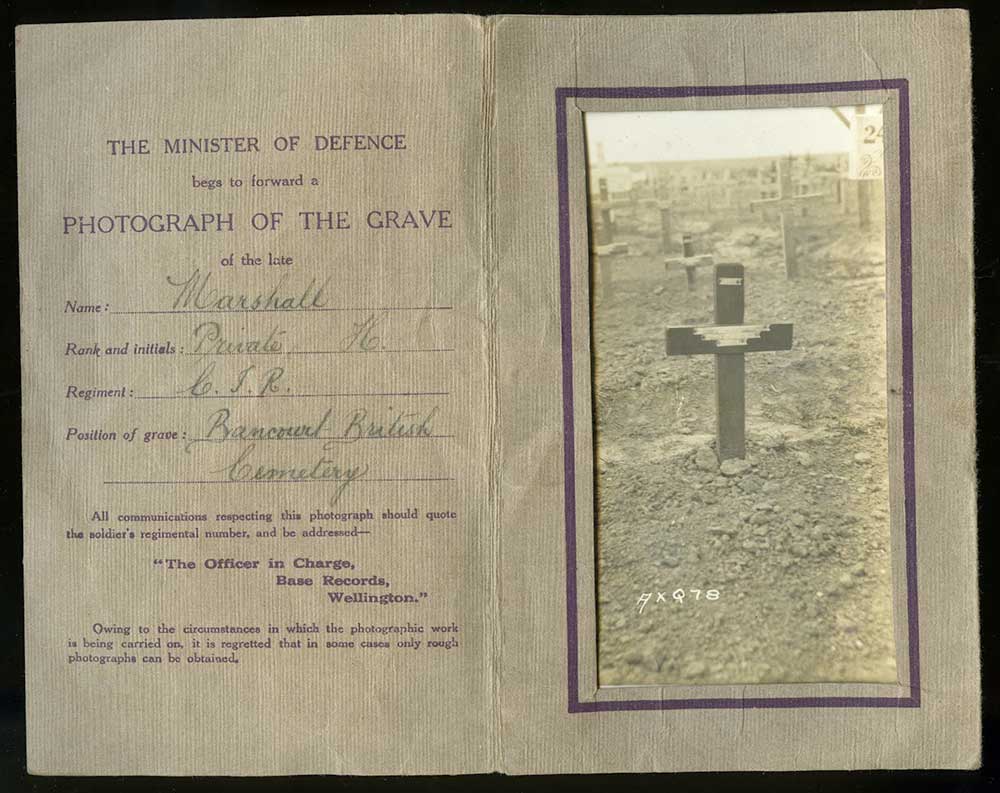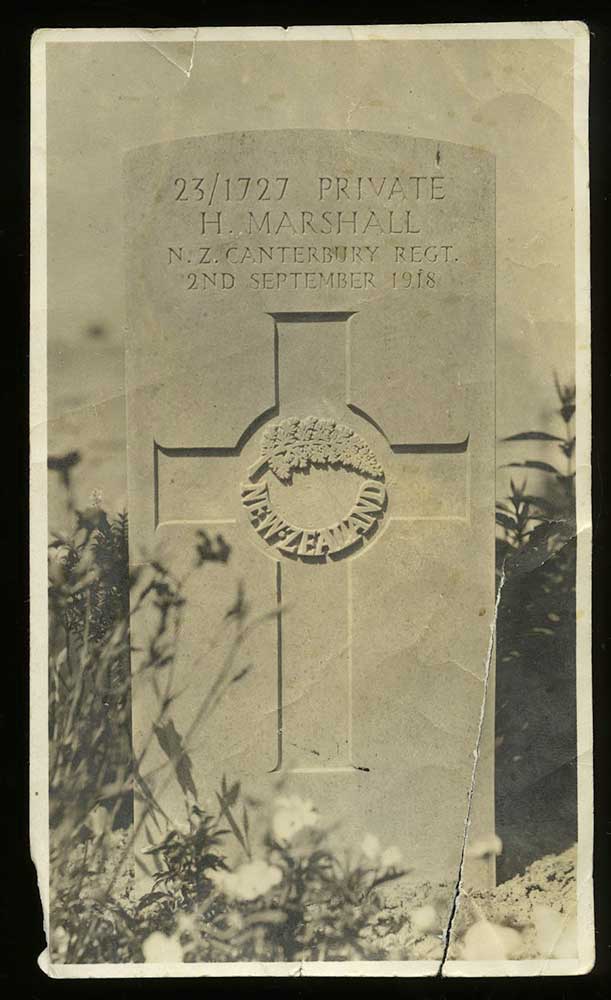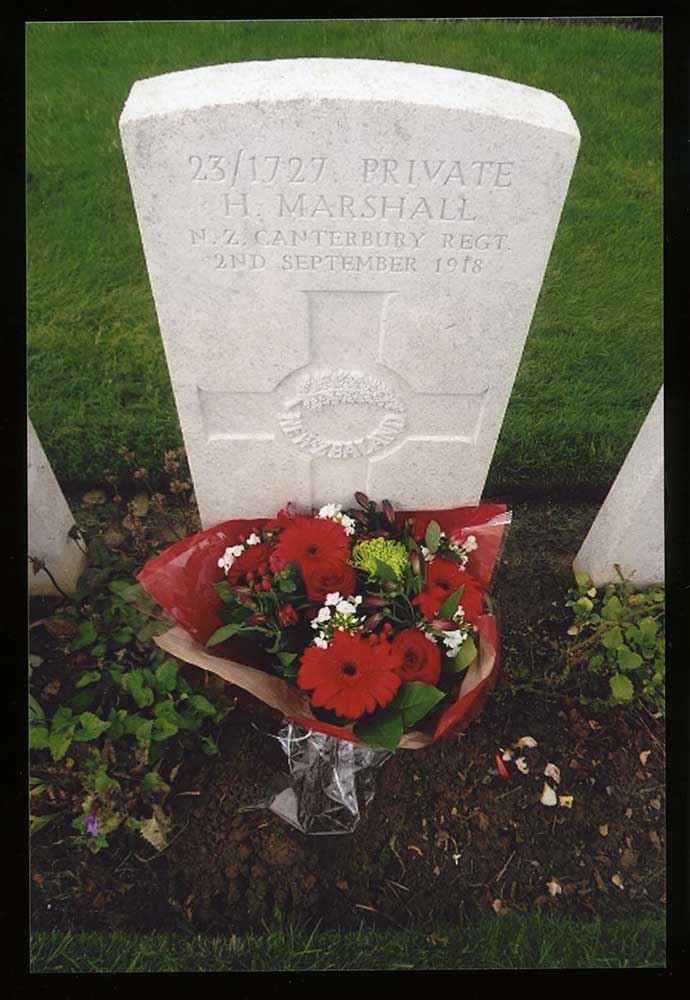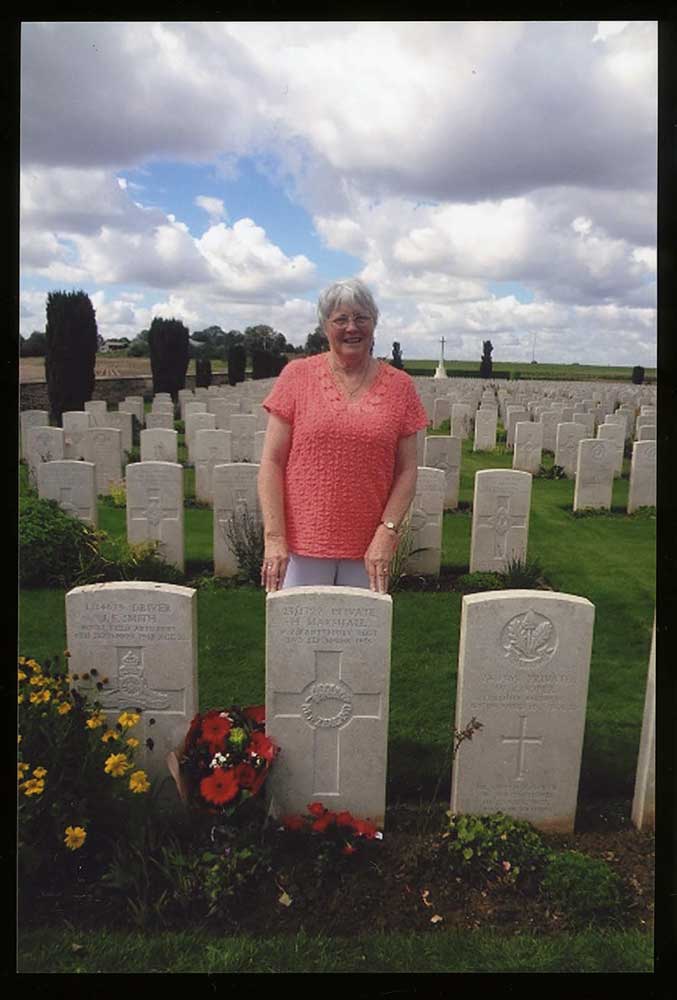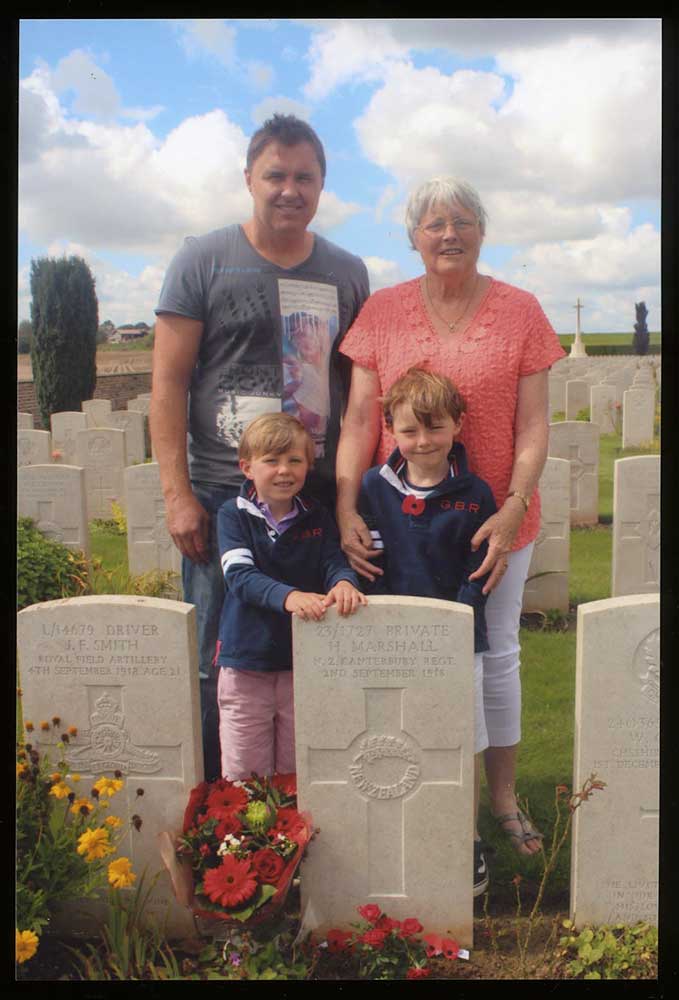 Aliases
First Rank
Private
Last Rank
Private
Birth
Date
19 June 1892
Place

of Birth

Edendale, Southland, New Zealand
Enlistment Information
Date
18 October 1915; 15 November 1916
Age
23; 24
Address

at Enlistment

C/- R Irving, Albury; C/- J Tiffen Makikihi
Occupation
Driver; Farm labourer

Previous

Military Experience
Territorials, Southland
Marital Status
Single; Married
Next of Kin
Mrs Jessie Marshall (mother) 298 Otipua Rd Timaru & Mrs Lily J.O. Marshall (Wife), care of James Tiffen, Makikihi,South Canterbury, New Zealand
Religion
Presbyterian
Medical

Information

5 foot 5 inches tall, weight 140 pounds (63.5kgs), chest 32-36 1/2 inches, dark complexion, grey eyes, dark brown hair, semi-circular scar back of left little finger
Military Service
Served with
NZ Armed Forces
Served in
Army

Military

District
Embarkation Information
Body

on Embarkation

22nd Reinforcements
Unit

, Squadron, or Ship

NZ Rifle Brigade
Date
13 February 1917
Transport
HMNZT 77 Mokoia

Embarked

From
Wellington, New Zealand
Destination
Plymouth, England
Other Units

Served With

12th Company, 1 Battalion, Canterbury Regiment
Last Unit

Served With

12th Company, 1 Battalion, Canterbury Regiment
Military Awards
Campaigns
Western European
Service Medals
British War Medal & Victory Medal

Military

Awards
Award Circumstances and Date
No information
Prisoner of War Information
Date of Capture
Where Captured

and by Whom

Actions Prior to Capture
PoW Serial Number
PoW Camps
Days Interned
Liberation Date
Discharge
| | | | |
| --- | --- | --- | --- |
| Date | 15 February 1916 | Reason | Medically unfit |
Hospitals, Wounds, Diseases and Illnesses
17-24 May 1917 - admitted to 3 New Zealand General Hospital, Codford - scabies.
Post-war Occupations
Death
Date
2 September 1918
Age
26
Place

of Death

Havincourt, France
Cause
Killed in action
Notices
Memorial or Cemetery
Fremicourt; reburied 29 April 1919 at Bancourt British Cemetery, Pas de Calais, France
Memorial Reference
I. D. 8
N

ew

Z

ealand

Memorials
On Memorial wall, Timaru
Biographical Notes
Herbert was born at Edendale, Southland, on 19 June 1892. He was the seventh of nine children. His father, Hugh Johnston Marshall, was born in 1849 at Westlothian, Scotland, and came out to New Zealand about 1874. Hugh farmed at Edendale, later moving to Timaru then to Invercargill, where he died on 27 July 1920. In 1878 Hugh had married Jessie Munro Ross who was born in 1854 in Victoria, Australia, also arriving here in New Zealand about 1874. Jessie died at Waianiwa, Southland, on 2 January and is buried with her husband Hugh in the Eastern Cemetery, Invercargill.
Herbert received his education at the local Edendale School and later took up employment as a driver with Mr R Irvine, a farmer at Albury, South Canterbury. He was medically boarded at Fairlie on 15 October 1915. He signed his enlistment papers on 18 October, stating he had previous military experience with the Territorial Force in Southland. He nominated his mother, living at 298 Otipua Road, Timaru, as his next of kin. After a civic farewell, he left Timaru for Trentham the same day as one of 150 South Canterbury men heading overseas to serve. His personal file describe him as being Anglican, single, aged 23, 5 foot 5 inches tall, weighing 140 pounds (63.5kgs), with a dark complexion, grey eyes, dark brown hair, a chest measuring 32-36 ½ inches, and having a semicircular scar on the back of his left little finger. Herbert marched into Trentham Camp where he was given the regimental number 23/1727 and posted to E Company, 3rd Reinforcements. Some personal health problems followed which resulted in him being discharged as medically unfit for service on 15 February 1916, not having left the country.
Back to life as a civilian, on 25 October 1916, at Makikihi, he married Lily Jessie Olive Tiffen (born 1893 in Waimate). Herbert's new wife was the daughter of his employer, Mr James Tiffen, a local farmer. A daughter, Ethel Maud, followed for the couple on 17 Januarey 1917.
On 15 November 1916, Herbert once again put himself forward for enlistment. This time he nominated his wife Mrs Lily Jessie Olive Marshall, care of her father James Tiffen, Makikihi, as his next of kin. He marched into Trentham where he was posted to G Company, 23rd Reinforcements, NZ Rifle Brigade. Here he would have undergone five weeks of basic infantry training before moving to Featherston Camp to undergo more in depth platoon and company training. On 18 December he was promoted to Lance Corporal and on 27 January was transferred to the 22nd Reinforcements. Finally, on 13 February 1917 at Wellington, he boarded HMNZT 77 "Mokoia" and left in convoy with HMNZT 76 "Aparima" and HMNZT 78 "Navua" bound for England. They traveled via Albany Western Australia, Cape Town and Freetown Sierra Leone, arriving at Plymouth on 2 May 1917. During the voyage he reverted, at his own request, back to the rank of private on 20 February. During the voyage the practice of fitness and weapon training took place along with one of the favourite pastimes, boxing matches between men of similar size. Card schools and reading were also popular. On arrival in England, Private Marshall marched into Sling Camp which was the NZ Base Depot, and was attached to the 5th Reserve Battalion. Here the troops were equipped, prepared for combat and underwent battlefield rehearsals. A few days later on 17 May, he was admitted to No.3 NZ General Hospital at Codford, suffering from Scabies. He was discharged back to the NZ Command Depot a week later.
On 13 June Herbert was posted to the Reserve Battalion NZ Rifle Brigade and proceeded to France on 6 July 1917. On arrival in France he marched into the NZ Reinforcement Depot at Etaples where the men passed through another rigorous training course covering all aspects of trench warfare. On 6 August 1917, Private Marshall was posted to the 12 Company, 1 Battalion, Canterbury Regiment. He joined them in the field on 10 August, just in time to partake in the Third Battle of Ypres. The German hold on the Geluveld Plateau soon hindered further progress and the heavy rain had turned the battlefield into a morass so the Division took to bite and hold tactics. From 4 to 12 October the Division attacked Gravenstafel (Passchendaele). The winter of 1917-1918 was spent in miserable conditions in the Polygon Wood sector. Here they faced a mangled landscape, waterlogged, filled with the detritus of war including dead mules and an undeveloped trench system. Another failed attack at Polderhoek in December also added to their misery. Additionally, at the beginning of 1918 events seemed to be turning in favour of Germany after the collapse of Russian resistance.
Herbert though had a reprieve, being granted leave in England from 20 March to 9 April. While he was away, on 21 March 1918, the Germans launched a massive offence attacking along an 80 kilometre front. The NZ Division was rushed south to the Somme moving into the Ancre Valley, taking up positions on the Somme battlefield of 1916. The New Zealanders managed to stop the German advance at a cost of 2400 casualties including more than 500 dead. At the end of April, after Herbert returned to the front, the Canterbury Battalion went into Divisional reserve until 1 June when they went back into the line south of La Signy Farm. July saw them advancing through Rosignol Wood, Puisieux, Achiet, Grevillers, then onto the Battle of Bapume which began on 21 August and continued until 1 September. During July a few American troops were attached to the Canterbury Battalions. The country now in front of the Division was part of the area which lay between the British front line of 1916, and the famous Hindenburg Line. On the left an attack was made at 5.15 am on September 2 by the 12th Company, and after hard fighting all day, its left platoons reached almost to the junction of the Fremicourt-Lebucquere and Beugny-Haplincourt roads. It was during this attack that Private Marshall was killed in action. He was buried at Fremicourt by the Canterbury Regiments padre, Rev GT Robson.
After hostilities Herbert was reburied in April 1919, in the Bancourt British Cemetery, Pas de Calais, France. Herbert's wife Lily remarried in 1919 to Francis Isaac Carter, and was later forwarded Herbert's scroll and plaque, plus his war medals which included the British War Medal and Victory Medal. Herbert's name is commemorated on the Timaru Memorial Wall.
Sources
Auckland War Memorial Museum Cenotaph Database [October 2013, June 2021]; CWGC [Oct 2013]; Military personnel file at Archives New Zealnd [June 2021]; New Zealand War Graves Project at https://www.nzwargraves.org.nz/casualties/herbert-marshall [Oct 2013 & June 2021]; NZBDM Historical Records (reference 1892/16489); New Zealand ANZACs in the Great War 1914-1918 [University of New South Wales] at https://nzef.adfa.edu.au/showPerson?pid=158118; A Street Near You at https://astreetnearyou.org/person/206096/- [June 2021]; "More men for Trentham". Ninth Reinforcements. South Canterbury Quota." in the Timaru Herald 18 October 1915 and "Roll of honour" in the Timaru Herald 16 September 1918, courtesy of Papers Past at https://paperspast.natlib.govt.nz/ [June 2021]
External Links
Related Documents
Researched and Written by
Janette Clarke (SC branch NZSG); Ted Hansen, SC branch NZSG
Currently Assigned to
TH
Licensed under a Creative Commons Attribution-NonCommercial 4.0 International License unless otherwise stated.
Tell us more
Do you have information that could be added to this story? Or related images that you are happy to share? Submit them here!