MAHONEY, Gordon Richard
(Service number 36464)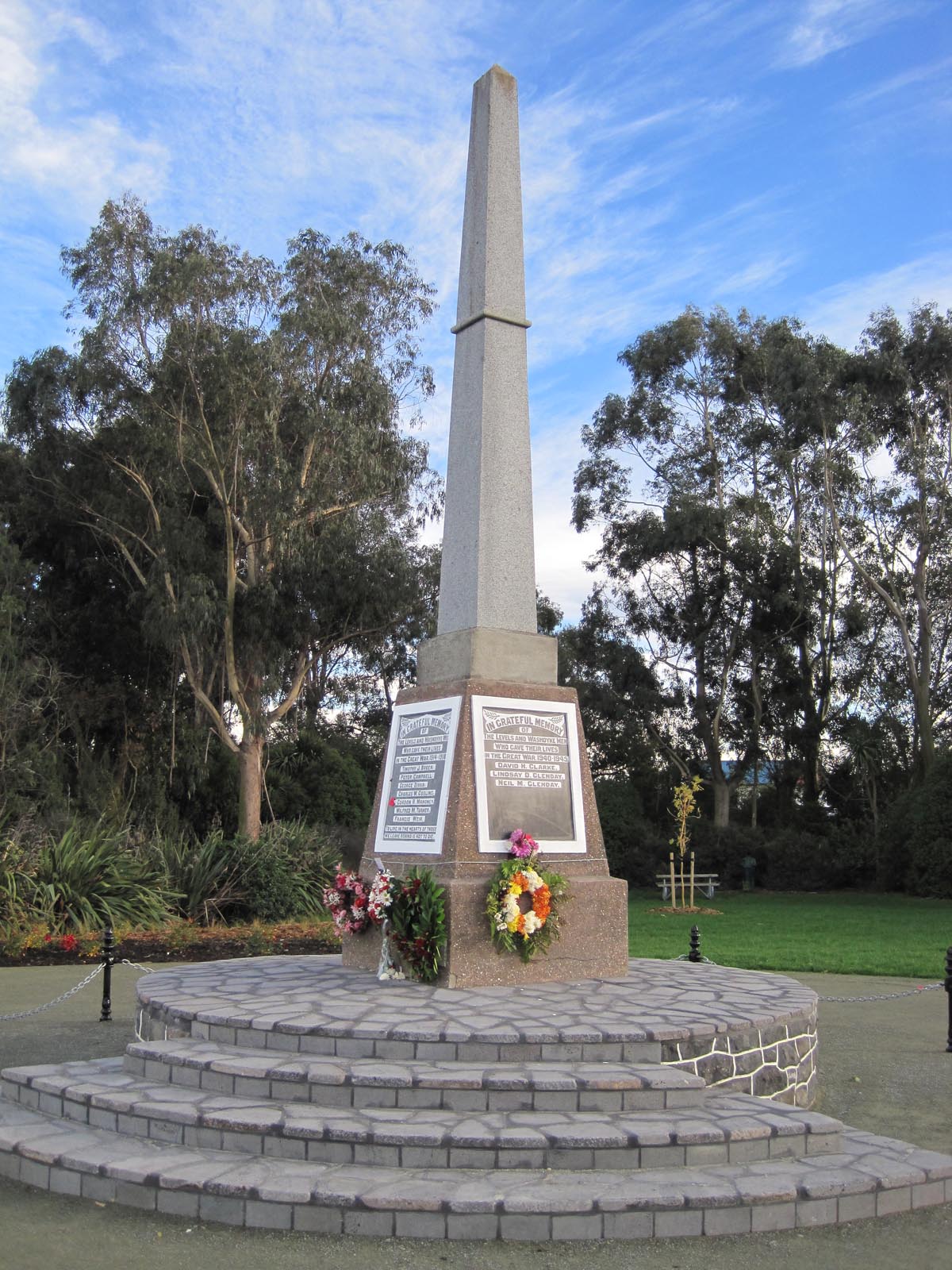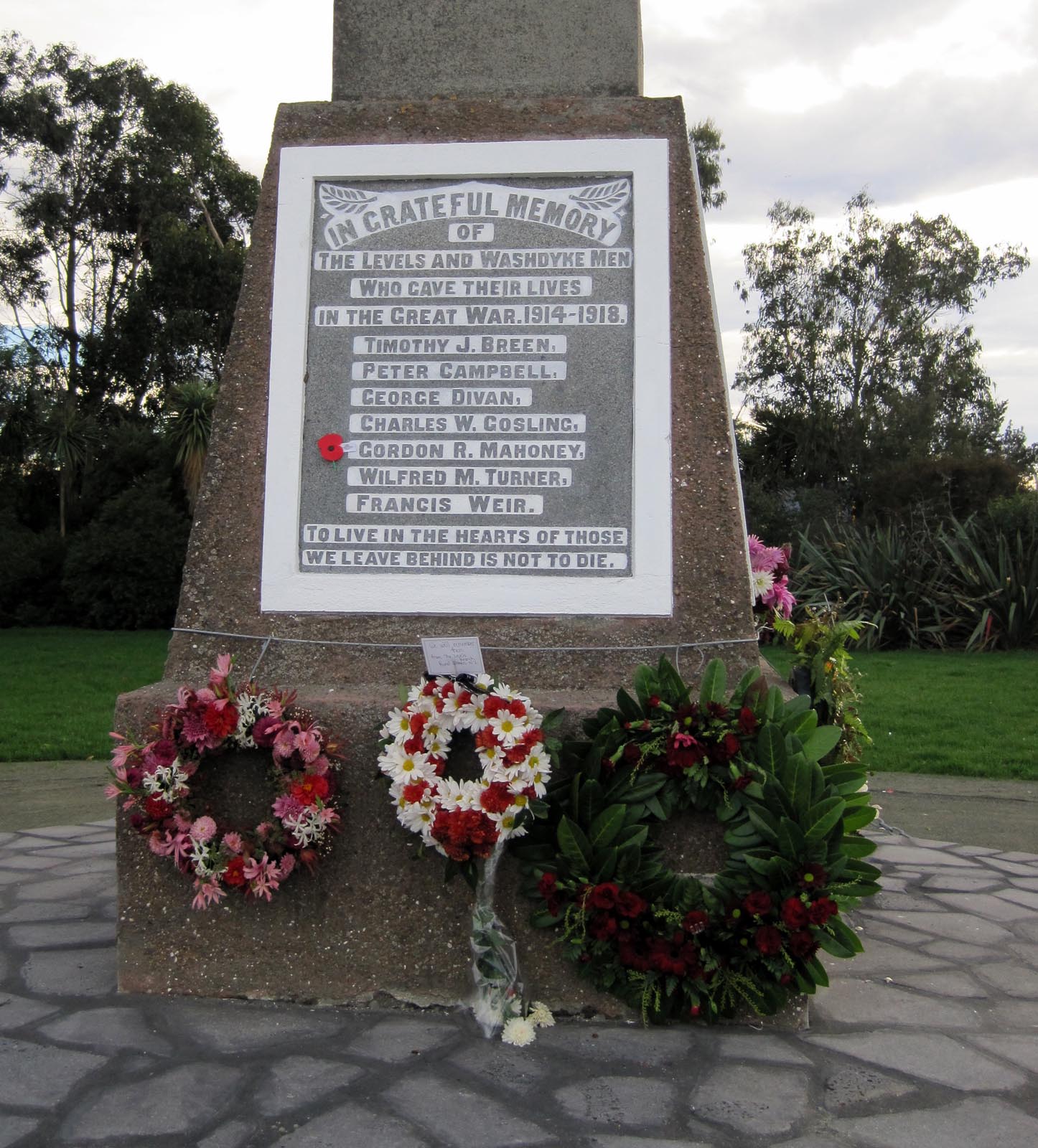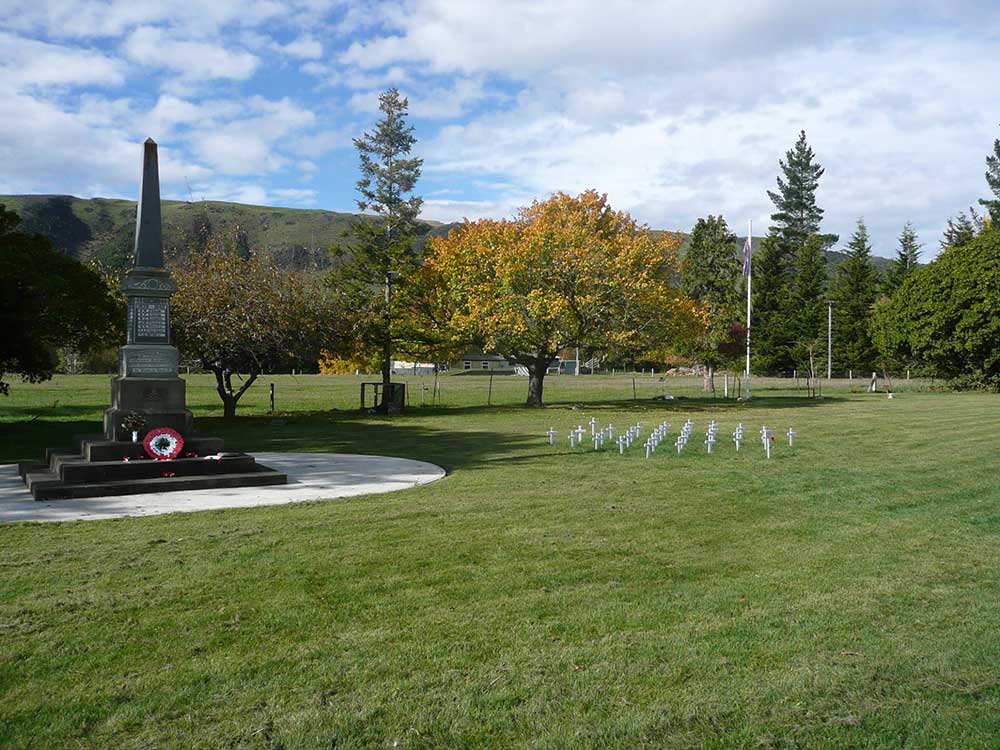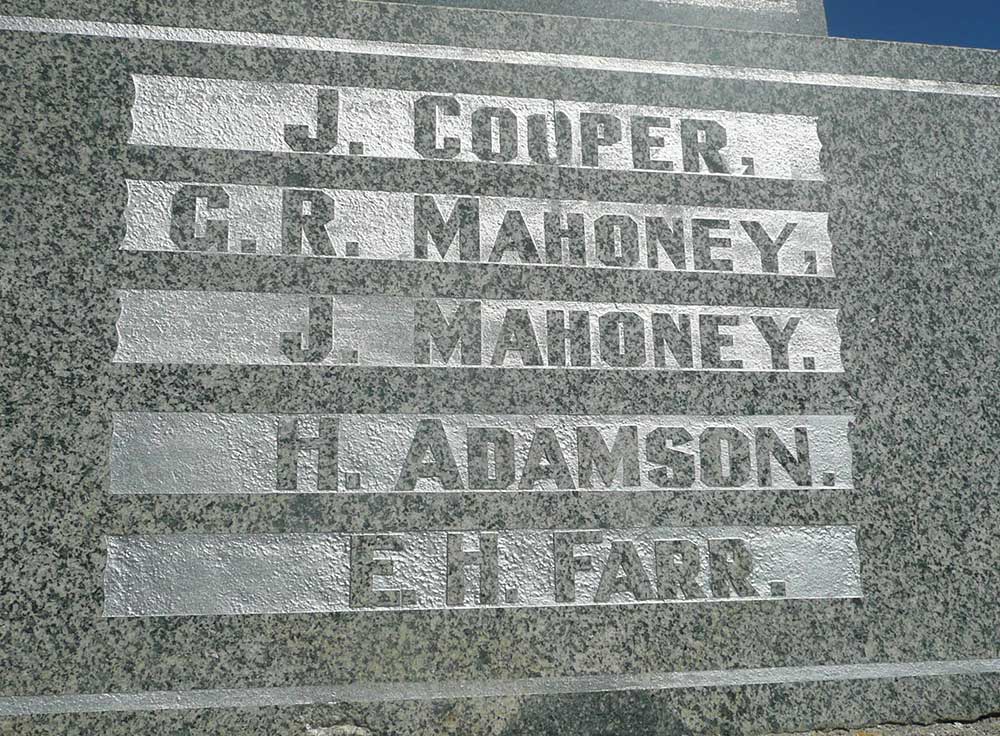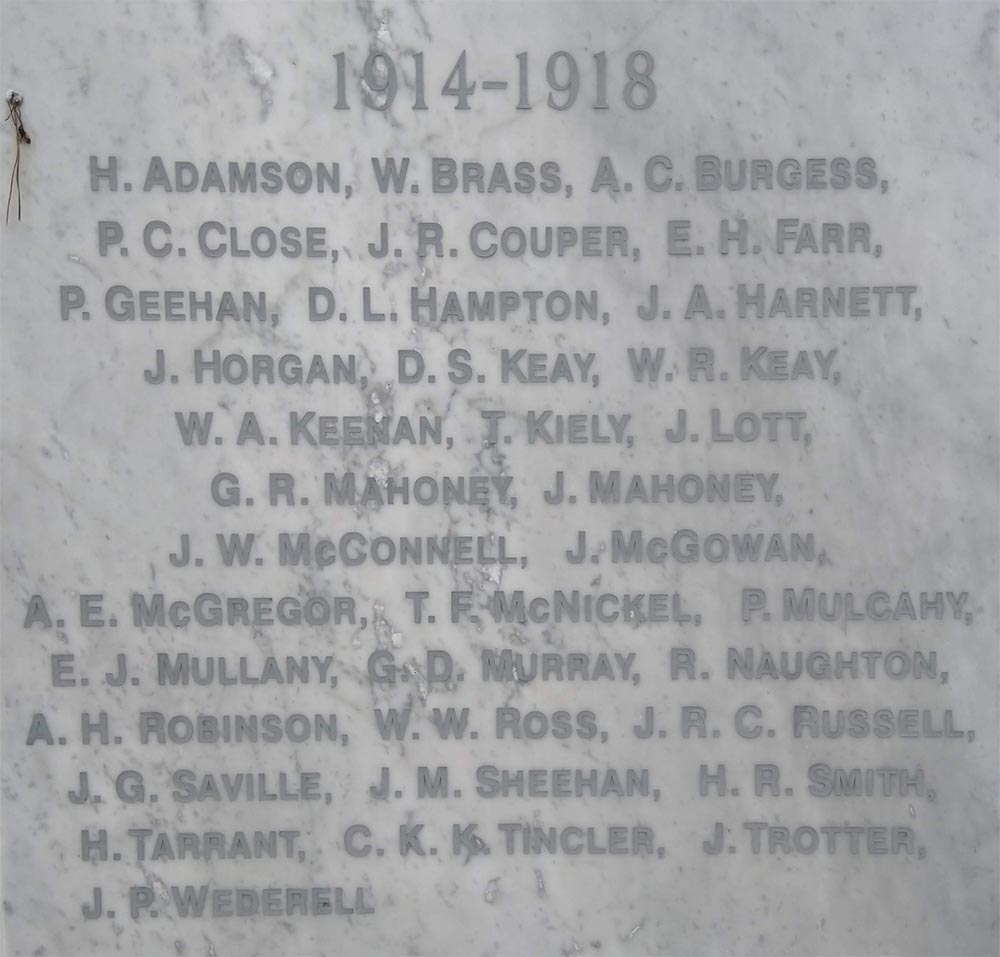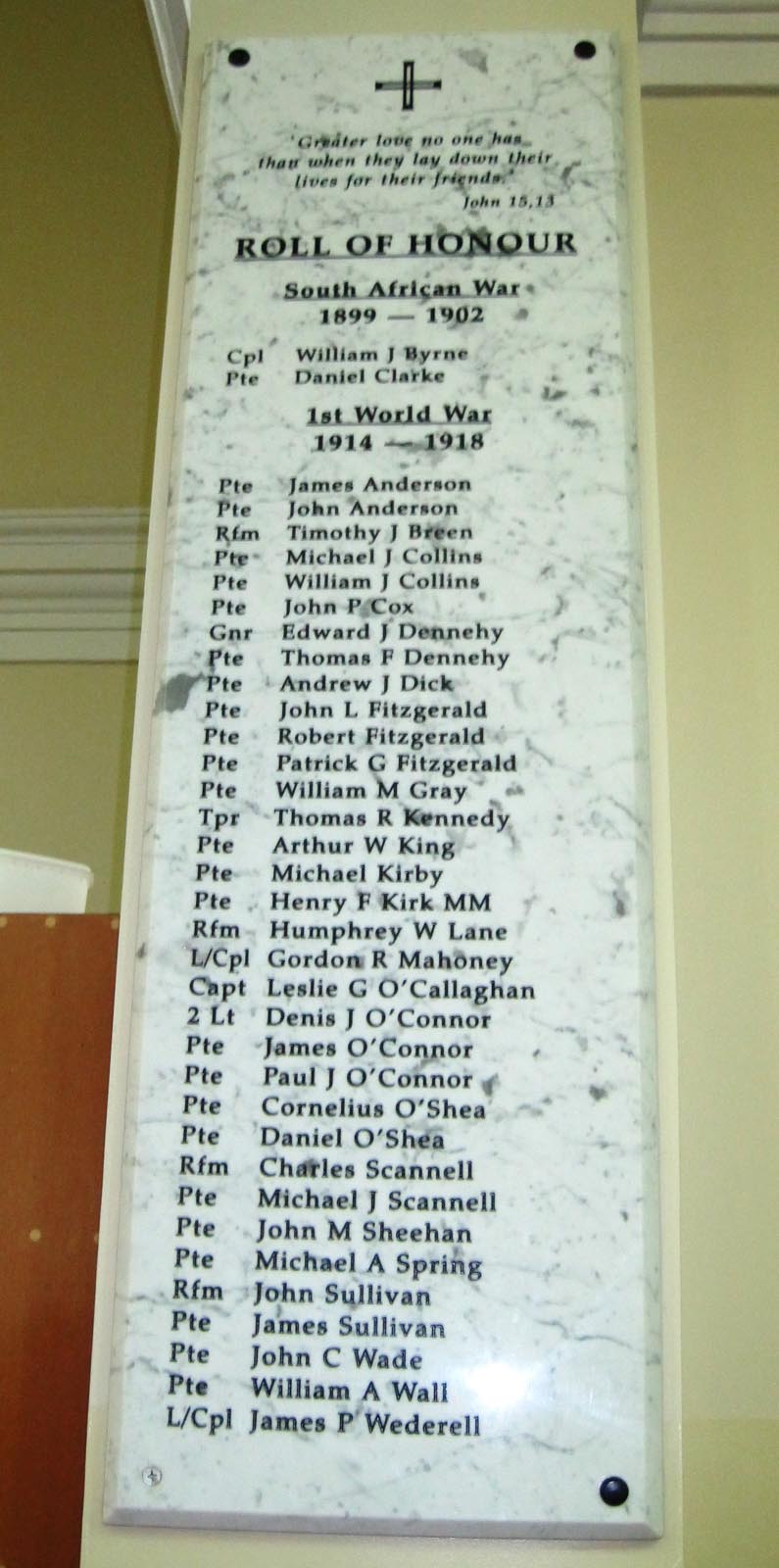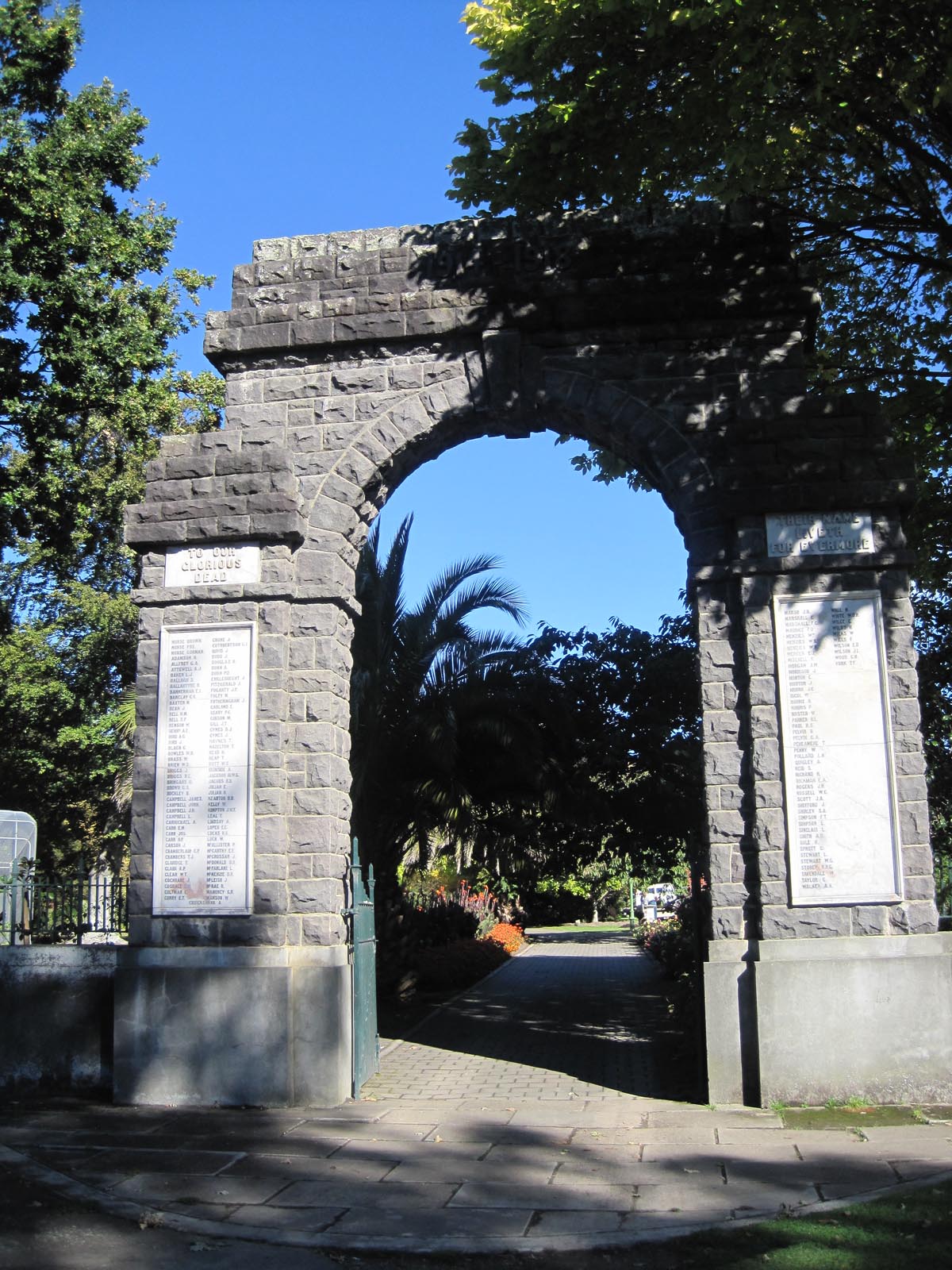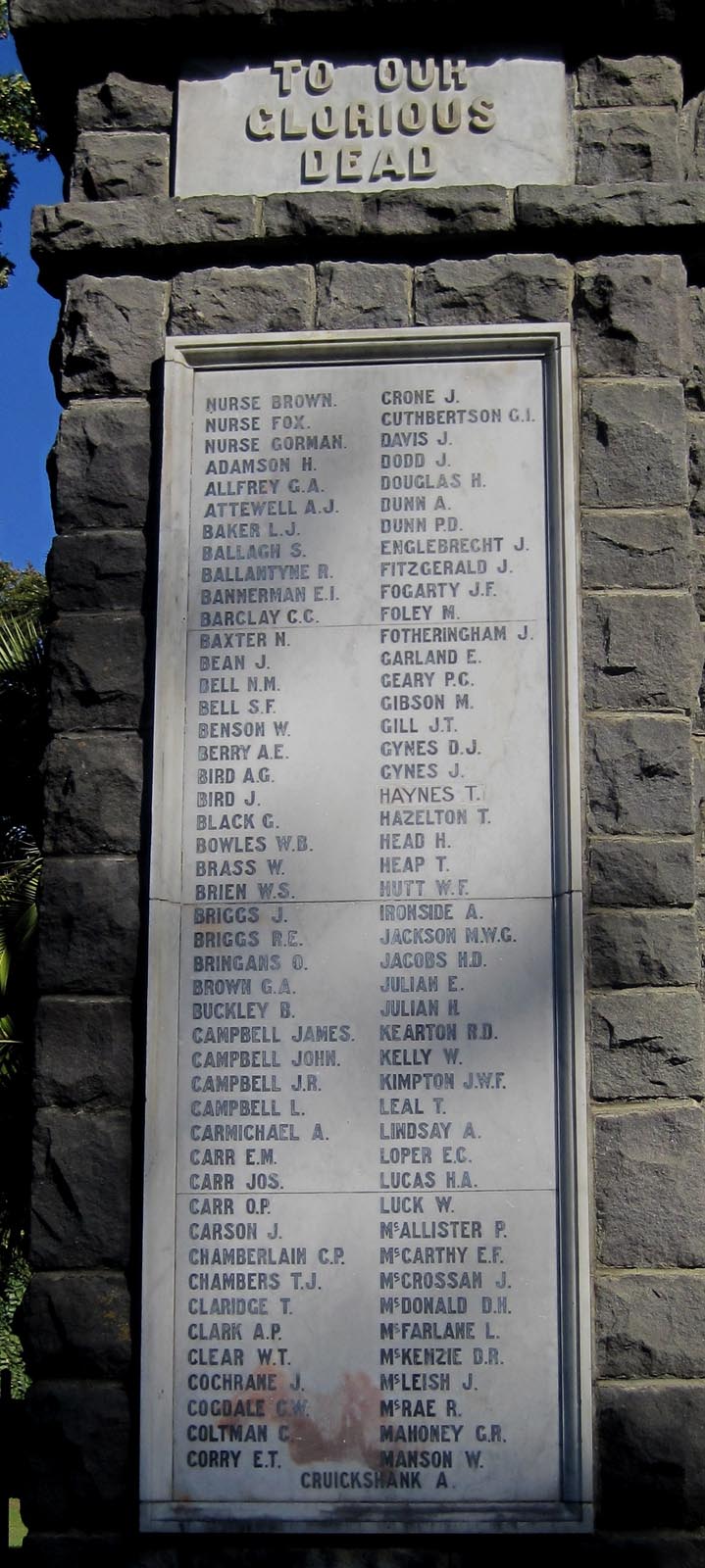 Aliases
First Rank
Lance Corporal
Last Rank
Private
Birth
Date
7 May 1894
Place

of Birth

Timaru
Enlistment Information
Date
20 September 1916
Age
22 years 3 months
Address

at Enlistment

Waikakahi
Occupation
Labourer; engine-driver (at Waimate)

Previous

Military Experience
Marital Status
Single
Next of Kin
Miss Monica MAHONEY (sister), Harbour Board (Harborough?) Street, Watlington, Timaru. Later married - Mrs Duncan GRAHAM, 25 Cass Street, Allenton, Ashburton.
Religion
Roman Catholic
Medical

Information

Height 5 feet 6 inches. Weight 157 lbs. Chest measurement 33-38 inches. Complexion dark. Eyes grey. Hair black. Sight - both eyes 6/6. Hearing and colour vision both normal. Limbs and chest well formed. Heart and lungs normal. Teeth good. No Illnesses. Free from hernia, varicocele, varicose veins, haemorrhoids, inveterate or contagious skin disease. Not vaccinated. No fits. Fit.
Military Service
Served with
NZ Armed Forces
Served in
Army

Military

District
Embarkation Information
Body

on Embarkation

New Zealand Rifle Brigade
Unit

, Squadron, or Ship

Reinforcements G Company
Date
19 January 1917
Transport
Waitemata

Embarked

From
Wellington
Destination
Plymouth, England
Other Units

Served With

Last Unit

Served With

Auckland Infantry Regiment, 3rd Battalion
Military Awards
Campaigns
Western European (Passchendaele)
Service Medals
British War Medal; Victory Medal

Military

Awards
Award Circumstances and Date
No information
Prisoner of War Information
Date of Capture
Where Captured

and by Whom

Actions Prior to Capture
PoW Serial Number
PoW Camps
Days Interned
Liberation Date
Hospitals, Wounds, Diseases and Illnesses
23 to 24 February 1917 – hospital (transport) – influenza.
Post-war Occupations
Death
Date
4 October 1917
Age
23 years
Place

of Death

Passchendaele, France
Cause
Killed in action
Notices
Timaru Herald, 19 October 1917
Memorial or Cemetery
Tyne Cot Memorial, Tyne Cot Cemetery, Zonnebeke, West-Vlaanderen, Belgium. Memorial Stone Timaru Cemetery (on plot of mother & two brother's plot).
Memorial Reference
NZ Apse, Panel 1. Timaru Cemetery - General Section, Row 21, Plots 326 & 327.
N

ew

Z

ealand

Memorials
Timaru Memorial Wall; Basilica of the Sacred Heart, Timaru, Memorial; Levels & Washdyke War Memorial; Waimate War Memorial; Albury War Memorial (1995 additions); Mackenzie War Memorial, Fairlie (2016 additions)
Biographical Notes
Gordon Richard Mahoney was the second son of Richard and Annie (née Conley) Mahoney, of Grafton Lodge, Washdyke, formerly of Albury. Richard and Annie had married on 21 April 1891 at the Roman Catholic Church, Timaru. Gordon was born on 7 May 1894 at Timaru and baptised Roman Catholic on 24 May 1894 at Timaru (Richard Gordon Mahony). Richard's parents, Robert (of County Cork, Ireland) and Mary Mahony [sic] had also settled at Timaru, as had his brothers Joseph and Robert and his sister Mary Ann Frances. William John Mahony, the fourth son of Robert and Mary, died at Brisbane, Australia in 1900, aged 35. Joseph Mahony, who was prominent in public life in Timaru, died in 1912, aged 51. In May 1893, Mr Richard Mahony put up a blacksmith's shop beside the stables at Albury. Soon after he won the coursing match. He also competed in dog trials. In 1897 Mr Mahoney applied for a section in the Albury Estate. In March 1898 Richard Mahony, blacksmith of Albury, was faced with bankruptcy. 'The first meeting of creditors . . . . was held yesterday morning at the Deputy Assignee's office. . . . . The bankrupt's property consisted of the thoroughbred horse Ravenscraig, valued at £50. The bankrupt, in his examination, said that he had been a blacksmith at Albury for five years, beginning with a capital of £30. He held a lease in perpetuity of one of the Albury sections. He had 37 acres m wheat and oats, but owing to the drought and the winds the crop turned out almost a total failure. The land, cropping, etc., had cost him £64 15s; the crop produced £17 6s, the loss being £77 9s. Serious illness had also occurred m his family, causing him an expense of £100, and his wife was still ill in Christchurch. He had lost £30 by the horse Ravenscraig. It was agreed that the Assignee should have the stallion Ravenscraig sold at the Albury sale on the 28th inst. It was proposed . . . . and carried: — "That the bankrupt be allowed to retain for his own use the stock-in-trade valued at £5." It was further resolved . . . . :— "That this meeting expresses its sympathy with the bankrupt in his misfortune and recommends that he be granted his immediate discharge."'
Mrs Annie Mahoney died at her father's residence at Addington, Christchurch, on 28 March 1898, leaving Richard with three little sons and a six-week old daughter. Annie was buried at Timaru. Gordon was not four years old when he lost his mother. Richard married Mary Elinor McQuillen in 1899 and had nine more children. In July 1900, Richard Mahoney was elected to a committee which was formed to procure "cheap railway fares on the Fairlie line, especially on Saturdays, which was practically the farmers' market day." When the Albury Tenants' Association was formed in early 1901, Mr R. Mahony was to be secretary. "We learn from our Albury correspondent that Mr R. Mahoney, the well-known Albury stud master, has purchased from Mr J. Wilson, of Allandale, Fairlie, the Clydesdale stallion Prince Victor, bred by . . . . Breeders in the Albury and surrounding districts should welcome the advent of a horse bred on the above lines, as hitherto they have had few opportunities of securing the services of a really first-class sire." (August 1902). At the horse parade, held under the management of the Timaru Agriculture and Pastoral Association in September 1902, Mr R. Mahony of Albury showed for the first time his Prince Victor – it was said "his prospects of a first rate season are very good. His breeding is of the best, and build, action, and colour are all m his favour." He won prizes for his horses at the Mackenzie County Show in April 1903.
Mr Richard Mahoney sold his farm, Ascot Vale, in July 1903. At a presentation held at Albury on 10 August, the chairman 'in a neat speech referred to the many excellent qualities displayed by Mr Mahoney as a neighbour and as a citizen. A large gathering of representative farmers and others testified in like manner, and it must have been flattering indeed to the recipient to find that he was held in such high and general esteem. The evening's entertainment consisted of speech, song, and story, and the warmth and cordiality of the social spirit displayed in the midst of such depressing circumstances broke up at midnight with the singing of "Auld lang syne."' In September 1903, Mr Mahoney purchased a farm at Levels, containing 50 acres, plus house and premises. "In the class for mares for breeding weight-carrying hacks, Mr R. Mahony showed a shapely and good quality mare by Hanlan, with foal at foot by Deerstalker." This was in 1906. "Mr Richard Mahony, the well-known farmer of the Levels, has been laid up by an accident which befell him on Wednesday last. He was driving home in a trap a horse which he had just purchased in town. On nearing the Washdyke, something startled the horse and it bolted. Instead of getting clear over the Washdyke bridge, the vehicle collided with the abutment pillar, and was capsized and smashed, the horse getting clear away but little hurt. Mr Mahony was thrown clear, but being a heavy man, he had a bad fall, and was severely shaken. He was picked up and driven back to town and attended by Drs Thomas and Gibson. It is expected that he will be laid up for three or four weeks as the result of the accident." (January 1907)
Early in 1906, Mr Mahoney sold his farm at Levels and held a clearing sale, which included a number of first-class horses, as well as "cattle, pigs, traps, harness, saddles, etc". Every lot was sold, with the exception of two blood horses, "which were of exceptionally good quality and high breeding". The family moved to Washdyke (Mahoney's Hill). While Richard Mahoney produced some of the best thoroughbreds in the Dominion, this did not make him immune to the by-laws. He was charged with driving a horse at Gabites corner, at a greater speed than four miles an hour. He admitted the charge and was fined10s and costs. (October 1913.) In November 1921 he was charged with allowing a horse, cows and calves to be at large on a public road. In May 1917 Mr Richard Mahoney purchased the blacksmithing business, Stafford St., North. "Mr Mahoney's long experience in the trade and his numerous friends in the district should enable him to secure a fair share of patronage, and he trusts by strict attention to business and by employing good workmen to keep up the reputation of the establishment."
It was at Albury that Gordon started school, before his 5th birthday, leaving there for Washdyke and transferring from Washdyke to Kerrytown. His father had been elected to the Albury School Committee in 1896. Gordon Mahoney was one to be presented with a certificate of proficiency at the Temuka Technical School break-up ceremony on 19 November 1915.
Come September 1916 and Gordon Richard Mahoney had enlisted for service with the New Zealand Expeditionary Force. The Waimate men for the 21st Reinforcements, G. R. Mahoney one of them, were "played down" to the railway station by the Brass Band and farewelled on 20 September. Addressing those gathered, the deputy-Mayor said: "You are all well aware that this is the 21st occasion that we have assembled here on a similar errand — an errand that no doubt none of us likes, and although we are perhaps not at all sanguine about it, we hope and trust that this will be the last and that the 21st reinforcements will never have to leave New Zealand." And he wished Godspeed and a safe and speedy return to the departing soldiers. So, he enlisted on 20 September 1916 at Trentham, when he was 22 years 3 months old. He had been medically examined on 29 August at Waimate. Standing at 5 feet 6 inches, weighing 157 pounds, and with a chest measurement of 33-38 inches, he had dark complexion, grey eyes and black hair. His sight, hearing, colour vision, heart and lungs were all normal, his limbs and chest well formed. His teeth were good. He was free of diseases and had suffered no illnesses or fits. There was no vaccination mark. He was deemed fit. Single and Roman Catholic, Gordon was a labourer for G. Ruddenklau at Waikakahi. He had registered for compulsory military training at Timaru. He named his sister as next-of-kin – Miss Monica Mahoney, Harbour Board (Harborough?) Street, Watlington, Timaru. Monica was the little baby born just before their mother's death. She lived with and nursed her grandmother Mary Mahony, who was an invalid for many years until she (Mary) died in May 1916.
At Featherston Camp, Private G. R. Mahoney, of G Company, 21st Reinforcements, was to be a lance-corporal. At Trentham in January 1917, he managed to lose 5 days' pay for overstaying extended leave. From October 1916, the name of G. R. Mahoney appeared on the Roll of Honour (Answered the Call) which was published regularly by the Waimate Daily Advertiser.In time, his name was to feature under The Supreme Sacrifice. Lance Corporal G. R. Mahoney embarked with the New Zealand Rifle Brigade, departing from Wellington on 19 January 1917 per the "Waitemata", headed for Plymouth, England. He spent from 23 February till 24 February 1917, while on the transport, in hospital with influenza. He actually disembarked at Devonport and marching into Sling on 28 March 1917, he reverted to ranks. A month later at Codford, he joined the 3rd Battalion, Auckland Regiment. Mahoney proceeded overseas for France on 28 May 1917.
All too soon Gordon Richard Mahoney, 36464, Auckland Infantry Regiment, featured in a big casualty list – 207 reported killed in action. He had been killed in action on 4 October 1917 in the field at Passchendaele, Belgium. He was buried in the Field, his name being recorded on the Tyne Cot Memorial at Zonnebeke, Belgium. Mr Robt. Mahoney, of Watlington, received word on 17 October that "his grandson, 36464, G.R. Mahoney, was killed in action on October 4th. This soldier was about 23 years of age. He was employed as engine driver by Mr Ruddenklau of Waimate, and left, with the 21st Reinforcements."
Two Roll of Honour notices were printed in the Timaru Herald of 19 October 1917 -
MAHONEY. — Killed, on October 4th, "Somewhere in France," Gerald [sic] Richard, second son of Richard Mahoney, Grafton Lodge, Washdyke; aged 24 years. R.LP.
He laid down his young life,
His soul is now at rest,
He's with the angels now,
In heaven above, the home of love.
The reward of the brave and true.
MAHONEY. — Killed in action "Somewhere in France," on October 4th, Gordon, second son of Richard Mahoney, of Washdyke; aged 24 years. Deeply regretted. R.I.P.
He nobly did his duty.
He gave himself, his life, his all.
Later in 1917, Mr R. Mahoney, of Washdyke, received a very touching and comforting letter from Private T. R. O'Connor, who was still on active service. Thomas Raphael O'Connor, of Seadown, and Gordon Richard Mahoney had embarked together. "France, October 30.—1t is with profound regret that I convey to you the news of your son's death. Gordon and I were the closest of friends, and I can tell you I never lost a better soldier-mate in my life. He was always ready to do anyone a good turn and he was always cheerful. It was in the great assault on October 4 that your son lost his life. I went up to the trenches in the morning and had a chat with him. I said good-bye to him and went away. I had not gone two minutes when I heard some one calling me. I went back and found that Gordon had been killed by a shell. He was sitting on the side of the trench, smoking, when a shell burst near-by and killed him and five others. We buried him and the Priest read the burial service. His remains lie on the battle scarred fields of Ypres. I cannot refrain from tendering you the consolation that may be found in the thanks of the country he died to save. I hope that your grief will be assuaged You must feel proud at having made such a sacrifice on the altar of freedom. Gordon lived a good life, and he died as he lived—a hero."
His loving sister, Monica Mahoney, inserted a notice in the newspaper, sincerely thanking all who had offered sympathy "in the sad loss of her brother, Lance-Corporal G. R. Mahoney, who was recently killed in action in France". Gordon Mahoney was not forgotten. An In Memoriam notice appeared in the Waimate Daily Advertiser in 1918 – "In loving memory . . . So loved, so mourned." On 4 October 1919, Gordon's sister, Monica, inserted a Roll of Honour notice in the Timaru Herald – In loving memory of my dear brother, Lance-Corporal Gordon Richard Mahoney, who was killed in action, somewhere in France on October 4, 1917, aged 23 years. R.I.P.
"In a distant land he lies at rest in a soldier's grave,
His battle fought, his name enrolled on the scroll of the deathless brave,
A lonely grave in a far off land, a grave I may never see,
But while life and memory last, I will remember thee."
In 1920 and 1921 Mrs D. Graham, Ashburton, inserted the notice. Monica Mary Mahoney married Duncan Graham on 11 February 1920 at Timaru. Sadly, she was to die in 1930, aged 32.
The name of Gordon Richard is inscribed on the headstone of his brothers, Vincent Robert Emmet and Edmund Archibald Mahoney, in the Timaru Cemetery. His mother is buried in the adjoining plot. Gordon Richard Mahoney's name is inscribed on several local memorials – Timaru Memorial Wall, Basilica of the Sacred Heart Timaru Memorial, Levels and Washdyke War Memorial, Waimate War Memorial, Albury War Memorial and Mackenzie War Memorial, Fairlie (2016 additions). The names of Gordon Richard Mahoney and Joseph Mahoney were added to the Albury War Memorial in 1995, after an entry was found in the school committee minutes, which offered the committee's condolences to the family on the loss of their son. The Waimate War Memorial, erected in the form of an arch in Victoria Park as a memorial to those of the town and district who gave their lives for the Empire and civilisation in the war of 1914-18, was unveiled on 25 April 1923. Near the top, in bold brass lettering are the numerals 1914-1918, and above the marble slabs bearing the names are two white marble plates one inscribed: "To our Glorious Dead," and the other: "Their name Liveth for Evermore." On each side of the archway there are columns of names in black lettering on white marble. Included in the names inscribed is Mahoney G. R. Lieutenant-Colonel Wilson (Newman Robert Wilson), a Waimate boy, who gave the address, observed that the memorial was the outward expression of the high regard and appreciation they felt for the men and women from the district who had done their job. Before drawing aside the Union Jacks covering the tablets bearing the names of 149 men and three nurses who lost their lives during the war, the speaker quoted Kipling's Recessional, "Lest We Forget." He then withdrew the flags veiling the memorial, on which was the inscription: "To the glory of God and the honourable memory of the brave souls of Waimate and district who gave their all for us and freedom." Three volleys were fired, the "Last Post" sounded, a prayer of dedication offered, and wreaths laid in tribute.
The Washdyke Memorial – a shaft of New Zealand granite with a spire 20 feet high – bears the following inscription: "In grateful memory of the Levels and Washdyke men who gave their lives in the Great War, 1914-1918" followed by the names, among them G. R. Mahoney. This memorial was unveiled by the Hon. James Craigie, M.L.C., on 10 June 1923. The Battalion Band was present and the hymn "O God, Our Help in Ages Past" was sung. The memorial was the local headstone to those men who had saved the country in a time of grave danger, said Archdeacon Jacob. "It spoke eloquently of sacrifice and service." The Hon. Craigie said that "his sympathy went out to all relatives of men whose names were engraved upon the stone. We had sent over the seas 100,000 men, and had lost some 17,000." Twenty-seven men had left the Washdyke and Levels district, and seven had made the supreme sacrifice. The ceremony concluded with the singing of the hymn "Nearer, My God to Thee" and the "Last Post" played by the bugler.
"Three thoroughbred stallions were paraded and the veteran owner of thoroughbred flesh, Mr Richard Mahony, had the honour of carrying off the first prize and the championship ribbon with his recent purchase, St. Petersburg. . . . he was brought into the ring yesterday at the top of his form. . . . . he looked a champion all over, and in the hands of his enthusiastic owner carried himself like the aristocrat that he is. . . . . South Canterbury is fortunate in having a horse of his calibre." The takings at the show helped the war fund. (October 1918.) Mr Richard Mahoney, of "Grafton Lodge", Washdyke, maintained his interest in horses. In 1931 he published "a little volume of reminiscences, covering over half a century of close association with racing and breeding in South Canterbury and New Zealand. Mr Mahoney possesses a remarkable memory for men and horses and he has drawn on this freely for his little book." He had a part too, in the pedigree of the famed Phar Lap. Richard Mahoney died in 1943 and Mrs Mary Elinor Mahoney in 1954, but not before suffering more sadness. His third son, Joseph Mahoney, who had also served in the war, returned home and married but died in 1922 of illness contracted as a result of his service. Their son, Vincent Robert Emmet Mahoney died in 1926 at the age of 22, and their youngest son, Edmund Archibald Mahoney, a 14-year-old schoolboy, died of an illness at the hospital in 1930. His eldest daughter and Gordon's next-of-kin and legal legatee, Monica Mary Duncan, also died in 1930, two months before Edmund.
Gordon's medals – British War Medal and Victory Medal, plaque and scroll were sent in 1922 to his father, Mr R. Mahoney, Grafton Lodge, Washdyke, Timaru. A portrait printed in the Auckland Weekly News in 1917 is attached to the Cenotaph record. Gordon signed his will on 9 January 1917 at Timaru, probably when he was on final leave. He bequeathed the whole of his estate to his sister Monica Mary Mahoney, with the proviso that, if she should predecease him, his estate would go to his grandfather, Robert Mahoney of Watlington. His estate consisted of a £20 Life Policy. In October 1918 an application for War Pension of £26 per annum was awarded to his mother (Mary E.) but declined to his father (Richard, Stafford St Nth, Timaru). H. G. Mahoney (Grattan), of NZ Railways, Riccarton, wrote to Base Records in November 1955, seeking particulars of his brother's service – Number, Rank, Regiment, date of Death & Birth. He received a prompt reply with the details requested. Gordon's cousin, John Maurice Mahony, also served in World War One.
Sources
Auckland War Memorial Museum Cenotaph Database [21 July 2013]; NZ Defence Force Personnel Records (Archives NZ ref. AABK 18805 W5544 0077031) [23 April 2014 & 10 April 2016]; CWGC [20 August 2013]; Timaru Cemetery headstone images (Timaru District Council) [26 July 2013]; Timaru Herald, 23 April 1891, 4 May 1893, 30 April 1896, 8 & 30 March 1898, 9 August 1900, 23 January 1901, 28 August 1902, 29 September 1902, 14 April 1903, 26 October 1906, 22 January 1907, 17 October 1913, 19 November 1915, 26 May 1916, 2 June 1916, 11 May 1917, 18 October 1917, 19 October 1917 [x 2], 8 November 1917, 29 December 1917, 1 November 1918, 4 October 1919, 12 March 1920, 4 October 1920, 4 October 1921, 18 November 1921, 13 November 1922, 11 June 1923, 3 & 13 March 1926, 14 October 1929, 21 November 1930 [x 2], 2 December 1930, 5 August 1931, South Canterbury Times, 22 April 1897, 12 July 1900, Star, 29 March 1898, Otago Witness, 12 August 1903, Temuka Leader, 12 September 1903, 6 & 13 March 1906, Waimate Daily Advertiser, 20 September 1916, 3 October 1916, 2 January 1917, 5 October 1918, 9 January 1919, Evening Post, 4 November 1916, Wanganui Chronicle, 19 October 1917, New Zealand Times, 19 October 1917, Press, 20 October 1917, 11 June 1923, New Zealand Herald, 27 June 1931, Nelson Evening Mail, 6 April 1932 (Papers Past) [26 July 2013; 19 August 2013; 19 October 2013; 27 June 2014, 09 July 2015; 26 October 2015; 06 & 16 February 2018; 27 July 2018; 9 February 2020; 02 May 2020; 17 & 18 September 2021]; NZ BDM historical records (Department of Internal Affairs); School Admission records (South Canterbury Branch NZSG); Probate record (Archives NZ/Family Search) [27 October 2015]; NZ Electoral Rolls (ancestry.com.au); Fairlie Accessible, Issue 12-11, 5 June 2021 (Google search); Timaru Catholic Baptism Index (Christchurch Catholic Diocese CD held by South Canterbury Branch NZSG) [22 September 2021]; Timaru Baptism confirmed from original record (Custody of Holy Family Parish, Timaru) [23 September 2021]
External Links
Related Documents
Researched and Written by
Currently Assigned to
TS
Licensed under a Creative Commons Attribution-NonCommercial 4.0 International License unless otherwise stated.
Tell us more
Do you have information that could be added to this story? Or related images that you are happy to share? Submit them here!