KENNEDY, Thomas Ryce
(Service number 7/1253)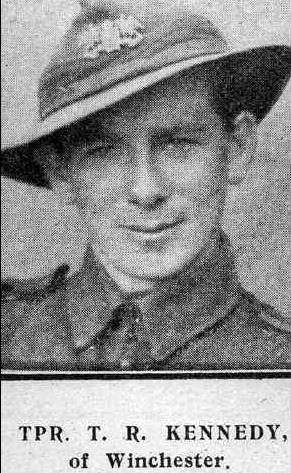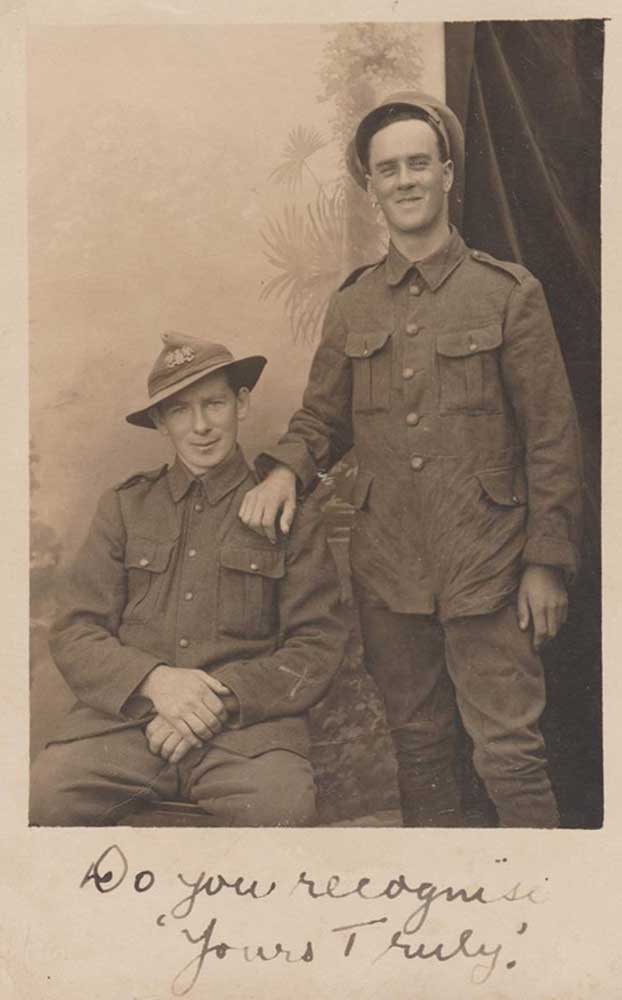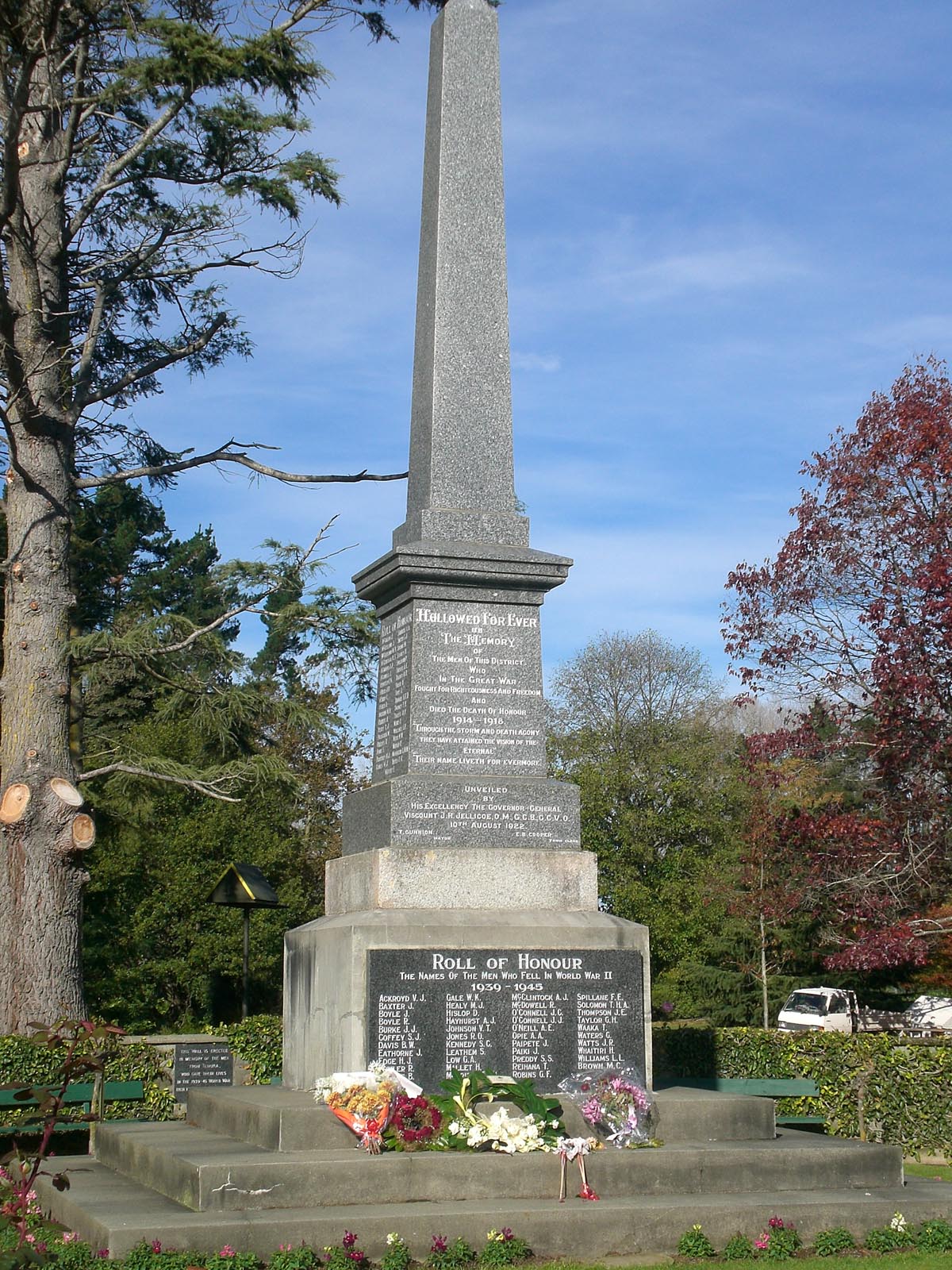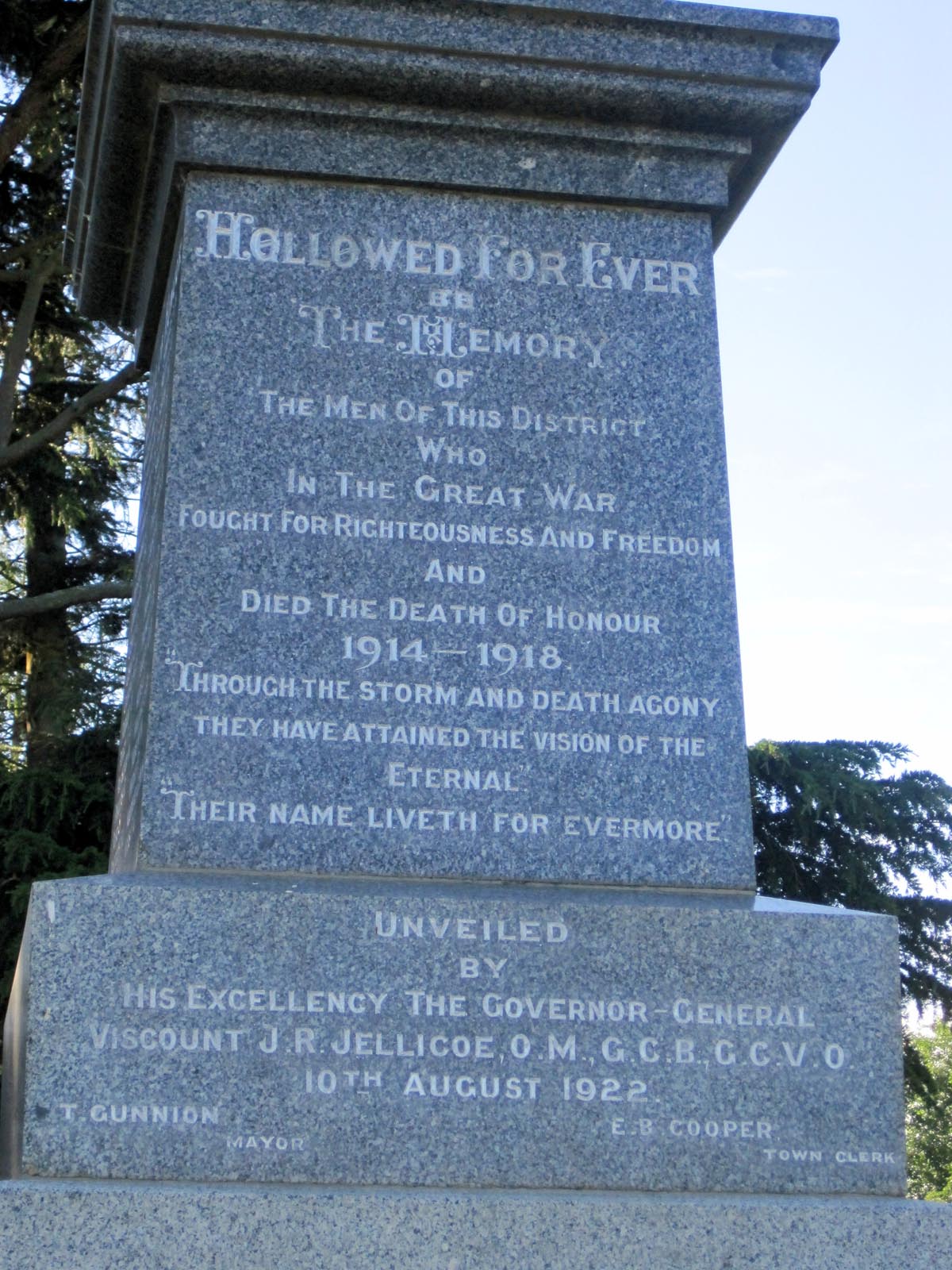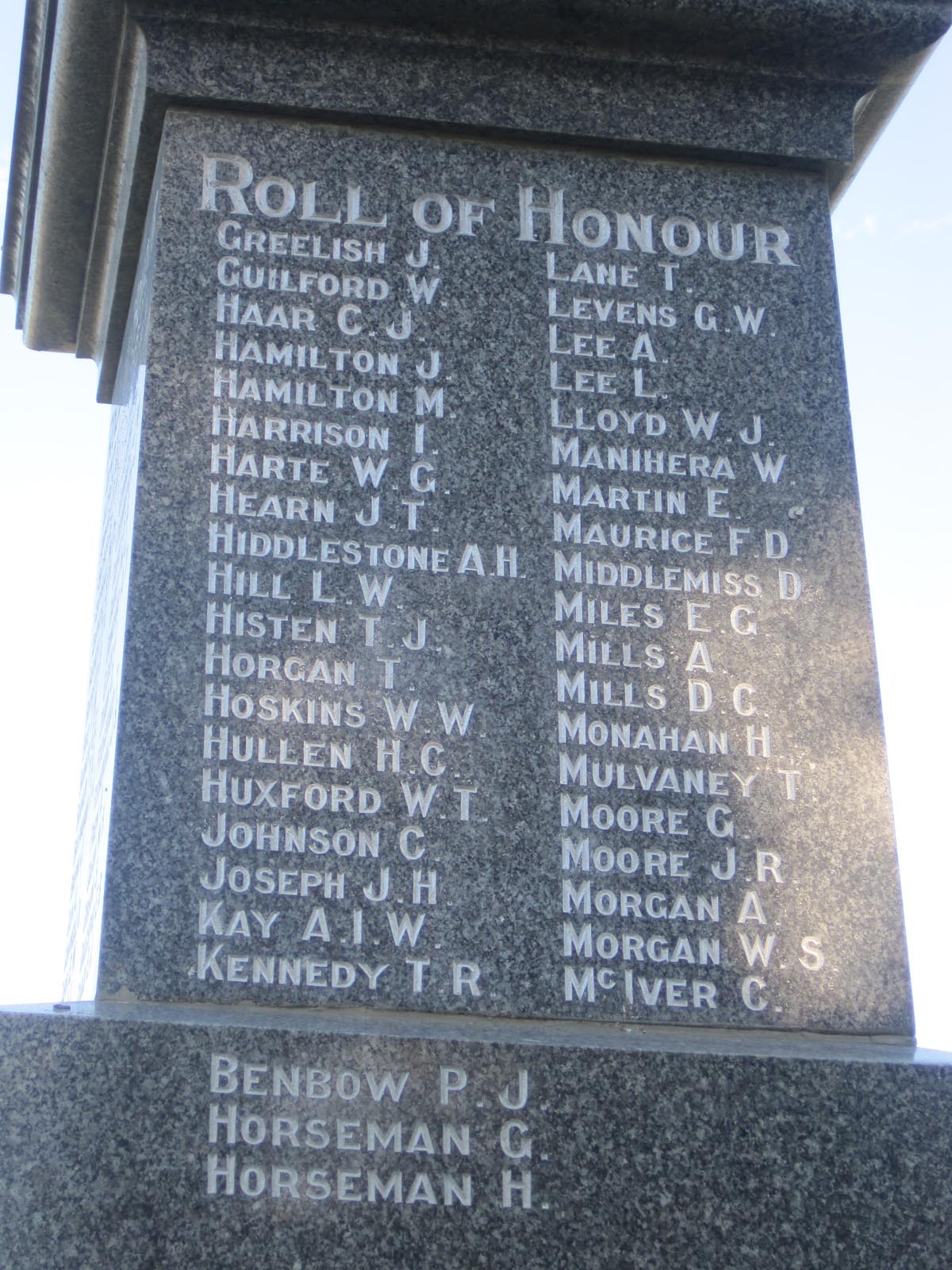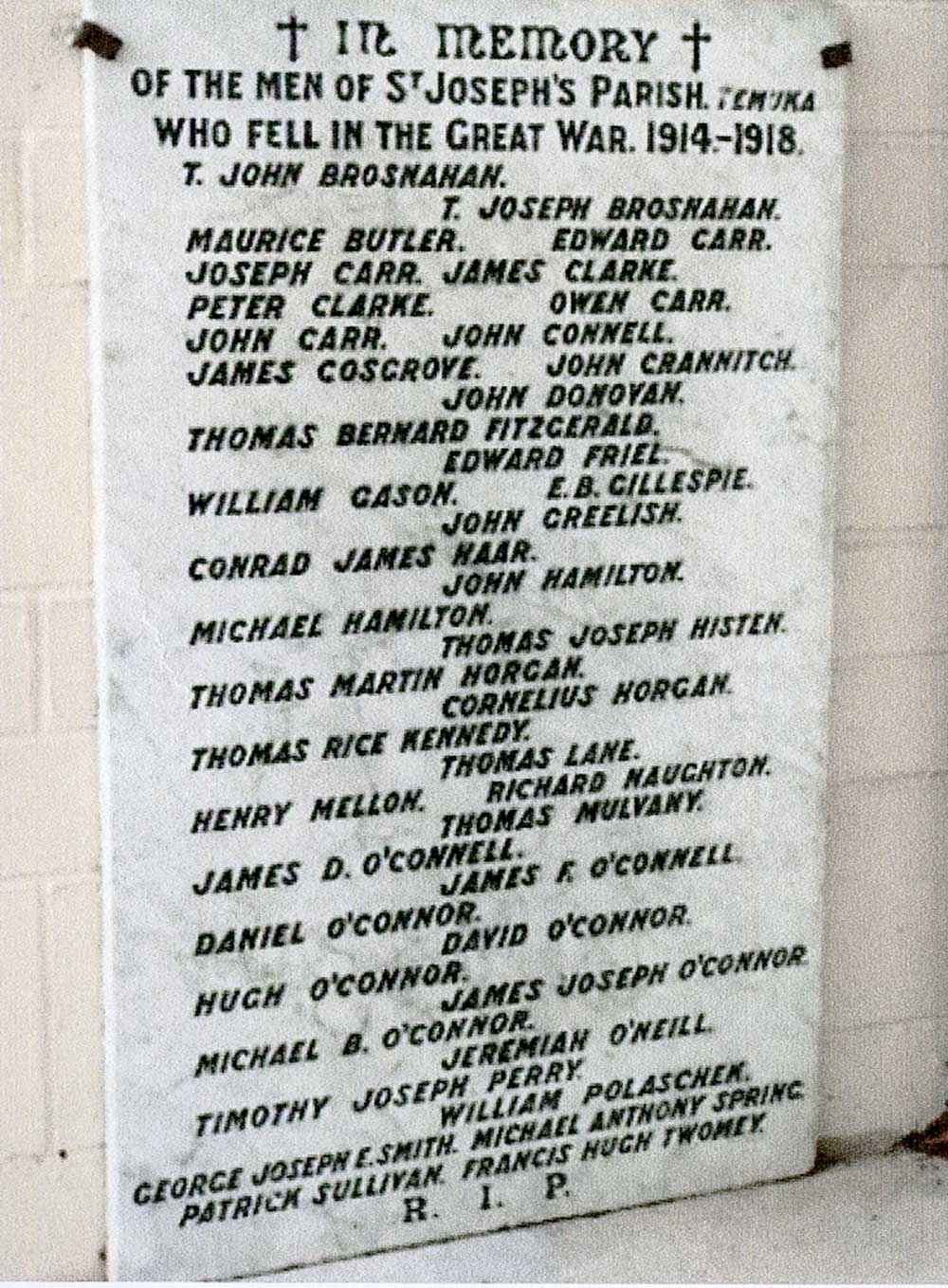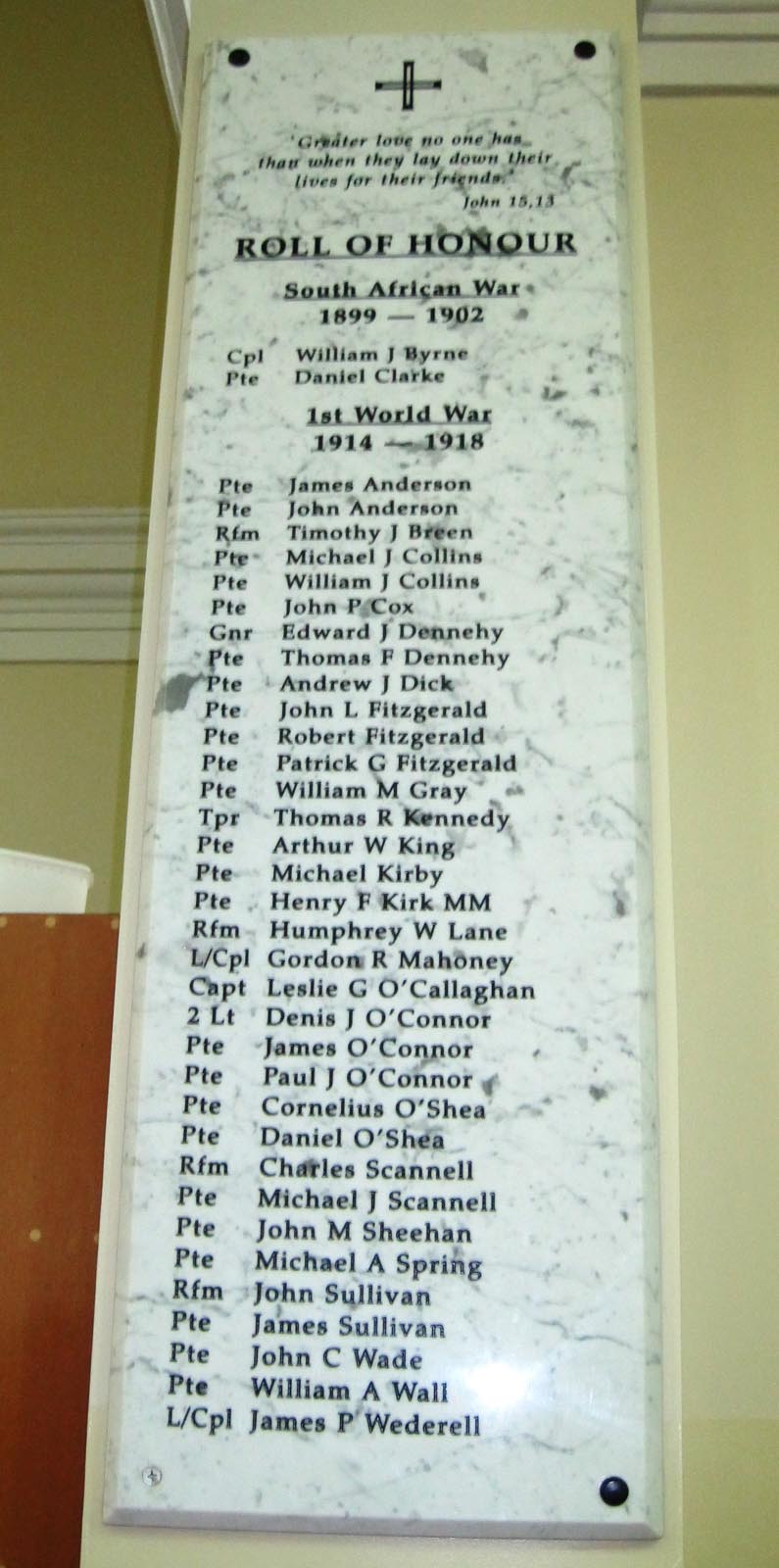 Aliases
Tom
First Rank
Trooper
Last Rank
Trooper
Birth
Date
17 August 1892
Place

of Birth

Winchester
Enlistment Information
Date
17 April 1915
Age
23 years
Address

at Enlistment

Winchester, Canterbury
Occupation
Labourer

Previous

Military Experience
8th (South Canterbury) Mounted Rifles
Marital Status
Single
Next of Kin
Mrs Ellen KENNEDY (mother), Winchester, Canterbury. Later of Orari
Religion
Roman Catholic
Medical

Information

Height 5 feet 6½ inches. Weight 142 lbs. Chest measurement 33-36 inches. Complexion fair. Eyes grey. Hair light brown.Eyes both 6/6. Hearing good. Colour vision correct. Limbs and chest well formed. Full and perfect movement of joints. Heart and lungs normal. Teeth fair. Free from hernia, varicocele, varicose veins, inveterate or contagious skin disease. Vaccinated. Good bodily and mental health. No slight defects. Tattoo on left wrist (bracelet).
Military Service
Served with
NZ Armed Forces
Served in
Army

Military

District
Embarkation Information
Body

on Embarkation

6th Reinforcements
Unit

, Squadron, or Ship

Canterbury Mounted Rifles
Date
14 August 1915
Transport
Willochra or Tofua

Embarked

From
Wellington
Destination
Suez, Egypt
Other Units

Served With

Last Unit

Served With

8th (South Canterbury) Mounted Rifles
Military Awards
Campaigns
Balkans (Gallipoli); Egyptian; Palestine (Battle of Beersheba)
Service Medals
1914-15 Star; British War Medal; Victory Medal

Military

Awards
Award Circumstances and Date
No information
Prisoner of War Information
Date of Capture
Where Captured

and by Whom

Actions Prior to Capture
PoW Serial Number
PoW Camps
Days Interned
Liberation Date
Hospitals, Wounds, Diseases and Illnesses
On his way to War, Thomas was affected by pyrexia. In March 1917 he was in hospital at Cairo, suffering from malaria and influenza, He has many visits to hospital in the first few months of 1917. 5 November 1917 he went to hospital, having been wounded in action.
Post-war Occupations
Death
Date
6 November 1917
Age
25 years
Place

of Death

Beersheba Hospital, Palestine
Cause
Died of wounds
Notices
New Zealand Tablet, 6 December 1917
Memorial or Cemetery
Beersheba War Cemetery, Palestine, Israel. Memorial Stone Temuka Cemetery (parents' plot)
Memorial Reference
B. 6. Temuka Cemetery - General Section, Row 225, Plot 427
N

ew

Z

ealand

Memorials
Timaru Memorial Waii; Basilica of the Sacred Heart; Geraldine War Memorial; Temuka RSA Roll of Honour; Temuka War Memorial; St Joseph's Church, Temuka (Thomas Rice Kennedy); Winchester War Memorial
Biographical Notes
Thomas Ryce Kennedy, known as Tom, was the younger son of Michael and Ellen (née Rice) Kennedy, of Winchester and later of Murray Street, Temuka. Michael and Ellen were both from Ireland – Michael from Tipperary and Ellen from Kerry. Born on 17 August 1892 at Winchester and baptised on 11 September following in the Temuka Catholic Parish, Tom was educated at the local school, Winchester Public School, before finishing off at the Marist Brothers School in Timaru. At Winchester School in 1902 Tom won one of the Standard III prizes. The prize-giving, held in the school committee chairman's paddock, was followed by a feast of sandwiches, confections, etc., and a variety of sports. He was a very keen sportsman, being a good rifle shot, and participating in athletic sports, proficient especially in boxing.
Thomas Kennedy was one of a number of Territorials and Senior Cadets who were fined in August 1914 for failing to attend evening drills, his fine being 20 shillings. He did have experience before the war with the 8th South Canterbury Mounted Rifles. Then, on a Saturday evening in April 1915, along with 122 other locals, T. R. Kennedy of the 8th Regiment of the Sixth Reinforcements, left Timaru by special train, en route for service at the front. The Mayor wished them "the best good fortune that could possibly befall them." He complimented them on the "manly stand they were so freely taking in going to help to break the sway of one of the greatest despots who had ever lived." Up till this time Thomas had lived at home and been employed in farm work, on his father's or a neighbouring farm.
Before long – on 14 August 1915 – he was on his way to Suez with the Canterbury Mounted Rifles. On his way to War, Thomas was affected by pyrexia and was admitted to hospital on arrival at Cairo. He contracted fever at Gallipoli and was invalided back to Egypt. In March 1917 he was in hospital at Cairo, suffering from malaria and influenza. He had many visits to hospital or casualty clearing stations in the first few months of 1917.
Thomas Kennedy saw active service at Gallipoli and in Egypt. At the capture of Beersheba he suffered wounds which sent him to hospital. The next day, 6 November 1917, at the age of 25, he died at Beersheba Hospital, Palestine, of those wounds. His mother by then living at Orari, received a cable to this effect on about 13 November. The report had been made by the Officer Commanding Anzac Receiving Station. The Timaru Herald casualty list gave his name as Thomas Royce Kennedy. A week later, in the Temuka Leader, Mr and Mrs Kennedy acknowledged the messages of sympathy received from their kind friends and the Orari Patriotic Committee. Tom had been very popular and was much missed by his many friends. A death notice – For the Empire's Cause – appeared in the New Zealand Tablet of 6 December.
Early in 1918, Mrs. M. Kennedy, of Murray Street, Temuka, late of Winchester, received a letter from Rev. Father (Chaplain) A. F. McDonald, with the N.Z. Forces in Palestine, under date December, relating the death of her son: -
"Early last month you will have learned that your boy, 11/1252, Thos. Kennedy, 8th Canterbury Mounted Rifles, with other brave comrades made the supreme sacrifice. Tom had come safely through the first big day's fight at Beersheba on October 31. On Sunday night (November 4) we were suddenly pushed out into some very rough country along the road to Jerusalem, six miles north-east of Beersheba, to hold up some strong Turkish counter-attacks. Next day, Monday, 5th, saw us in a rocky gully exposed to heavy shrapnel fire. I left the gully myself under machine-gun fire to bury a Catholic boy, and at the dressing-station was told that Tom was coming through, shot through the stomach. I attended to some of my boys brought out wounded, and as it was too late to think of finding my way back to the regiment, who were to be relieved at any moment, I stayed near the ambulance, and about 2 a.m. on Tuesday (November 6), I was fortunate enough to find Tom in the last ambulance cart to come in. Abdominal wounds are always very dangerous, so I told Tom his wound was serious and that I was going to give him the last Sacrament. Poor Tom, he had always been a fine lad and splendid Catholic, and he received the last rites in splendid disposition. He asked me to write you and send all his best love if anything happened to him. An ambulance van was waiting and hurried him towards Beersheba. That was the last I saw of him. From the Canterbury Regiment I learned later that he had succumbed. R.I.P. My dear Mrs. Kennedy, he was a son to be proud of, a brave soldier and a good practical Catholic, and 1 can assure you his comrades will miss his sunny cheerful presence. Accept my sincere sympathy for yourself and family. As a Catholic mother you will be consoled by his splendid end. I have been able to offer the Holy Sacrifice for the eternal rest of his soul." [New Zealand Tablet, 7 March 1918]
On the first anniversary of his death, an In Memoriam notice was inserted in the Timaru Herald by his loving sister. This was likely Rhoda, the only sibling found at home with Tom in 1914. She had accompanied Tom when he returned to Trentham in June 1915. "God favoured our hero brother, when He ended all his pain. But we never once thought when we kissed him good-bye, that he'd never come home again." For some years his parents inserted an In Memoriam notice in the New Zealand Tablet – for Trooper T. R. Kennedy, the second beloved son of Mr and Mrs M. Kennedy, Temuka. His medals (1914-1915 Star, British War Medal and Victory Medal) were sent to his father and the plaque and scroll to his mother after Michael and Ellen had retired to Murray Street, Temuka.
Thomas Ryce Kennedy was buried in the Beersheba Military Cemetery, Palestine, Israel, the Rev. H. R. Gordon, Chaplain to the Forces, officiating. Thirty-one New Zealanders are buried in this cemetery which was created on the fall of Beersheba which was attacked on 31 October 1917. A memorial is worked on his parents' stone in the Temuka Cemetery. His name is inscribed on the Timaru Memorial Wall, the Basilica of the Sacred Heart Memorial, the Geraldine War Memorial, the Temuka RSA Roll of Honour, the Temuka War Memorial, the St Joseph's Church, Temuka Memorial and the Winchester War Memorial. The Temuka St Joseph's Church Memorial, an "exceedingly beautiful" monument to the memory of those who had fallen in the war, was unveiled after a Memorial Service on 25 April 1922. During the service appropriate music was provided by the choir and an excellent address was delivered by the Rev. Dr. Kennedy. The name of Thomas Kennedy was heard again on Anzac Day, 1927. A Requiem Mass was celebrated at St Joseph's Church, Temuka. The celebrant preached a very stirring sermon based on the Book of Wisdom (Chapter III, Verses 2-5). He pointed out that the Gallipoli campaign and later "gigantic episodes" would remain for all time a wonderful symbol of the age-old courage of men. He reminded the lads present that the enormous sacrifices made by the soldiers of New Zealand and other parts of the Empire were helping them to have brighter and better lives, and that all should render thanks to God, who had delivered them out of the hands of the enemy.
The Winchester War Memorial which was unveiled in a touching ceremony on 23 May 1920. The proceedings opened with the Lord's Prayer, followed by the singing of the hymn "Lead Kindly Light" and the laying of wreaths by the school children as the names were read. Several tributes were paid to these brave men who had given their lives in order that others might live in peace. In July 1920 at the largest gathering ever seen in the Victoria Hall, Winchester, when district soldiers were welcomed home and presented with medals, those who had made the supreme sacrifice were remembered by the presentation of certificates to their next-of-kin - Thomas was one of these men.
The Temuka Borough memorial was unveiled in August 1922 before a very large gathering in the domain, including Temuka Territorials and Cadets, Temuka and Geraldine returned soldiers, the Temuka Pipe Band, the Salvation Army Band, the children of the district schools, national and local dignitaries, and local folk. Opening proceedings, the Mayor said "We regret that this occasion has arisen, but having done so we must look back with pride at the actions of those who rose to the call of the Motherland, which was in peril. Many of those brave boys who left these shores did not return, and we have erected this memorial to their memory, . . . " Following hymns and scripture readings, His Excellency the Governor-General formally unveiled the monument and the local M.P. read out the names inscribed thereon.
Sources
Auckland War Memorial Museum Cenotaph Database [21 July 2013]; NZ Defence Force Personnel Records (Archives NZ ref. AABK 18805 W5541 0063715) [16 July 2014]; CWGC [13 August 2013]; Temuka Cemetery headstone image (Timaru District Council) [13 August 2013]; NZ BDM historical records; Winchester School index (South Canterbury Branch NZSG) [2013]; Timaru Herald, 23 December 1902, 5 August 1914, 13 & 21 November 1917, 6 November 1918, 24 May 1920, 19 July 1920, Marlborough Express, 13 Nov 1917, Temuka Leader, 21 March 1912, 15 November 1917, 5 January 1918, 25 May 1920, 15 July 1920, 26 April 1922, 12 August 1922, 26 April 1927, 15 February 1930, New Zealand Tablet, 6 December 1917 [x 2], 7 March 1918, 4 November 1920, 9 November 1922, 1 November 1923, Otago Daily Times, 10 December 1917 (Papers Past) [19 August 2013; 13 July 2014; 14 October 1917; 04 July 2016; 04 & 05 August 2017]; Headstone image, Beersheba War Cemetery [Wings Over New Zealand, 19 August 2013]; New Zealand Electoral Rolls (ancestry.com.au) [05 August 2017]; Baptism record (Catholic Diocese of Christchurch CD held by South Canterbury Branch NZSG) [06 August 2017]
External Links
Related Documents
Researched and Written by
Teresa Scott, SC branch NZSG
Currently Assigned to
TS
Licensed under a Creative Commons Attribution-NonCommercial 4.0 International License unless otherwise stated.
Tell us more
Do you have information that could be added to this story? Or related images that you are happy to share? Submit them here!