KEEN, George Thorburn
(Service number 6/4077)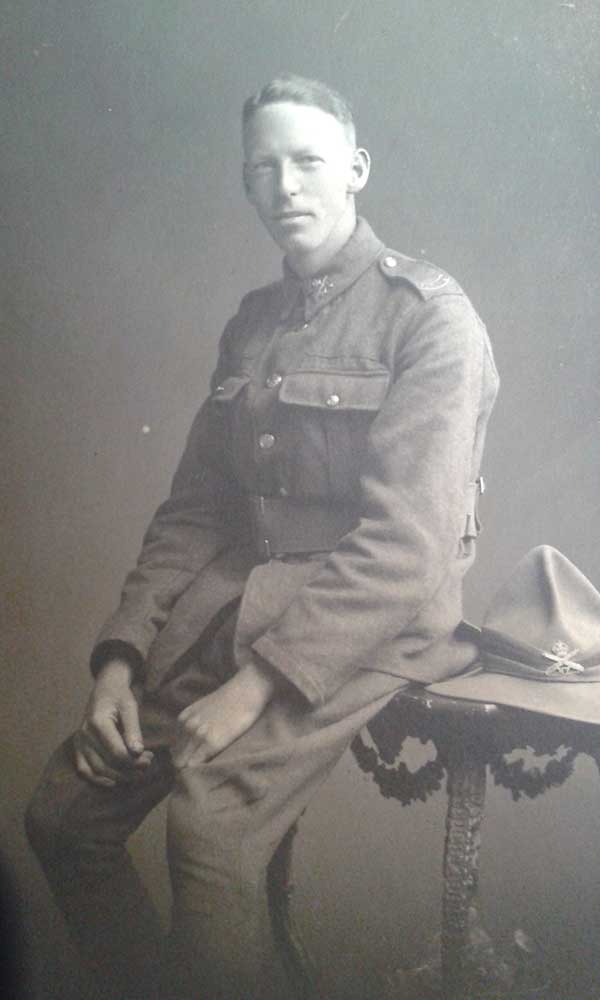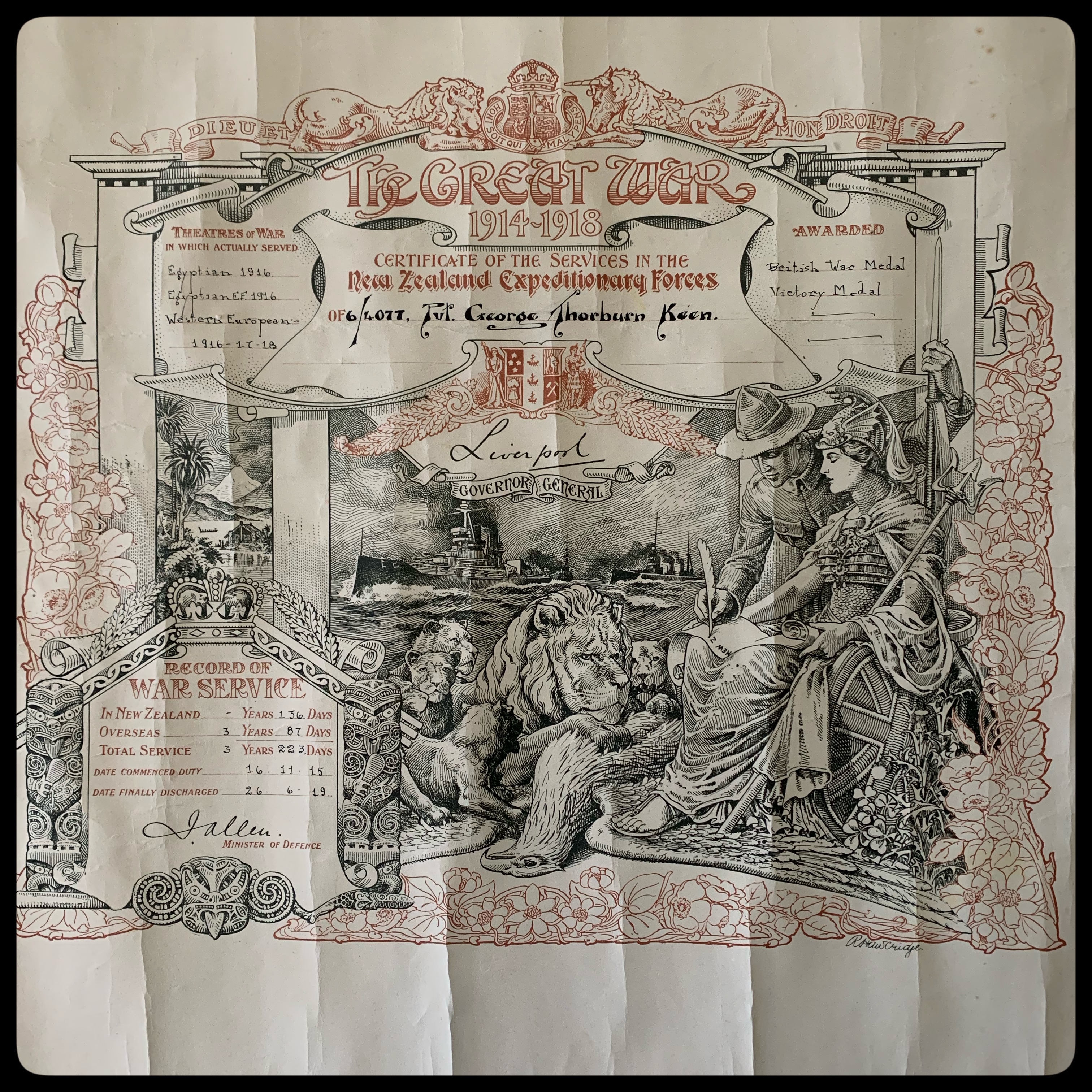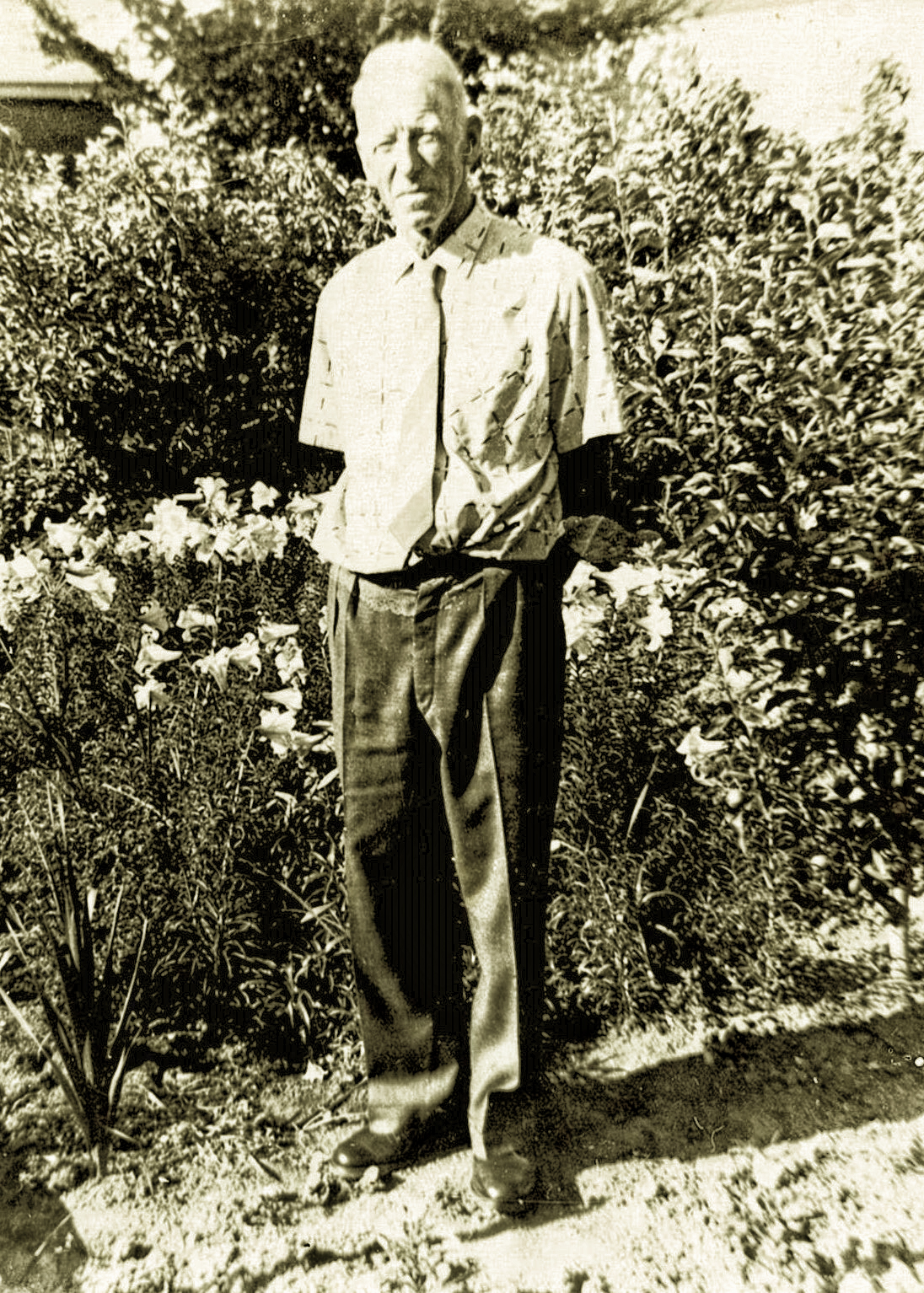 Aliases
First Rank
Private
Last Rank
Sergeant
Birth
Date
27 January 1890
Place

of Birth

St Ronans Cottage, Innerleithen. Peebles-shire, Scotland
Enlistment Information
Date
16 November 1915
Age
26 years 9 months
Address

at Enlistment

Chester Street, Timaru
Occupation
Bootmaker

Previous

Military Experience
Marital Status
Single, then married. One child
Next of Kin
G. W. KEEN (father), Chester Street, Timaru
Religion
Presbyterian
Medical

Information

Height 5 feet 9 inches. Weight 126 lbs. Chest measurement 31-35 inches. Complexion fair. Eyes blue. Hair auburn. Sight - both eyes 6/6. hearing good. Colour vision normal. Limbs well formed. Full & perfect movement of all joints. Chest well formed. Heart & lungs normal. Teeth good. No illnesses. Free from hernia, varicocele, varicose veins, haemorrhoids, inveterate or contagious skin disease. No vaccination mark. Good bodily & mental health. No slight defects. No fits.
Military Service
Served with
NZ Armed Forces
Served in
Army

Military

District
Embarkation Information
Body

on Embarkation

New Zealand Expeditionary Force
Unit

, Squadron, or Ship

10th Reinforcements Canterbury Infantry Battalion, C Company
Date
5 March 1916
Transport
Willochra or Tofua

Embarked

From
Wellington
Destination
Suez, Egypt
Other Units

Served With

Last Unit

Served With

Machine Gun Company
Military Awards
Campaigns
Egyptian; Egyptian Expeditionary Force; Western European
Service Medals
British War Medal; Victory Medal

Military

Awards
Award Circumstances and Date
No information
Prisoner of War Information
Date of Capture
Where Captured

and by Whom

Actions Prior to Capture
PoW Serial Number
PoW Camps
Days Interned
Liberation Date
Discharge
| | | | |
| --- | --- | --- | --- |
| Date | 26 June 1919 | Reason | On termination of period of engagement. |
Hospitals, Wounds, Diseases and Illnesses
5 July 1918 - admitted to hospital, sick. 1919 - problem with feet.
Post-war Occupations
Bootmaker
Death
Date
1 November 1970
Age
80 years
Place

of Death

Timaru Hospital, Timaru
Cause
Notices
Timaru Herald, 3 November 1970
Memorial or Cemetery
Cremated, ashes buried Timaru Cemetery
Memorial Reference
General Section, Row 51, Plot 288
N

ew

Z

ealand

Memorials
Biographical Notes
George Thorburn Keen was the fourth son of George Wilson Keen and his first wife Jane née Henry. George and his sons were residing at St Ronan's Cottage, Innerleithen, Peeblesshire, Scotland, in 1891 and 1901 (joined by George's second wife), and came to New Zealand in about 1902. Jane Keen died on 29 November 1890 at Innerleithen, when young George was just 10 months old. In 1893 his father married Elizabeth Scott, who became George Thorburn's mother. George Wilson Keen who had worked in the mill at Innerleithen, engaged in similar work at Timaru. George Thorburn Keen was born on 26 January 1890 at St Ronan's Cottage, Cauldhame, Innerleithen. He started his schooling at Innerleithen and in February 1903, with his brother William, entered Waimataitai School, Timaru, from where he moved on to High School at the end of the year. George, Elizabeth and their sons had left for New Zealand in November 1902 by the "Ruapehu". On leaving school George Keen was apprenticed in the bootmaking trade.
On the outbreak of war, the Keen family subscribed to the War Fund, which drew a splendid response from Timaru citizens. Along with his father and older brother John, George junior contributed £1, while William gave 5 shillings. In May 1915, Mr G. Keen commenced a boot repair business in North Street, Timaru. Mr F. C. Barker, a professional boot repairer, took over the boot repairing and making business in North Street in June 1917, while Private Keen was away at the war. Private G. T. Keen was among the recruits for the Tenth Reinforcements who were despatched from the South Canterbury district in mid November 1915 for camp at Trentham. George Thorburn Keen enlisted on 16 November 1915, aged 25 years 9 months. He was a bootmaker and Presbyterian adherent. George was 5 feet 9 inches tall and weighed 126 pounds. Of fair complexion, he had blues eyes and auburn hair. His sight, hearing and colour vision were all good, as were his limbs, chest, heart, lungs and teeth. He was in good bodily and mental health, free of diseases and defects. He nominated his father, G. W. Keen, of Chester Street, Timaru, as his next-of-kin. George also resided on Chester Street. He was then single. George married Winnifred Hyacinth Brooks on 28 January 1916 at Timaru, and on 5 March 1916 he embarked at Wellington for Suez, Egypt. A daughter, Dorothy Joan Keen, was born on 5 August 1916 at Wellington.
Disembarking at Suez on 10 April 1916, G. T. Keen left for France a few days later. At Etaples he was attached to the Strength of the New Zealand Infantry Base Depot before joining the 2nd Battalion at Armentières. Private Keen, of the Canterbury Infantry Battalion, was transferred to the No. 2 New Zealand Machine Gun Company on 11 April 1917. At the end of August he was detached to the UK on leave. Having rejoined his unit six days later, he was again on leave in the UK for two weeks in January 1918. He was appointed Company cook on 1 May 1918, which position he relinquished on 28 January 1919. On 5 July 1918 he was sent to hospital, sick, rejoining his Unit some twelve days later. On 11 January 1919 he went to the United Kingdom on leave from France and, being detained there, he reported to Grantham on 4 February. Keen embarked for New Zealand by the "Tofua" on 18 April 1919 at Tilbury. A problem with his feet may have prompted his return home. His condition remained stable on the transport home.
Mrs G. T. Keen, 19 Elizabeth Street, Timaru, received word that her husband, Private George T. Keen, of the 10ths, would arrive at Port Chalmers per the "Tofua" on 2 June 1919. The troopship actually arrived a little earlier, the South Canterbury men reaching Timaru by special train on 29 May. There was a very large and enthusiastic crowd on the station platform to welcome the men when they arrived at 7.40 pm. Loud cheers erupted, which were "followed by the usual rush of overjoyed relatives and friends to unearth their respective soldier heroes." The Mayor welcomed them back on behalf of the citizens of Timaru, assisted by members of the Timaru Soldiers' Reception Committee and ladies of the Patriotic Society. "All ranks were very cheerful, and looked in the pink of condition, and were evidently pleased at their return home." (Timaru Herald). A month later a social was held in the Congregational Schoolroom, to welcome home Mr G. T. Keen. The Rev. Mr Potts extended a cordial welcome to Mr Keen, a member of the Church. A programme of musical items, games, and a charade was presented, and an appetising supper served. Private Keen was discharged on 26 June 1919, on the termination of his term of engagement. He had served for three and a half years in Egypt and Western Europe, for which he was awarded the British War Medal and the Victory Medal. After the war he resumed his trade as a boot maker and repairer. He and his wife continued to live in Timaru, bringing up their two daughters.
World War II had broken out, and there was George Thorburn Keen attesting on 22 July 1940 and marching in to camp at Timaru. He was then 50 years old, married with one child under 16 years, Congregationalist, and a self-employed boot repairer. Various items of clothing (hat bands, great coats, hats, jackets, trousers, boots, bandoliers, waist belts, and more) and equipment (bayonets and scabbards, rifles, rifle slings, bottles of oil) were issued to him. Private G. T. Keen, 806777, was assessed as fit for Home Defence. He served with the National Military Reserve in camp at the Timaru Showgrounds. He stood at 5 feet 9½ inches tall and weighed 10 stone 9 pounds. It was noted that he had suffered a broken leg 16 years prior. In all respects his physical condition was normal. His next-of-kin was his wife, of 148 Church Street, Timaru. It was early 1942 when he took up a position and was to be corporal. He had a period sick at home in November before returning to Burnham in January 1943, when he was attached to the Special Demonstration Squad. In November-December 1942 he had attended a Street Fighting course at Burnham. His course report stated that he was a "keen & interested student, should do well". In March 1943 he had consulted a doctor in Timaru regarding a medium nerve injury and pain. He was advised that an operation may bring improvement. While he was granted leave without pay for civil employment in July 1943, he remained on the strength of his unit. He was transferred to the Demobilised Reserve, in possession of "2 pairs of boots in a thoroughly serviceable condition." George paid 5 shillings and three pence for one lost jersey, 1 shilling and ten pence for 2 pairs of socks, and 9 shillings and ten pence for two lost vests. He returned two blankets, as well as collar badges, puttees, a jacket, a balaclava, a waist belt and trousers. He certified that he was in his normal state of health. And on 19 August 1943 at Wellington he was discharged. He was awarded the War Medal 1939-1945 and the N.Z. War Service Medal.
Mr Keen was a an enthusiastic and talented gardener, winning many awards for his fruits and flowers at various shows – 2nd for dessert pears at the Timaru Floral Society's 1924 autumn show; 1st for six varieties of apples, five of each, 1st also for five apples, dessert, one variety, and yet another 1st for five pears, dessert, one variety, at the Timaru Horticultural Society's autumn show in 1932; at the 1934 Horticultural Society show – 1st for apples, six varieties, 1st also for apples, dessert, three varieties, and 1st for apples, dessert, one variety. In 1937 it was at the South Canterbury Industrial Exhibition and Winter Show that George again enjoyed success with his fruit – 1st for varieties dessert apples and 1st for plate dessert Jonathan. In 1934, Mrs Keen and their daughter Dorothy won prizes in the cut flowers category.
From a young age, George Keen was an enthusiastic player of association football. At a meeting of the Timaru Association Football Club in early August 1905, a ballot was held for teams to compete in the club's five-a-side tournament later in the month. George was placed in the C team while his older brother Henry was in the D team. This was to be a festive occasion, with modified rules, among evenly matched teams. The play was fast, open, and very tiring to the players, who all had to do a lot of running about. The C team's first game against the B team had to be extended after no score being registered in the allotted time; after four spells the B team scored to win. In April 1906, George was one of the players requested to attend practice for possible selection to play against Otago. In the event, he was named in the reserves. And in June 1906 both George (emergencies) and Henry were selected to represent the local club in a match against Celtic (Christchurch). The following month both were selected in the forwards for a match between the Timaru Association Football Club and the s.s. Kaikoura. George and Henry were in opposing teams for a friendly game within the club in September 1906. In October 1906 the Timaru Association Football Club held its annual 5-a-side tournament, George selected for the A team and Henry for the F team. The A team won their first round by a goal by George after six spells, then lost the final by one goal. By April 1907 George and Henry were playing for the Corinthian Club, both in the forwards for the match against Timaru. George was named amongst the "pick of the Corinthians". The Corinthian Association Football Club had been newly formed in February 1907, with George being elected to the committee. His resignation from the committee was accepted with regret in august following. The Keen brothers - George, Henry and John - were all selected to play an Otago team at Dunedin on 18 July, for which the players were requested "to get into training at once". The three brothers were in the Corinthian team to play a match with Timaru on 15 August 1907, and the Ashburton Club later in the month. In July 1911, back with the Timaru Club, George was selected for the B team to play against Temuka. He was again in the B team for the Fraser Cup competition. Representative honours came in August 1911, when George was selected in the backs and brother John in the forwards for the South Canterbury team to play against North Otago. At the annual meeting of the Timaru Association Club, held in March 1912, Mr G. Keen was elected vice-captain. George was joined by his youngest brother, William Keen, in the Timaru Club team to compete in the Fraser Cup competition which commenced for the season in July 1913. George was also a keen tennis player for over 40 years, firstly with the Wesley Church group and later with the Aorangi Tennis Club. Tennis featured on his calendar in early 1912, when he played for the Aorangi Club, in a match against Wesley and the next week a match against Hill Club (Oamaru). In 1934, at the age of 44, George was playing tennis, although he had a tough day representing Aorangi II against Timaru, losing his singles, men's doubles and mixed doubles. G. Keen was ranked with the South Canterbury Lawn Tennis Association in September 1940, and was a winner in the veterans' category. In his younger days he enjoyed cycling, riding over most of the South Island's major roads.
George Thornburn Keen died on 1 November 1970 at the Timaru Hospital, aged 80 years. He was cremated at Salisbury Park Crematorium and his ashes were interred with his wife at the Timaru Cemetery, a services plaque marking the plot. Members of the South Canterbury Returned Services Association attended the service at the crematorium. Mrs Keen had died some ten years earlier. George was survived by his two daughters, Dorothy and Isa, and their families. George had been in business in Timaru as a boot-maker for fifty years. After the First World War, he worked from a tiny shop in Church Street West. He gave his time willingly as a driver for the meals-on-wheels scheme from its inception.
The attached obituary for George Thorburn Keen includes a photo. Two brothers of George also saw service with New Zealand Forces in World War I – William Keen who died of wounds in 1918 in France and Henry Keen. In 1920, their father donated to the furnishing and maintenance fund for St Saviour's Orphanage, the new home which was constructed in 1917 on Morgans Road and opened in 1918. It was used as a military orthopaedic hospital for returned servicemen for a time (1918-1921). Mr George Wilson Keen died in 1932 and his wife Elizabeth in 1944. They are buried in the Timaru Cemetery, their headstone recording a memorial to their son William.
Sources
Auckland War Memorial Museum Cenotaph Database [06 January 2014]; NZ Defence Force Personnel Records (Archives NZ ref. AABK 18805 W5922 0062962) [29 July 2016], NZ Defence Force Personnel Records (Archives NZ ref. AABK 18805 W592268 0492500) [27 August 2019]; Timaru Herald, 9, 23 & 25 August 1905, 6 & 12 April 1906, 4 June 1906, 11 & 12 July 1906, 20 September 1906, 2 & 5 October 1906, 7 February 1907, 26 April 1907, 28 June 1907, 9 July 1907, 14 & 27 August 1907, 5 July 1911, 16 August 1911, 23 September 1911, 18 & 25 January 1912, 21 March 1912, 16 July 1913, 10 August 1914, 18 May 1915, 13 November 1915, 28 June 1917, 19 & 30 May 1919, 27 June 1919, 1 April 1920, Star, 17 May 1919, Press, 7 March 1924, 4 March 1932, 17 February 1934, 17 December 1934, 21 June 1937, 20 September 1940 (Papers Past) [12 & 26 August 2019]; Timaru Herald, 3 November 1970 (Timaru District Library) [21 July 2016]; 1891 & 1901 census returns Scotland (ancestry.com.au) [22 July 2016]; School Admission record (South Canterbury Branch NZSG); School Admission record (South Canterbury Branch NZSG) [12 August 2019]; NZ Electoral Rolls (ancestry.com.au) [12 August 2019]; Timaru Herald, 4 November 1970 (Timaru District Library) [20August 2019]; Family History (World Connect Project) [06 January 2014]; photo submitted by Holly Charles from her grandmother's photo album [25 April 2015]
External Links
Related Documents
Researched and Written by
Teresa Scott, South Canterbury branch NZSG
Currently Assigned to
TS
Licensed under a Creative Commons Attribution-NonCommercial 4.0 International License unless otherwise stated.
Tell us more
Do you have information that could be added to this story? Or related images that you are happy to share? Submit them here!