HAY, George Huntley
(Service number 14020)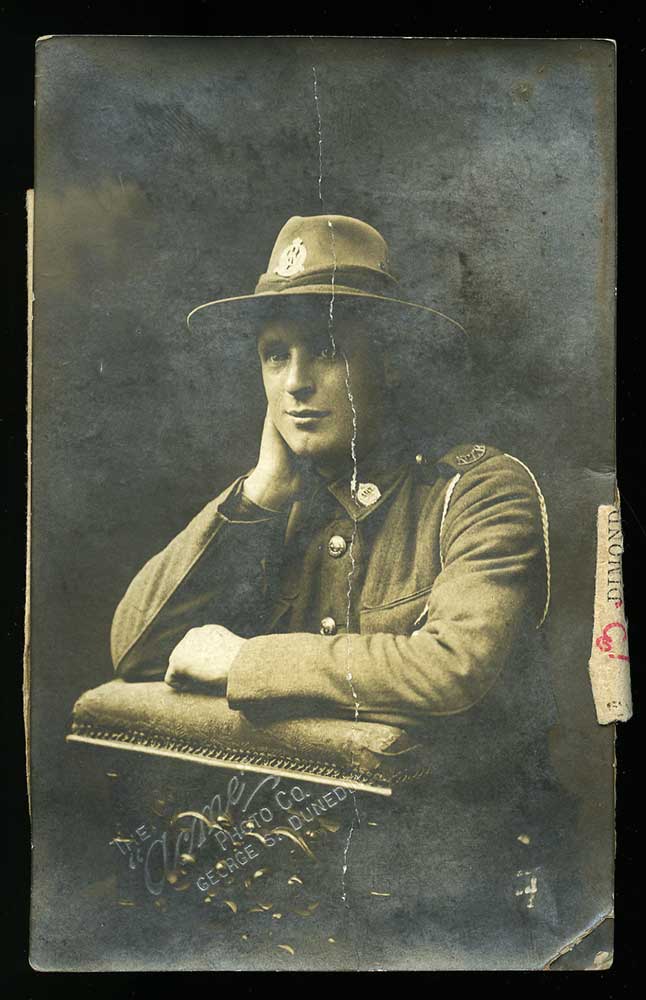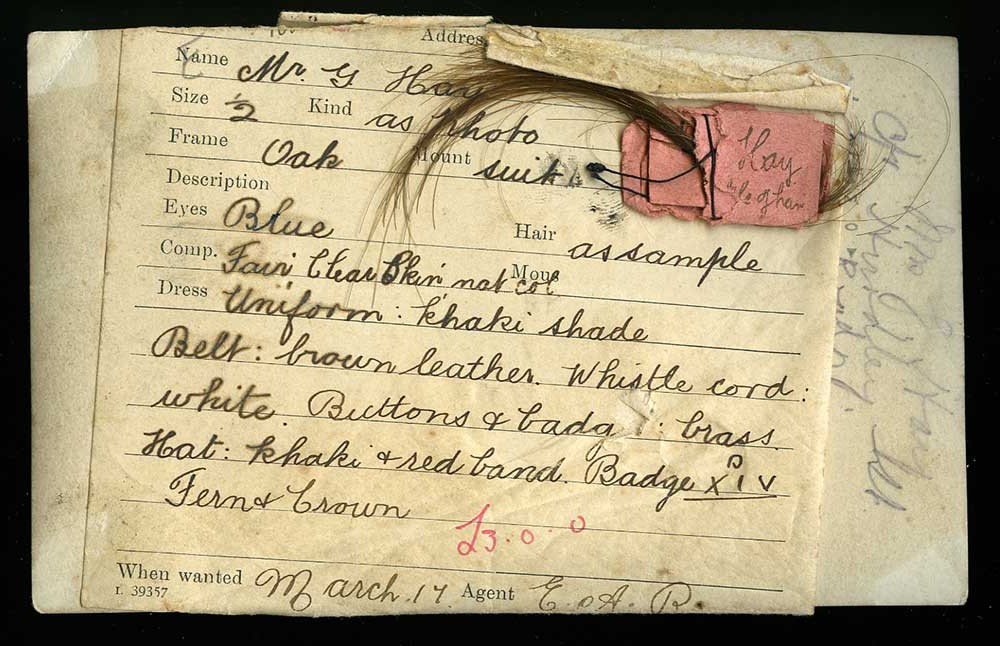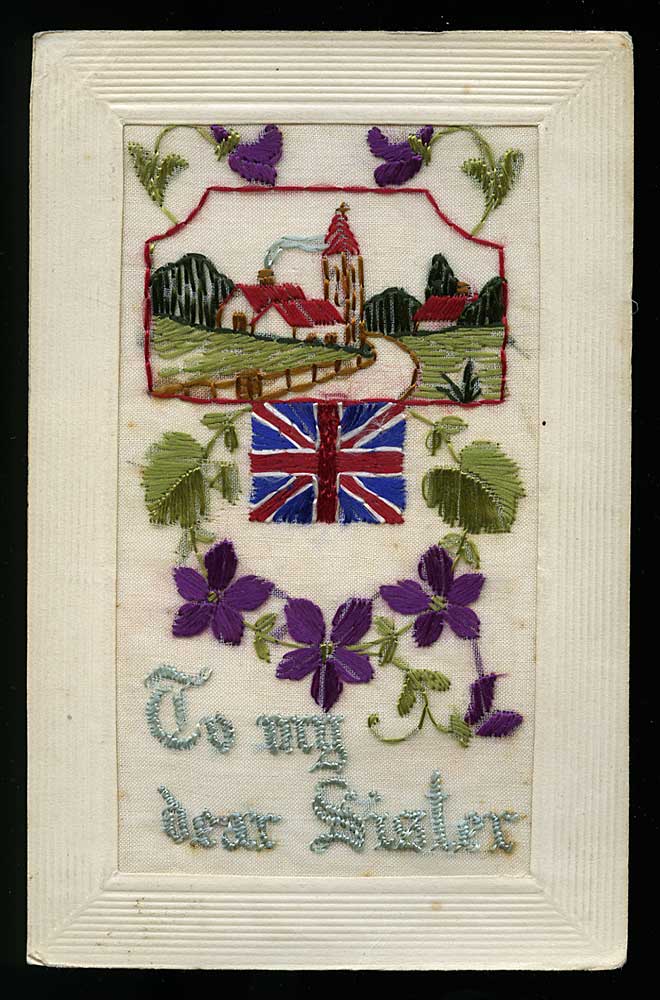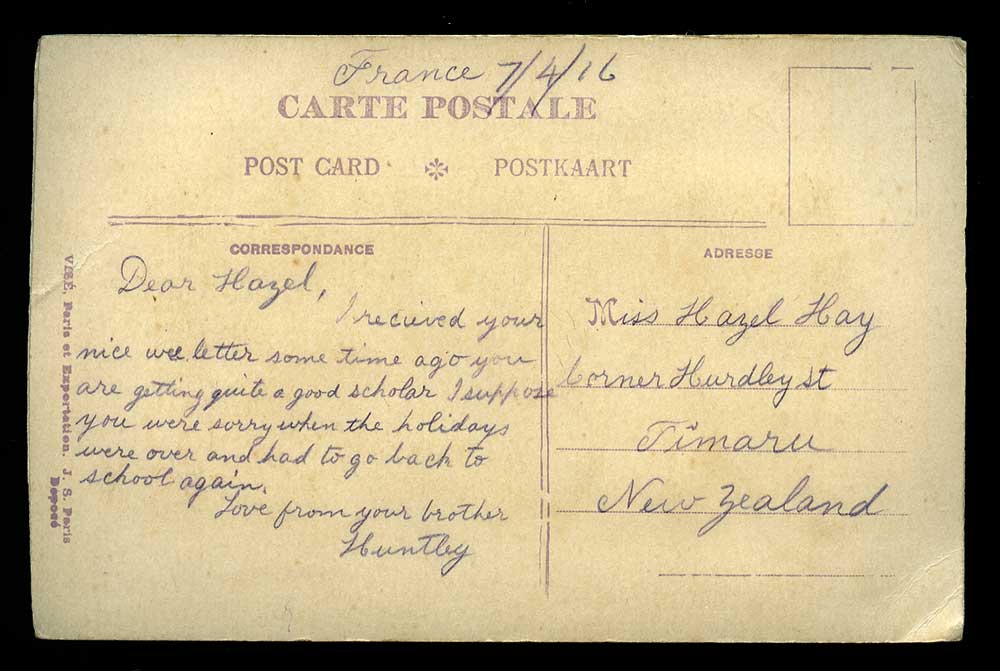 Aliases
Huntley
First Rank
Private
Last Rank
Private
Birth
Date
12 August 1895
Place

of Birth

Glenomaru
Enlistment Information
Date
9 March 1916
Age
20 years
Address

at Enlistment

C/o C. Gamble, East Taieri
Occupation
Labourer

Previous

Military Experience
10th Regiment - still serving at enlistment
Marital Status
Single
Next of Kin
George HAY (father), corner of Hurdley Street and Otipua Road, Timaru
Religion
Medical

Information

Height 5 feet 7 inches. Weight 154 lbs. Chest measurement 35-38½ inches. Complexion fair. Eyes blue. Hair brown. Sight - both eyes 6/6. Hearing & colour vision both good. Limbs well formed. Full & perfect movement of all joints. Chest well formed. Heart & lungs normal. Illness - rheumatic pains some years ago; no doctor. Free from hernia, varicocele, varicose veins, haemorrhoids, inveterate or contagious skin disease. No vaccination mark. Good bodily & mental health. No slight defects. No fits. Fit.
Military Service
Served with
NZ Armed Forces
Served in
Army

Military

District
Embarkation Information
Body

on Embarkation

New Zealand Expeditionary Force
Unit

, Squadron, or Ship

14th Reinforcements Otago Infantry Battalion, D Company
Date
26 June 1916
Transport
Maunganui or Tahiti 

Embarked

From
Wellington
Destination
Devonport, England
Other Units

Served With

Last Unit

Served With

Otago Infantry Regiment, 1st Battalion
Military Awards
Campaigns
Western European (Messines)
Service Medals
British War Medal; Victory Medal

Military

Awards
Award Circumstances and Date
No information
Prisoner of War Information
Date of Capture
Where Captured

and by Whom

Actions Prior to Capture
PoW Serial Number
PoW Camps
Days Interned
Liberation Date
Hospitals, Wounds, Diseases and Illnesses
Post-war Occupations
Death
Date
14 June 1917
Age
21 years 10 months
Place

of Death

Messines, France
Cause
Killed in action
Notices
Timaru Herald, 30 June 1917; Otago Witness, 4 July 1917
Memorial or Cemetery
Messines Ridge (New Zealand) Memorial, Messines Ridge British Cemetery, Belgium
Memorial Reference
N

ew

Z

ealand

Memorials
Timaru War Memorial Wall, Timaru (HAY G H); Glenomaru War Memorial (George Huntley Hay); East Taieri Presbyterian Church memorial window (G. Huntley Hay)
Biographical Notes
George Huntley Hay was the second child and eldest son of George Hay and his second wife, Helen née Marshall, of 2 Hurdley Street, Timaru. Known as Huntley, he was born on 16 August 1895 at Glenomaru in South Otago, and was most likely educated at the Glenomaru School, with which his father was involved. Huntley was probably in his teens when the family moved to Timaru.
Huntley was a labourer for C. Gamble, East Taieri when he enlisted on 9 March 1916, single and having turned twenty just six months earlier. He nominated his father of Timaru as his next-of-kin. Standing at 5 feet 7 inches tall and weighing in at 154 pounds, George was in good physical condition, although he said that he had suffered from rheumatic pains some years previously. G. H. Hay, a labourer of Taieri, left Otago in early March with the men representing Group 15. He had no vaccination mark when he was medically examined but was vaccinated at Trentham a few months later. On 26 June 1916 he embarked at Wellington with the 14th Reinforcements, Otago Infantry Battalion, destined for Devonport, England. After a month at Sling he proceeded to France and joined his battalion in October at Rouen. He remained with the Otago Infantry throughout his time at the front.
Private George Huntley Hay met his fate on 14 June 1917, killed in action at Messines, Belgium, just one year after leaving New Zealand's shores and aged only 21 years and 10 months. His was one of 155 deaths recorded in Casualty List No. 606 issued on 27 June 1917, the vast majority of the victims killed in action. A death notice appeared in the Timaru Herald of 30 June and in the Otago Witness of 4 July – beloved son of George and Helen Hay, Corner Hurdley and Otipua Streets, Timaru.
Thereafter, Huntley was regularly honoured by his family with touching notices in Otago and Timaru newspapers. In June 1918 his parents, sisters and brothers remembered thus - "He arose responsive to his country's call, He gave himself, his life, his all." In 1919 – "There is a link death cannot sever, Fond remembrance lasts forever." In 1920 the poignant message read "In a distant land he lies, At rest in a soldier's grave, His battle fought, his name enrolled On the scroll of the deathless brave." And for years after, the grief of his loving parents, five brothers and two sisters was quietly expressed, as in 1927 – "Duty called him – he was there To do his bit and take his share; His heart was good, his spirit brave, His resting place a soldier's grave." His resting place was indeed, a raw soldier's grave, he having no known grave. Although the Battle of Messines was a striking success, the New Zealanders paid a heavy price for success – a price paid in the life and future of young Huntley Hay. He is remembered on the Messines Ridge (New Zealand) Memorial, Messines Ridge British Cemetery, Belgium; and his name is inscribed on the Timaru War Memorial Wall, the Glenomaru War Memorial, and the marble tablet beneath the memorial window in the East Taieri Presbyterian Church. The fallen soldiers' memorial at Glenomaru was constructed through donations and volunteer efforts – a substantial granite monument, raised on a concrete pedestal, with an iron railing – and was unveiled in August 1920. The school children placed wreaths, the cadets paraded, all joined in singing the Old Hundredth Psalm, and The Last Post was sounded. The inscription on the monument reads "The Great War, 1914-1918", followed by names (including George Huntley Hay), and "Greater love hath no man than this that he lay down his life for his friends." At the unveiling and dedication of the memorial window in the East Taieri Church, the Rev. Mr McCosh took for his text John XII, 24. The National Anthem was sung and the names inscribed on the marble tablet were read. The window is symbolical of the text: "Be thou faithful unto death, and I will give you a crown of life." (Otago Daily Times. 3 August 1921) At the front of the window is the inscription: "To the Glory of God, and in memory of the soldiers of the Expeditionary Forces who fell in the Great War, 1914-1918."
Huntley Hay had been a member of the Oddfellows Lodge in the Clutha area. A lengthy list of men who had paid the supreme sacrifice was read out at a memorial service to them held in the Oddfellows Hall in late October 1917. The list which was compiled from the Clutha Leader included Pvte. G. H. Hay (Glenomaru). He was also a member of the Loyal Alexandra Lodge. Out of a membership of 94, 30 had gone to the Front, three of them making the supreme sacrifice as of July 1918. The Loyal Alexandra Lodge marked its fiftieth anniversary in April 1919, and at the banquet held at Port Molyneux, Brother G. H. Hay was again one of those honoured.
Private G. H. Hay was survived by his parents, five brothers and two sisters, and one half-brother and one half-sister. His death was registered with the Mayor of Calais, as is the French custom, and in due course, notified to the Minister of Foreign Affairs. His medals (British War Medal and Victory Medal) were sent to his father.
Sources
Auckland War Memorial Museum Cenotaph Database [19 November 2013]; NZ Defence Force Personnel Records (Archives NZ ref. AABK 18805 W5539 0052416) [25 July 2017]; CWGC [19 November 2013]; Clutha Leader, 31 December 1912, 3 July 1917, 30 October 1917, 4 April 1919, 17 June 1919, 10 August 1920, Oamaru Mail, 7 March 1916, Evening Star, 28 June 1917, Sun, 28 June 1917, Timaru Herald, 28 & 30 June 1917, 14 June 1918, Otago Witness, 4 July 1917, 19 June 1918, 18 June 1919, 15 June 1920, Otago Daily Times, 14 June 1918, 14 June 1919, 14 June 1921, 3 August 1921, 14 June 1922, 14 June 1923, 14 June 1924, 15June 1925, 14 June 1927, Bruce Herald, 4 July 1918 (Papers Past) [21 November 2013; 14 September 2015; 25 July 2017]
External Links
Related Documents
No documents available.
Researched and Written by
Teresa Scott, SC branch NZSG
Currently Assigned to
TS
Licensed under a Creative Commons Attribution-NonCommercial 4.0 International License unless otherwise stated.
Tell us more
Do you have information that could be added to this story? Or related images that you are happy to share? Submit them here!