HAAR, Conrad James
(Service number 80075)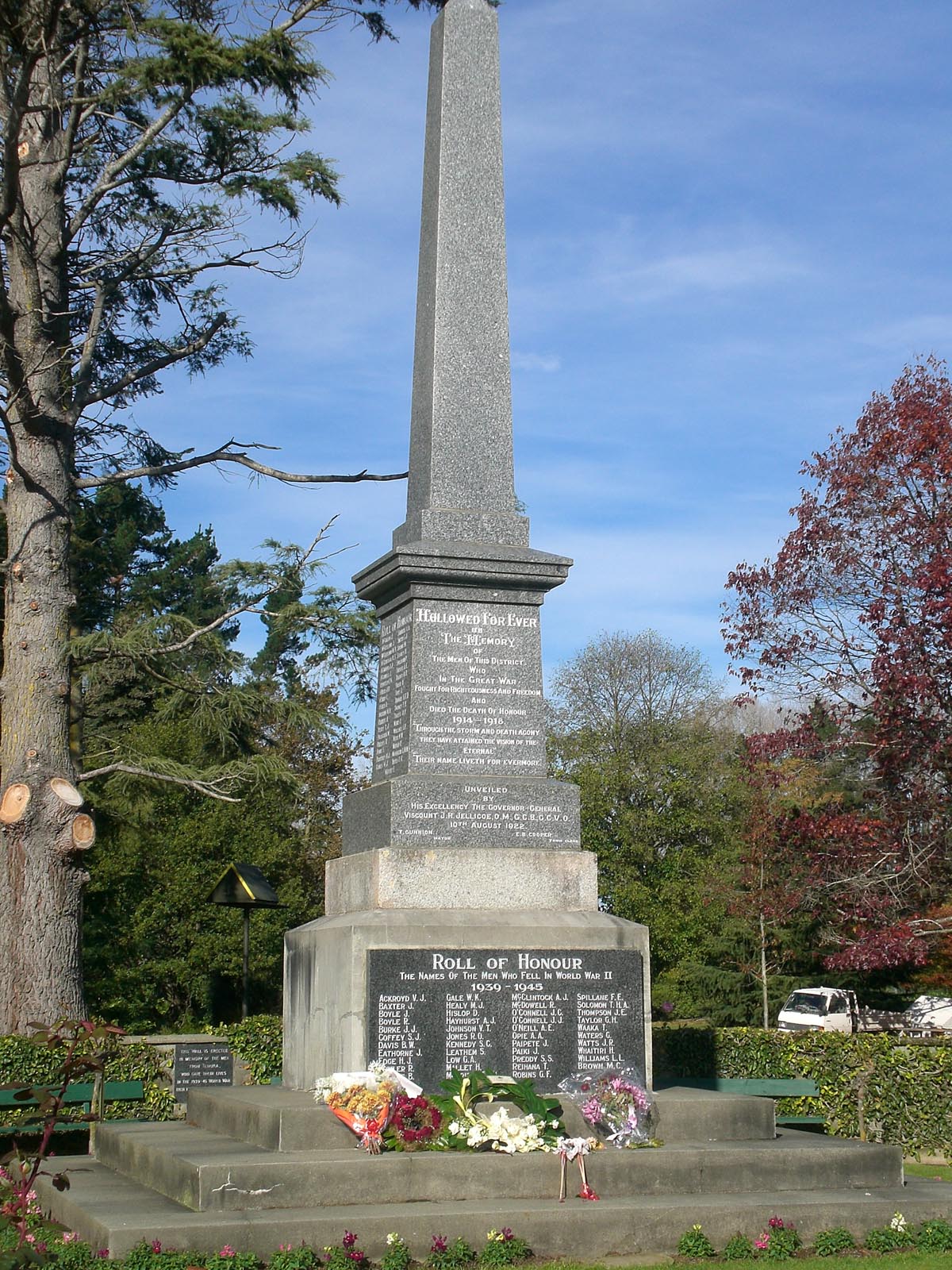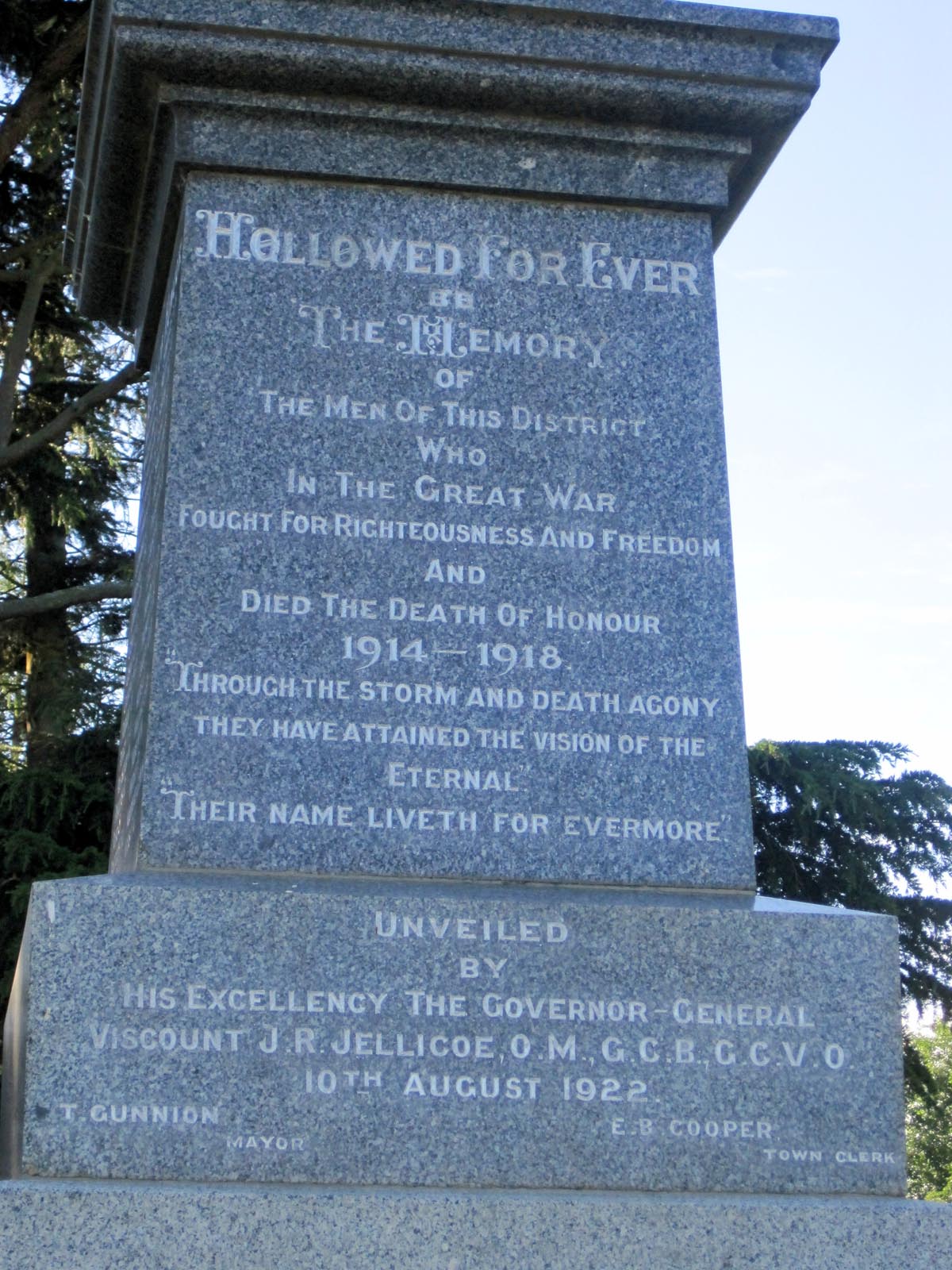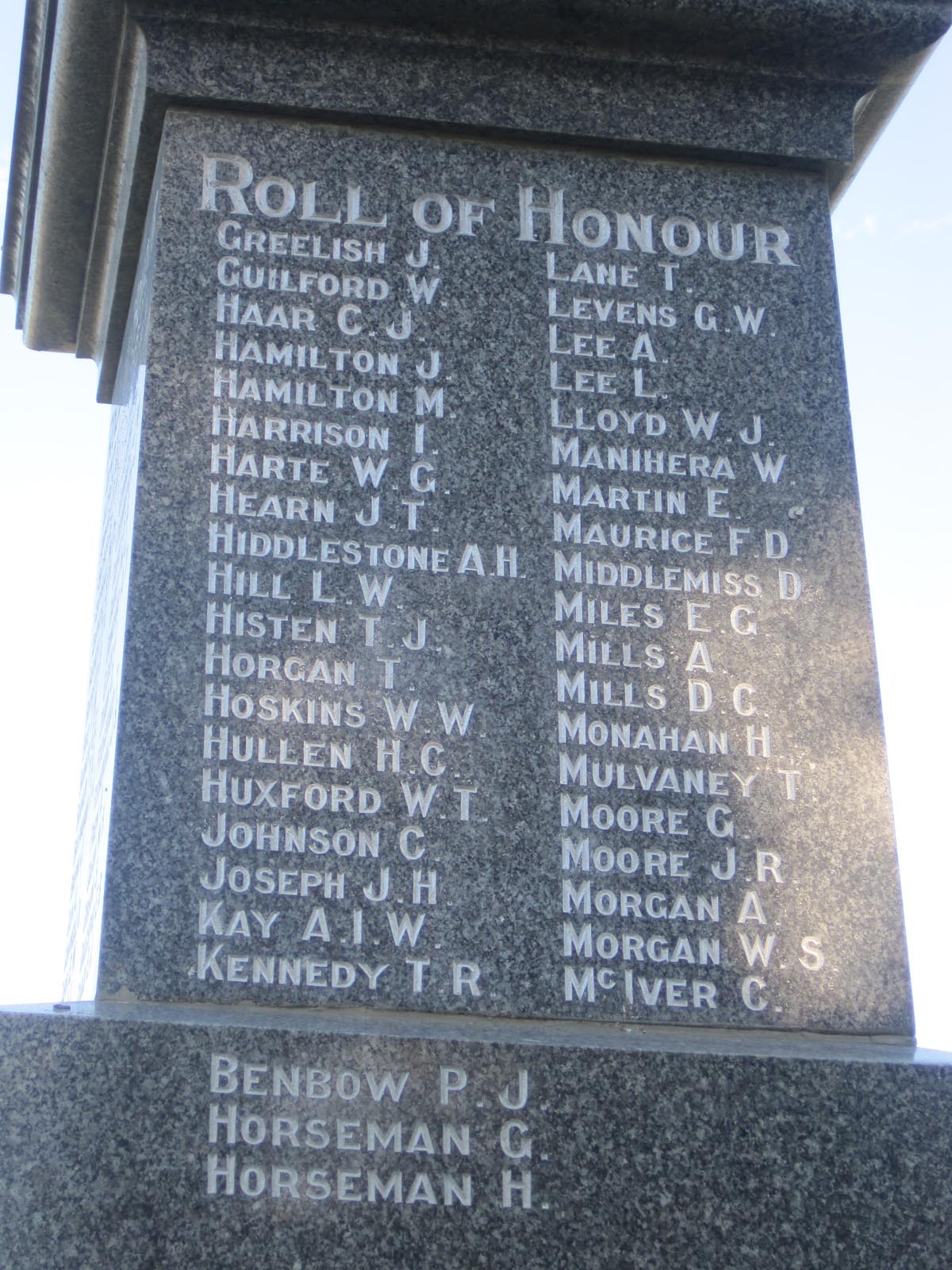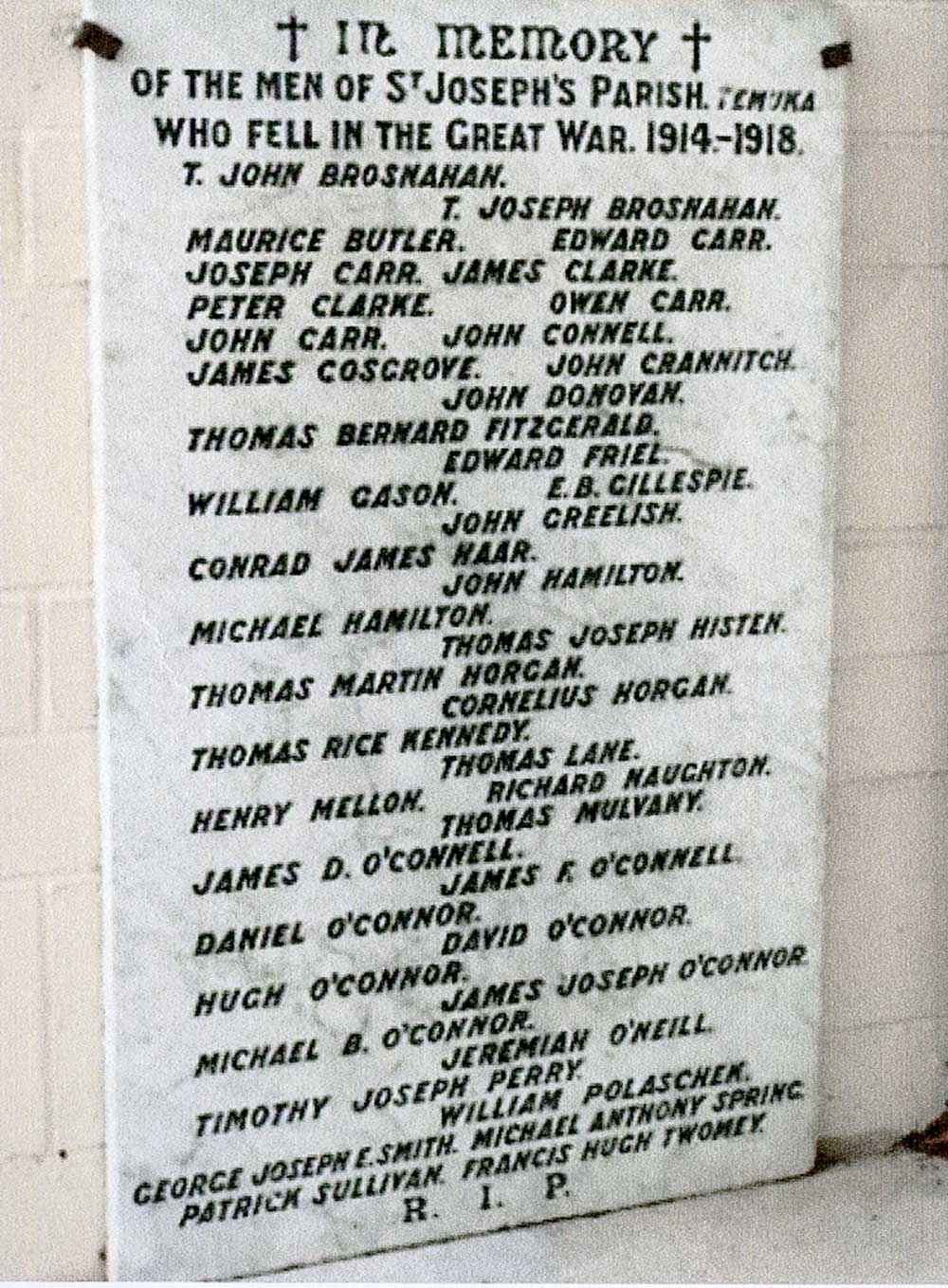 Aliases
First Rank
Private
Last Rank
Rifleman
Birth
Date
5 August 1890
Place

of Birth

Winchester
Enlistment Information
Date
13 December 1917
Age
27 years 4 months
Address

at Enlistment

Winchester
Occupation
Flax dresser

Previous

Military Experience
Marital Status
Married
Next of Kin
Mrs Emily Clara HAAR (wife), Albert Terrace, Winchester, Canterbury
Religion
Roman Catholic
Medical

Information

Height 5 feet 10½ inches. Weight 156 lbs. Chest measurement 35-39½ inches. Complexion medium. Eyes blue. Hair dark. Eyes both 6/6. Hearing and colour vision both normal. Limbs well formed. Full and perfect movement of all joints. Chest well formed. Heart and lungs normal. Free fromhjernia, varicocele, varicose veins, haemorrhoids, inveterate or contagious skin disease. Vaccinated. Good bodily and mental health. Posterior dorsal curvature - but not sufficient to cause rejection. No fits. No notification for consumption. No treatment in a sanatorium or mental institution. No absence from work through ill-health or accident.
Military Service
Served with
NZ Armed Forces
Served in
Army

Military

District
Embarkation Information
Body

on Embarkation

New Zealand Expeditionary Force
Unit

, Squadron, or Ship

41st Reinforcements, F Company
Date
27 July 1918
Transport
Ulimaroa

Embarked

From
Wellington
Destination
London, England
Other Units

Served With

Last Unit

Served With

New Zealand Rifle Brigade (Reserve)
Military Awards
Campaigns
Service Medals
British War Medal

Military

Awards
Award Circumstances and Date
No information
Prisoner of War Information
Date of Capture
Where Captured

and by Whom

Actions Prior to Capture
PoW Serial Number
PoW Camps
Days Interned
Liberation Date
Hospitals, Wounds, Diseases and Illnesses
Post-war Occupations
Death
Date
7 November 1918
Age
28 years
Place

of Death

Military Hospital, Cannock Chase, Staffordshire, England
Cause
Died of disease - pneumonia
Notices
Timaru Herald, 14 November 1918
Memorial or Cemetery
Cannock Chase War Cemetery, Staffordshire, United Kingdom
Memorial Reference
4. A. 10.
N

ew

Z

ealand

Memorials
Timaru Memorial Wall; Temuka RSA Roll of Honour; Temuka War Memorial; St Joseph's Church Temuka Memorial; Winchester School Memorial 
Biographical Notes
Conrad James Haar was the eldest surviving son of Conrad and Mary Ann Elizabeth (née Coughlan) Haar, of Winchester. The first-born child of Conrad and Mary died in infancy. Born on 5 August 1890 at Winchester, Conrad James was baptised on 28 August 1890 in the Temuka Catholic Parish. He was named for his father and his grandfather, Conrad Haar, who died in 1895 at Rangitata Island. Alongside his siblings Conrad attended Winchester School, where his father served on the school committee throughout the 1890s and the early 1900s. And again with his siblings he attended the Winchester School jubilee in 1910. On the death of Queen Victoria in January 1901, Conrad Haar (senior) was one of the men who went to the Winchester domain and, "bare headed, hoisted half-mast on the high flag pole, the Union Jack and the New Zealand flag." Conrad Haar, junior, was a member of the Winchester Morris Tube Club. In July 1906 he won a club trophy in a handicap competition, with a score of 35 and handicap of one. The following month, firing off scratch, he was joint runner-up in for another club trophy. At the opening of the season for the Winchester Gun Club in May 1907, four handicap sweepstakes (clay birds) were fired for, C. Haar, jun., tying for first place. In one of the June handicap sweepstakes Con shared first place. He won another club trophy at the Winchester Morris Tube firing in May 1908. He frequently scored well, as he did also in the Miniature Rifle shooting from 1908 till 1911. Like his father, young Con was also a successful angler. Fishing on 12th and 13th January 1907 in the Rangitata, he secured 11 fish averaging 6 pounds. Late in 1907, Con, his father and his brother George gathered in some great hauls of eels. One Saturday night they set an eel basket in the Smithfield Creek, and the following morning it was completely filled – 98 good-sized eels. It was in March 1917 that Con and his brother George "enjoyed some splendid sport while fishing in the Rangitata river." They caught 12 beautiful quinnat salmon, totalling 202 pounds in weight. The four largest fish were magnificent, each weighing 21 pounds. "The fish provided some first-rate sport, but it may be understood that it takes skill and good and strong tackle to land fish of such a size." (Temuka Leader, 13 March 1917).
Mr and Mrs C. Haar turned on a delightful social evening for Conrad's twenty-first birthday (August 1911), in the Victoria Hall, Winchester. On behalf of the Winchester residents, one of the MCs presented Con with a handsome silver-mounted biscuit barrel, asked him to accept it as a token of good wishes from his friends, and wished him many happy returns. Mr Maddren, Con's employer, gave him a valuable portmanteau, wishing him every success for the future and many happy returns. Con thanked those gathered for their kind remarks and for the handsome and valuable presents. Following "a choice supper", there were songs and recitations, and dancing until 3 am.
A lovely tribute to Mrs Haar was paid by 'Patriotic' in a letter to the Lyttelton Times of 26 November 1915. "A little item of interest for those who are working for our boys at the front:—Mrs Conrad Haar, of Winchester, has hand-knitted fifty pairs of socks, forty balaclavas and twenty pairs of gloves, and is still knitting, and will continue to do so, health permitting, until the end of the war.—Trusting others will follow her example." In December 1915 Mrs Haar paid 7 shillings and sixpence for temporary possession of the flag auctioned at the Temuka Catholic school concert in aid of the local Red Cross fund. In July 1917 at a surprise party Mr and Mrs Haar were farewelled from Winchester, where they had resided for nearly forty years. By this time their son George had returned from the War and had drawn a section of land near Marton. Mr and Mrs Haar were leaving to go and help "this soldier son". They had been excellent neighbours and pioneers. Mr Haar was presented with a case of pipes and Mrs Haar with a travelling rug. On this occasion it was made known that since the war began, Mrs Haar had knitted 337 pairs of socks, as well as balaclavas, scarves, mittens, etc., in all 312 pounds of wool (enough for 900 pairs of socks). Their son Johann and a son-in-law (Daniel O'Connor, 21879) were still at the front. Mrs Mary Haar (late of Winchester) was awarded the Order of St John by Lord Liverpool in September 1919, for Red Cross work during the war.
Conrad James Haar was drawn in the Second Division Class A Ballot of South Canterbury men in 1917. This division was made up of married men without children. He had been listed on the Reserve Roll, His address Buxton Settlement, Temuka. He enlisted on 13 December 1917 at Timaru, aged 27 years 4months. He was a flax dresser and Roman Catholic, residing at Winchester. Conrad was 5 feet 10½ inches tall, weighed 156 pounds, and had a chest measurement of 35-39½ inches. His sight, hearing and colour vision were all normal. He was in good physical condition. Although he suffered from posterior dorsal curvature, it was not sufficient to cause rejection. He was vaccinated and had not been absent from work through ill-health or accident. His father's generation were said to all be tall, over 6 feet. He named as next-of-kin his wife, Mrs Emily Clara Haar, of Albert Street, Winchester, South Canterbury. Conrad married Emily Clara Shaw, known as Queenie, on 21 October 1912 at Temuka. Queenie survived Con by over 62 years, dying in 1981 aged 92 years. Prior to Conrad's enlistment, his wife was already contributing to the war effort, for example, in December 1915 at the Temuka Catholic School concert she gave to the local Red Cross fund. Having left home for camp in May 1918, Private Conrad James Haar embarked with the 41st Reinforcements on 27 July 1918 at Wellington, destined for London, England, per the 'Ulimaroa'. Disembarking at London on 4 October, he marched into Brocton and was attached as a Rifleman to the New Zealand Rifle Brigade.
But, Con's war was over before it began. He was admitted to the Military Hospital at Cannock Chase on 24 October 1918, with influenza symptoms - tonsilitis, placed on the seriously ill list on 28 October, and on 2 November diagnosed with pneumonia. Rifleman C. J. Haar, 80075, New Zealand Rifle Brigade, died of pneumonia on 7 November 1918 in the Cannock Chase Military Hospital, Staffordshire, England, aged 28 years – while on active service. His wife received word to this effect from the Minister of Defence on 13 November. Rifleman C. J. Haar was buried in the Cannock Chase War Cemetery (Grave no. 10, Roman Catholic Area). He was a very popular man at Winchester. His name was recorded in the Temuka Leader Roll of Honour from 16 November 1918. Soon after this loss, Mrs Haar herself, suffered a tragedy. She was employed at Waihi School and had left her cottage on the north side of the Winchester Hotel about 10 pm on a Sunday night in late December 1918. The cottage, which was burned to the ground, was owned by her father-in-law, Mr Con Haar, by then in the North Island, and leased by her late husband. She had been burning old letters and papers earlier in the evening. Fortunately the building and furniture were insured. Emily Haar inserted an In Memoriam notice in the Timaru Herald in 1919 and the Temuka Leader in 1922 –
"Thy purpose, Lord, we cannot see,
But all is well that is done by Thee.
The shock was great, the pain severe,
To part with him we loved so dear.
ʹ Tis sad but true, we wonder why,
The best are always first to die."
And again in 1920 – "In affectionate remembrance" – Ever remembered by his loving wife, Queenie Haar. Mrs Con Haar sent a floral token of sympathy at the funeral of a returned soldier in December 1919 – Arnold Hodson Maddren, the son of Con's employer.
Conrad made out a Will, appointing his wife as the executor and sole beneficiary. His medal – British War Medal – was forwarded to his widow, Mrs E. C. Haar, as were the scroll and plaque. He was a brother of George Frederic Haar and Johann Diedrich Haar who also served in World War I, and a cousin of Wilfred John Haar. His father Conrad Haar, who had come to New Zealand as a child with parents, died at Temuka in 1932. Mrs Mary Haar died in 1940 at Nazareth House in Christchurch, where she had lived for some years after her husband's death.
Conrad's name is inscribed on the Winchester War Memorial which was unveiled in a touching ceremony on 23 May 1920. The proceedings opened with the Lord's Prayer, followed by the singing of the hymn "Lead Kindly Light" and the laying of wreathes by the school children as the names were read. Several tributes were paid to the brave men who had given their lives in order that others might live in peace. In July 1920 at the largest gathering ever seen in the Victoria Hall, Winchester, when district soldiers were welcomed home and presented with medals, those who had made the supreme sacrifice were remembered by the presentation of certificates to their next-of-kin - Conrad was one of these men.
His name is recorded also on the Timaru Memorial Wall, Temuka RSA Roll of Honour, Temuka War Memorial, St Joseph's Church Temuka Memorial, and the Winchester School Memorial. The St Joseph's Church, Temuka, Memorial, an "exceedingly beautiful" monument to the memory of those who had fallen in the war, was unveiled after a Memorial Service on 25 April 1922. During the service appropriate music was provided by the choir and an excellent address was delivered by the Rev. Dr. Kennedy. The name of Conrad James Haar was heard again on Anzac Day, 1927. A Requiem Mass was celebrated at St Joseph's Church, Temuka. The celebrant preached a very stirring sermon based on the Book of Wisdom (Chapter III, Verses 2-5). He pointed out that the Gallipoli campaign and later "gigantic episodes" would remain for all time a wonderful symbol of the age-old courage of men. He reminded the lads present that the enormous sacrifices made by the soldiers of New Zealand and other parts of the Empire were helping them to have brighter and better lives, and that all should render thanks to God, who had delivered them out of the hands of the enemy. They had gathered to commemorate the landing at Gallipoli and also to set aside the day to show their deep and grateful acknowledgement of the services of the men who had fought and died for them on other fields of the great battle-front. "The light of immortality that flashed from the abandoned tomb of the risen Christ lingers on in every mound of Flanders mud and clay, the gullies of Gallipoli, the sands of Palestine and Egypt, on the quiet churchyards in English villages and on God's acres in New Zealand.. . . . And to-day, before God's altar, we remember them with the love we bore them and the pride we shall have in them," he concluded. Before the Dead March was played by the organist, the names were read of those from the Temuka parish who had died "on the field of honour" – among them that of Conrad Haar.
On 10 August 1922 the Temuka Borough memorial was unveiled before a very large gathering in the domain, including Temuka Territorials and Cadets, Temuka and Geraldine returned soldiers, the Temuka Pipe Band, the Salvation Army Band, the children of the district schools, national and local dignitaries, and local folk. Opening proceedings, the Mayor said "We regret that this occasion has arisen, but having done so we must look back with pride at the actions of those who rose to the call of the Motherland, which was in peril. Many of those brave boys who left these shores did not return, and we have erected this memorial to their memory, . . . " Following hymns and scripture readings, His Excellency the Governor-General formally unveiled the monument and the local M.P. read out the names inscribed thereon.
Sources
Auckland War Memorial Museum Cenotaph Database [09 October 2013; NZ Defence Force Personnel Records (Archives NZ Ref. AABK 18805 W5539 0048718) [20 March 2014]; CWGC [09 October 2013]; Timaru Herald, 05 June 1891, 16 April 1895, 29 April 1896, 24 January 1901, 4 June 1907, 15 December 1915, 29 August 1906, 27 July 1917, 4 December 1917, 18 May 1918, 14 November 1918 [x 2], 31 December 1918, 7 November 1919, 24 May 1920, 19 July 1920, 6 November 1920, Temuka Leader, 12 July 1906, 21 May 1907, 24 December 1907, 28 May 1908, 12 August 1911, 13 March 1917, 16 November 1918, 31 December 1918, 11 September 1919, 9 December 1919, 25 May 1920, 15 July 1920, 26 April 1922, 12 August 1922, 26 April 1927, 7 November 1922, 13 February 1932, Otago Witness, 16 January 1907, Lyttelton Times, 24 December 1907, Evening Post, 16 November 1918, Press, 13 February 1932, 17 April 1940, Manawatu Standard, 19 April 1940 (Papers Past) [20 October 2013, 13 July 2014; 08 & 09 August 2015; 04 July 2016, 06 February 2017; 06 February 2018; 30 July 2019; 04 august 2019]; School Register Index (South Canterbury Branch NZSG) [2013]; NZ Electoral Rolls (ancestry.com.au) [2013]; Probate record (Archives NZ/FamilySearch) [09 August 2015]; School Pupil Index (South Canterbury Branch NZSG) [2013]; Timaru Cemetery headstone image (widow) (Timaru District Council) [2013]; NZ BDM historical records indexes (Department of Internal Affairs) [2013]; Baptism record (Catholic Diocese of Christchurch CD held by South Canterbury Branch NZSG) [27 November 2016]
External Links
Related Documents
Researched and Written by
Teresa Scott, SC branch NZSG
Currently Assigned to
TS
Licensed under a Creative Commons Attribution-NonCommercial 4.0 International License unless otherwise stated.
Tell us more
Do you have information that could be added to this story? Or related images that you are happy to share? Submit them here!