GIBSON, McKenzie
(Service number 6/635)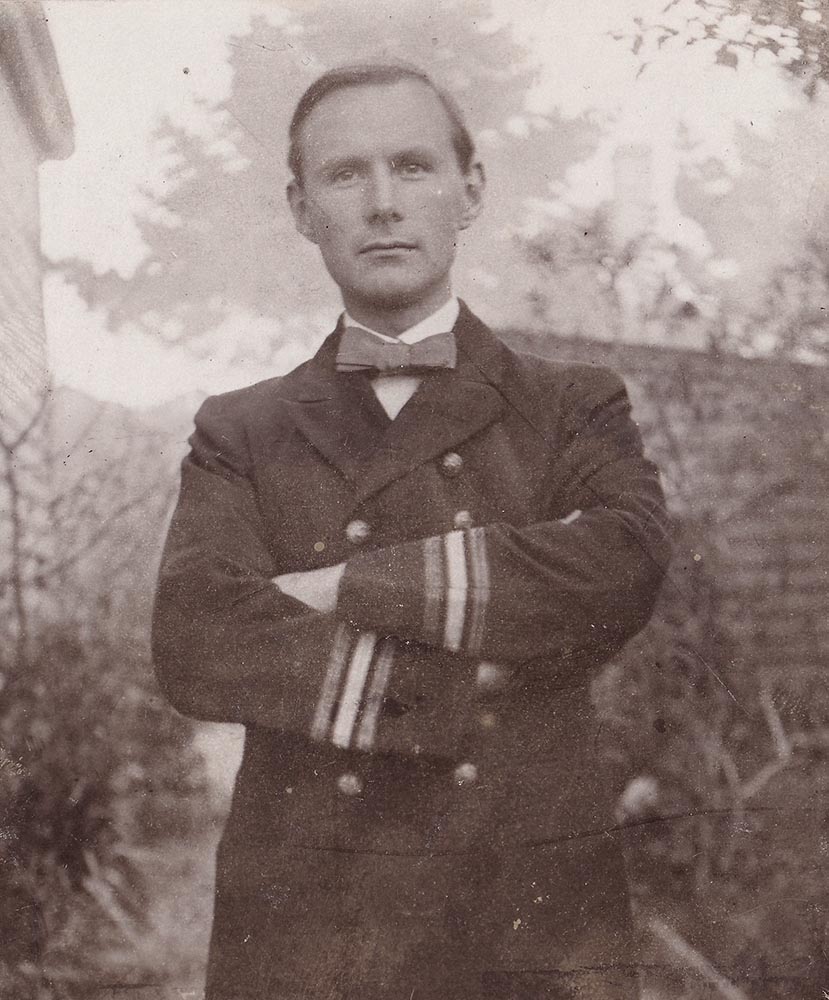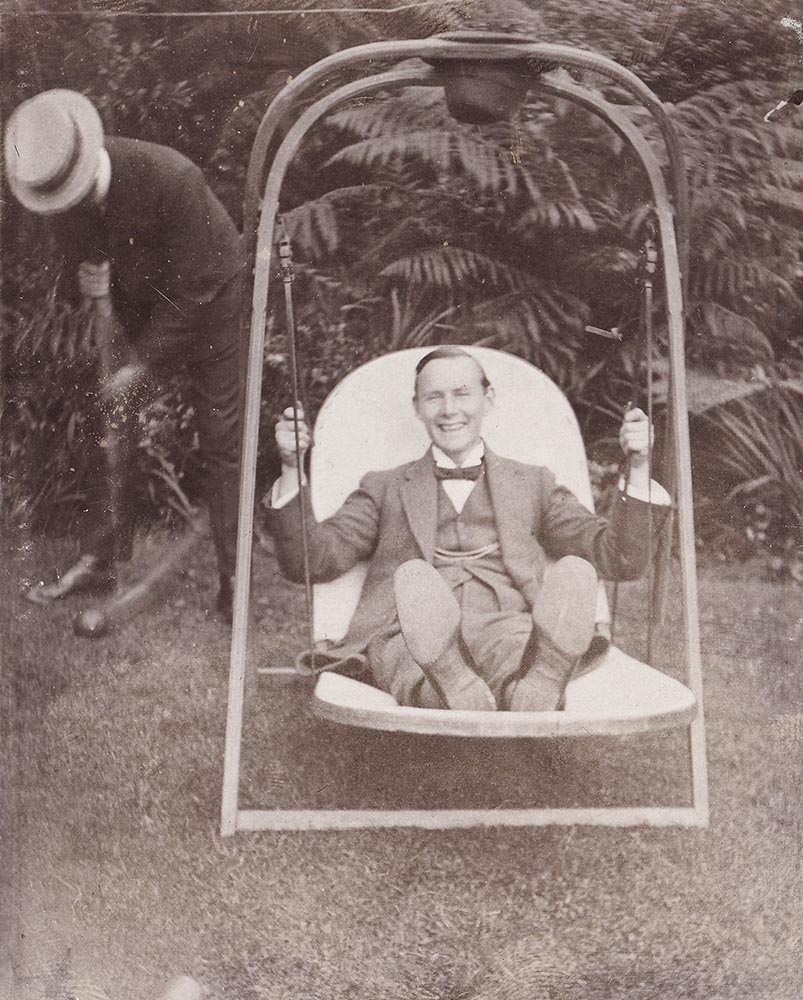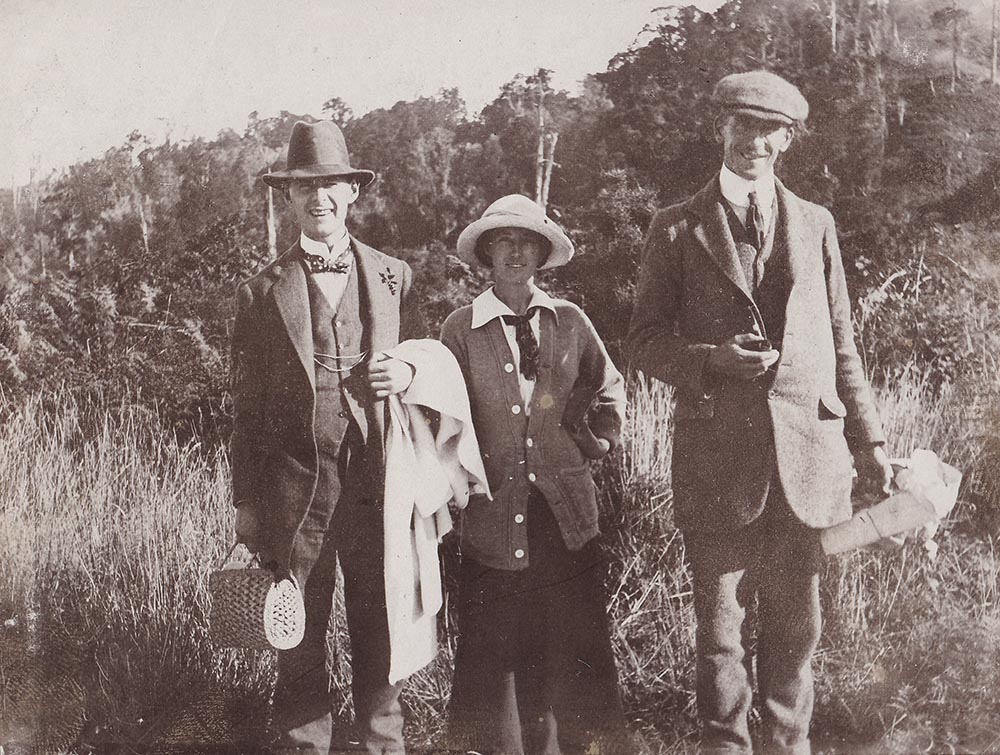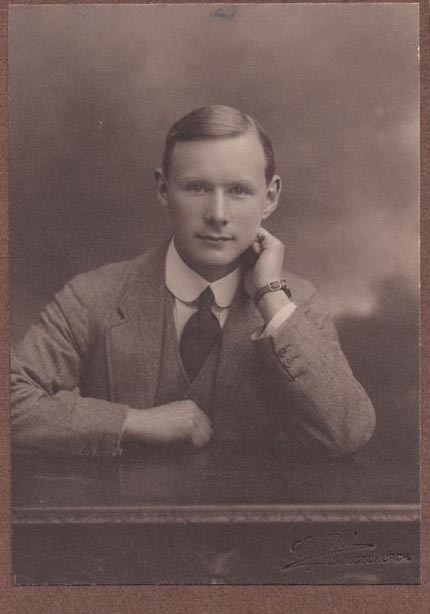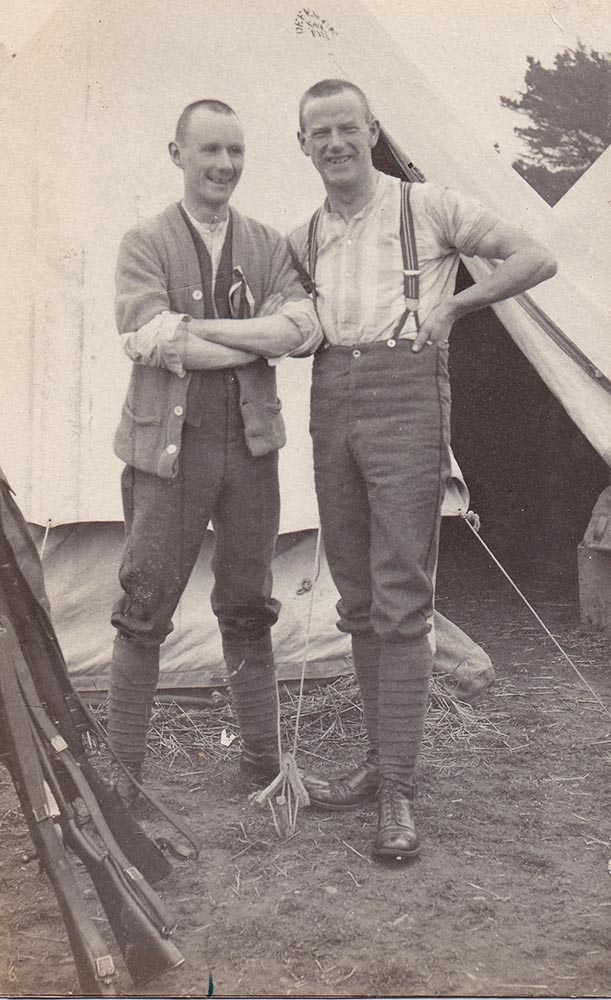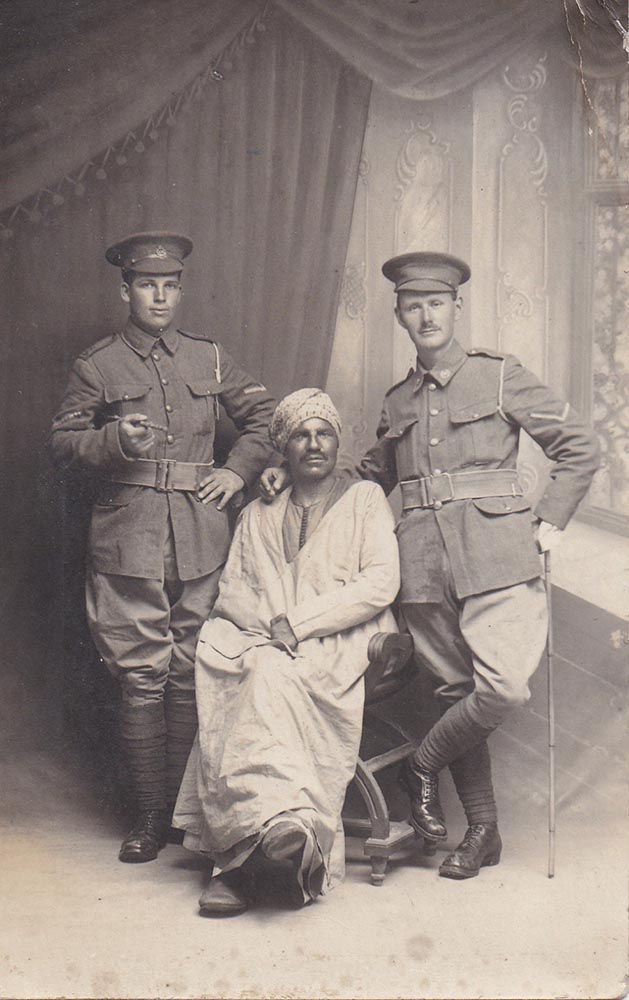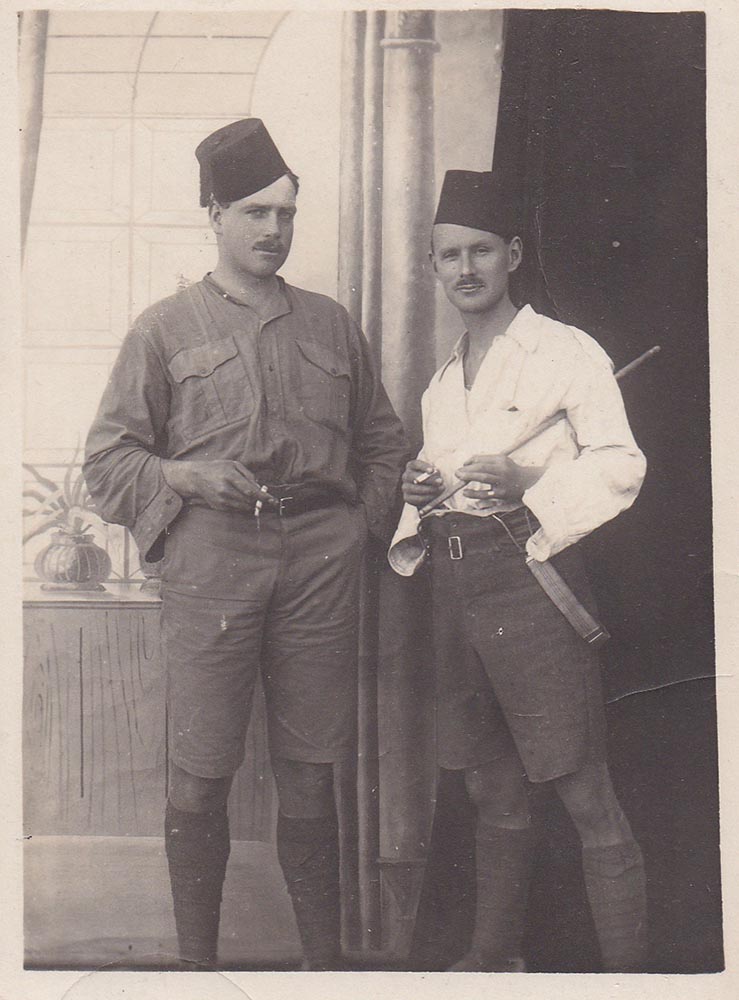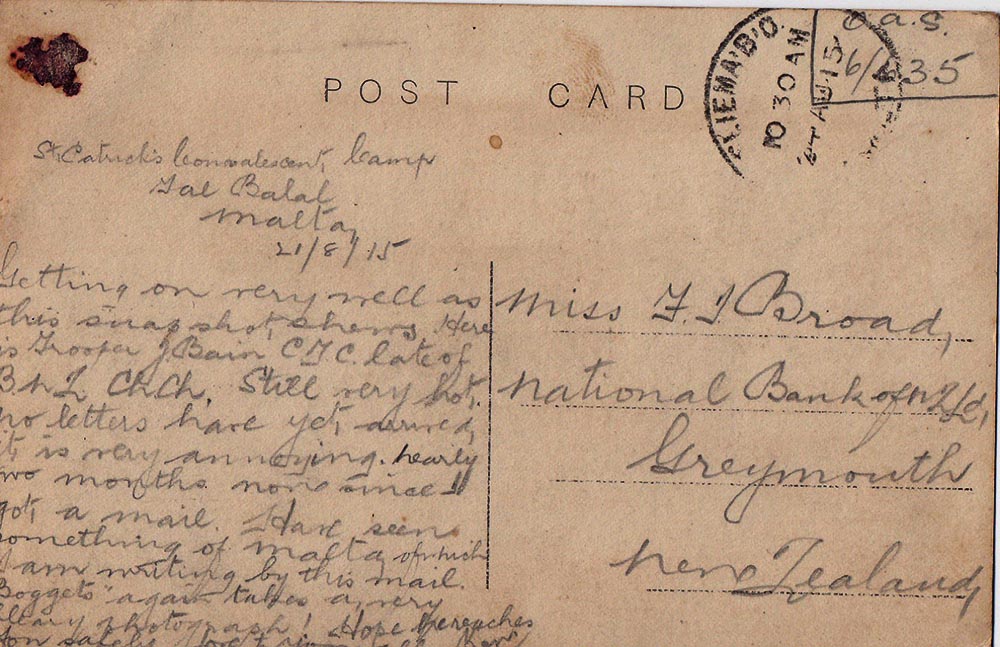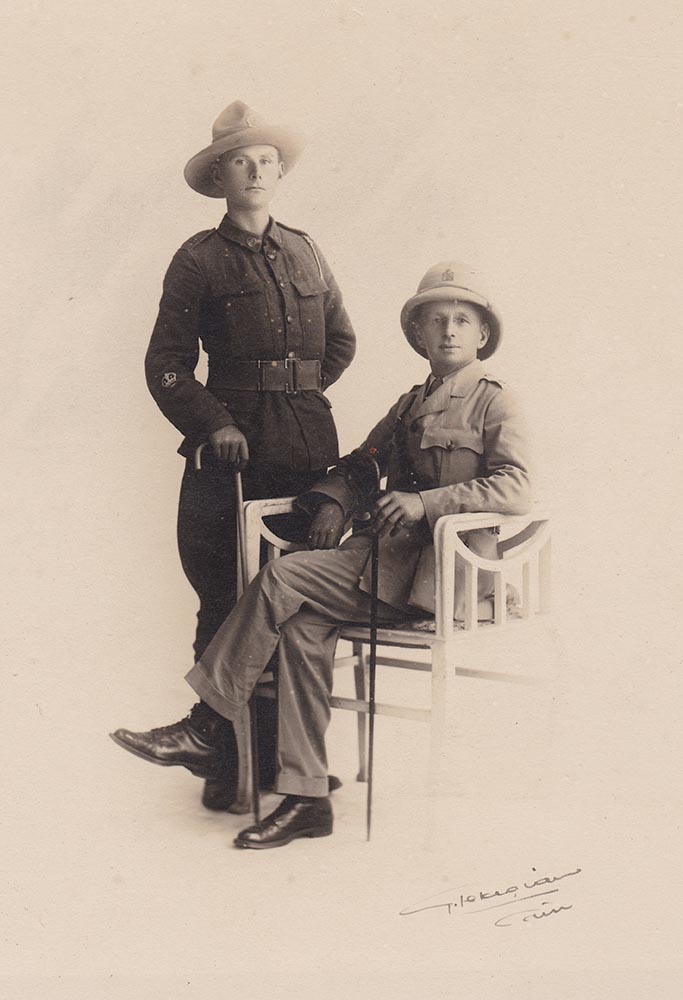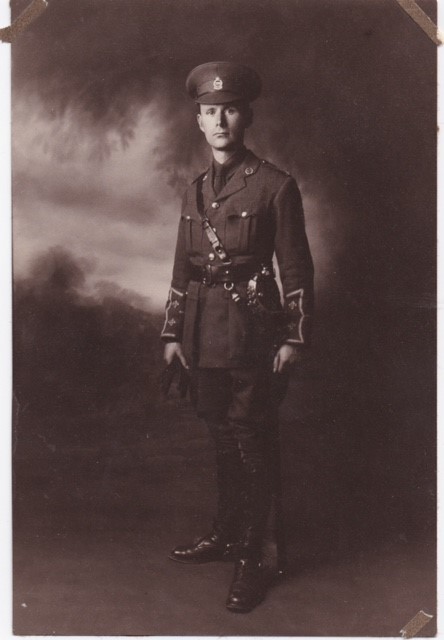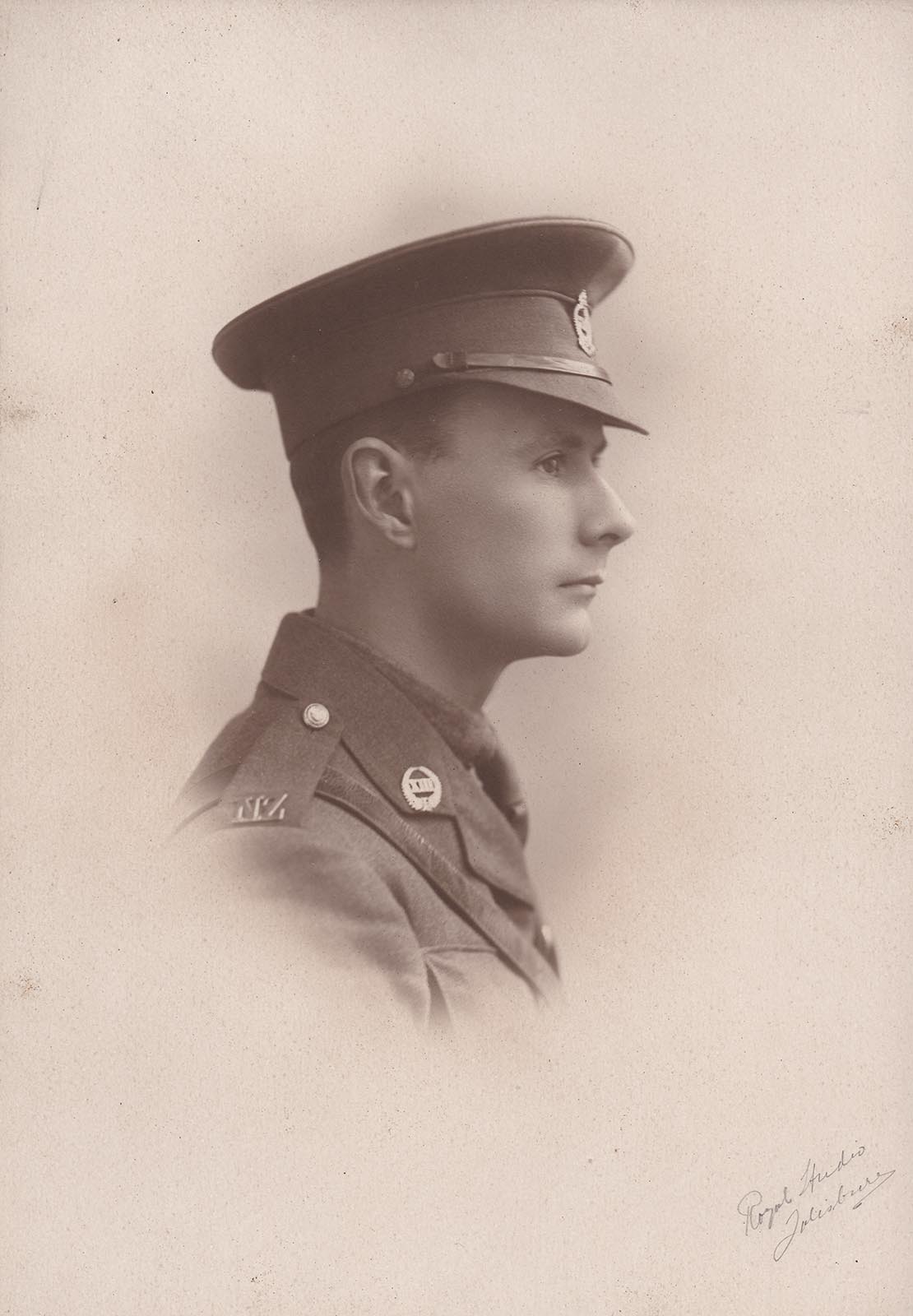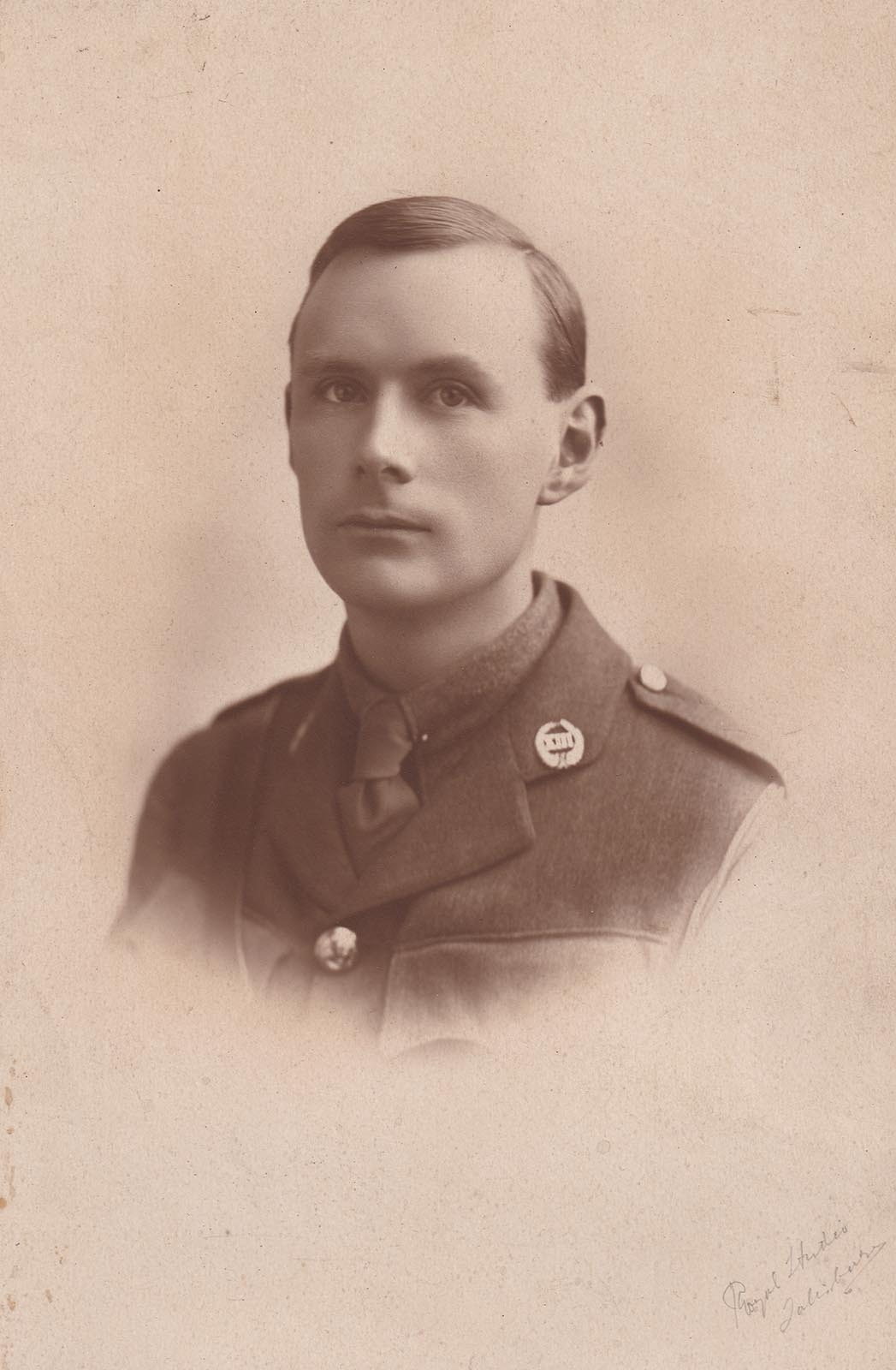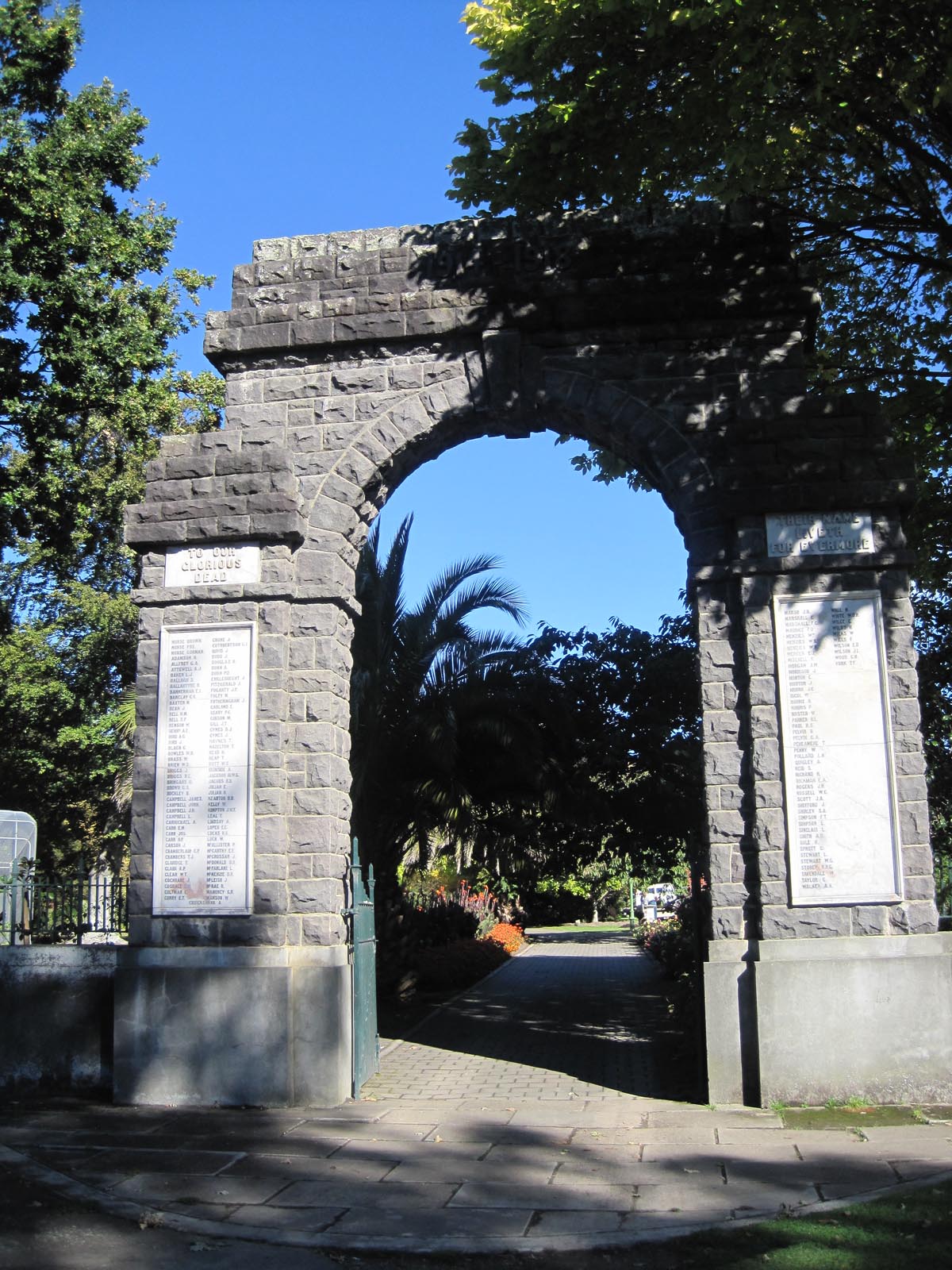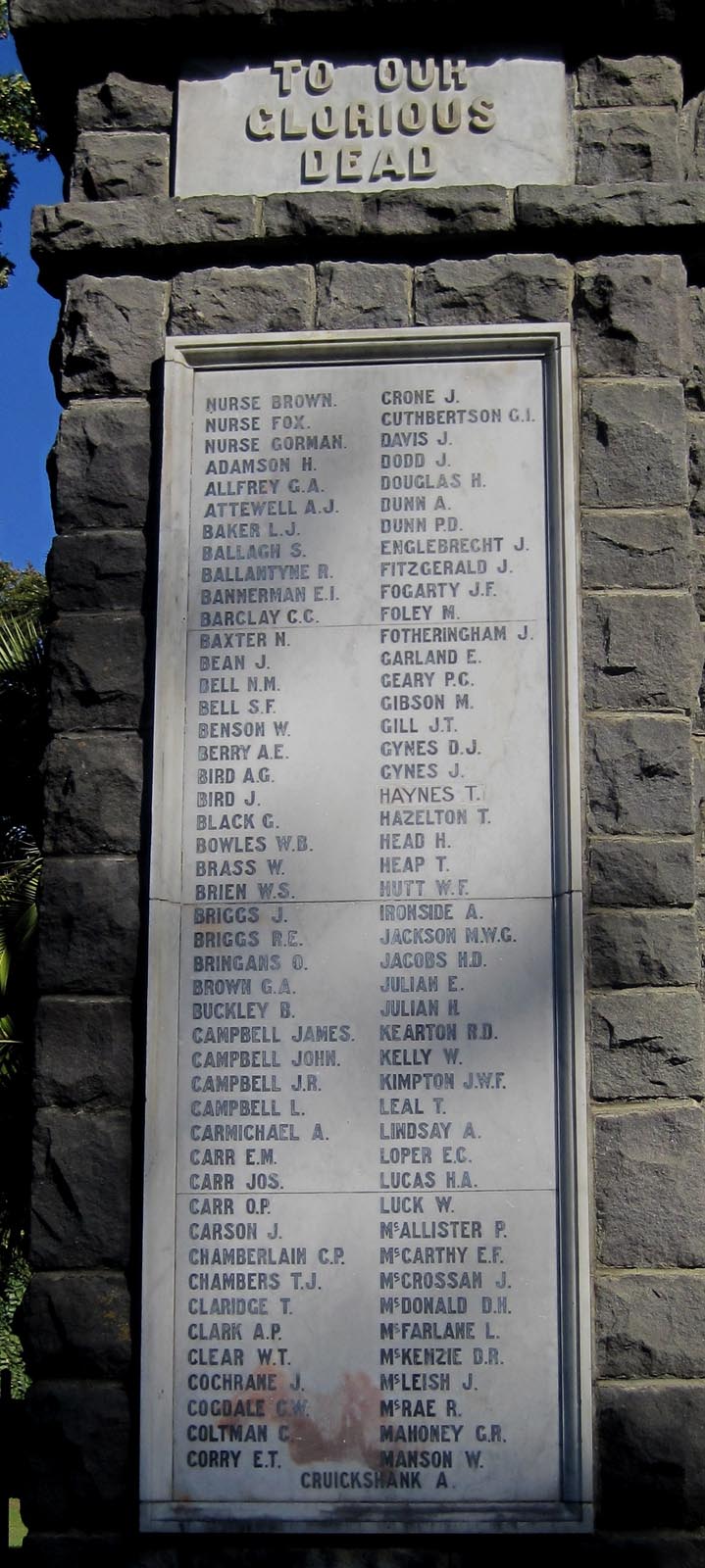 Aliases
Sometimes spelt Mackenzie; also known as Ken
First Rank
Sergeant
Last Rank
Lieutenant
Birth
Date
13 May 1889
Place

of Birth

Akaroa, Canterbury
Enlistment Information
Date
13 August 1914
Age
25 years 3 months
Address

at Enlistment

Bonningtons Hotel, Greymouth
Occupation
Bank Teller

Previous

Military Experience
Mounted Rifles Studholme & Ellesmere - 3 years; discharged on removal.
Marital Status
Single
Next of Kin
Noel GIBSON Esq (brother), Epsom, Auckland. Revd McKenzie GIBSON (father), Esher, Surrey, England - legal next-of-kin.
Religion
Anglican
Medical

Information

Height 5 feet 8 inches. Weight 127 lbs. Chest measurement 32-36 inches. Sight - both eyes 6/6. Hearing and colour vision both normal. Limbs well formed. Full and perfect movement of all joints. Chest well formed. Heart and lungs normal. Teeth good. Free from hernia, varicocele, varicose veins, haemorrhoids, inveterate or contagious skin disease. Vaccinated. Good bodily and mental health. No slight defects. Fit for Field Force.
Military Service
Served with
NZ Armed Forces
Served in
Army

Military

District
Embarkation Information
Body

on Embarkation

Main Body
Unit

, Squadron, or Ship

Canterbury Infantry Battalion
Date
16 October 1914
Transport
Tahiti or Athenic

Embarked

From
Lyttelton, Canterbury
Destination
Suez, Egypt
Other Units

Served With

Last Unit

Served With

Canterbury Infantry Regiment, 1st Battalion
Military Awards
Campaigns
Balkans (Gallipoli); Egyptian; Western European
Service Medals
1914-1915 Star; British War Medal; Victory Medal

Military

Awards
Award Circumstances and Date
No information
Prisoner of War Information
Date of Capture
Where Captured

and by Whom

Actions Prior to Capture
PoW Serial Number
PoW Camps
Days Interned
Liberation Date
Hospitals, Wounds, Diseases and Illnesses
July 1915 - disembarked at Malta from hospital ship - slightly sick, dysentery; September 1915 - admitted to Southern General Hospital, to recuperate.
Post-war Occupations
Death
Date
12 October 1917
Age
28 years
Place

of Death

Bellevue Spur, Ypres, Belgium
Cause
Killed in action
Notices
Press, 22 October 2017
Memorial or Cemetery
Tyne Cot Memorial, Tyne Cot Cemetery, Zonnebeke, West-Vlaanderen, Belgium
Memorial Reference
N

ew

Z

ealand

Memorials
Timaru Memorial Wall; Waimate War Memorial; Memorial plaque, Bank of New Zealand, BNZ Arcade, Wellington; Greymouth War Memorial; St Augustine's Church, Waimate, Memorial (K. Gibson)
Biographical Notes
McKenzie (Mackenzie) Gibson, known among friends as Ken, was born on 13 May 1889 at Akaroa, the younger son of the Reverend Mackenzie Gibson and Mary Coates Alice née Gibson, of Hillbrow Cottage, Esher, Surrey, England, He started at Cust School in March 1896, transferring to Waimate School two months later when his father became the vicar of St Augustine's there. In March 1902 he was selected in the cricket team to represent the Waimate School in their match with Waitaki High School. In the same year at an entertainment in aid of the prize fund and new organ of the Waimate District High School, he took one of the principal parts – Rip Van Winkle – in the staging of the operetta "Rip Van Winkle". He continued his education in 1903 and 1904 at Christ's College, Christchurch. At Christ's College, McKenzie was awarded a Cathedral Choir prize for musical excellence in 1903 and he finished in second place in the Quarter-mile Cathedral Choir race at the 1904 annual sports.
On finishing his schooling McKenzie joined the staff of the Bank of New Zealand in Christchurch and was transferred to Waimate about 1909-1910. Ken Gibson on Shaughraun followed the hunt at the beginning of July 1909 at Bourndale in the vicinity of the Hunter Hills. This was described as one of the most exciting runs of the season and was followed by most enjoyable hospitality. About the same time Ken gave a song at a social arranged by the young men of St Augustine's congregation, the social encouraging several to join the fledging Young Men's Society. Later in 1909 he was a member of the Christ College Old Boys' second eleven to play present pupils, while his older brother Noel played for the first eleven. He was among several men who presented an entertaining programme of vocal and instrumental items at the Canterbury Rowing Club's annual smoke concert and prize-giving in April 1910. In August 1912 he planned a musical recital in aid of the Waimate Public Library funds, and in April 1913 he voluntarily arranged a concert which added £3.3s.6d. to the funds of the Waimate Public Library, a cause very dear to his father. In late 1910 when he was stationed at Ashburton, he relieved for a staff member on the West Coast. He did a stint as bank teller at Rangiora in 1911, before being promoted to accountant at the Waimate Branch in October 1913. Ken was best man for his brother, and his sister Mary a bridesmaid, when Noel married on 4 September 1913 at Ashburton. It was probably McKenzie who was thrown while competing in the Lloyd-Lindsay competition at the Waimate Racecourse on 16 October 1913 and sustained a slight injury which would incapacitate him for a week. In early December 1913, Mr Ken Gibson, the secretary, "was everywhere – everything that a secretary could possibly be" at the garden fete in connection with St Augustine Church.
By 1914 McKenzie had been transferred to Greymouth, where he again displayed his musical talent. He sang several of the solos and took part in a duet when the choir of Holy Trinity Church rendered the beautiful cantata "The Crucifixion" on Good Friday evening. In the evening of Easter Tuesday following he was one of the vocal soloists when the Greymouth Liedertafel Society gave a concert in connection with the unveiling of the Westland Pioneers' Memorial. For "The Toreador's Song" he was encored. In June, at a concert organised by the Ladies of Charity (a group working among the poor in the district) Mr McKenzie Gibson, "who has already established himself as a warm favourite, sang 'Come into the Garden Maud' very tastefully, but he was heard to much better advantage in his encore number 'Mother Machree' which he rendered with good expression. In the second part he sang 'The Trumpeter' in excellent style." (Grey River Argus, 17 June 1914).
1914 was soon to take McKenzie Gibson, a bank teller on the Bank of New Zealand staff at Greymouth, in a different direction. He enlisted at Greymouth on 13 August 1914, at the outbreak of war, and on 17 August his name appeared in the official list of the West Coast Contingent of the Canterbury Force. He was then 25 years 3 months old, Anglican, single and fit for Field Force, and residing at Bonningtons Hotel, Greymouth. He had served with the Mounted Rifles Studholme and Ellesmere for three years, being discharged on removal. His next-of-kin was his brother, Noel Gibson Esq, of Epsom, Auckland; his father, of Esher, Surrey, England, was legal next-of-kin. The Reverend Mackenzie Gibson was vicar at Waimate from 1896 to 1914, vicar of Sumner, Christchurch in 1915, and from 1915 till 1919 he served as chaplain on the hospital ship "Marama". In a letter written on 26th August from the camp at Addington, Lance Sergeant R. H. Wild writes that he had been put in among the Greymouth men. "I was extremely lucky in getting a good tent of all decent chaps and none of them loafers. It includes two very good singers – Bob Wilson, . . . . and McKenzie Gibson, who was relieving in the Bank of New Zealand at Hokitika lately. I think it is one of the best tents as far as men go in our company."
He embarked as a private with the Canterbury Infantry Battalion of the Main Body, on 16 Oct 1914, from Lyttelton, destined for Suez, Egypt. Trooper Leslie Wylde, with the New Zealand Expeditionary Force, writing home from "out on the briny ocean," says that one comrade was in bed yesterday (October 18) pretty sick and "McKenzie Gibson was bad for a day or two." Meanwhile, back at home in Christchurch, Mrs Gibson, McKenzie's mother was donating to the Lady Liverpool Fund (e.g. a scarf in May 1915) and to the Red Cross Fund. The Greymouth Male Choir, late Liedertafel, was feeling the effects of the war on its membership, and the absence of Private McKenzie Gibson and others was seriously felt as they prepared for their concert. A roll of honour of "those who have given their services to the nation" was hung in All Saints' Church, Sumner, in late 1915. It contained the names of both McKenzie Gibson and his father, Mackenzie Gibson.
His first fighting was in the engagements on the Suez Canal. He took part in the landing at Gallipoli and in the storming of Achi Baba. At Gallipoli he was promoted to sergeant for rescuing a wounded man under heavy fire. In July 1915 Sergeant McKenzie Gibson was among the slightly sick men of the Canterbury Battalion who disembarked at Malta from Hospital ships. In September his mother received advice that after six weeks in hospital, he had been sent to England and admitted to the Southern General Hospital, Birmingham, to recuperate from the dysentery he had suffered. He wrote in glowing terms of the hospitality and kindness extended to the sick soldier in the Motherland. He treated his ailments lightly and by late November he had recovered sufficiently from his illness contracted in Egypt to return to active service – to the firing line on Gallipoli. It was on 1st March 1916 at Moascar Camp, Egypt that Sergeant-Major McKenzie Gibson obtained a well-earned lieutenancy commission, being promoted to 2nd Lieutenant. He had been through the whole of the Dardanelles campaign, except for the few weeks when he was invalided, and had returned to the Peninsula just two weeks before the evacuation, at which time he was in charge of a small band of men in the Cheshire Ridge section. In a letter he noted that of the 260 men of the Thirteenth Regiment (North Canterbury and West Coast), only 70 were left after the months of hard fighting, the others being either killed or wounded. Lieut. Fred Foord, of Cobden, was told first by his tent-mate, McKenzie Gibson, that he too had been promoted to the rank of lieutenant. He was heartened to learn that they were going to England together to help prepare a training battalion there, which would fill the gaps in their battalion as casualties occurred in France. Their officers in their old battalion were delighted with their promotions. From 29th March 1916 2nd Lieutenant McKenzie Gibson was to be temporary lieutenant whilst acting as adjutant, a rank he held at Tel el Kehir and Sling, and later at Etaples, France, where he was again engaged in training operations. Lieuts. J. B. Le Mottee, McKenzie Gibson and F. J. Foord wrote to the Grey Patriotic Association from Sling Camp, England, in late 1916, stating they had heard that the Association gave certain hospitalities to Coast boys who, since enlistment, had obtained commissions, and asked if they were entitled to participate. The subject was held over, the chairman being of the opinion that, in their case, Home authorities provided any extra equipment necessary. A year later, on 15th March 1917, temporary Lieutenant McKenzie Gibson was promoted to be a first lieutenant in the N.Z.E.F. He rejoined his unit early in August.
The next word of this young officer came in mid October 1917 – Lieutenant McKenzie Gibson had fallen in action before Bellevue Spur on 12 October 1917, aged 28 years. Such was his fate just a few days short of three years from embarkation and after distinguished service in Egypt, Gallipoli and France. He was a keen soldier and during the last six months he had made repeated application to be sent forward. On 8 August he was allowed to go forward to the firing line where he saw two months further fighting before his promising career was cut short. At this time his father, who had left for Trentham Camp in March 1915, was chaplain of the New Zealand hospital at Hornchurch, England, while his mother and sister were residing in Sumner, Christchurch, where an air of gloom came over the residents and expressions of sympathy were conveyed by the Diocesan Synod, the Sumner Branch of the Mothers' Union and the Sumner School Improvement Committee. His brother, Noel Mackenzie Gibson, was the headmaster of Dilworth Institute in Auckland. In 1918 the Auckland Military Service Board adjourned sine die the appeal of the Dilworth Trust Institute in respect of Noel McK. P. Gibson, a captain in the 16th Waikato Regiment and a volunteer. His father was on active service and his only brother had been killed in action. As he was essential to the operation of the school and the care of 90 boys, he was granted indefinite leave.
At the Christ's College prize-giving ceremony on 21 February 1918, the headmaster read a lengthy list of Old Boys who had fallen – a list which included McKenzie Gibson. During the reading of the list, those present stood as a mark of respect. A solemn memorial service was held at Holy Trinity Church, Greymouth, on 28 October. Mr Gibson was the sixth member of the Holy Trinity Choir to pay the supreme sacrifice since the outbreak of the war. Returned soldiers, Territorials, members of the Rifle Club, Cadets, Scouts, and Hospital nurses paraded from the Drill shed to Holy Trinity Church, where men and youths in khaki, hospital nurses, the usual worshippers and many visitors from other churches gathered out of respect for the memory of "the brave men so recently fallen in battle". Hymns which ere loved by all the men at the front - "Lead, Kindly Light" and "Abide With Me" - were sung. Archdeacon York spoke briefly of Lieut. McKenzie Gibson, that he "had been a painstaking and capable officer of the Bank of New Zealand, and a most useful member of their Church choir. He had enlisted as a private and by dint of hard work and soldierly qualities had worked himself up from the ranks to a well-earned commission. He was engaged to be married to a Greymouth young lady and hoped some day to return and lead her to the altar. The sympathy of the whole community was extended to his sorrowing fiancée and to the members of the McKenzie Gibson family in their sorrow." "These men, he concluded, heard their country's call . . . . . . They gave their lives . . . for us and for the maintenance of the Christian ideals of Truth, Righteousness, Justice and Liberty."At the close of the October offensive Chaplain Mackenzie Gibson, at the New Zealand General Hospital, Walton on Thames, received a beautiful letter from General Braithwaite in France – "Dear Mr Mackenzie Gibson, - I am well aware that no words of mine can be of the slightest comfort to you and yours at such a time . . . He was a great soldier, and he possessed the rare qualities of a disciplinarian. . . . . If it is any consolation and comfort to you, you have the certain knowledge that he died fighting at the head of his men, within a few yards of the enemy, in the most desperate engagement that New Zealanders have faced during this war, and under conditions of hardship and suffering almost unparalleled in the history of war. . . . . — With deepest sympathy, believe me, yours very sincerely, W. G. Braithwaite, Brig.-General, Commanding Second New Zealand Brigade." [For full letter, see Sun, 19 January 1918, and The Timaru Herald, 21 January 1918, in attachment.]
By his brief will drawn up on 14 August 1914, McKenzie bequeathed the whole of his estate to his sister, Mary Mowat Gibson, of Sumner. Mary died in 1937 while on missionary work in China. His mother died in 1934 at Esher, Surrey, England, where his parents resided after the war. His father, who took his discharge in England, died there in 1940. His brother lived on in New Zealand until his death in 1973. His medals – 1914-1915 Star, British War Medal and Victory Medal - were sent to his sister Mary Gibson, at St Hilda's Collegiate, Dunedin; the plaque and scroll to his father at Esher, England; and in 1919 his parchment commission to his brother Noel Gibson. McKenzie Gibson may have been buried where he fell in the mud of Passchendaele. His name is inscribed on the Tyne Cot Memorial, Tyne Cot Cemetery, Zonnebeke, West-Vlaanderen, Belgium. He is remembered on the Timaru Memorial Wall; the Waimate War Memorial; the Memorial plaque, Bank of New Zealand, BNZ Arcade, Wellington; the Greymouth War Memorial; and St Augustine's Church, Waimate, Memorial (K. Gibson).
A keen musician, who possessed a pleasing voice; one who was also a very keen member of the Waimate Hunt, and a diligent, respected employee, he "had the soldierly spirit and the ability to command".
Sources
Auckland War Memorial Museum Cenotaph Database [30 October 2013]; NZ Defence Force Personnel Records (Archives NZ Ref. AABK 18805 W5539 0044428) [29 June 2016]; NZ Defence Force Personnel Records (Archives NZ Ref. AABK 18805 W5568 0135607) [17 June 2016]; CWGC [13 March 2014]; Waimate Daily Advertiser, 15 March 1902, 5 & 7 July 1909, 2, 15, 20 & 24 October 1917, Timaru Herald, 15 September 1902, 26 April 1913, 18 February 1915, Oamaru Mail, 15 September 1902, 5 December 1913, Press, 23 December 1903, 15 October 1904, 15 December 1909, 27 April 1910, 17 August 1914, 15 May 1915, 29 September 1915, 22 & 24 October 1917, 22 February 1918, Inangahua Times, 1 December 1910, New Zealand Times, 11 September 1913, 21 July 1916, West Coast Times, 4 & 15 April 1914, 29 August 1914, 14 November 1914, Grey River Argus, 17 June 1914, 17 August 1914, Sun, 6 March 1915, 25 November 1915, Ashburton Guardian, 10 August 1915, Star, 20 November 1915, 11 December 1915, 27 October 1917, 2 November 1917, Greymouth Evening Star, 17 November 1915, 5 April 1916, 20 May 1916, 9 December 1916, 23 & 25 October 1917, Otago Witness, 1 November 1916, Evening Post, 23 October 1917, New Zealand Herald, 26 September 1918, 27 June 1931 (Papers Past) [23 June 2014; 16 August 2015; 11, 24, 25, 29, 30 & 31 October 2017; 01 & 03 November 2017]; Probate record (Archives NZ/FamilySearch) [20 August 2015]; NZ BDM Indexes (Department of internal Affairs); School Admission record (Waimakariri Branch NZSG); New Zealand Electoral Rolls (ancestry.com.au)
External Links
Related Documents
Researched and Written by
Teresa Scott, SC branch NZSG
Currently Assigned to
TS
Licensed under a Creative Commons Attribution-NonCommercial 4.0 International License unless otherwise stated.
Tell us more
Do you have information that could be added to this story? Or related images that you are happy to share? Submit them here!