DAVEY, Stanley Edward 
(Service number 24/734)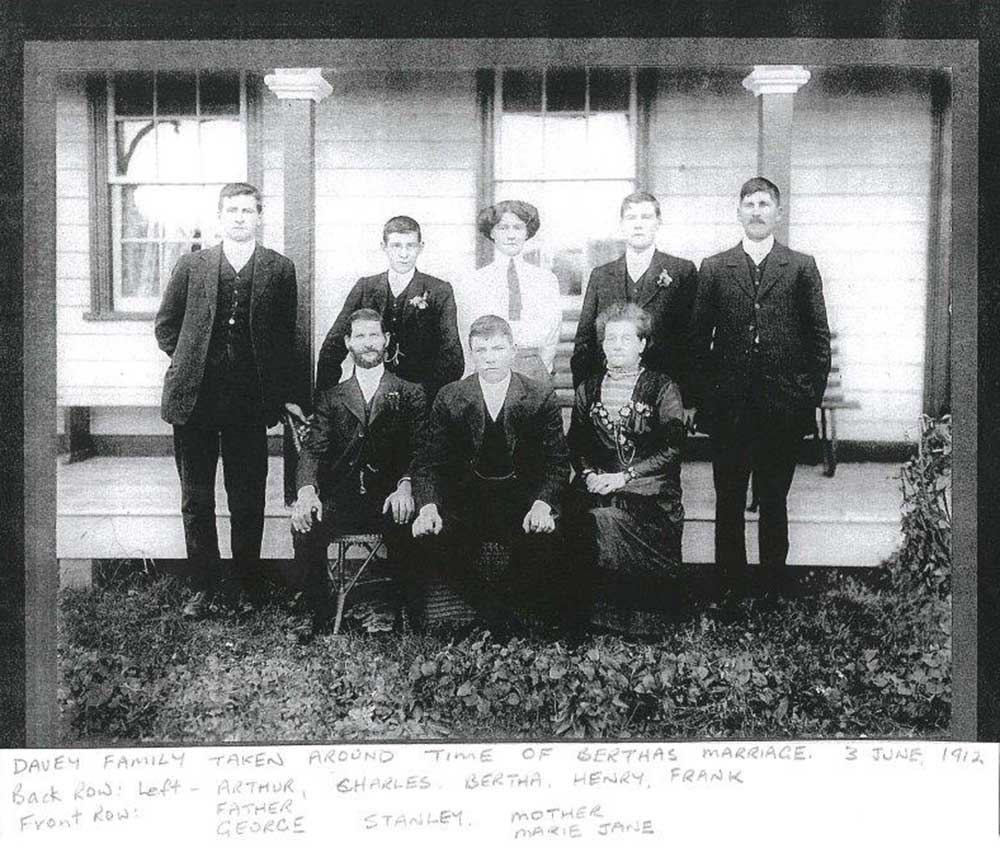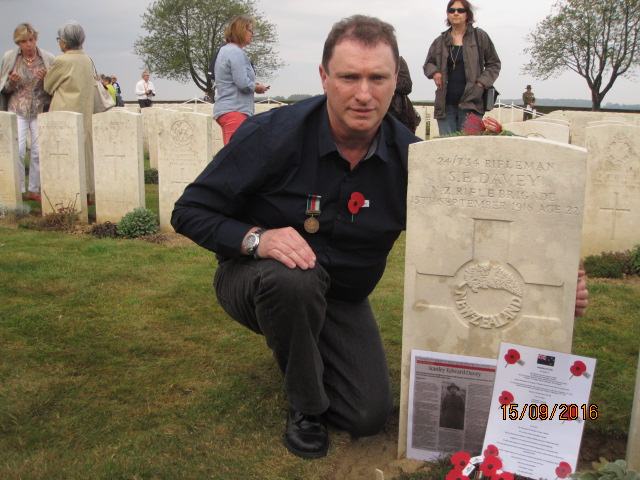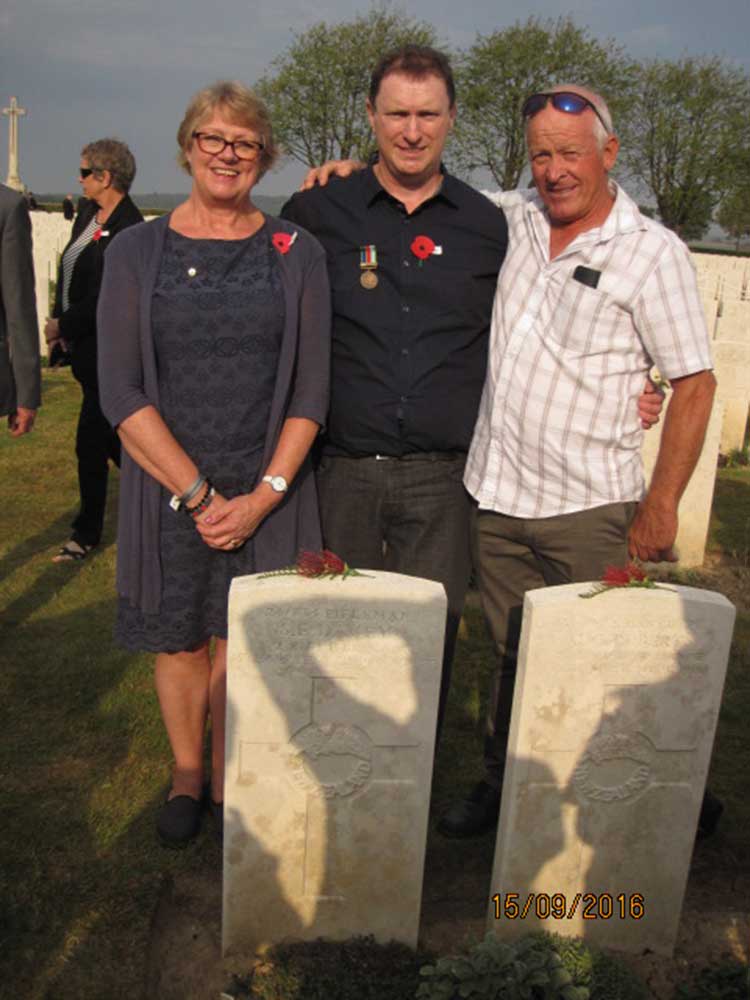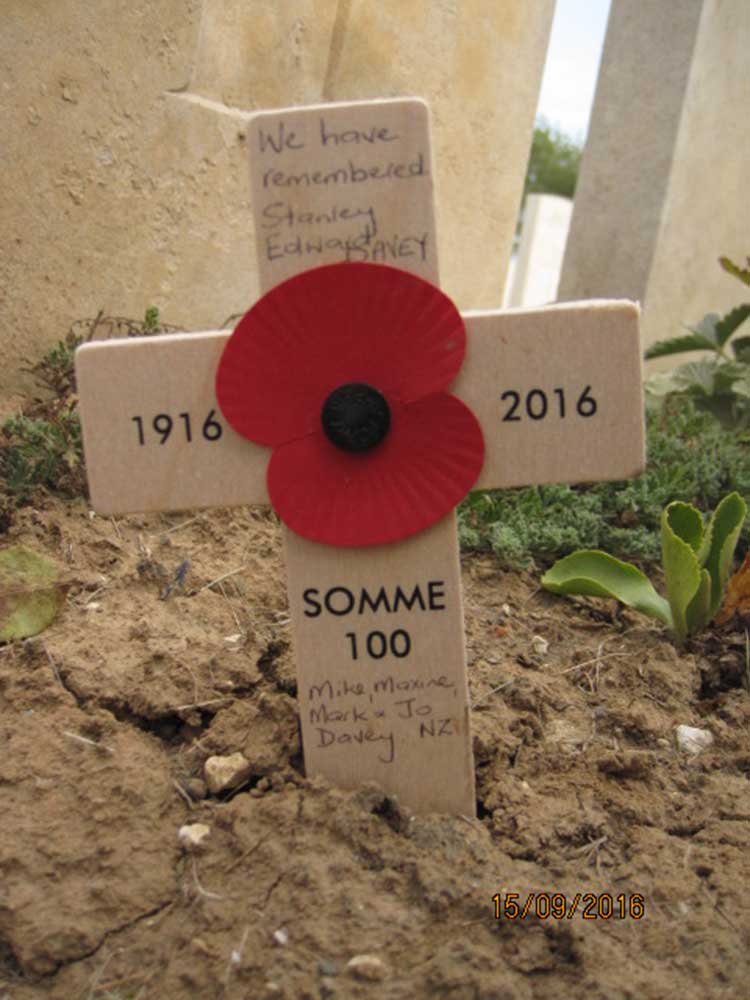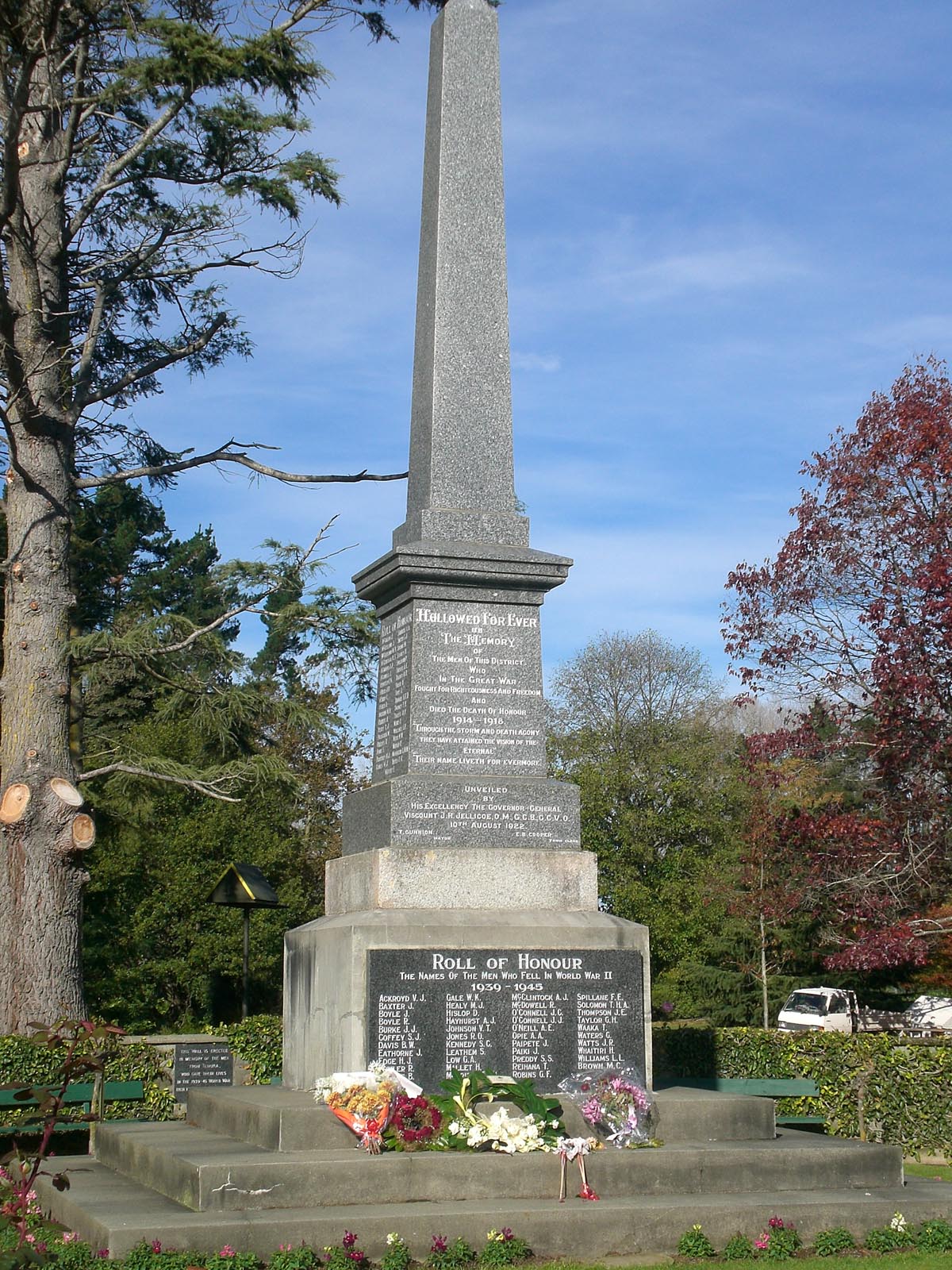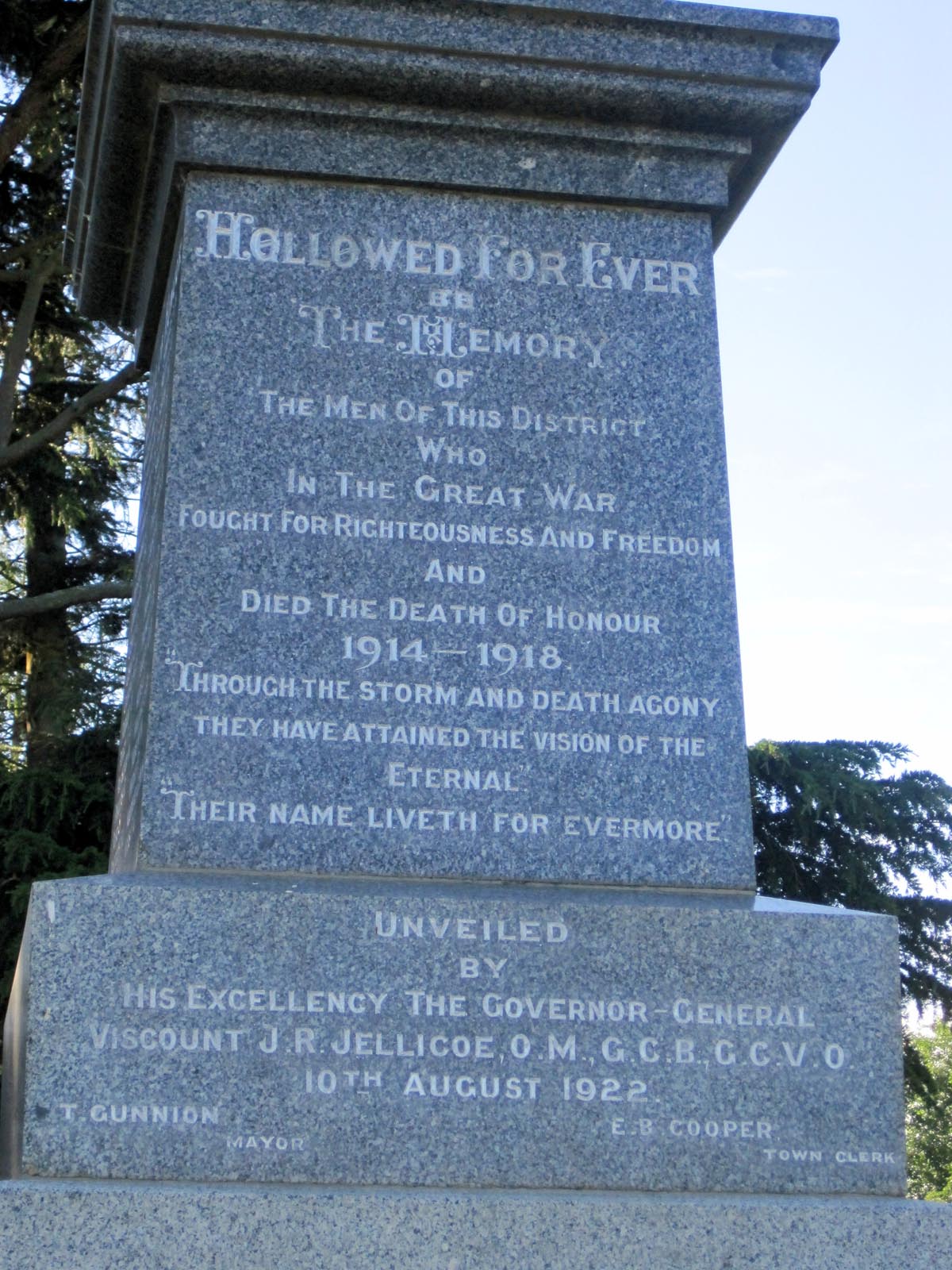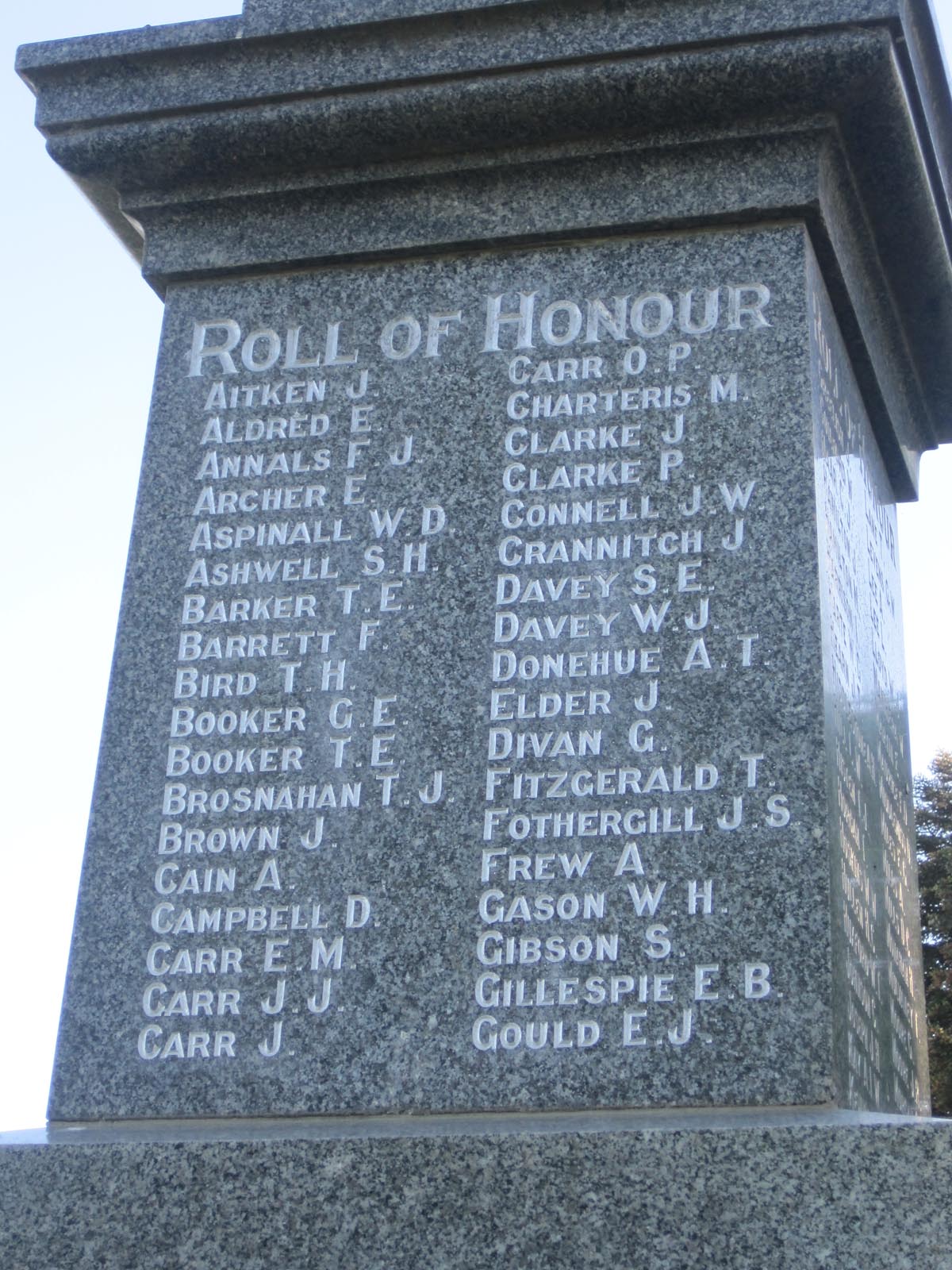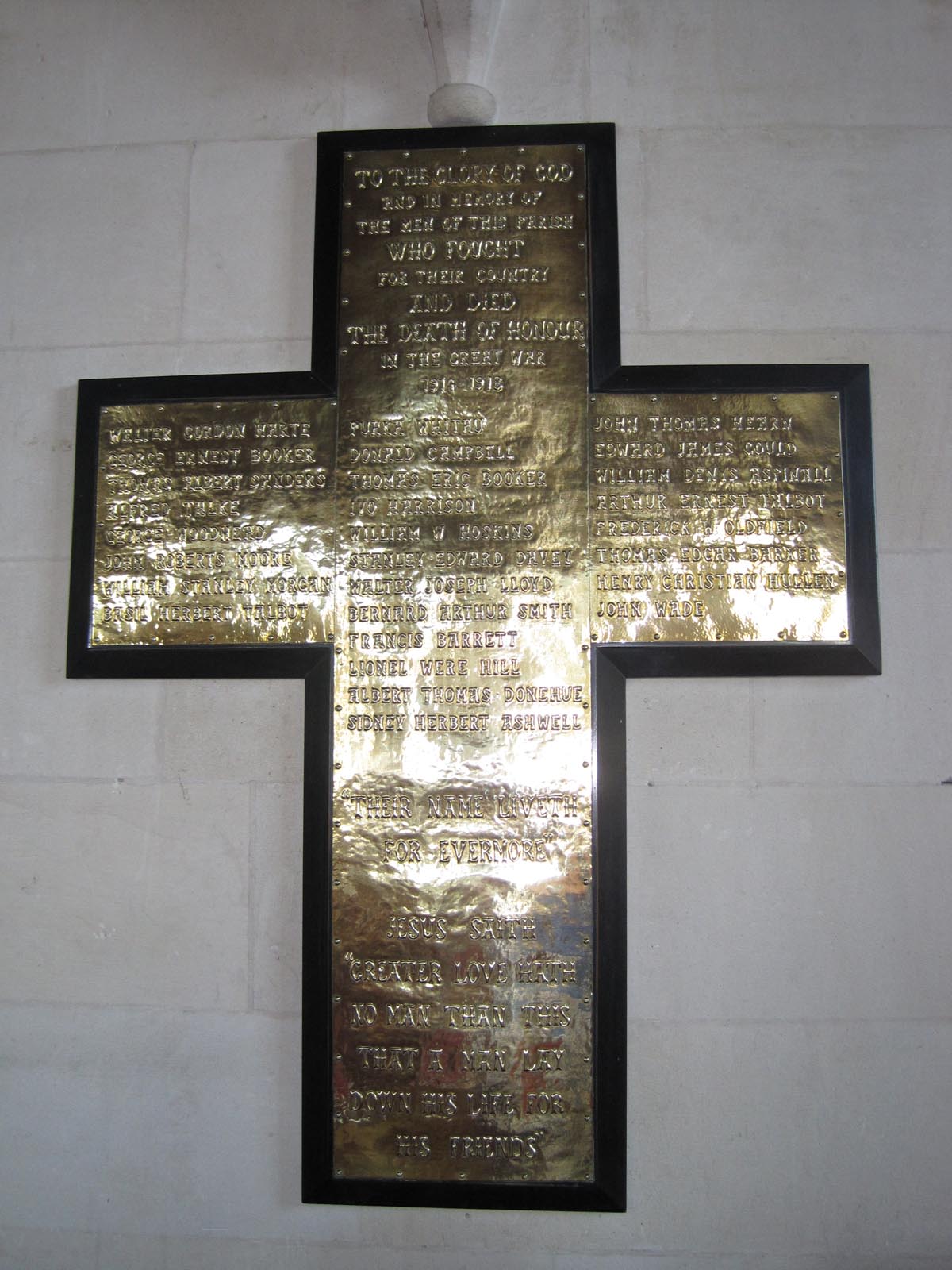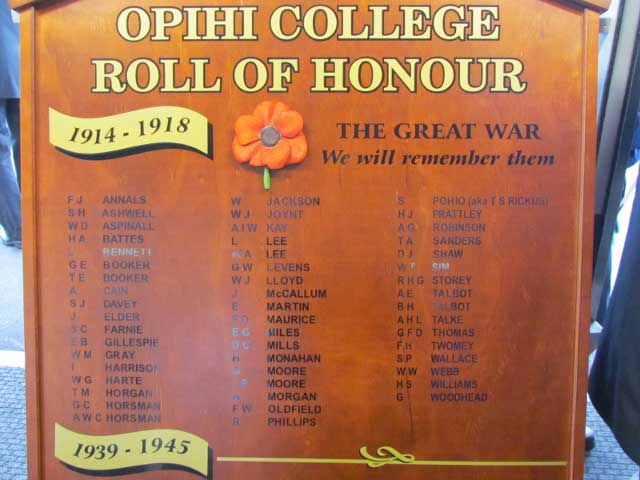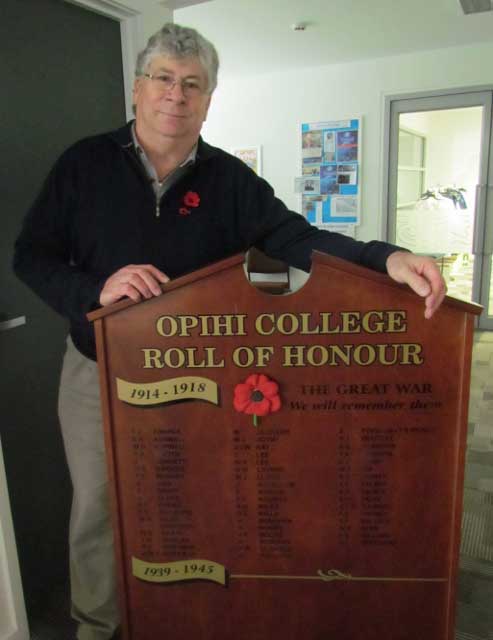 Aliases
Stan
First Rank
Lance Corporal
Last Rank
Rifleman
Birth
Date
9 November 1893
Place

of Birth

Temuka, South Canterbury
Enlistment Information
Date
2 May 1915
Age
21 years 6 months
Address

at Enlistment

Main North Road, Temuka
Occupation
Farm hand

Previous

Military Experience
Lord Liverpool's Own; C Company 5th Wellington Regiment; Royal Canadian ...... (unfit).
Marital Status
Single
Next of Kin
Mr George DAVEY (father), Main North Road, South Canterbury
Religion
Anglican
Medical

Information

Height 5 feet 7½ inches. Weight 148 lbs. Chest 34-36½ inches. Complexion fair. Eyes grey. Hair brown. Sight and hearing both good. Colour vision correct. Limbs and chest well formed. Full and perfect movement of joints. Heart and lungs normal. Teeth good. Free from hernia, varicocele, varicose veins, haemorrhoids, inveterate or contagious skin disease. Vaccinated. Good bodily and mental health. No slight defects. Scar from operation for appendicitis.  
Military Service
Served with
NZ Armed Forces
Served in
Army

Military

District
Embarkation Information
Body

on Embarkation

2nd Battalion, New Zealand Rifle Brigade
Unit

, Squadron, or Ship

C Company
Date
9 October 1915
Transport
Maunganui or Tahiti or Aparima or Navua or Warrimoo

Embarked

From
Wellington, NZ
Destination
Egypt
Other Units

Served With

Last Unit

Served With

New Zealand Rifle Brigade
Military Awards
Campaigns
Western Europe (Somme)
Service Medals
1914-1915 Star; British War Medal; Victory Medal

Military

Awards
Award Circumstances and Date
No information
Prisoner of War Information
Date of Capture
Where Captured

and by Whom

Actions Prior to Capture
PoW Serial Number
PoW Camps
Days Interned
Liberation Date
Hospitals, Wounds, Diseases and Illnesses
Post-war Occupations
Death
Date
15 September 1916
Age
22 years
Place

of Death

Flers, Somme, France
Cause
Killed in action
Notices
Timaru Herald, 30 September 1916 (page 8)
Memorial or Cemetery
Caterpillar Valley Cemetery, Longueval, Somme, France
Memorial Reference
X. C. 21.
N

ew

Z

ealand

Memorials
Memorial wall, Timaru; Temuka War Memorial; Temuka RSA Roll of Honour; St Peter's Church, Temuka, Memorial; Winchester War Memorial; Temuka District High School Roll of Honour; Opihi College Roll of Honour (created by David Ellena, 2015)
Biographical Notes
Stanley Edward Davey, born on 9 November 1893 at Temuka, was the youngest son of George Davey and his second wife, Maria Jane (née Finlay). He attended both Winchester and Temuka schools, and also the Temuka District High School.
At the Winchester School prize distribution on 22 December 1902, Stanley was the recipient of a Standard III prize. He was one of the pupils who gave a recitation at the annual concert held in October 1903. In the Third Year class at Temuka District High School in 1907, Stanley was first in arithmetic. He was also a member of St John's Church, Winchester, and afterwards of St Peter's Anglican Church, Temuka. At St John's in 1908, Stanley earned a prize for Grade VI of the Sunday School. At a concert held in aid of the Winchester Sunday School in July, he played the part of Humpty Dumpty in a kinderspiel. In 1908 he again earned a prize for first in algebra at the High School. In 1909 Stanley was second in Grade VI and in June 1910 he was one of the chief prize-takers in Grade VII at the Sunday School.
Winter 1909 found Stanley Davey playing in the A football team for the Temuka District High School at the Schools' Association closing day tournament. He scored well in the Junior Civil Service Examination in 1908, and some time after was appointed a cadet in the Native Land Court at Wellington, with whom he spent some years. He followed this up with three passes in the Senior Civil Service examinations in early 1911.
Stanley had previously been rejected as unfit for military service after an operation for appendicitis. He enlisted, however, on 2 May 1915, at which time he was a farm hand and living at home at Temuka. His military training was at Trentham Military Camp. Stanley was one of the men given a rousing farewell when they went north to the concentration camp at Trentham in late May 1915. After afternoon tea in the Drill Shed and an address by the Mayor, amidst much cheering from the crowds they joined recruits from the south (Invercargill, Dunedin and Oamaru) on a very long special troop train.
He joined in Temuka with Lord Liverpool's Own and, having left with the Seventh Reinforcements, he disembarked in Egypt on 18 November 1915. During his service overseas it appears that he was not hospitalised with any wounds or illnesses. Stanley went first to Egypt, then in April 1916 to France where he was to meet his fate. He was promoted to Lance Corporal temporarily but reverted to Rifleman on 1 April 1916 at his own request. Rifleman S.E. Davey was killed in action in the Battle of Flers at the Somme, France on 15 September 1916, and was buried in the Caterpillar Valley Cemetery at the Somme.
Private Davey had written, maybe to his Uncle Mr John Finlay of Tokoroa, on 6 December 1915, outlining their preparations for the fighting against the Dervishes – "an enemy of 3000 men to face . . . . fully armed and equipped . . . . 'ask-for-no-mercy' tactics. As Greece is likely to be soon at war against us, we have .been warned to put the station in a good state of defence, . . . . with everything in a well guarded and barricaded place. We will be camped around the station and can easily take our posts on the sound of the alarm and see that nothing happens to the station and telephone communication. We were sent up here to do this and must not fail in our task, as the lives of many of our comrades are at stake up at Dabba." [Hawera & Normanby Star. 8 February 1916 (page 4)]
The following extract is from a letter dated August 16th from ''somewhere in France" from the late Rifleman Davey to his cousin:
"The night we went up from our billet we just missed being badly knocked about, just getting into the support trench for shelter in time. The Germans shelled a house opposite the billet we had just left, half an hour after our leaving it, so you can just imagine what we missed in the way of casualties. We went through several bombardments and had some pretty narrow shaves from being wiped out. Our company seems to have a lot of luck behind it. One night, the hottest I have ever had, we had a raid on, and we had to put up with artillery and trench mortar fire for three hours and a half. None of us in the platoon got a scratch during the whole proceedings. We went back shortly after this into the subsidiary trenches for a rest, and then back into town for awhile until now we have moved here for a rest, for how long we cannot say.
"The country around here is beautiful indeed just now. All around there is a great deal of land with standing ripe crops upon it, and it looks very nice. Some of us are going to do a bit of harvesting for the people, in the course of the next day or two. We are having route marches every day now to get us fit again, in order to be able to stand what we have to put up with in our next move. . . . . Personally I am all right, though at times I feel a bit seedy." [Hawera & Normanby Star, 10 October 1916]
Just a month later - on 15 September 1916 at Flers, Somme, France - Stanley Edward Davey was one of the casualties of those trenches.
At the 1917 annual meeting of the Parish of Temuka and Winchester, the names of Stanley Davey, an ex-Sunday School pupil, and five others were added to the Roll of Honour – 'all gallant lads, "the brave and the true," who have died the death of honour.' At this time, the number of parishioners on active service was very large, and each one was remembered regularly in intercession.
Stanley Edward Davey was remembered by his parents and siblings in an In Memoriam notice in 1917 – "His country called and honour bade him go, And how can man die better, Than facing fearful odds, For the country of his fathers, And the glory of his God." And again in 1920 his parents remembered with sorrow and with pride. His loving brother Charlie, who had himself been called up, especially remembered "Dear old Stan" in 1919. Stan was awarded the 1914-15 Star, the British War Medal and the Victory Medal.
Stanley's name is inscribed on the Winchester War Memorial which was unveiled in a touching ceremony on 23 May 1920. The proceedings opened with the Lord's Prayer, followed by the singing of the hymn "Lead Kindly Light" and the laying of wreathes by the school children as the names were read. Several tributes were paid to these brave men who had given their lives in order that others might live in peace. In July 1920 at the largest gathering ever seen in the Victoria Hall, Winchester, when district soldiers were welcomed home and presented with medals, those who had made the supreme sacrifice were remembered by the presentation of certificates to their next-of-kin - Stanley was one of these men.
The Roll of Honour erected at the Temuka District High School to perpetuate the memory of the ex-pupils of the school who lost their lives in the Great War, was unveiled in June 1921 in the presence of a large gathering, comprising nearly all the pupils of the school and some hundreds of adults. Proceedings commenced with the singing of "O God our help" and the saying of the Lord's Prayer. The chairman said "These men went forth to do battle for right against a strong and mighty foe, knowing that they might not return to their own again. It was therefore our duty as fellow citizens to do something to keep their names ever green in our minds and hearts."
Fourteen months later the Temuka Borough memorial was unveiled before a very large gathering in the domain, including Temuka Territorials and Cadets, Temuka and Geraldine returned soldiers, the Temuka Pipe Band, the Salvation Army Band, the children of the district schools, national and local dignitaries, and local folk. Opening proceedings, the Mayor said "We regret that this occasion has arisen, but having done so we must look back with pride at the actions of those who rose to the call of the Motherland, which was in peril. Many of those brave boys who left these shores did not return, and we have erected this memorial to their memory, . . . " Following hymns and scripture readings, His Excellency the Governor-General formally unveiled the monument and the local M.P. read out the names inscribed thereon.
His name is inscribed on the Timaru Memorial Wall, the Temuka War Memorial; the Temuka RSA Roll of Honour; St Peter's Church, Temuka, Memorial, Temuka District High School Roll of Honour, Opihi College Roll of Honour (created 2015), as well as the Winchester War Memorial.
Brothers Arthur, Francis James and Henry George Davey all also served in World War One. Of a family of five sons in the Davey family (Temuka) one had been to Gallipoli and wounded, one (Stanley) was killed in France, and two other sons were either on the water or in camp at the time of Stanley's death.
Sources
Auckland War Memorial Museum Cenotaph Database [11 August 2013]; NZ Defence Force Personnel Records (Archives NZ ref. AABK 18805 W5537 0031959) [02 May 2014]; CWGC [11 August 2013]; Timaru Herald, 23 December 1902, 19 October 1903, 26 May 1908, 17 July 1908, 23 December 1908, 30 January 1909, 7 June 1910, 26 & 31 May 1915, 16 October 1915, 13 Aptil 1916, 19 June 1916, 10 September 1916 (x 2), 30 September 1916 [x 2], 2 October 1916, 7 May 1917, 15 September 1917, 24 May 1920, 19 July 1920, 15 September 1920, Star, 23 December 1907, Press, 29 January 1909, 30 September 1916, Temuka Leader, 29 May 1909, 21 August 1909, 5 & 8 May 1917, 16 September 1919, 25 May 1920, 15 July 1920, 25 June 1921, 01 December 1921, 12 August 1922, Dominion, 17 June 1910, Evening Post, 13 February 1911, Hawera & Normanby Star, 8 February 1916, 10 October 1916, New Zealand Herald, 10 October 1916 (Papers Past) [08 November 2013; 13 July 2014; 02 & 11 September 2014; 27 May 2015; 01 August 2015; 03 & 04 July 2016]; "Temuka Through the Ages" [2013]; School Admission record (South Canterbury Branch NZSG) [2013]
External Links
Related Documents
Researched and Written by
Teresa Scott, SC branch NZSG
Currently Assigned to
TS
Licensed under a Creative Commons Attribution-NonCommercial 4.0 International License unless otherwise stated.
Tell us more
Do you have information that could be added to this story? Or related images that you are happy to share? Submit them here!