COKER, Frederick William
(Service number 8/353)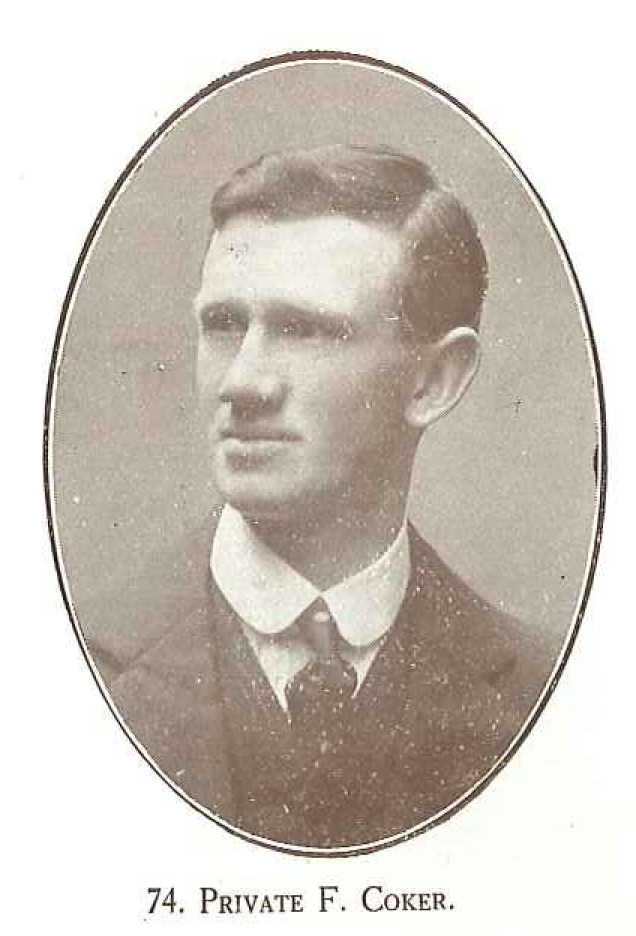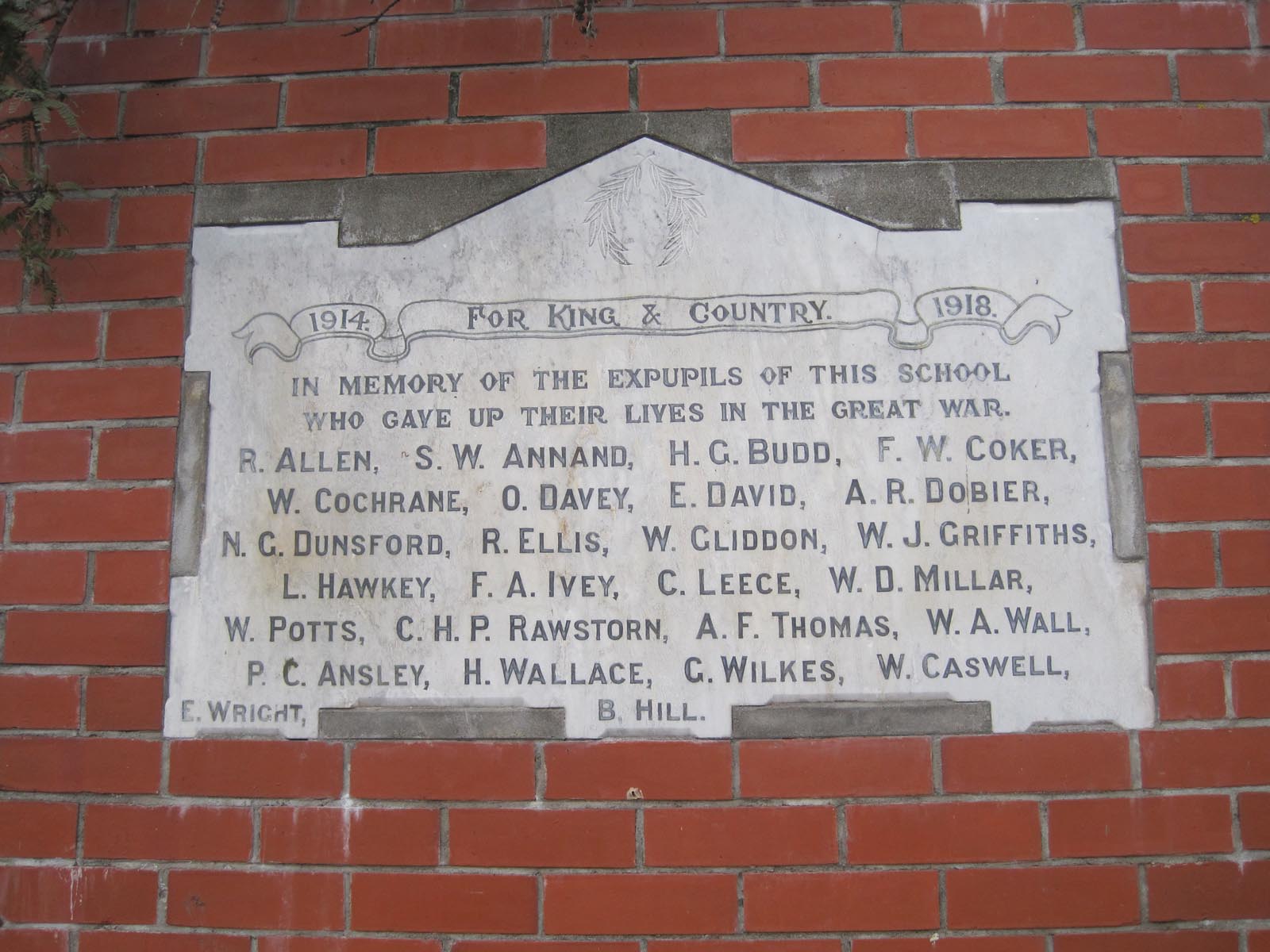 Aliases
Fred
First Rank
Private
Last Rank
Private
Birth
Date
9 January 1891
Place

of Birth

Timaru
Enlistment Information
Date
13 August 1914
Age
23 years 7 months
Address

at Enlistment

Tay Street, Invercargill
Occupation
Printer

Previous

Military Experience
Timaru Cadets 3 years.
Marital Status
Single
Next of Kin
Mrs Rosa Ellen McGUIRE (mother) (twice married), 62 Edward Street, Timaru
Religion
Church of England
Medical

Information

Height 5 feet 10½ inches. Weight 142 lbs. Chest measurement 31½ -35 inches. Complexion fair. Eyes brown. Hair medium colour. Eyes both 6/6. Hearing and colour vision both normal. Limbs and chest well formed. Full and perfect movement of all joints. Heart and lungs normal. False teeth - good. Free from hernia, variococele, varicose veins, haemorrhoids, inveterate or contagious skin diseases. Vaccinated. Good bodily and mental health. No slight defects. Eye lashes lower lids scanty.
Military Service
Served with
New Zealand Armed Forces
Served in
Army

Military

District
Embarkation Information
Body

on Embarkation

Main Body
Unit

, Squadron, or Ship

Otago Infantry Battalion
Date
16 October 1914
Transport
Ruapehu or Hawkes Bay

Embarked

From
Port Chalmers
Destination
Suez, Egypt
Other Units

Served With

Last Unit

Served With

Otago Infantry Battalion
Military Awards
Campaigns
Egyptian; Balkan (Gallipoli)
Service Medals
1914-15 Star; British War Medal; Victory Medal

Military

Awards
Award Circumstances and Date
No information
Prisoner of War Information
Date of Capture
Where Captured

and by Whom

Actions Prior to Capture
PoW Serial Number
PoW Camps
Days Interned
Liberation Date
Hospitals, Wounds, Diseases and Illnesses
Post-war Occupations
Death
Date
27 April 1915
Age
24 years
Place

of Death

Dardanelles, Gallipoli, Turkey
Cause
Killed in action
Notices
Memorial or Cemetery
Lone Pine Memorial, Lone Pine Cemetery, Anzac, Turkey
Memorial Reference
75
N

ew

Z

ealand

Memorials
Timaru Memorial Wall; Timaru South School Memorial
Biographical Notes
Frederick William Coker, known as Fred, was born on 9 January 1891 at Timaru, the son of Rosa Ellen McGuire (formerly Coker), of 62 Edward Street, Timaru. Frederick's personnel file states that his mother was twice married but it appears that Frederick and his brother Henry George Coker (born 1888 at Timaru) were born to Rosa Lena Coker before she married. A sister Catherine Agnes Coker was born in 1896 at Timaru; she may have been the daughter of Patrick John McGuire whom Rosa married in 1897. Ethel May McGuire, Rose Ellen McGuire and Annie Ellen McGuire were born of the marriage. Fred attended Timaru South and Timaru Main schools, leaving at the age of thirteen to go out to work. In mid 1898, Master F. Coker attended the Congregational Band of Hope meetings, sometimes with his brother Henry, and gave recitations and readings. In March 1901 he was the cox for a crew in the Rowing Club's heats for the President's Fours, his crew losing to the one coxed by his brother. Perhaps Fred was the Private Coker who scored the third highest score in the Timaru City Rifles match in March 1907, and in February following fired the second highest score in a trophy match. The same month he competed in the Timaru Rowing Club's Swimming Carnival 50 yards handicap race.
It was probable that before the end of August 1914 "the Dominion would have 9,400 men on the water on their way to help the Mother Country, and it was probable that within three months another 2,500 men would be required to act as reinforcements." [Southland Times, 18 August 1914.] Ten vessels would be required to transport the New Zealand troops. When Frederick William Coker enlisted early in the war, on 13 August 1914, at the age of 23 years 7 months, he was living and working as a printer in Invercargill. He had served three years with the Timaru Cadets. He was 5 feet 10½ inches tall, weighed 142 pounds, and had a chest measurement of 31½ -35 inches. His complexion was fair, his eyes brown, and his hair of a medium colour. His sight, hearing and colour vision were all normal, as were his heart and lungs. His limbs and chest were well formed, and he had perfect movement of all joints. He was in good bodily and mental health, vaccinated, free of all diseases and slight defects. While his false teeth were good, his eye lashes on the lower lids were scanty! Single and of Church of England affiliation, he nominated his mother as next-of-kin, thus - Mrs Rosa Ellen McGuire (twice married), 62 Edward Street, Timaru.
The first batch of Southlanders accepted for service with the Expeditionary Force left for Dunedin on 17 August 1914. A parade was held in the morning and "necessary additions to the men's outfit were distributed." Shortly before noon, led by the 8th Regimental Band, the Contingent marched to the Metropolitan A. and P. Society's ground, where the train stood ready for them. A large crowd had gathered and the men were given about fifteen minutes to say good-bye to relatives and friends. It is unlikely that Fred Coker had any relatives there, perhaps he had friends among his fellow employees. A prayer was offered, the Mayor urged the men to keep in touch with their parents and friends back home, and they were wished God speed, before the band played the National Anthem and the train pulled out amid continuous cheers. Among the Infantry men who went forward that day was Fred. W. Coker. By 15 September 1914 he was in camp at Tahuna Park in Dunedin, with the 6th (Southland) Regiment. Private F. W. Coker embarked with the Otago Infantry Battalion of the Main Body from Port Chalmers on 16 October 1914 and reached Egypt on 3 December.
The next mention of Frederick is in the 77th casualty list printed in the newspapers of 18 June 1915 - the words no one wanted to read "Killed in Action". This young man, who had signed up for the period of the war, had died on 27 April 1915 at the Dardanelles, just 24 years old. The Allies had landed on the Peninsula on 25-26 April 1915, the New Zealanders near Gaba Tepe; on the 27th Fred was dead. At the time he was the only person named "Coker" in the New Zealand Expeditionary Force. 775 casualties of the New Zealand Forces, whose graves are not known, are commemorated at the Lone Pine Memorial in the Lone Pine Cemetery at Anzac, one of them 8/353 Private Frederick William Coker. "Personally I held him in the highest esteem," said his late employer, Mr W. Smith, printer, Invercargill. Fred Coker was regarded as an exceptionally capable machinist. Quiet in manner and frugal in his habits, he was a favourite with his fellow employees.
Private R. M. Stead, of Invercargill, wrote home to his parents from Hospital, Birmingham, on 21 May 1915, while recovering from his severe wounds. He details the doings from leaving Alexandria through to the action at Gaba Tepe, mentioning a number of comrades who were killed or wounded in the action. "The Turks, . . ., did not wait for us, but subjected us to a pretty severe rifle and machine gun fire. Coker was killed here and several others wounded." Sergeant P. McQuarrie, of Bluff, who returned home from Gallipoli in September 1915, gave an absorbing account of his impressions of the New Zealanders time at Gaba Tepe and Cape Helles. "We [New Zealanders] were acting as a reserve to the Australians in front of us. The Turkish position was subjected to a terrific fire from two field batteries and twelve warships – simply raining lead and doing a lot of damage. Subsequently we moved back to the beach and then up through Shrapnel Gully, despite a heavy shrapnel fire, and into the actual firing line. We were given the range as 900 yards but couldn't see any Turks – just stray bullets biffing aout from both sides. We lost about four men here – Fred Coker being killed and . . . ."
F. Coker and three others, all killed at the Dradanelles, were remembered at the 5 July 1915 meeting of the Timaru South School Committee, when a resolution of sympathy was passed with the sorrowing relatives. Later in July 1915 a Roll of Honour board was unveiled at the school, containing the names of twenty ex-pupils who had joined the New Zealand Expeditionary forces, five of them having already given their lives - Private F. W. Coker (killed in action) included. On unveiling the board, the Rev. T. Stinson said that it would remind boys and girls of the brave young men who had belonged to the school, and of their self-sacrificing devotion to the cause of honour and freedom. The ceremony concluded with the sounding of "The Last Post" by cadet-buglers.
His medals – 1914-1915 Star, British War Medal and Victory Medal, memorial plaque and scroll were sent to his mother. Probate of his Will, drawn up in Invercargill at the time of enlistment, was granted to the Public Trustee at Wellington in November 1915. He bequeathed all his real and personal estate to his mother, Rosa Ellen McGuire, of Timaru. Fred Coker had acquired property in Invercargill with a frontage on to two roads, and with a new four-roomed residence (bathroom, pantry, washouse, etc.) erected thereon. On instructions from the public Trustee, the property was to be sold by auction on 2 October 1915.
Frederick William Coker is remembered locally on the Timaru Memorial Wall and on the Timaru South School tablet in memory of ex-pupils who fell in the Great War. This tablet was unveiled at Timaru South School on 18 September 1919 in a memorable and unique ceremony. "The names of those on the tablet belonged to boys who, only a few years ago, had sat in the same class rooms, under the same teachers and had played on the same playground as the children there that day," noted the committee chairman. "No nobler boys had left the shores of New Zealand than ex-pupils of the Timaru South School," said one long-term committee member. Standard VI pupils sang Kipling's "Recessional", and Standard V pupils recited "Anzac Men," a stirring poem written by the headmaster. Following the unveiling, an ex-pupil played "The Last Post" and all those assembled sang the National Anthem.
Frederick's brother Henry George Coker, a jockey, who was listed on the Reserves Roll, was called up for military service in 1918. Henry died in 1938. When their mother died in 1958, only the three surviving daughters were mentioned (Rose Ellen having died in infancy). P. McGuire, Fred's stepfather, was one who was thanked by the matron of the Timaru Orthopaedic Hospital for gifts of books for returned disabled soldiers. Two cousins also served in WWI - George Oliver Wilkes, who was killed in action in the Battle of Messines, and Jasper William Wilkes. Another cousin, Reilly George Coker of Timaru, served in the South African War, and died unexpectedly on 1 December 1901 at Heilbron of enteric. His name is inscribed on The Troopers' Memorial. Frederick's sister, Catherine (Kit), who was very involved in nursing at Timaru Hospital, was awarded the MBE for her work in the community, notably in the connection with the South Canterbury Children's Health Camp organisations.
A portrait of Private F. W. Coker was printed in the Auckland Weekly News, 1915, and is also printed in "Onward: Portraits of the NZEF", Vol. 1
Sources
Cenotaph Database [21 July 2013]; CWGC [17 November 2013]; NZ Defence Force Personnel Records (Archives NZ ref. AABK 18805 W5530 0026568) [17 November 2013]; South Canterbury Times, 7, 11 & 21 June 1898, Timaru Herald, 8, 13 & 22 June 1898, 23 March 1901, 5 December 1901, 1 September 1904, 10 January 1905, 20 March 1907, 1 & 26 February 1908, 19 June 1915, 6 & 23 July 1915, 19 September 1919, 20 november 1920, Southland Times, 18 August 1914 [x 2], 19 June 1915 [x 2], 2 July 1915, 16 & 27 September 1915, Otago Daily Times, 16 September 1914, 12 October 1914, 19 June 1915, Auckland Star, 18 June 1915, Feilding Star, 18 June 1915, Inangahua Times, 18 June 1915, Bay of Plenty Times, 18 June 1915, Dominion, 23 November 1915 (Papers Past) [17 November 2013, 10 June 2014; 01 September 2014, 16, 17 & 19 February 2015; 14 May 2020; 14 & 15 May 2020]. NZ BDM historical records (DiA) [16 November 2013]; S C Branch NZSG School Admission Records [16 November 2013]; School Admission Registers (South Canterbury Branch NZSG) [2013]; NZ Electoral Rolls (ancestry.com.au) [2013, 2014]; Timaru Herald, 1 March 1958, 7 July 1973 (Timaru District Library) [10 June 2014]; Probate record (Archives NZ/FamilySearch) [01 May 2015]; Onward: Portraits of the NZEF, Vol. 1 (held by South Canterbury Branch NZSG) [2014]
External Links
Related Documents
No documents available.
Researched and Written by
Teresa Scott, SC branch NZSG
Currently Assigned to
TS
Licensed under a Creative Commons Attribution-NonCommercial 4.0 International License unless otherwise stated.
Tell us more
Do you have information that could be added to this story? Or related images that you are happy to share? Submit them here!