CLARKE, James
(Service number 18339)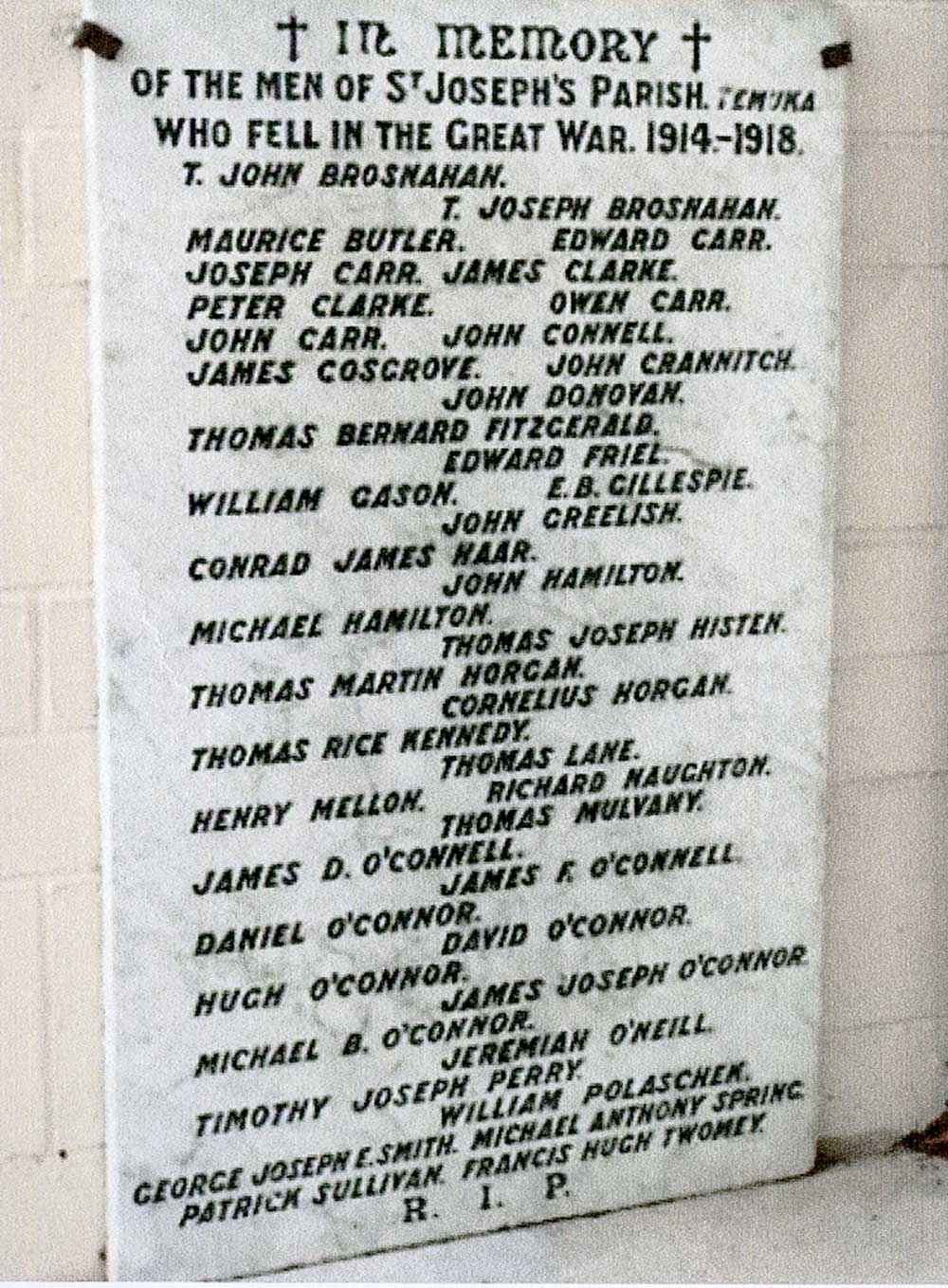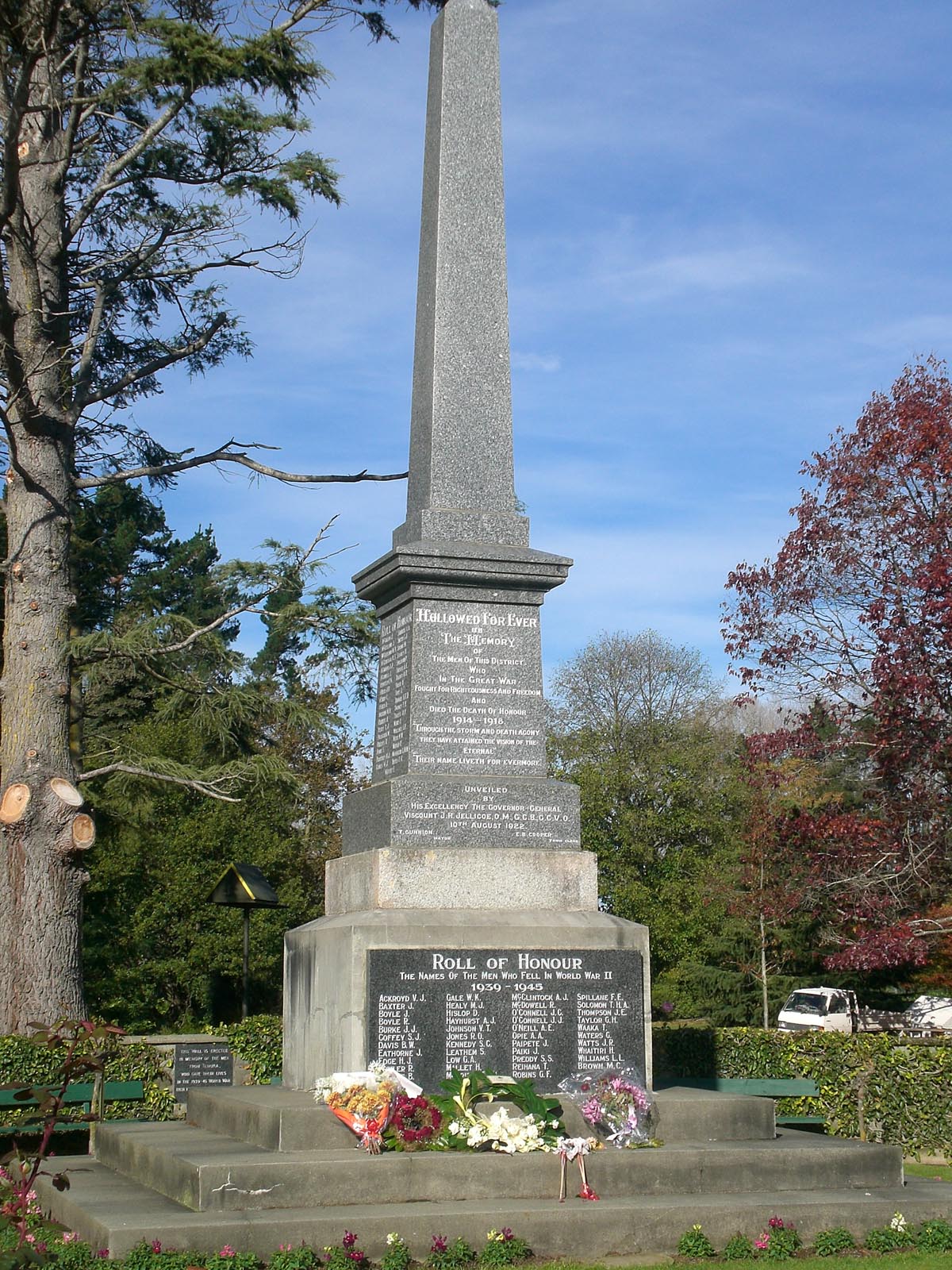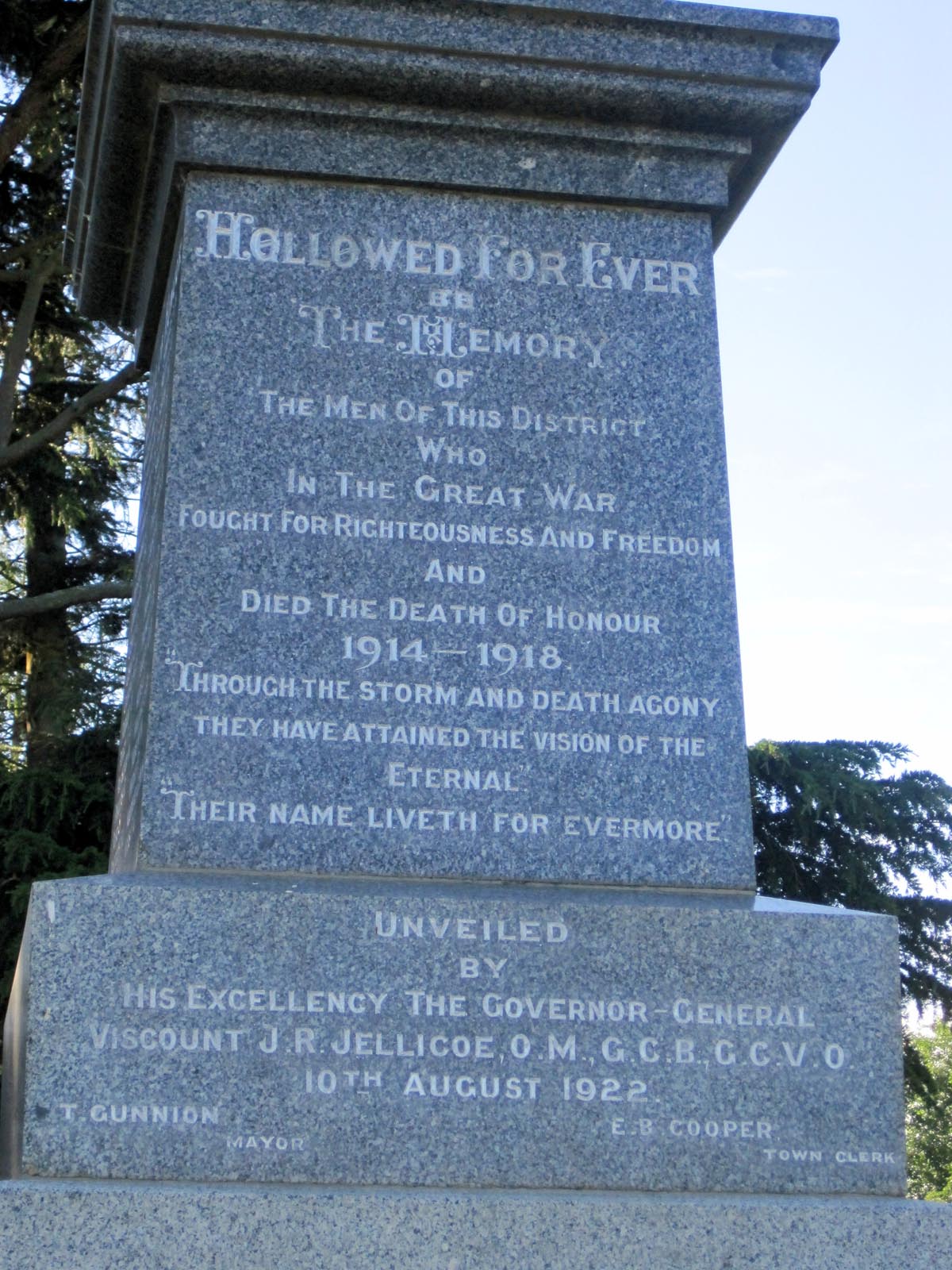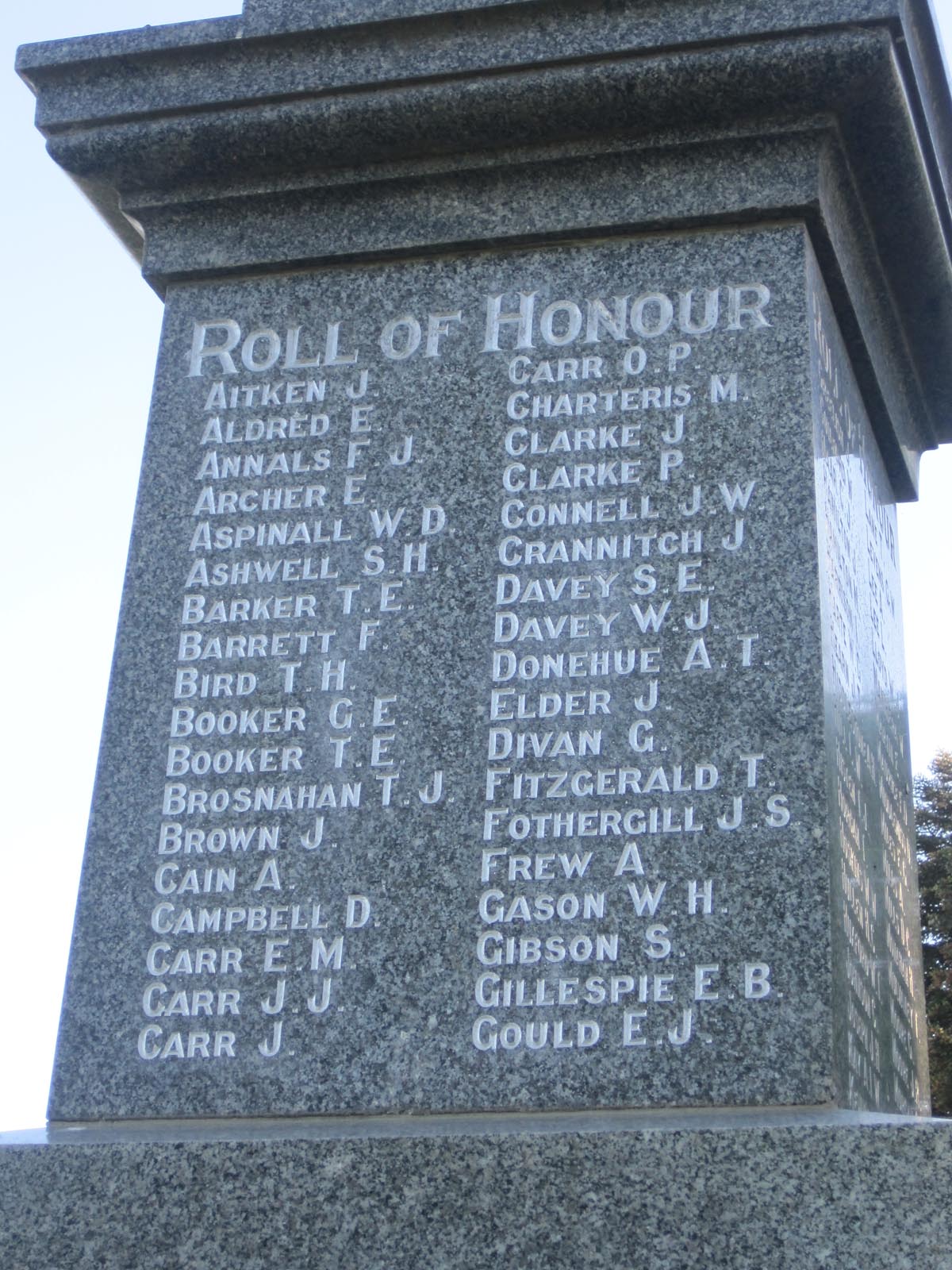 Aliases
First Rank
Trooper
Last Rank
Trooper
Birth
Date
*November 1873
Place

of Birth

County Antrim, Ireland
Enlistment Information
Date
26 July 1916
Age
43 years
Address

at Enlistment

19 Cook St, Auckland
Occupation
Driver

Previous

Military Experience
Marital Status
Single
Next of Kin
Mrs Mary CLARKE (mother), Fraser Street, Temuka
Religion
Roman Catholic
Medical

Information

Height 6 ft. Weight 11 stone 4 lbs. Chest 33½-36 inches. Complexion fair. Eyes blue. Hair grey. Sight, hearing, colour vision all normal. Limbs well formed. Full and perfect movement of all joints. Chest well formed. Heart and lungs normal. Wears dentures. No illnesses. Free from hernia, varicocele, varicose veins, haemorrhoids, inveterate or contagious skin disease. Vaccinated. Good bodily and mental health. No defects. No history of fits. Declared fit.
Military Service
Served with
NZ Armed Forces
Served in
Army

Military

District
Embarkation Information
Body

on Embarkation

New Zealand Expeditionary Force
Unit

, Squadron, or Ship

20th Reinforcements, New Zealand Mounted Rifles Brigade
Date
14 December 1916
Transport
Moeraki

Embarked

From
Wellington, NZ
Destination
Suez, Egypt
Other Units

Served With

Last Unit

Served With

Auckland Mounted Rifles
Military Awards
Campaigns
Service Medals
British War Medal; Victory Medal

Military

Awards
Award Circumstances and Date
No information
Prisoner of War Information
Date of Capture
Where Captured

and by Whom

Actions Prior to Capture
PoW Serial Number
PoW Camps
Days Interned
Liberation Date
Hospitals, Wounds, Diseases and Illnesses
20th October 1918 - admitted to 21st General Hospital, Helonan, suffering from severe malaria fever.
Post-war Occupations
Death
Date
2 November 1918
Age
44 years
Place

of Death

Egypt to Palestine
Cause
Died of disease - malaria & dysentry
Notices
Otago Daily Times, 9 November 1918
Memorial or Cemetery
Cairo War Memorial Cemetery, Egypt
Memorial Reference
M. 196.
N

ew

Z

ealand

Memorials
Timaru Memorial Wall; Temuka RSA Roll of Honour; Temuka War Memorial; St Joseph's Church, Temuka
Biographical Notes
James Clarke was the eldest son of James (deceased) and Mary (née McHenry) Clarke, 14 Fraser Street, Temuka. James and Mary had married in 1871, and had come to New Zealand from Ireland with several children in about 1880. Born in November 1873, James was baptised Catholic on 22 November 1873 at Culfreightrin, County Antrim, Ireland. Soon after the family's arrival, James and some siblings were enrolled at Temuka School. He left there on 15 November 1883 for the newly opened St Joseph's School at Temuka. In December 1885 at the St Joseph's concert, Master J. Clarke was part of a quartette of four boys who presented "We'll all go a-Singing", and he and a girl gave a dialogue "Mrs Caudle's Umbrella Lecture". Was James the Master J. Clarke who took part in the dialogues "The Coming Men" and "Andy's Blunders", and played the character of countryman in the drama "Whittington's Cat", at the 1887 concert? Mrs Clarke and her family of nine, the youngest just nine months old, suffered a tragic loss in October 1889. James Clarke, senior, who had been employed on the railways and was living at Makikihi, left the house at 5am on a Wednesday morning presumably to do his turn at checking the line, but he didn't arrive. He had no worries but had been melancholy for the past month, and, from the scant evidence found (a foot in a boot) it was feared he had walked into the sea. He was never again seen. He was described as a temperate, quiet man, a kind husband and father. There was the suggestion of one writer that he may have been another victim of some bullying and unjust treatment that was evident in the railways department. Several of the children had transferred to Makikihi School only in May 1889. His daughter Mary sought administration of his estate when their mother died in 1925. A few months after this tragedy, Mrs Clarke returned to Temuka where the family had lived previously. In time the surviving family members went their separate ways, many embarking on fine careers.
James, junior, may have been a storeman at Makikihi in 1896. On leaving school, he learnt the drapery trade under Mr John Miles who was a draper at Temuka. He later went away to the North Island, where for some years he took up surveying. James Clarke enlisted on 26 July 1916, aged 42 years. He was a driver with a survey party, single, Roman Catholic. He was a well built man, six feet tall, weighing 11 stone 4 pounds, and with a chest expansion of 33½-36 inches. Of fair complexion, he had blue eyes and grey hair. His sight, hearing and colour vision were all normal. He did wear dentures. His limbs and joints were all good. Free of diseases and defects, he was declared fit. Giving his own address as 19 Cook Street, Auckland, James named his mother as next-of-kin – Mrs Mary Clarke, Fraser Street, Temuka. Trooper James Clarke was in training at Trentham when his much younger brother Peter died of wounds on 30 July 1916 in France. Embarking with the Mounted Rifles Brigade of the 20th Reinforcements, he left Wellington on 14 December 1916, per the "Moeraki", headed for Suez, Egypt. The first section of the 20th Reinforcements, to which Trooper Clarke belonged, engaged in a route march through Wellington on the afternoon of 7 December. Thousands of spectators lined the streets, giving the men a warm reception. "The men physically were the equals of any of the drafts that have left the country for some considerable time past, and certainly had a soldierly bearing, which did them credit." (Evening Post, 7 December 1916).
James Clarke was admitted to the 21st General Hospital, Helonan, on 20 October 1918, suffering from severe malarial fever. He was, in fact, dangerously ill. Mrs Clarke received word to this effect towards the end of the month. All too soon the news was worse. Trooper James Clarke died of malaria and dysentery on 2 November 1918, en route from Egypt to Palestine. It was reported that he had not been wounded or ill prior to his death. Yet, he had been admitted to the General Hospital at Abbassia, Cairo, on 17 December 1917, with dysentery, and subsequently moved to the Convalescent Home at Heliopolis. He was 44 years old. He was buried in the Cairo War Memorial Cemetery, Egypt. He was described as "a fine type of young man, physically and mentally". His brother Daniel had lost his life in the South African War. His younger brother, Captain Peter Clarke, had died of wounds in France in 1916. Another brother, John Michael Clarke (Jack), had returned home some months earlier, wounded in the foot, and his youngest brother, William Francis Clarke, was still serving with the Royal Air Force. On 17 July 1918 James Clarke signed that he had a duly executed will in custody at Temuka and that he did not desire to make a new will.
Mrs Mary Clarke died on 19 April 1925 at her home of many years in Fraser Street, Temuka. She had endured a great deal since coming to New Zealand – her husband dying in 1889, her son Daniel in the South African War, sons James and Peter in World War One, and her youngest daughter Elizabeth in 1923 when her child was just a few months old, and two other sons fighting in war. On 24 October 1919, Mrs Mary Clarke acknowledged receipt of the British War Medal and the Victory Medal. The plaque and scroll were also sent to his mother in Temuka. From November 1918 the name of Trooper James Clarke was recorded in the Roll of Honour printed frequently in the Temuka Leader. Trooper James Clarke (Temuka) was remembered in an In Memoriam notice inserted in the New Zealand Tablet of 28 October 1920. His name is inscribed on the Timaru Memorial Wall, the Temuka RSA Roll of Honour; the Temuka War Memorial; and the St Joseph's Church, Temuka. In Memoriam notices for Daniel, James and Peter – "Sons of the late James and Mary Clarke, Temuka." – were inserted in the Otago Daily Times of 23 April 1945. By this date there were only five survivors of the family – Mary and Margaret (both living in Dunedin), John, Patrick and William.
The St Joseph's Church, Temuka, Memorial, an "exceedingly beautiful" monument to the memory of those who had fallen in the war, was unveiled after a Memorial Service on 25 April 1922. During the service appropriate music was provided by the choir and an excellent address was delivered by the Rev. Dr. Kennedy. Four months later the Temuka Borough memorial was unveiled before a very large gathering in the domain, including Temuka Territorials and Cadets, Temuka and Geraldine returned soldiers, the Temuka Pipe Band, the Salvation Army Band, the children of the district schools, national and local dignitaries, and local folk. Opening proceedings, the Mayor said "We regret that this occasion has arisen, but having done so we must look back with pride at the actions of those who rose to the call of the Motherland, which was in peril. Many of those brave boys who left these shores did not return, and we have erected this memorial to their memory, . . . " Following hymns and scripture readings, His Excellency the Governor-General formally unveiled the monument and the local M.P. read out the names inscribed thereon.
On Anzac Day, 1927, a Requiem Mass was celebrated at St Joseph's Church, Temuka. The celebrant preached a very stirring sermon based on the Book of Wisdom (Chapter III, Verses 2-5). He pointed out that the Gallipoli campaign and later "gigantic episodes" would remain for all time a wonderful symbol of the age-old courage of men. He reminded the lads present that the enormous sacrifices made by the soldiers of New Zealand and other parts of the Empire were helping them to have brighter and better lives, and that all should render thanks to God, who had delivered them out of the hands of the enemy. They had gathered to commemorate the landing at Gallipoli and also to set aside the day to show their deep and grateful acknowledgement of the services of the men who had fought and died for them on other fields of the great battle-front. "The light of immortality that flashed from the abandoned tomb of the risen Christ lingers on in every mound of Flanders mud and clay, the gullies of Gallipoli, the sands of Palestine and Egypt, on the quiet churchyards in English villages and on God's acres in New Zealand.. . . . And to-day, before God's altar, we remember them with the love we bore them and the pride we shall have in them," he concluded. Before the Dead March was played by the organist, the names were read of those from the Temuka parish who had died "on the field of honour" – among them that of James Clarke.
Sources
Auckland War Memorial Museum Cenotaph Database [08 October 2013]; NZ Defence Force Records (Archives NZ ref. AABK 18805 W5530 0025515) [14 March 2014]; CWGC [09 October 2013]; Temuka Leader, 19 December 1885, 14 January 1890, 2, 7 & 12 November 1918, 26 April 1922, 12 August 1922, 26 April 1927, New Zealand Tablet, 25 December 1885, 30 December 1887, 7 September 1916, 28 October 1920, 17 May 1923, 13 May 1925, Evening Star, 24 October 1889, Daily Telegraph, 24 October 1889, Timaru Herald, 25 October 1889, 9 November 1889, 2, 6, 7 & 9 November 1918, South Canterbury Times, 9 November 1889, North Otago Times, 9 September 1916, Evening Post, 7 December 1916, 5 November 1918, Dominion, 31 October 1918, New Zealand Times, 6 November 1918, Press, 8 November 1918, 28 April 1925, Otago Daily Times, 9 November 1918, 23 April 1925 (Papers Past) [15 & 28 October 2013; 15 November 2013; 09 April 2014; 19 & 20 February 2016, 20 & 21 August 2016; 08 August 2017; 02, 11, 13 & 18 June 2019]; Baptism record (Ireland, Catholic Parish Registers) [June 2019]; School Admission record (South Canterbury Branch NZSG) [11 June 2019]; Family Probates (Archives NZ/FamilySearch) [20 February 2016; 10 & 11 June 2019]; Records pertaining to Daniel Clarke, 1617 SA War [28 October 2013, ff.]
External Links
Related Documents
Researched and Written by
Teresa Scott, SC branch NZSG
Currently Assigned to
TS
Licensed under a Creative Commons Attribution-NonCommercial 4.0 International License unless otherwise stated.
Tell us more
Do you have information that could be added to this story? Or related images that you are happy to share? Submit them here!