CARR, John 
(Service number 65598)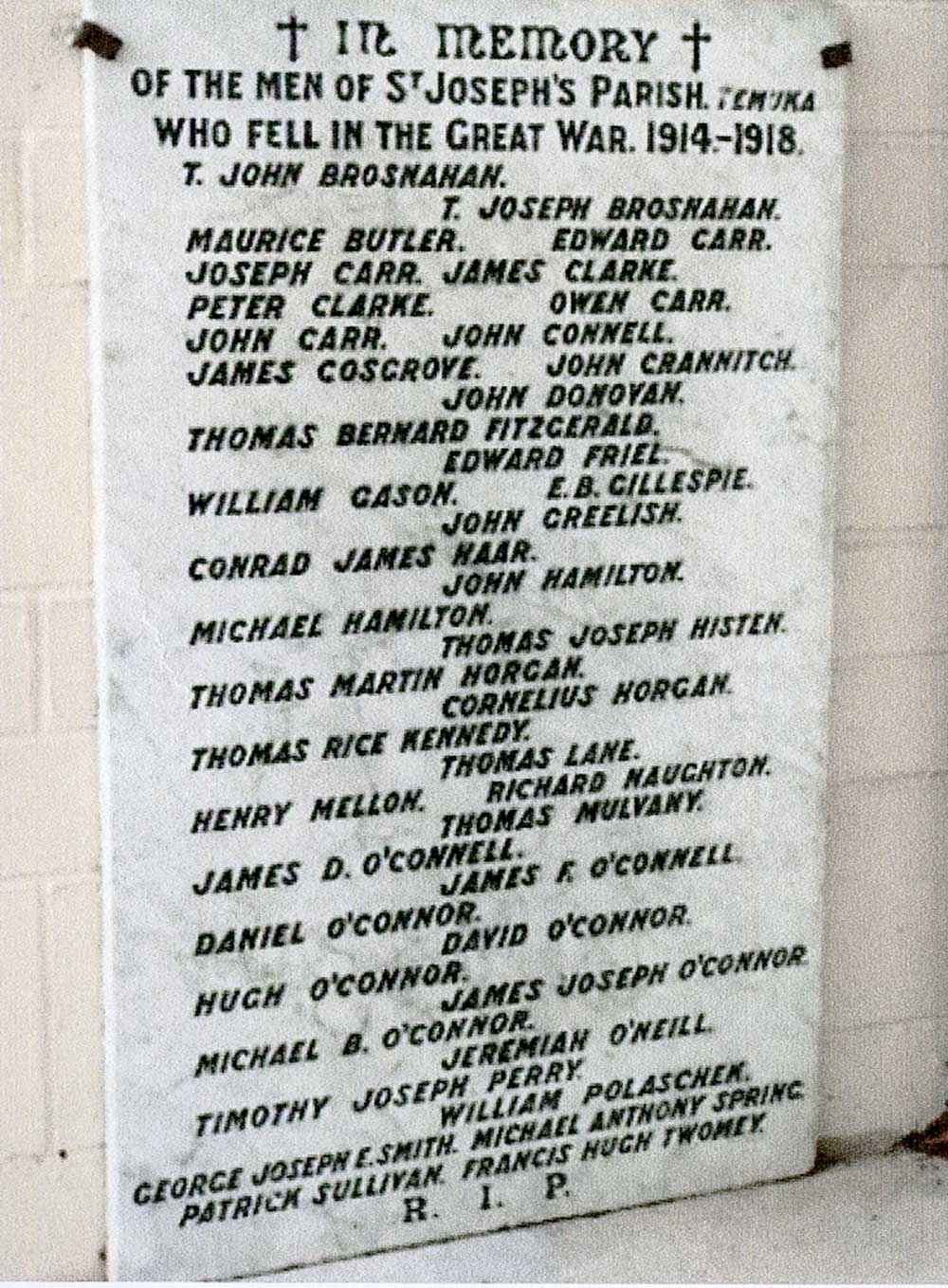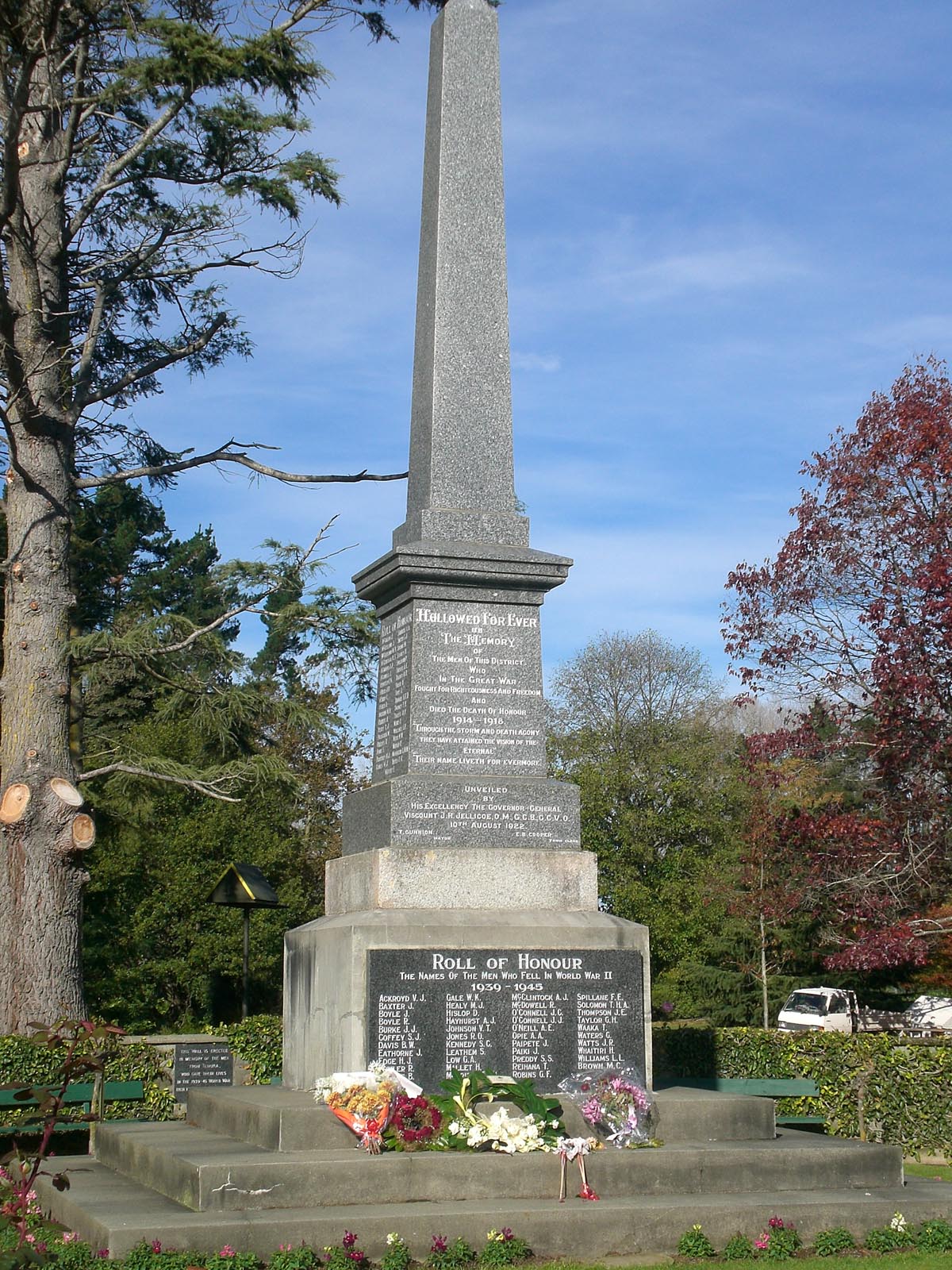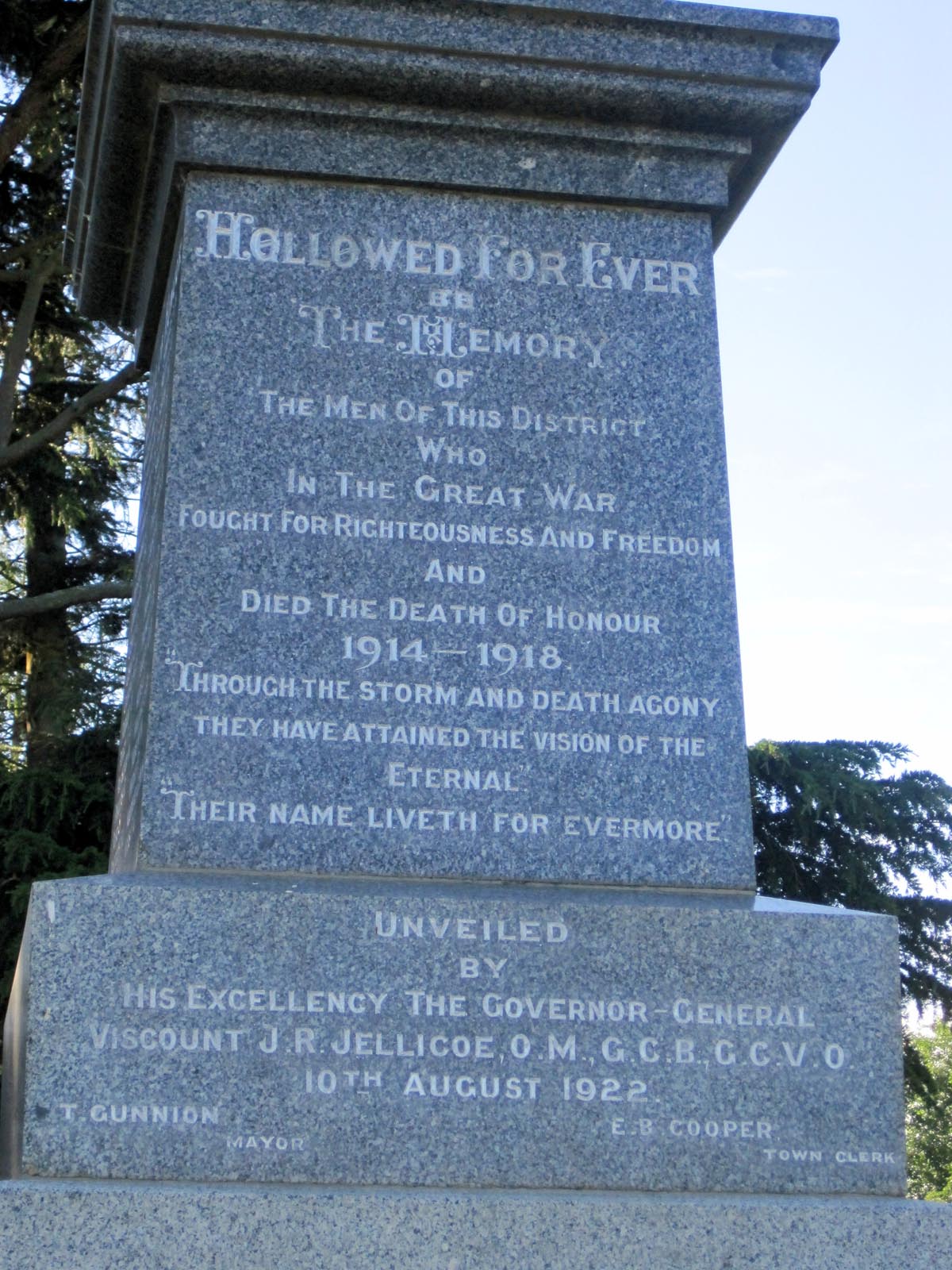 Aliases
Jack
First Rank
Private
Last Rank
Private
Birth
Date
4 April 1877
Place

of Birth

Temuka
Enlistment Information
Date
26 March 1917
Age
39 years 11 months
Address

at Enlistment

Kaitieke
Occupation
Farmer

Previous

Military Experience
Marital Status
Single
Next of Kin
Mrs Maggie WILLIAMS (sister), Monatiri, Taranaki. Later Mr Edward CARR, Waihao Forks, Canterbury
Religion
Roman Catholic
Medical

Information

Height 5 feet 8½ inches. Weight 171 lbs. Chest measurement 36-39½ inches. Complexion fresh. Eyes grey. Hair light brown. Eyes both 6/6. Hearing and colour vision both normal. Limbs and chest well formed. Full and perfect movement of all joints. Heart and lungs normal. No illnesses. Free from hernia, varicocele, varicose veins, haemorrhoids, inveterate or contagious skin disease. Vaccinated (right arm). Good bodily and mental health. No fits. Slight defects, but not sufficient to cause rejection – flat feet, "but does his exercises well, especially on toes." Teeth needed scaling, cleaning, and fillings.
Military Service
Served with
New Zealand Armed Forces
Served in
Army

Military

District
Embarkation Information
Body

on Embarkation

New Zealand Expeditionary Force
Unit

, Squadron, or Ship

33rd Reinforcements Otago Infantry Regiment, D Company
Date
31 December 1917
Transport
Athenic 

Embarked

From
Wellington
Destination
Glasgow, Scotland
Other Units

Served With

Last Unit

Served With

Otago Infantry Regiment, 1st Battalion   
Military Awards
Campaigns
Western European
Service Medals
British War Medal; Victory Medal

Military

Awards
Award Circumstances and Date
No information
Prisoner of War Information
Date of Capture
Where Captured

and by Whom

Actions Prior to Capture
PoW Serial Number
PoW Camps
Days Interned
Liberation Date
Hospitals, Wounds, Diseases and Illnesses
Post-war Occupations
Death
Date
13 August 1918
Age
39 years
Place

of Death

Bapaume, France
Cause
Killed in action
Notices
Memorial or Cemetery
Hebuterne Military Cemetery, Pas-de-Calais, France
Memorial Reference
I. N. 1.
N

ew

Z

ealand

Memorials
Timaru Memorial Wall; Temuka RSA Roll of Honour; Temuka War Memorial; St Joseph's Church Temuka
Biographical Notes
John Carr, known as Jack, was the youngest son of Owen and Mary (née Quigley) Carr, of Temuka. Owen and Mary had married in 1856 in Ireland and arrived at Lyttelton in 1874 on the "Carisbrooke Castle", with seven children. Three more children were born at Temuka, John and two sisters. John was born on 4 April 1877 at Temuka, and baptised on 15 April in the Temuka Catholic parish. He was only ten years old when his mother died in 1888. His father was to die in 1908, aged 92. John was educated at the Temuka School and at the Convent School at Temuka (St Joseph's), when it opened in 1883. At the St Joseph's parish festival in March 1889, John Carr finished in first place in the under 12 wrestling event. The following year he was second in the wrestling and first in the consolation race for small boys. In July 1903 at the Temuka Magistrate's Court, John Carr and another were charged with disorderly behaviour and creating a disturbance, but there was insufficient eviidence to convict either or both. John was still at Temuka in 1905 and appears to have moved north perhaps after his father's death and his brother Edward's move to Waihao Forks.
When John Carr enlisted, on 26 March 1917, he did not know his birth date. He was listed firstly on the Reserves Roll. Prior to enlisting he was farming on his own account in the North Island at Kaitieke. He was a brother of Edward Carr, of Waihao Forks, Canterbury, the father of three men who were killed in action in March 1918, and of Mrs Maggie Williams, of Monatiri, Taranaki, who was his next-of-kin. John, himself, was 39 years 11 months old, single and Roman Catholic. He was 5 feet 8½ inches tall, weighed 171 pounds, and had a chest measurement of 36-39½ inches, a fresh complexion, grey eyes and light brown hair. His sight, hearing, colour vision, heart and lungs were all normal, his limbs and chest well formed. He was in good bodily and mental health, suffered no illnesses, was free of diseases, and was vaccinated (right arm). He had some slight defects, but not sufficient to cause rejection – flat feet, "but does his exercises well, especially on toes." His teeth also needed some attention – scaling, cleaning, and fillings.
The Mangaweka Soldiers Farewell and Reception Committee tendered a complimentary social in mid October 1917 at the Oddfellows' Hall to Messrs J. Carr and four other local and district men who were about to leave with a reinforcements draft. There was a very good turn out to do honour to the departing men. The gathering opened with the singing of the National Anthem; a duet, solos, a humorous recitation, and addresses by dignitaries followed. A handsome wristlet watch was fastened on each guest's wrists. After the audience rose to sing "For they are Jolly Good Fellows", Private J. Carr, on behalf of the recruits, thanked all for the honours which had been extended to them. Further solos were given, Mrs Williams singing the patriotic ballad "Keep the Home Fires Burning", with the audience taking up the chorus. Was this John's sister, Mrs Maggie Williams? The evening closed with supper and dancing.
Private J. Carr embarked with the Otago Infantry Regiment of the 33rd Reinforcements, leaving Wellington on 31 December 1917 per the "Athenic", for Glasgow, Scotland, where he disembarked on 25 February 1918. On 26 February he marched into camp at Larkhill, Wiltshire, England, marching out on 6 April to Sling, from where he proceeded overseas later in the month and joined his battalion on 31 May at Rouen. On 6 July he was transferred to the 1st Battalion of the Otago Regiment.
At the end of August 1918, the grim news was filtering through. Private John Carr, 65598, Otago Infantry Regiment, was killed in action on 13 August 1918 in the Field at Bapaume, France, aged 41 years. He was buried in the Hebuterne Military Cemetery in France. In the local Mangaweka news of 7 September, it was reported that a number of local names had appeared in recent casualty lists. "The saddest news came in that of the death in action of Private J. Carr, a well known figure in this and Kaitieke districts, and . . . . Sincere sympathy is extended to the many relatives and friends who mourn the passing of these popular soldiers." At the same time, Mr E. Carr, Waihao Forks, received the news that his youngest brother had been killed in action in France on 13 August. Edward Carr inserted In Memoriam notices in the Timaru Herald of 13 August 1919 and 1920 – "In loving memory of Private John Carr (Jack), . . ."
Jack Carr's nephew Edward Martin Carr was killed in action on 27 March 1918 and two further nephews, John Joseph Carr and Owen Carr, were both killed in action on 30 March 1918 in the Palestine, all less than five months before John. Thus Jack's brother, Edward Carr, lost three sons and a brother within five months. John left a Will, signed on 30 December 1917. The executor and trustee of his will was John Stevenson, of Wanganui, Manager of the New Zealand Loan and Mercantile Agency, and an acquaintance of John Carr, with whom he corresponded during John's war service. John Carr left the residue of his estate (after payment of debts, funeral expenses and testamentary expenses) in trust for his sisters, Winifred, the wife of William Scott, of Taumaranui, and Margaret, the wife of John Williams, of Matiere. Maggie Williams was later of Tauranga. John's medals – British War Medal and Victory Medal - were sent to Mr John Stevenson (Executor), c/o Loan & Mercantile, Wanganui. His legal next-of-kin was Mr Edward Carr, of Waihao Downs, Canterbury. The memorial plaque and scroll were going to be sent to Mrs Winifred Scott of Taumarunui, then to Mrs Williams at Tauranga, but in the event, they too went to his brother Edward.
John Carr's name is inscribed on Timaru and Temuka memorials - Timaru Memorial Wall, Temuka RSA Roll of Honour, Temuka War Memorial, and St Joseph's Church Temuka Memorial. The St Joseph's Church, Temuka, Memorial, an "exceedingly beautiful" monument to the memory of those who had fallen in the war, was unveiled after a Memorial Service on 25 April 1922. During the service appropriate music was provided by the choir and an excellent address was delivered by the Rev. Dr. Kennedy. Four months later the Temuka Borough memorial was unveiled before a very large gathering in the domain, including Temuka Territorials and Cadets, Temuka and Geraldine returned soldiers, the Temuka Pipe Band, the Salvation Army Band, the children of the district schools, national and local dignitaries, and local folk. Opening proceedings, the Mayor said "We regret that this occasion has arisen, but having done so we must look back with pride at the actions of those who rose to the call of the Motherland, which was in peril. Many of those brave boys who left these shores did not return, and we have erected this memorial to their memory, . . ." Following hymns and scripture readings, His Excellency the Governor-General formally unveiled the monument and the local M.P. read out the names inscribed thereon. (Carr E. M., Carr J. J., Carr J., Carr, O. P.)
On Anzac Day, 1927, a Requiem Mass was celebrated at St Joseph's Church, Temuka. The celebrant preached a very stirring sermon based on the Book of Wisdom (Chapter III, Verses 2-5). He pointed out that the Gallipoli campaign and later "gigantic episodes" would remain for all time a wonderful symbol of the age-old courage of men. He reminded the lads present that the enormous sacrifices made by the soldiers of New Zealand and other parts of the Empire were helping them to have brighter and better lives, and that all should render thanks to God, who had delivered them out of the hands of the enemy. They had gathered to commemorate the landing at Gallipoli and also to set aside the day to show their deep and grateful acknowledgement of the services of the men who had fought and died for them on other fields of the great battle-front. "The light of immortality that flashed from the abandoned tomb of the risen Christ lingers on in every mound of Flanders mud and clay, the gullies of Gallipoli, the sands of Palestine and Egypt, on the quiet churchyards in English villages and on God's acres in New Zealand. . . . . And to-day, before God's altar, we remember them with the love we bore them and the pride we shall have in them," he concluded. Before the Dead March was played by the organist, the names were read of those from the Temuka parish who had died "on the field of honour" – among them those of Edward Carr, Owen Carr, John Carr and Joseph Carr.
Sources
Auckland War Memorial Museum Cenotaph Database [08 October 2013]; NZ Defence Force Personnel Records (Archives NZ Ref. AABK 18805 W5530 0023012) [21 October 2014]; ; CWGC [09 October 2013]; New Zealand Tablet, 5 April 1889, 28 March 1890, Timaru Herald, 16 July 1903, 6 September 1918, 13 August 1919, 13 August 1920, 11 August 1922, Temuka Leader, 16 & 18 July 1903, 26 April 1922, 12 August 1922, 26 April 1927, Rangitikei Advocate and Manawatu Argus, 17 October 1917, 7 September 1918, Otago Daily Times, 31 August 1918, New Zealand Times, 31 August 1918 (Papers Past) [09 October 2013; 08 June 2014; 06 February 2018; 03 & 06 May 2020]; NZ BDM Indexes (Department of Internal Affairs) [2013]; School Admission records (South Canterbury Branch NZSG) [2013]; Probate record (Archives NZ/FamilySearch) [29 May 2014]; NZ Electoral Rolls (ancestry.com.au) [28 October 2014]; Christchurch Catholic Diocese Baptisms Index (CD held by South Canterbury Branch NZSG) [19 April 2015]; Temuka Through the Years: an informal history (Compiled by Temuka History Book Committee, 2009) [accessed 14 October 2013]
External Links
Related Documents
No documents available.
Researched and Written by
Teresa Scott, SC Branch NZSG
Currently Assigned to
TS
Licensed under a Creative Commons Attribution-NonCommercial 4.0 International License unless otherwise stated.
Tell us more
Do you have information that could be added to this story? Or related images that you are happy to share? Submit them here!