CAMERON, Hugh Lindley
(Service number 26/1033)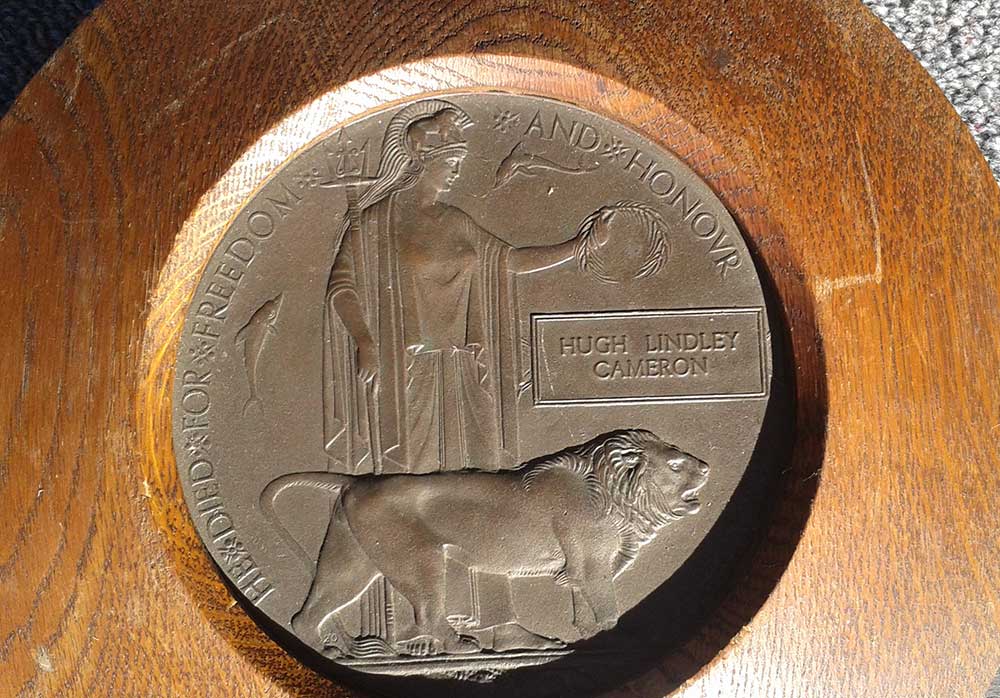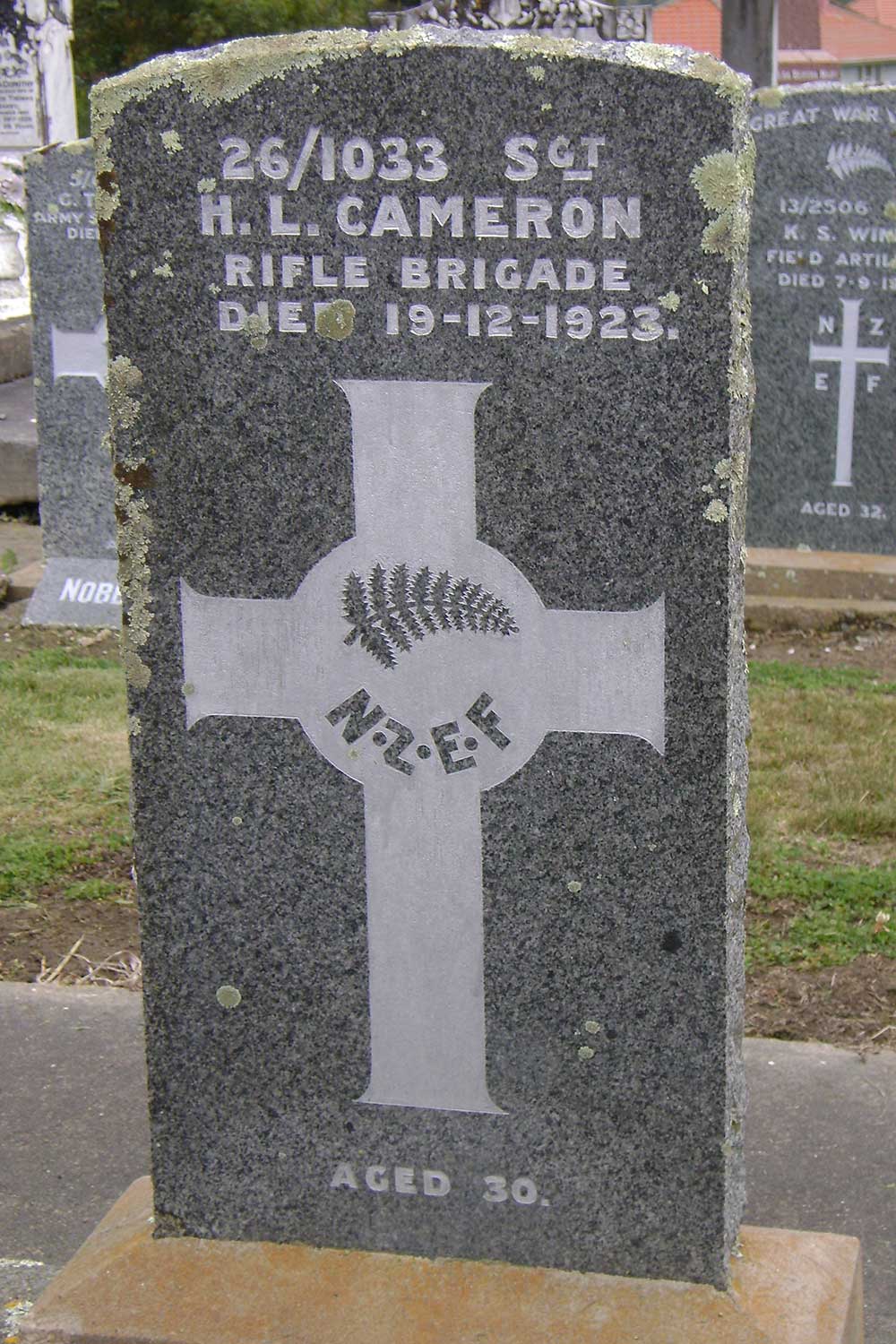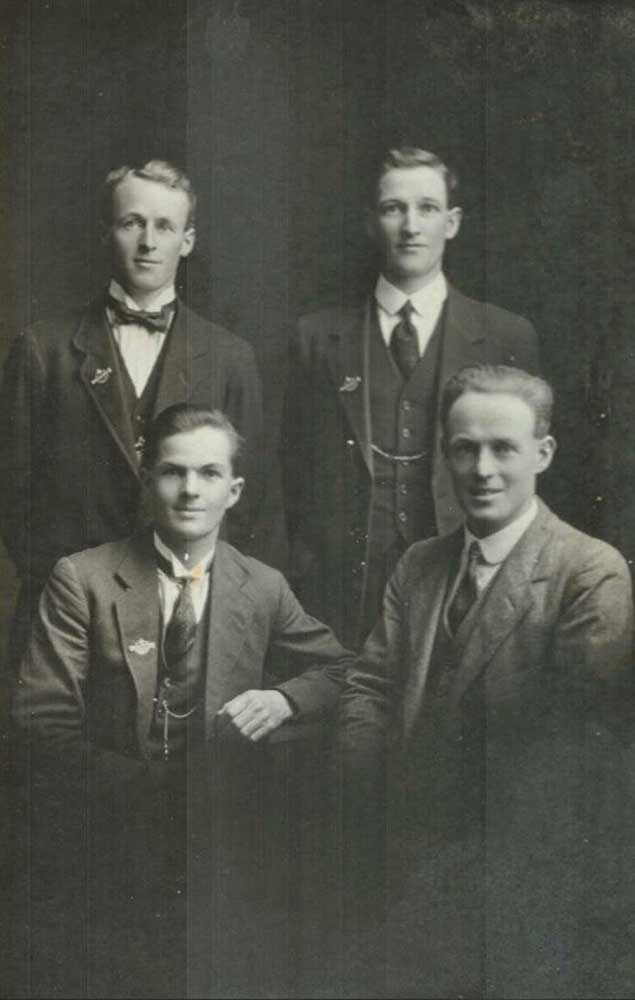 Aliases
First Rank
Rifleman
Last Rank
Sergeant
Birth
Date
4 April 1893
Place

of Birth

Otepopo, Otago (now Herbert)
Enlistment Information
Date
13 October 1915
Age
22
Address

at Enlistment

Timaru Road, Waimate
Occupation
Clerk

Previous

Military Experience
Marital Status
Single
Next of Kin
Hugh Cameron, (father) Timaru Road, Waimate
Religion
Presbyterian
Medical

Information

5 foot 6 1/2 inches tall, chest 32-34 1/2 inches, weight 9 stone 10 pounds (62kgs), fair complexion, blue eyes, lt brown hair, satisfactory teeth.
Military Service
Served with
NZ Rifle Brigade
Served in
Army

Military

District
Embarkation Information
Body

on Embarkation

4th Battalion, Machine Gun Section
Unit

, Squadron, or Ship

NZ Rifle Brigade
Date
5 February 1916
Transport
HMNZT 42 Ulimaroa

Embarked

From
Wellington, New Zealand
Destination
Suez, Egypt
Other Units

Served With

Last Unit

Served With

NZ Rifle Brigade
Military Awards
Campaigns
Egypt & Western Europe
Service Medals
British War Medal & Victory Medal

Military

Awards
Award Circumstances and Date
No information
Prisoner of War Information
Date of Capture
Where Captured

and by Whom

Actions Prior to Capture
PoW Serial Number
PoW Camps
Days Interned
Liberation Date
Discharge
| | | | |
| --- | --- | --- | --- |
| Date | 23 March 1919 | Reason | No longer physically fit for war service |
Hospitals, Wounds, Diseases and Illnesses
24 to 26 April 1916 - 2NZ Field Ambulance - influenza. 20 October 1916 to 11 November 1916 - admitted to 1 NZ Field Ambulance, transferred to hospital at Etaples - bronchitis. 9 May 1917 - admitted to 2 Australian Casualty Clearing Station (CCS) - pneumonia; tranferred on 16 May to No.13 General Hospital, Boulogne; 19 May transferred to No.2 NZ General Hospital, Walton-on-Thames; 25 May transferred to NZ Convalescent Hospital, Hornchurch. 15 September to 18 December 1917 - admitted to No.3 NZ General Hospital, Codford. 6 to 14 March 1918 - admitted to No.2 NZ General Hospital - tonsillitis.
Post-war Occupations
Clerk
Death
Date
19 December 1923
Age
30
Place

of Death

Pukeora Sanitorium, Waipukurau
Cause
Chronic Pulmonary Tuberculosis & Cardiac Failure - due to war service
Notices
Memorial or Cemetery
Waipukurau Soldiers Cemetery
Memorial Reference
Soldiers Plot 13
N

ew

Z

ealand

Memorials
Biographical Notes
Hugh was born at Otepopo (now Herbert) in Otago on 4 April 1893, the fourth child of Hugh (1855–1934) and Margaret Hunter (nee Brown, 1859–1935). Both parents are buried together in the Old Waimate Cemetery. Hugh (junior) was educated at the Otepopo School and later took up employment as a clerk with Mr NL Thomas, a local Waimate Stationer and bookseller. His interests included football for the Hiwiroa club, where he held the position of secretary, running and singing as a member of the Waimate Orpheus Society.
Hugh first enlisted with the 8th Reinforcements in July 1915 but was deferred because of influenza, later being accepted, on 13 October 1915, with the 9th Reinforcements. The recruits were marched to the Waimate Railway Station that same day, following the Brass and Pipe bands, where they wer given a hearty send off by the Mayor, deputy Mayor and locals. On arrival in Timaru a further farewell was given at the local drill shed before marching through the streets escorted by the 2nd (South Canterbuy) Regiment Band to board the 3pm train for Trentham. Hugh's enlistment papers describe him as being single, aged 22 years, Presbyterian, 5 foot 6 ½ inches tall, weighing 9 stone 10 pounds (62kgs), with a chest measuring 32-34 ½ inches, a fair complexion, blue eyes, light brown hair and satisfactory teeth. He gave his current address as Timaru Road, Waimate, and his father Hugh of the same address as his next of kin. At Trentham the new Battalions became known as "The Trentham Regiment" (The Earl of Liverpool's Own). Hugh was given the regimental number 26/1033 and posted to 4th Battalion NZ Rifle Brigade (NZRB). At Trentham the men were issued with their basic equipment and infantry training took place there and other locations in the North Island. Hugh was transferred to the machine gun section and his specialised training also took place at Trentham.
Finally, after a march through the streets of Wellington Rifleman Cameron boarded HMNZT 42 "Ulimaroa" which sailed on 16 February 1916 in convoy with HMNZT 43 "Mokoia" and HMNZT 44 "Navua". These three ships were to carry the 3rd and 4th Battalions NZRB, the 3rd Maori contingent and No2 Field Ambulance, a total of 2228 troops. The journey was broken by a stopover at Albany where the men were marched through the streets before being given some leave and again at Colombo before travelling through the Red Sea to berth at Suez, Egypt, on 12 March 1916. During the journey the usual on-board activities included boxing contests, concerts, physical training, and the almost traditional water fight on crossing the equator. On arrival at Suez they boarded old coal trucks for an uncomfortable train trip to Moascar Camp. Here, on 18 March, Hugh was temporarily transferred to the 3rd Battalion NZRB, but was returned to C Company, 4th Battalion, on 23 March. Desert training ensued, but the unit soon left Alexandria on 7 April, aboard the "Alaunia", for Marseilles in France. From here they moved by train on 13 April, reaching Hazebrouck about midnight on 15/16 April, before continuing on to Steenbecque. Here they were issued with their gas masks and tin helmets and underwent three months extensive training in trench warfare. During this time Hugh spent two days in the care of No2 New Zealand Field Ambulance with the flu (24 to 26 April).
Finally, on the night of 22/23 May the NZRB commenced its first tour of duty in the trenches, taking over part of the sector due east of Armentieres. This was a supposed "quiet" area to get the troops used to trench warfare. The NZRB casualties, which were quite heavy, were caused mostly by shell-fire. In August the Battalion was relieved and moved back to Doudelaineville where training began in earnest for the Somme offensive. In early September they moved up to Fricourt to take up positions on the Somme. Then, on 15 September the NZ Division attacked Flers as part of the Battle of the Somme.
The winter of 1916/1917 was spent on the River Lys, near Armentieres. On 20 October 1916 Hugh was admitted to 1 NZ Field Ambulance, suffering from bronchitis, before being sent on to Hospital at Etaples. Here there were 22 hospitals caring for at least 22000 patients in huge marquee tents. On 11 November, after recovering, Hugh was attached to the NZ Base Depot at Etaples before re-joining his unit in the field on 8 December.
Hugh's Brigade was to remain in reserve most of January 1917. Conditions weren't great as the region was hit by the most severe winter in 30 years. At the end of the month the Brigade went back into the line in the Cordonnerie Section, east of Laventie. Then, by 20 April 1917 the Battalion was moved into the vicinity of Messines. On 9 May 1917 Hugh was again showing the effects of the conditions the troops had to endure, being admitted to 2 Australian Casualty Clearing Station (CCS), seriously ill with pneumonia. Five days later he was transferred to No13 General Hospital, Boulogne. He remained there for three days before embarkeing on the Hospital Ship 'St Denis' on 19 May, to be admitted to No2 NZ General Hospital at Walton-on-Thames that same day. On 25 May he was transferred to the NZ Convalescent Hospital at Hornchurch to assist his recovery. A little over a month later, on 28 June, he was attached to the NZ Command Depot at Codford. He was again admitted to No3 NZ General Hospital at Codford on 15 September, remaining there until returning to the NZ Command Depot Codford on 18 December. On 1 January 1918 he was 'taken on strength' and posted to the Records Depot, London. Here he was promoted to Temporary Corporal on 19 February. Illness continued to plaque Hugh a little though. He was again admitted to 2 NZ General Hospital from 6 to 14 March with tonsillitis.
In better news though, a further promotion to Sergeant took place on 19 November. Only a week later, on 26 November 1918, he marched in to Torquay, London, where he awaited transport to return to New Zealand as the war had come to a close. After some weeks of waiting that transport eventuated. On 8 January 1919 Hugh was part of returning Draft 213. He boarded the "Matatua" for the trip home, arriving in Wellington on 21 February 1919. After having served a total of 3 years and 161 days, Hugh was discharged from the arm on 22 March 1919y.
The 1919 Electoral Roll records Hugh as living at 172 Lowe St, Gisborne, employed as a clerk. In February 1922 he married Miss Daphne Cooper daughter of Joseph and Harriett Cooper. In January the next year the couple had a son, Ian William Cameron, who unfortunately later died when only 2 years old. Hugh never fully recovered from his military service. He died aged 30 years of chronic pulmonary tuberculosis and cardiac failure due to war service on 19 December 1923. He is buried in the Soldiers Section of the Waipukurau Cemetery.
Hugh's three brothers also served in World War I: 6/3720 Corporal Robert Bruce Cameron in Egypt and Western Europe with the Canterbury Infantry Battalion (awarded the Military Medal for gallantry in the field); 7/1049 Trooper David Gordon Cameron in Egypt with the Canterbury Mounted Rifles; and 51331 Sergeant James Cameron in Home Service at Featherston Camp.
Sources
New Zealand ANZACs in the Great War 1914-1918 (University of New South Wales) at https://nzef.adfa.edu.au/showPerson?pid=37810; Waipukurau Cemetery records, Central Hawkes Bay District Council at https://www.chbdc.govt.nz/services/cemeteries/cemetery-database/?rid=902312 ; New Zealand WW1 Army Roll of Honour 1914-1919 at https://www.ancestry.com.au/imageviewer/collections/1924/images/31834_224162__0001-00041?pId=22296 ; "Waimate Enlisters" in the Waimate Daily Advertiser 5 October 1915, "Send-offs to Waimate Soldiers!" in the Waimate Daily Advertiser 13 October 1915, "Off to Trentham" in the Timaru Herald 14 October 1915, "Soldiers returning" in the Timaru Herald 14 February 1919, and "Returnign from the front" in the Waimate Daily Advertiser 13 February 1919 - courtesy of courtesy of Papers Past at https://paperspast.natlib.govt.nz/
External Links
Related Documents
No documents available.
Researched and Written by
Paula Wells, SC branch NZSG; Ted Hanson, SC branch NZSG
Currently Assigned to
Not assigned.
Licensed under a Creative Commons Attribution-NonCommercial 4.0 International License unless otherwise stated.
Tell us more
Do you have information that could be added to this story? Or related images that you are happy to share? Submit them here!