BURGESS, Arthur Clements
(Service number 6/1795)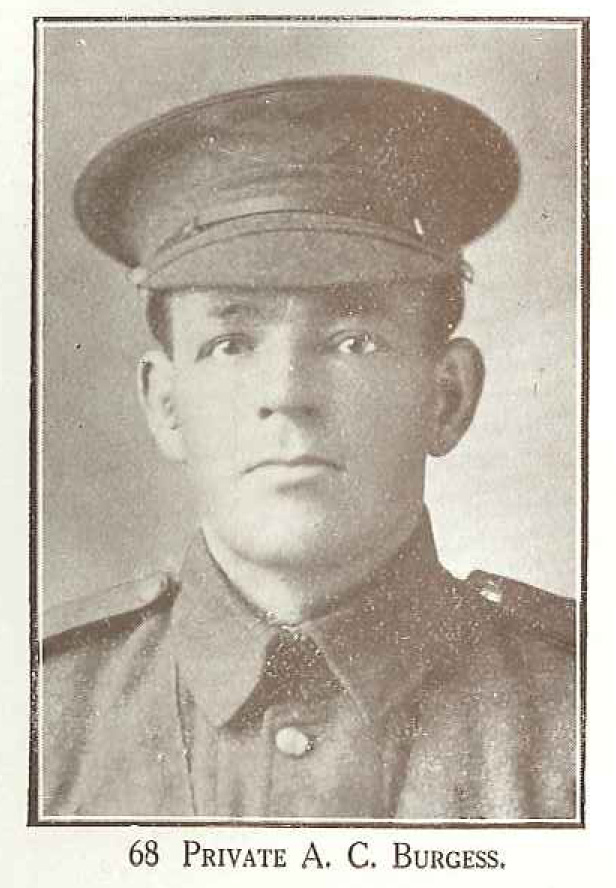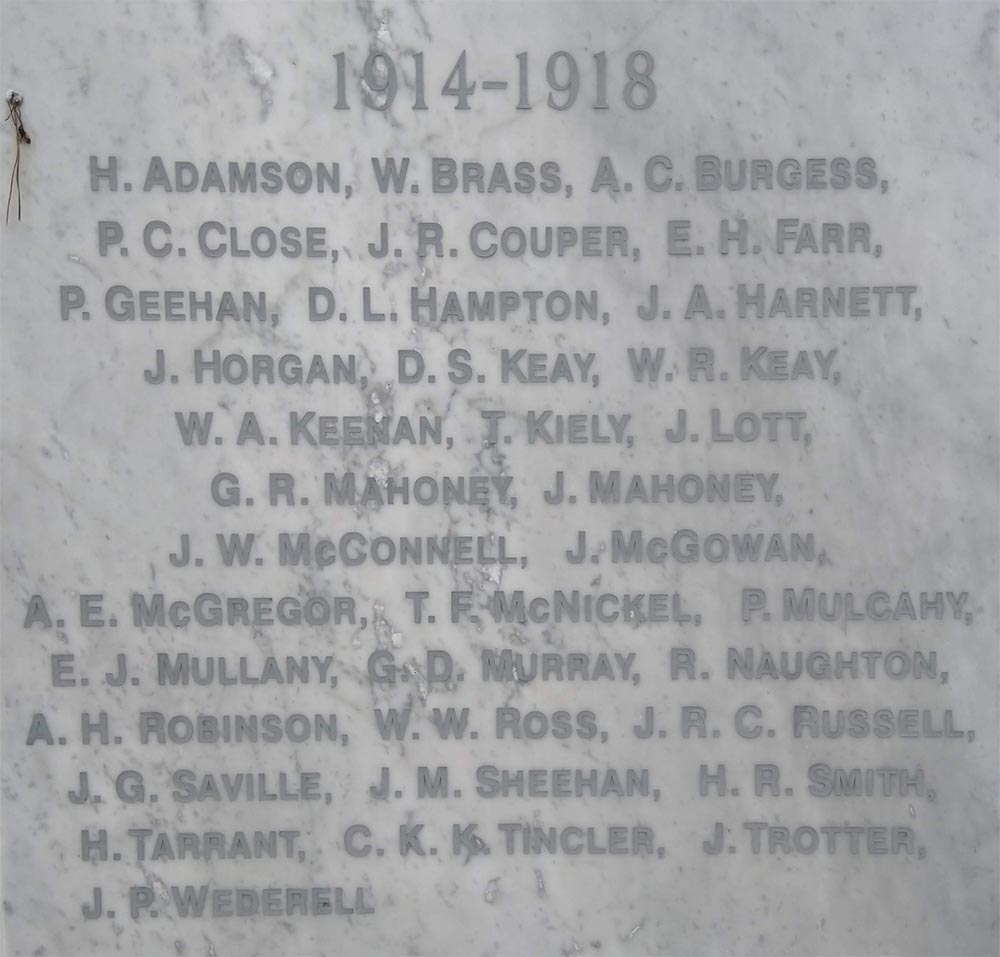 Aliases
First Rank
Private
Last Rank
Private
Birth
Date
20 February 1883
Place

of Birth

Fairlie
Enlistment Information
Date
14 January 1915
Age
31
Address

at Enlistment

Market St, Watlington, Timaru
Occupation
Labourer

Previous

Military Experience
7 years Mackenzie Mounted Rifles
Marital Status
Single
Next of Kin
John Thomas Burgess (father), Market St, Watlington, Timaru
Religion
Church of England
Medical

Information

5 foot 6 1/2 inches tall, weight 150 pounds (68kgs), chest 35 1/2 - 38 inches, fair complexion, brown eyes, brown hair, upper & lower teeth partly false
Military Service
Served with
NZ Armed Forces
Served in
Army

Military

District
Embarkation Information
Body

on Embarkation

4th Reinforcements
Unit

, Squadron, or Ship

2 Coy Canterbury Infantry Battalion
Date
17 April 1915
Transport
HMNZT 21 Willochra

Embarked

From
Wellington, N.Z.
Destination
Suez, Egypt
Other Units

Served With

C Company Canterbury Infantry Regiment
Last Unit

Served With

C Company, Canterbury Infantry Regiment
Military Awards
Campaigns
Egyptian; Balkans (Gallipoli)
Service Medals
1914-1915 Star, British War Medal, Victory Medal

Military

Awards
Award Circumstances and Date
No information
Prisoner of War Information
Date of Capture
Where Captured

and by Whom

Actions Prior to Capture
PoW Serial Number
PoW Camps
Days Interned
Liberation Date
Hospitals, Wounds, Diseases and Illnesses
16 September 1915 - admitted to No.3 Australian General Hospital, Mudros - dysentery - died there on 8 October 1915 (dysentery & diphtheria)
Post-war Occupations
Death
Date
8 October 1915
Age
32
Place

of Death

Mudros, ex-Gallipoli
Cause
Died of disease (dysentery & diphtheria)
Notices
Memorial or Cemetery
Portianos Military Cemetery, Lemnos, Greece
Memorial Reference
V. B. 101
N

ew

Z

ealand

Memorials
On Memorial wall, Timaru; Fairlie Primary School War Memorial; Mackenzie War Memorial, Fairlie, 2016 additions
Biographical Notes
Arthur was born at Fairlie on 20 February 1883, the second son of John Thomas (1860-1944) and Sarah Smith Burgess (nee Nimon 1860-1933). In 1861, Arthur's grandparents, John and Georgina Jane (nee Gilbert) took over the first hotel at Burke's Pass. Along with running a hotel Georgina, while her husband served the local runs as a bullock driver, was in demand as a midwife and stan- in doctor. Being a staunch member of the Church of England they donated a piece of land near the hotel for a church in 1871. Here Arthur's parents John Thomas and Sarah were married on 20 October 1879.
Arthur and his siblings received their education at the Fairlie and Cricklewood Schools where the family was farming. Later his parents later moved to Market Street in Timaru where his father was employed as a gardener. In 1915, before he enlisted, Arthur was working for Mr HB Kirk, a brick and pipe manufacturer in College Road, Timaru. On 12 January he was one of 89 men medically inspected for service and was one of only 26 that were passed as fit for service (initially standards were set higher than later years). Arthur left with other local men for Trentham on 14 January 1915 with the fourth reinforcements. A letter later appeared in the Timaru Herald criticising the poor way the local men of the 4th reinforcements had been treated as they had received no official acknowledgement or farewell from Timaru. It was not Arthur's first time in uniform, as he had served for seven years with the Mackenzie Mounted Rifles prior to enlisting. Arthur nominated his father as his next of kin. His enlistment papers described him as being aged 31 years, single, of the Church of England, 5 foot 6 ½ inches tall, weighing 150 pounds (68kgs), having a fair complexion, brown eyes, brown hair, and party false teeth (upper and lower). Three months of intensive training followed at Trentham Camp where the men received instruction in all aspects of infantry warfare. After a final tactical exercise where the lessons learnt were practiced, the men were given final leave over Easter before returning to Trentham to prepare for overseas embarkation. At the time the 4th reinforcements were considered to be the best trained and equipped force in New Zealand.
Private Burgess left from Wellington on 17 April 1915, with the 4th Reinforcements aboard HMNZT 21 "Willochra" in convoy with HMNZT 22 "Knight Templar", and HMNZT23 "Waitomo". A total of 2,254 men travelled in this convoy, and after a short stop at Albany, Western Australia, arrived in Egypt on 25 May. At this time Egypt was having the hottest period for many years when they marched in to camp at Zeitoun. Training continued in the desert heat, with the odd spot of leave in Cairo. By now the main part of the Canterbury Battalion was on Gallipoli where Arthur joined them on 8 June. At this time the Battalion had been relieved by the Wellington Battalion at Quinn's Post where the hot temperatures, flies and lack of sanitary conditions were taking their toll on the troops. They moved back to new bivouacs in Canterbury Gully, north of Shrapnel Valley and east of Plugge's Plateau. Here the weather remained fine, and with no enemy attacks arising, and suffering minimal shell fire, the unit was able to rest after the hard fighting and digging at Quinn's Post. The respite was brief though, and the Battalion spent most of the period up to the end of July either in the firing line at Quinn's Post or on reserve at Canterbury Gully. The exception was a short period at Imbros for rest and training—the battalion embarking from Anzac about 4 a.m. on the 15 July and leaving Imbros on the evening of the 19th.
On their return the preparations for the Battle of Sari Bair got underway. The ANZAC's attacked on 6 August, reaching the top of Chanak Bair but it was lost soon after they were relieved by another unit. This was to be the last major offensive by the ANZAC's on Gallipoli. The failure provided a reason for the British to consider the later evacuation of the peninsula. During the period of 8 to 10 August 8 the Canterbury Battalion remained in its trenches on the south of Rhododendron Spur and in garrison of the southern defences of the spur untill 18 August, when it relieved the Wellington Battalion and the 8th Royal Welsh Fusiliers at the Apex. From 20 to 23 August it was relieved by the Otago Battalion and moved back into reserve bivouacs at Otago Gully before garrison the inner defences at Big Top and Old No 3 Post, remaining there until 28 August when they returned to the Apex. In the meantime, the Maori Contingent had been attached to the Infantry Brigade, and a platoon was allotted to each battalion. The strength of the Canterbury Battalion was thus increased by one officer and forty other ranks.
The troops which had taken part in the original landing at Anzac had now spent nearly five months on the Peninsula, under conditions of great hardship and continual danger. The arrival at the Peninsula of the 2nd Australian Division made it possible to give these troops a rest at Lemnos, and the New Zealand Infantry Brigade received orders to embark on the transport Osmanieh on 14 September. Each battalion had been ordered to leave behind a proportion of its freshest officers and men, to assist the relieving brigade (the 7th Australian Brigade) who was now to come under fire for the first time. The Canterbury Battalion therefore left behind it three officers and eighty-two other ranks, including thirty Maoris and twenty-eight machine-gunners, and embarked with a strength of nine officers and two hundred and thirty other ranks. On 16 September Private Burgess, suffering from the rigours of serving at the front, was admitted to No.3 Australian General Hospital at Mudros suffering from dysentery. It was here that he died on 8 October, as a result of dysentery and diphtheria. His body was later buried by Rev CA Talbot in the Portianos Military Cemetery, Lemnos, Greece.
After the war his father was sent Arthur's service medals: the 1914-1915 Star, British War Medal and Victory Medal, along with a scroll and plaque. Later in 1967 the family was sent his Gallipoli Medallion to further honour his service. Arthur's name is commemorated on the Timaru Memorial Wall, Fairlie Primary School War Memorial and Mackenzie War Memorial Fairlie.
Sources
Auckland War Memorial Museum Cenotaph Database (November 2015); Military personnel file, Archives New Zealand; New Zealand ANZACs in the Great War 1914-1918 (University of New South Wales) at https://nzef.adfa.edu.au/showPerson?pid=33741; New Zealand War Graves Project at https://www.nzwargraves.org.nz/casualties/arthur-clements-burgess; Letter to the editor in the Timaru Herald 24 April 1915 and "Roll of honour" in the Timaru Herald 8 October 1920, courtesy of Papers Past at https://paperspast.natlib.govt.nz/; "Georgine Jan Burgess" biography on Te Ara at https://teara.govt.nz/en/biographies/1b47/burgess-georgina-jane (accessed October 2019)
External Links
Related Documents
No documents available.
Researched and Written by
Carol Bell, SC branch NZSG & Timaru Herald; Ted Hansen, SC branch NZSG
Currently Assigned to
Not assigned.
Licensed under a Creative Commons Attribution-NonCommercial 4.0 International License unless otherwise stated.
Tell us more
Do you have information that could be added to this story? Or related images that you are happy to share? Submit them here!