BELL, Cameron
(Service number 10/2070)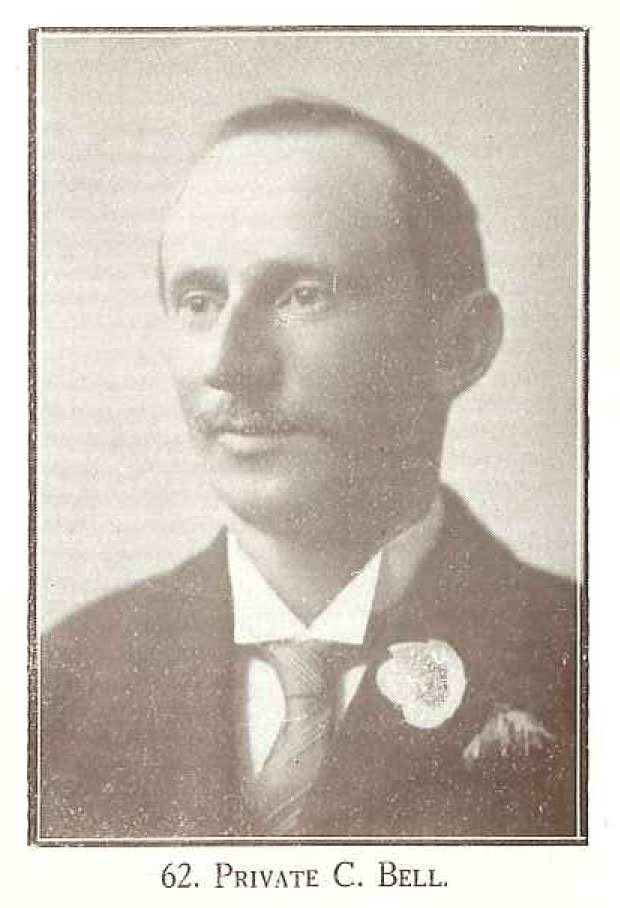 Aliases
First Rank
Private
Last Rank
Private
Birth
Date
2 February 1877
Place

of Birth

Timaru, New Zealand
Enlistment Information
Date
15 February 1915
Age
38
Address

at Enlistment

Dannevirke
Occupation
Labourer

Previous

Military Experience
Marital Status
Single
Next of Kin
Francis Henry. Bell (brother), Fairlie
Religion
Anglican
Medical

Information

5 foot 7 inches tall, weight 150 pounds (68kgs), chest 33-37 inches, dark complexion, brown eyes, black hair and good teeth.
Military Service
Served with
NZ Armed Forces
Served in
Army

Military

District
Embarkation Information
Body

on Embarkation

4th Reinforcements
Unit

, Squadron, or Ship

Wellington Infantry Battalion
Date
17 April 1915
Transport
HMNZT21 Willochra

Embarked

From
Wellington, New Zealand
Destination
Suez, Egypt
Other Units

Served With

Last Unit

Served With

Wellington Infantry Regiment, 1st Battalion
Military Awards
Campaigns
Egypt, Gallipoli, Western Europe
Service Medals

Military

Awards
Award Circumstances and Date
No information
Prisoner of War Information
Date of Capture
Where Captured

and by Whom

Actions Prior to Capture
PoW Serial Number
PoW Camps
Days Interned
Liberation Date
Hospitals, Wounds, Diseases and Illnesses
8 August 1915 - admitted 2 Field Ambulance - gunshot wound, shoulder; transferred to Casualty Clearing Station (CCS), Mudros; 18 August - transferred to Convalescent Camp, then to Austrialian Stationary Hospital - influenza; 6 October 1915 - Lowland Convalescent Hospital - discharged to Australian Rest Camp; 3 December 1915 - admitted to 3 Australian Hospital - jaundice; 27 December transferred to Lowland CCS. 11 Jan 1916 - on HMHS Asturias to NZ General Hospital, Cairo - admitted 14 January; transferred to 3 CCS, Zeitoun on 21 January; discharged 18 March 16.
Post-war Occupations
Death
Date
27 September 1916
Age
39
Place

of Death

Somme, France
Cause
Killed in action
Notices
Memorial or Cemetery
Stone Number 7, Caterpillar Valley (NZ) Memorial, Caterpillar Valley Cemetery, Longueval, Somme, France
Memorial Reference
N

ew

Z

ealand

Memorials
On Memorial wall, Timaru; Fairlie Primary School War Memorial; Fairlie War Memorial
Biographical Notes
Cameron was born at Timaru on 2 February 1877, the second son of Alexander (b.1843) and Mary Philadelphia (nee Williams) Bell. Cameron was admitted to the Timaru Main School from 16 March to 19 June 1885, before leaving for Christchurch. He possibly also attended the Fairlie Primary prior to 10 February 1890 when he was admitted to the Lyttelton School along with his brother Arthur, their guardian being listed as A.C. Newton (address "Orphanage"). Cameron's last day at Lyttelton is recorded as 12 March 1890, destination work.
Cameron's mother Mary was born in Tavistock, Devon, England, in 1858. She married Alexander Bell in Timaru on 9 August 1874, and had three sons: Arthur in 1875, Cameron in 1877, and Francis Woolstead in 1878. Alexander was the proprietor of the billiard room at the Ship Hotel and appears to have been a bit of a bad egg. The Timaru Herald mention his name regarding various situations – including being charged with a shooting with intent to kill on 12 March 1878. After a failed appeal in December he was sentenced to three years imprisonment in the Lyttelton Goal. He was again charged on 5 January 1882, this time for failing to support his wife and family, receiving another three months with hard labour. After this he seems to disappear from the scene. Cameron's mother Mary re-married, to Frederick John Slow at Fairlie on 25 August 1886. The couple went on to have four more children: Frederick John in 1887, Maud Beatrice in 1889, Ballance Seddon McKenzie in 1893, and Ernest in 1891.
In 1900 Cameron was working in the Waitaki, Otago region as a labourer, and 1905 at Palmerston North. He was medically boarded at Timaru on 9 January 1915, signing his enlistment papers at Trentham on 15 February. He was possibly at home in Fairlie during this time and left with the Timaru men a few days earlier on 13 February. He stated on his papers that he was then working as a labourer for Mr TH Hunter at Dannevirke and gave his age as 35, with his birth date being 29 January 1879. His actual age was 38, and date of birth was 2 February 1877. He possibly falsified the date to increase his chances of being accepted as at this time the maximum age requirements had recently been increased from 35 to 40 years. His papers described him as being single, Anglican, aged 35 (actually 38), 5 foot 7 inches in height, weighing 150 pounds (68kgs), with a chest measuring 33-37 inches, a dark complexion, brown eyes, black hair and good teeth. At Trentham he undertook basic infantry training, followed by more advanced training locally and at satellite camps in the lower North Island.
Private Bell left New Zealand from Wellington on 17 April 1915, with the 4th Reinforcements, Wellington Infantry Battalion aboard HMNZT 21 "Willochra", in convoy with HMNZT 22 "Knight Templar" and HMNZT 23 "Waitomo". A total of 2,254 men travelled in this convoy, arriving in Egypt on 25 May. Here they marched in to camp at Zeitoun where training continued in the desert, and with the odd spot of leave in Cairo. By now reinforcements were desperately needed at Gallipoli and so Private Bell joined his battalion at ANZAC Cove on 21 July. At this time they were at Rest Gully near Courtney's getting ready to take Hill 971 (the highest peak of the Sari Bair range, 971 feet (296 metres) high. Known to the Ottomans as Koja Chemen Tepe). The attack began on 6 August, starting well, but delays meant not all the infantrymen had reached Rhododendron Spur by the time the assault on the summit started next morning. After the Auckland Battalion tried and failed, Colonel Malone insisted that the Wellingtons' attack should be delayed until after nightfall. The Wellington Battalion occupied the summit before dawn on 8 August. With sunrise came a barrage of fire from Ottoman Turks holding higher ground to the north. A desperate struggle to hold Chunuk Bair ensued. By the time the Wellingtons were relieved that evening, only 70 of the battalion's 760 men were still standing. Malone was one of the casualties, killed by an Allied shell about 5 p.m. Ottoman forces recaptured the position on 10 August from British troops who had relieved the New Zealanders. It was during this attack that Private Bell was first reported as missing, but was later that day admitted to No.2 Field Ambulance with a gunshot wound to his shoulder. He was transferred to the Casualty Station on Mudros the same day.
On 18 August Bell was sent to the Convalescent Camp before being moved to the Australian Stationary Hospital with influenza. By 20 September he was well enough to re-join his unit who were resting on Mudros. He was once again admitted on 6 October, this time to the Lowland Convalescent Hospital, before being discharged to the Australian Rest Camp on 23 October. On November 28 he was attached to the ANZAC Admin Base before admission with illness again on December 3, this time to No3 Australian Hospital with jaundice. He returned to the Lowland Casualty Clearance Station on 27 December. A fortnight later, on 11 January 1916, he left Mudros aboard HMHS "Asturias" for the NZ General Hospital at Cairo where he was admitted three days kater. Transfer followed to 3 Casualty Clearance Station at Zeitoun on 21 January. Finally, almost two months later he re-joined his unit again at Ismailia on 18 March.
On 6 April 1916, the 1st Battalion left Moascar Camp, proceeding by train to Alexandria where they embarked on HM Troopship "Arcadian" for Marseilles. Arriving on 12 April, the battalion immediately entrained for the north of France, where they marched into billets at Estaires. By early May the battalion moved in the front line at Armentieres. Between May and the NZ Division withdrawing from the sector mid-August, they received their fair share of intense bombardment, gas attacks and enemy raids. During this period Private Bell found time to get into a bit of trouble. On 23 July he forfeited eight day's pay for being absent without leave. He was again in strife as on 4 September he was given 21 days "Field Punishment No.2" for drunkenness. The battalion remained at Fricourt and Airaines until 2 September 1916, when they marched out for the Somme. At 6.20am (zero hour) on 15 September the battle of Flers-Courcelette began with an artillery bombardment which increased to such an extent never seen before by our troops. The first wave of troops went over the top at 6.40am and was met with a hail of German fire. This was the first battle to involve the use of tanks. The tanks did not arrive in time for the first wave of attack but several were available for later attacks in the morning. The Somme battle was New Zealand's first major engagement on the Western Front and its most costly. Of the 18,000 men of the NZ Division, more than one in nine was killed, and about one in three were wounded. On the morning of 16 September the Wellington's moved forward to seize part of another defence system at Grove Alley. The battalion moved up on September 24 to Flers Trench and the Flers Support Trench to act as reserve for the brigade. At midnight of 26 September they moved to the Link Trench, a short trench stretching from Ligny Road to Grove Alley. On the morning of the 27th they were selected by the enemy for heavy shelling suffering heavy casualties - one of these lost being Private Bell.
Unfortunately Private Cameron Bell has no known grave, his name instead being listed on the Caterpillar Valley (NZ) Memorial, Caterpillar Valley Cemetery Longueval, Somme, France. After the war his mother Mrs F Slow of Fairlie, was forwarded his medals which included the 1914-1915 Star, Victory Medal and British War Medal along with a scroll and plaque. Cameron's name is commemorated on the Timaru Memorial Wall, Fairlie Primary School War Memorial and Fairlie War Memorial.
Three of Cameron's half-brothers also served during this war: 32397 Lance Corporal Balance Seddon Mackenzie Slow served in the 1st Battalion Canterbury Infantry Regiment; 10/178 Private Edward (Ernest) Slow served with the Wellington Infantry Battalion on Gallipoli; and 2/1200 Bombardier Frederick John Slow served in the NZ Field Artillery. Frederick died of wounds on 21 October 1916, and is buried in the Dartmour Cemetery, Becordel, Becourt. France. Another brother, SA7602 Trooper Frances Henry Bell, served many years earlier as a member of the 9th New Zealand Mounted Rifles during the South African (Boer) War.
Sources
Auckland War Memorial Museum Cenotaph Database [November 2020]; New Zealand War Graves Project at https://www.nzwargraves.org.nz/casualties/cameron-bell; A Street near you at https://astreetnearyou.org/person/1462879/-; "Local and General" in Manawatu Herald 14 Sep 1915, "Resident Magistrates Court: Shooting with intent to kill" [Alexander Bell] in Timaru Herald 12 Mar 1878 and "Court of Appeal" in Timaru Herald 2 Dec 1878 [Alexander Bell - received 3 years imprisonment in Lyttelton Goal (Timaru Herald 18 Dec 1878 & 14 Jan 1879), "Resident Magistrates Court" in Timaru Herald 5 Jan 1882, "Moutoa Notes" in Manawatu Herald 25 Sep 1915, and "In memorium" in Timaru Herald 27 September 1917, all courtesy of Papers Past at https://paperspast.natlib.govt.nz/
External Links
Related Documents
No documents available.
Researched and Written by
Carol Bell, SC branch NZSG & Timaru Herald; Ted Hansen, SC branch NZSG
Currently Assigned to
Not assigned.
Licensed under a Creative Commons Attribution-NonCommercial 4.0 International License unless otherwise stated.
Tell us more
Do you have information that could be added to this story? Or related images that you are happy to share? Submit them here!