SHAW, William Murray
(Service number 7/1656 (WWI); 3/25/408 (WWII))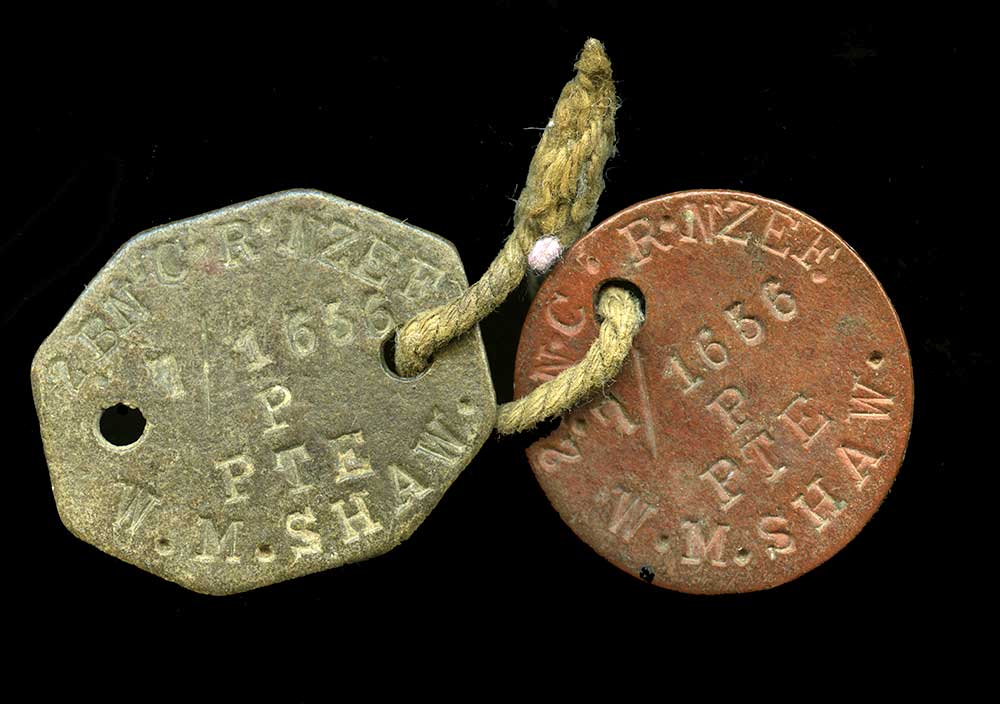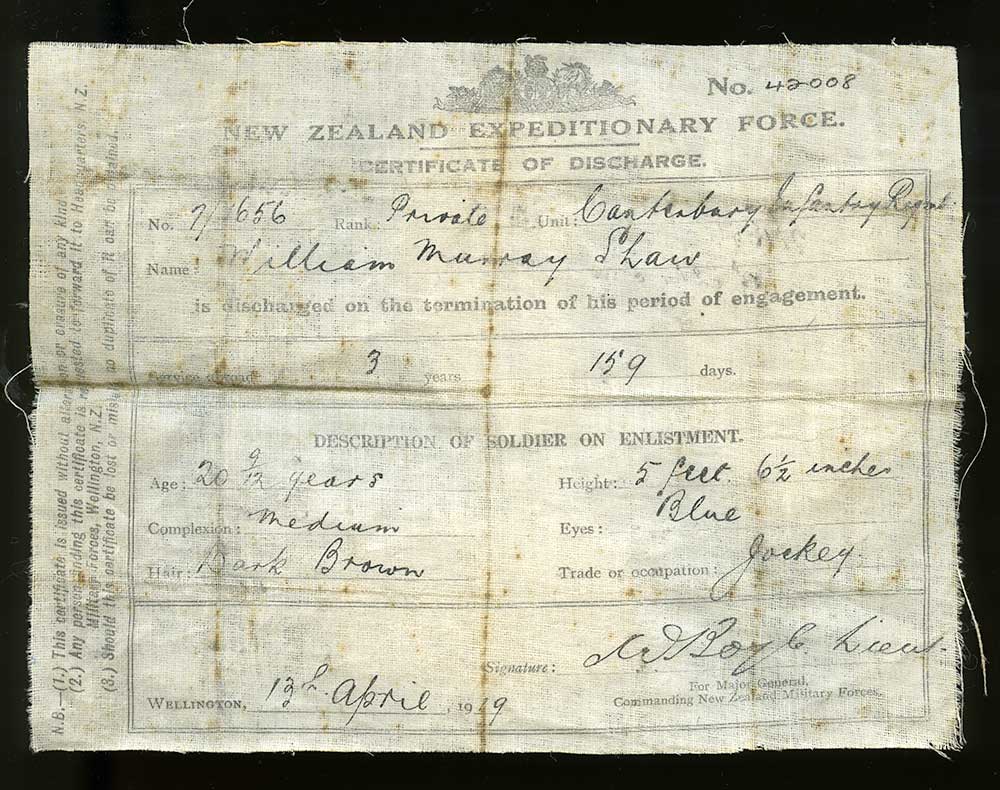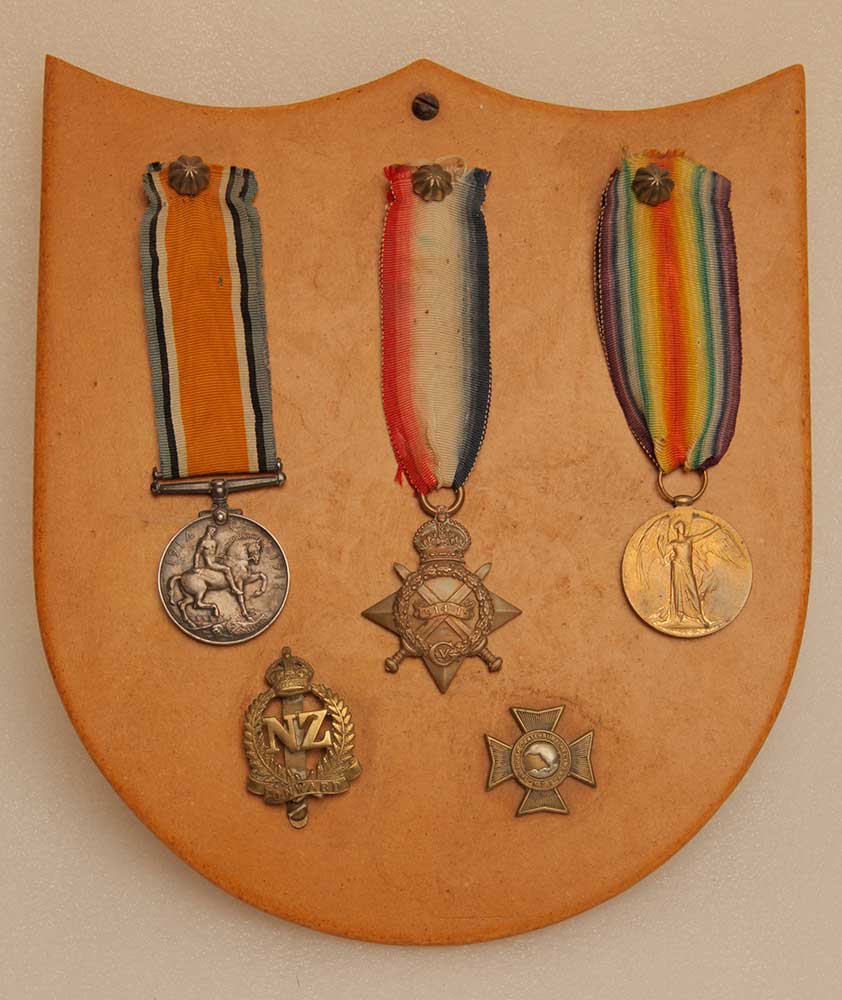 Aliases
First Rank
Trooper
Last Rank
Private
Birth
Date
14 November 1894
Place

of Birth

Fairlie, South Canterbury, New Zealand
Enlistment Information
Date
25 August 1915 (WWI); 27 March 1940 (WWII)
Age
20 (WWI); 45 (WWII)
Address

at Enlistment

Care of F. Stocker, Washdyke, New Zealand
Occupation
Jockey - WW1 Labourer - WW2

Previous

Military Experience
Marital Status
Single - WW1 Married - WW2
Next of Kin
William Shaw (father), High Street, Timaru, New Zealand
Religion
Non Conformist
Medical

Information

5 foot 6 1/2 inches tall, weight 121 pounds (55 kgs), chest 31-34 inches, complexion between dark and fair, blue eyes, dark brown hair, teeth fair, 2 small scars 1/2 inch apart to left of right nipple
Military Service
Served with
NZ Armed Forces
Served in
Army

Military

District
Embarkation Information
Body

on Embarkation

Canterbury Mounted Rifles, C Squadron
Unit

, Squadron, or Ship

7th Reinforcements
Date
9 October 1915
Transport
HMNZT 32 Aparima, or HMNZT 33 Navua, or HMNZT 34 Warrimoo

Embarked

From
Wellington, New Zealand
Destination
Suez,Egypt (arrived 17 November 1915)
Other Units

Served With

2nd Canterbury Battalion (WWI); 3rd Canterbury Regiment (WWII)
Last Unit

Served With

2nd Canterbury Battalion ( WWI); 3rd Canterbury Regiment (WWII)
Military Awards
Campaigns
Egypt & Western Europe (WWI); Home Service (WWII)
Service Medals
1914-1915 Star, British War Medal & Victory Medal - WW1 1939-1945 War Medal & NZ War Service Medal - WW2

Military

Awards
Award Circumstances and Date
No information
Prisoner of War Information
Date of Capture
Where Captured

and by Whom

Actions Prior to Capture
PoW Serial Number
PoW Camps
Days Interned
Liberation Date
Discharge
| | | | |
| --- | --- | --- | --- |
| Date | 13 April 1919 (WWI); 31 December 1941 (WWII) | Reason | End of engagement (WWI); Medical downgrade (WWII) |
Hospitals, Wounds, Diseases and Illnesses
10 February 1916 - 1st Australian Stationary Hospital - appendicitis. 10 to 22June 1916 - 2 NZ Field Hospital - influenza. 16 September 1916 - No.5 Stationaru Hospital, Abbeville - gunshot wounds; 22 September transferred to 1 NZ Generasl Hospitsal, Brockenhurst, England; 3 October transferred to Convalesent Hospital, Hornchurch; - discharged to Command Depot, Codford, on 11 November 1916. 28 November 1916 to 8 January 1917 - admitted to Codford Hospital. 18 February 1918 - 3 NZ Field Ambulance - severely gassed; transferred 20 February to No.1 Canadian General Hospital, Etaples 2 February 1918 - transferred to 1 NZ General Hospital, Brockenhurst, England; discharged Torquay 20 April; to Convalescent Depot, Codford, 31 May. 11 to 17 September 1918 - Military Hospital, Tidworth - tonsillitis.
Post-war Occupations
Whip, Farm Hand & Labourer
Death
Date
7 April 1978
Age
83
Place

of Death

Christchurch, New Zealand
Cause
Notices
Dept of Internal Affairs 24 April 1978
Memorial or Cemetery
Timaru Cemetery
Memorial Reference
General Section, Row 57, Plot 1306
N

ew

Z

ealand

Memorials
Biographical Notes
William, the eldest of eleven children of William (1849-1937) and Janet (1873-1937, nee Murray) Shaw, was born at Fairlie on November 14, 1894. Both his parents were born in Scotland and had married in Timaru in 1890. After education at the Waimataitai and Timaru Main Schools, William (junior) began work as an apprentice jockey for Mr F. Stocker at Washdyke, and was granted his jockeys licence by the Canterbury Jockey Club in September 1914.
On August 25, 1915, at the age of 20, William enlisted into the Canterbury Mounted Rifles. He was of a light build being 5 foot 6 ½ inches tall, weighing 121 pounds (55 kgs), his chest measured 31–34 inches, his complexion being between dark and fair, blue eyes, dark brown hair, fair teeth, and having two small scars ½ an inch apart to the left of his right nipple. After initial training at Featherston Camp, Trooper Shaw embarked with the 7th Reinforcements, C Squadron, Canterbury Mounted Rifles (CMR) from Wellington on October 9, 1915, aboard either the troop transport Aparima, Navua or Warrimoo. This convoy also consisted of the Maunganui and Tahiti. The convoy arrived in Albany, Western Australia on October 21 where they linked up with the Australian contingent. The convoy then sailed on to Colombo, arriving on November 4 where the troops had a short shore leave before final disembarkation at Suez, Egypt on November 18, 1915. Here the unit marched in to Zeitoun Camp where it joined up with the CMR troops who had returned from Gallipoli and continued with training.
In January 1916 the Mounted Rifles left for the Canal Zone with the aim of defending Egypt against the Ottoman Turks. William was admitted to the 1st Australian Stationary Hospital at Ismailia on February 10 with appendicitis, then transferred to the NZ General Hospital at Zeitoun on March 3, 1916. Meanwhile there had been arrangements for the establishment of a NZ Division and the 2nd Infantry Brigade came into being with one of the new battalions created was the 2nd Canterbury Battalion. After his discharge from hospital Trooper, now Private Shaw, was posted on March 26 to the new battalion at Moascar, and on April 7, sailed with the NZEF for France.
On arrival at Marseilles they moved by train up to the Armentieres area, a journey of between sixty and seventy hours, but its tediousness was relieved by the beauty of the French countryside compared to the bareness of the desert. Here training in trench warfare continued in the so called quiet area. But, on June 10, William was admitted to No 2 NZ Field Hospital with influenza before rejoining his unit on June 22. The Division left this area in August 1916 and moved to the Somme. The opening attack of the third phase of the Somme Battle took place on September 15, 1916. On September 16, William was wounded in action and admitted to No 5 Stationary Hospital at Abbeville on September 17 with gunshot wounds, before being sent to England on September 22 and admitted to 1 NZ General Hospital at Hornchurch. From here he was transferred to the Convalescent Hospital at Hornchurch on October 3 before discharge to the Command Depot at Codford on November 11. From November 28, 1916, to January 8, 1917, William was a patient at the hospital at Codford, before moving to Tidworth Camp. On January 29, he was posted to the 3rd Reserve Battalion at Sling Camp before returning to Etaples, France, on March 3, 1917.
From Etaples he rejoined his unit in the field on May 25 which was by now in the Messines area. By the end of July 1917, the battalion was involved in the Third Battle of Ypres, and the drive on to Passchendaele. Many New Zealand families suffered multiple tragedies at Passchendaele in October of 1917. There were about 3700 NZ casualties, including 950 men either dead or mortally wounded, 1176 New Zealanders are named on the Memorial to the Missing at Tyne Cot Cemetery in Belgium. October 12, 1917, in terms of lives lost in a single day, is the blackest day in New Zealand's history.
From January 8 to 25, 1918, William was granted some well-deserved leave in England, before returning to France where trench warfare was at a stalemate. On February 18, he was severely gassed and admitted to 3 NZ Field Ambulance, then sent to No 1 Canadian General Hospital at Etaples on February 20. He was then transferred to England on the Hospital Ship "Stad Antwerpen" on February 2, and admitted to No 1 NZ General Hospital at Brockenhurst on February 4. He was then discharged to the Discharge Depot at Torquay on April 20, before transfer to the Convalescent Depot at Codford on May 31. An article in the Timaru Herald dated March 5, 1918, reported "Mr W. Shaw, High Street, Timaru, has received advice that his son, William Murray Shaw, was admitted to hospital in France on February 20th severely gassed. Private W.M. Shaw was previously wounded and returned to the firing line." August 22, 1918, saw him posted to the Reserves at Sling Camp from where, on September 11, he was admitted to the Military Hospital at Tidworth with tonsillitis before being discharged back to Sling Camp on September 17.
With the war coming to a close Sling Camp became a repatriation centre for troops, housing some 4600 men. Because of delays in demobilising, and trying to maintain order, a spit and polish regime and route marching was enforced. This caused considerable unrest and the men requested a relaxation of discipline as the war was over. When this was refused rioting broke out - food was stolen from the messes and alcohol from the officer's mess. In an attempt to resolve the situation, the officers and men were promised no repercussions, but this promise was not honoured; and somewhat ironically the ringleaders were arrested, jailed and immediately shipped back to New Zealand. To otherwise occupy them, the NZ soldiers were put to work carving the shape of a large Kiwi in the chalky hillside that overlooked the camp. This is known as the Bulford Kiwi, and is still there today. Finally on February 1, 1919, William boarded the SS "Hororata" at London, arriving back in Wellington on March 15. The Canterbury men were then transported on the "Mararoa", arriving in Lyttelton the following day, where they were greeted by a howling nor'wester. Final discharge from the army took place on April 13, 1919, when William returned home to Timaru. For his total service of 3 years and 231 days, William was later awarded the 1914-1915 Star, British War Medal and Victory Medal.
In 1919 William was living at Claremont and employed as a Whip. On October 24, 1922, he married Elsie Watson (1899-1957), daughter of Thomas (1857-1934) and Elizabeth Ann (1865-1932 nee Temple) Watson of Ngapara near Oamaru. Electoral records show them, in 1928, living at Ngapara, where William was employed as a farm labourer, in 1935 at Island Cliff, Waitaki, farm hand, and in 1938 they were back at Gleniti, Timaru, where he was employed as a labourer.
In 1940 he was living at 8 Coonoor Road, Timaru, employed as a labourer by the Timaru Borough Council, when on March 27, he was again attested for war service. Taken on strength of the 3rd Canterbury Regiment as 3/25/408 Private W.M. Shaw, he served on home service, until his discharge on December 31, 1941. For this service he was later awarded the 1939-1945 War Medal and New Zealand War Service Medal.
William and Elsie continued to live at the Coonoor Road address for some years, where Elsie died on February 3, 1957. Later after his retirement, in the early 1970's, William moved to 21 Wai-iti Road, Timaru. On April 7, 1978, at the age of 83 years, William died at Christchurch, and was buried with his wife Elsie in the General Section, Row 57, Plot 1306 of Timaru Cemetery.
Sources
Auckland War Memorial Museum Cenotaph Database [September 2017]; New Zealand ANZACs in the Great War 1914-1918 (University of New South Wales) at http://nzef.adfa.edu.au/showPerson?pid=231056; 'New Zealand Casulaties' in the Evening Star 29 September 1916 p7, photograph of wounded in the Otago Witness 8 November 1916 p36 (supplement), 'Roll of Honour: Casulaty List' in the Timaru Herald 5 March 1918 p5, 'Returning Soldiers' in the Sun 4 March 1919 p6, and 'Main Body Men: first draft returns' in the Timaru Herald 17 March 1919 p2, courtesy of Papers Past at https://paperspast.natlib.govt.nz/; Timaru District Council cemetery records at https://www.timaru.govt.nz/services/community-and-culture/cemeteries/cemetery-search
External Links
Related Documents
No documents available.
Researched and Written by
Ted Hansen, SC branch NZSG
Currently Assigned to
TH
Licensed under a Creative Commons Attribution-NonCommercial 4.0 International License unless otherwise stated.
Tell us more
Do you have information that could be added to this story? Or related images that you are happy to share? Submit them here!