WILLIAMS, William John
(Service number 40755)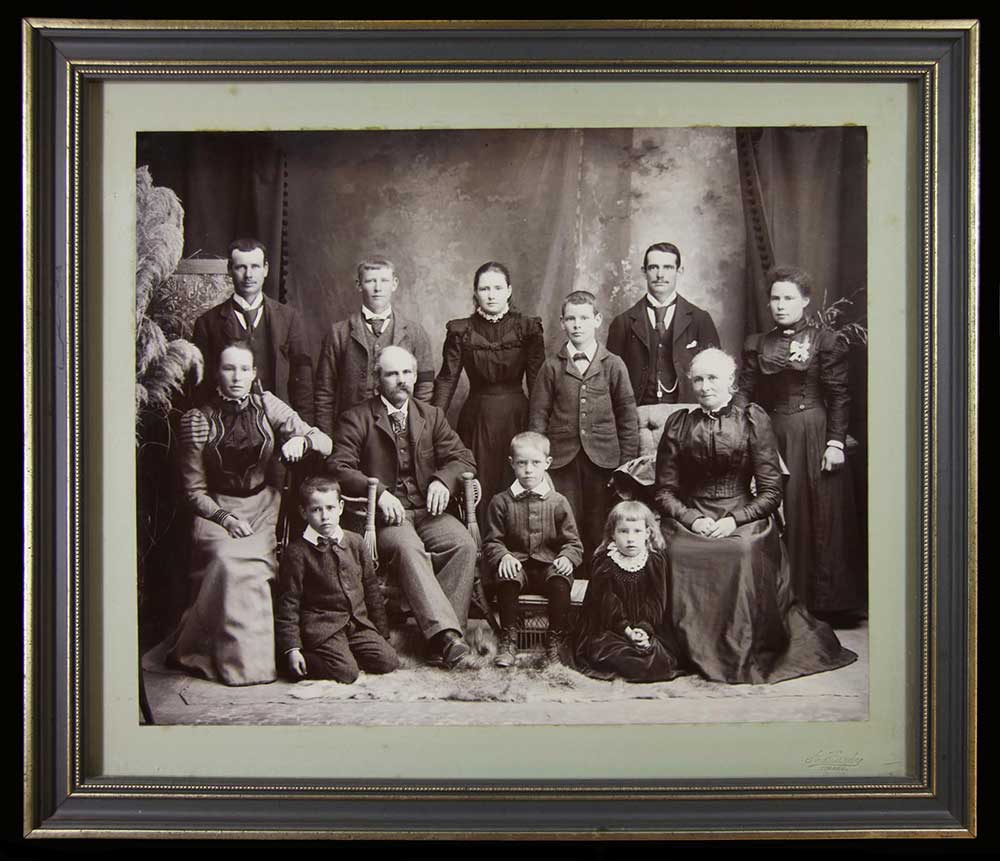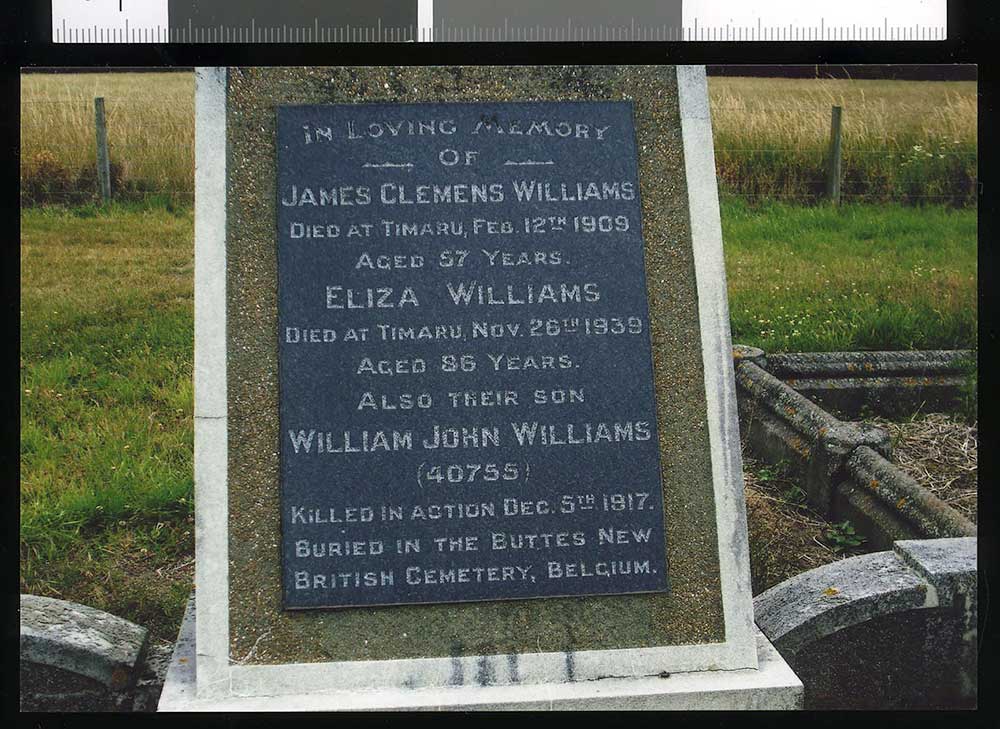 Aliases
Jack, John
First Rank
Lance Sergeant
Last Rank
Private
Birth
Date
17 July 1877
Place

of Birth

Penzance, Cornwall, England
Enlistment Information
Date
10 July 1916
Age
39 years
Address

at Enlistment

St Andrews
Occupation
Farmer

Previous

Military Experience
South Canterbury Mounted Rifles - 5 years (disbanded)
Marital Status
Single
Next of Kin
Mrs E. WILLIAMS (mother), Saint Andrews, Timaru
Religion
Presbyterian
Medical

Information

Height 5 feet 6 inches. Weight 143 lbs. Chest measurement 33½-36½ inches. Complexion swarthy. Eyes hazel. Hair brown & grey. Sight - both eyes 6/10. Hearing good. Colour vision normal. Limbs well formed. Full and perfect movement of joints. chest well formed. Heart and lungs normal. Illness - appendicitis. Free from hernia, varicocele, varicose veins, haemorrhoids, inveterate or contagious skin disease. Vaccinated. Good bodily and mental health. No slight defects. No fits. Has slight appendicitis - last attack 14 or 15 years ago, not operated on; there are no physical signs to be found now; can be regarded as cured now. Scar on right shin - abrasion 3 inches x 1¼ inches.
Military Service
Served with
NZ Armed Forces
Served in
Army

Military

District
Embarkation Information
Body

on Embarkation

New Zealand Expeditionary Force
Unit

, Squadron, or Ship

26th Reinforcements Canterbury Infantry Regiment, C Company
Date
9 June 1917
Transport
Willochra 

Embarked

From
Wellington
Destination
Devonport, England
Other Units

Served With

Last Unit

Served With
Military Awards
Campaigns
Western European
Service Medals
British War Medal; Victory Medal

Military

Awards
Award Circumstances and Date
No information
Prisoner of War Information
Date of Capture
Where Captured

and by Whom

Actions Prior to Capture
PoW Serial Number
PoW Camps
Days Interned
Liberation Date
Hospitals, Wounds, Diseases and Illnesses
Post-war Occupations
Death
Date
5 December 1917
Age
40 years
Place

of Death

Ypres, Belgium
Cause
Killed in action
Notices
Timaru Herald, 27 December 1917
Memorial or Cemetery
Buttes New British Cemetery (NZ) Memorial, Polygon Wood, Zonnebeke, West-Vlaanderen, Belgium; Otaio Cemetery, South Canterbury - memorial on family grave.
Memorial Reference
Otaio - eastern side of main row from gate.
N

ew

Z

ealand

Memorials
Timaru Memorial W; St Andrews War Memorial; Lyalldale War Memorial
Biographical Notes
William John Williams, known as John and familiarly as Jack, was the son of James Clemens and Eliza (née Hocking) Williams. Jack was born on 17 July 1877 at Penzance, Cornwall, England, and appears to have come to New Zealand with his parents not long after, the family settling in South Canterbury. He started at Pleasant Point School in November 1882, and from there went to Fairview and Beaconsfield (Pareora West) schools. Jack was a farm labourer on the Pareora Estate in 1900, moving afterwards to Springbank (or Springbrook), St Andrews. His father, a contractor at Springbank, died in 1909. Jack engaged in community activities in the St Andrews district. In 1905 a keen debate was held in the library at St Andrews between a team of debaters from Southburn and a local one. Jack Williams represented St Andrews (which was one man short), debating the subject "Who has advanced civilization most, the Missionary or the soldier?" The strict rules of debate had to be adhered to. The St Andrews team made much of the soldier's work and a very strong point was made of the military spirit in Japan and the advantages she had and was reaping at the present time. Much good talent was shown on both sides, the chairman remarking that it augured well for the young men of the district. The judge gave his decision in favour of Southburn.
In mid July 1914, just prior to the outbreak of war, the Territorials held their annual military ball at St Andrews. 'Favoured by a glorious night, and enticed by the prospects of a good evening's dancing, territorials and their many friends vied with each other in seeing who could be at the rendezvous first, and by starting time the hall was comfortably filled. Punctually at a quarter past eight, Major Wain, his partner, Miss Finch, on his arm, stepped forth for the grand march. . . . . . . . The first dance over, everyone settled down to the pleasure of the evening. About eleven o'clock a halt was called for supper, which was handed round by the territorials themselves, and they evidently enjoyed the experience. Directly after supper two extra waltzes were played. . . . . . Except during a short break about half past one, when refreshments were again handed round, dancing went on until half past three, the hour fixed tor the last dance, when all present joined in singing "Auld Lang Syne." Among the officers present were — Major Wain, Captain Robinson, and Captain Grant. . . . . . A noticeable feature of the evening was the untiring attention of those responsible for the comfort of their guests, complementary references being heard on all sides. The hall was tastefully decorated, flags and drawings being used to advantage, with here and there a mirror to add a finishing touch. The musical portion of the evening was entrusted to Miss Olive Williams's [Jack's sister] orchestra of four instruments, and was an entertainment in itself. The veteran "Jack" Williams acted as M.C. and had as floor stewards, Troopcr Hcskin and Private Williams. . . . . .' [Timaru Herald, 21 & 25 July 1914] Two cars of enthusiasts were present from Waimate, as well as visitors from Timaru.
W. J. Williams enlisted on 10 July 1916 at the Timaru Defence Office, when he was almost 39 years old. At that time he was a self-employed farmer residing at St Andrews, single and Presbyterian. He was in good bodily and mental health, with slightly defective sight. He had had slight appendicitis, the last attack being 14 or 15 years ago. He was not operated on and, since there were no physical signs to be found, he could be regarded as cured. He also had a scar on right shin – an abrasion 3 inches x 1¼ inches. Jack had previously served for five years with the South Canterbury Mounted Rifles until the unit was disbanded. He nominated his mother, Mrs E. Williams, of St Andrews, Timaru, as his next-of-kin. A farewell social and presentation to Sergeant W. J. Williams was held in the Springbrook School on 13 April 1917. A few days later, at a social in Southburn School, the local Sewing Guild presented a few woollen comforts and expressed the good wishes of the Guild to Sergeant Williams and two other soldiers, as they prepared to leave for the Front. The guests of the evening were heartily cheered and they replied suitably before proceedings were brought to a close with the singing of "Soldiers of the King" and the National Anthem.
On 15 November 1916 William John Williams had been posted Corporal with the Non-Commissioned Officers. He was promoted to Lance Sergeant in March, and on 16 June he was appointed Armoured-Sergeant for the voyage. On 9 June 1917 he embarked with the Canterbury Infantry Regiment of the 26th Reinforcements on the "Willochra" at Wellington and headed for Devonport, England. There in August he reverted to the rank of Lance Corporal. Marching out of Sling on 6 October 1917 Jack Williams went to France and got to join his battalion in France on 26 October. The next day he reverted to Ranks (Private) at his own request. "I beg to apply for reversion to the ranks to enable more experienced men to obtain Stripes." A considerate and humble man.
Casualty List 744, issued on 18 December 1917, was a heavy one. William John Williams was killed in action on 5 December 1917, after barely seven weeks at the front, at Ypres, Belgium, aged 40 years. He is remembered on the Buttes New British Cemetery (NZ) Memorial, Polygon Wood, Zonnebeke, West-Vlaanderen, Belgium. There is also a memorial on the family grave in the Otaio Cemetery, South Canterbury - memorial on family grave. Jack is also remembered on the Timaru Memorial Wall, St Andrews War Memorial and Lyalldale War Memorial. He was awarded the British War Medal and the Victory Medal which were sent to his mother who was still living at St Andrews. She also received the scroll and memorial plaque. Jack's will, made out on 30 August 1909 (six months after his father's death), names his brother Nicholas Hocking Williams as executor. He bequeathed £200 an dinsurance bonuses. To his brother Nicholas he left the remainder of his property and any share in land or stock, Nicholas having to pay all debts.
His brother Maddren (Tom) Williams served in World War I, and brothers, Richard and Edward Arthur, were called up. His cousin, Albert George Williams, also served in World War I. Jack was one of two men from St Andrews to be killed in the same conflict on the same day, the other being Peter Campbell. An In Memoriam notice for Sergeant W. J. Williams (St Andrews), killed Somewhere in France, was inserted by his mother, brothers and sisters in the Timaru Herald of 5 December 1918. It accompanies those for Sergeant Peter Campbell.
He left his home, the flower of youth,
He seemed so strong and brave,
We little thought how soon he would
Be laid in a hero's grave.
But the saddest blow is yet to come,
When the warriors all return;
And the mother looks for her darling boy
Who never will return.
They remembered again in 1920.
Sources
Cenotaph Database [25 September 2014]; NZ Defence Force Personnel Records (Archives NZ Ref. AABK 18805 W5557 0123104) [22 July 2014]; CWGC [07 March 2014]; Timaru Herald, 15 June 1905, 12 February 1910, 21 & 25 July 1914, 17 July 1916, 13 & 16 April 1917, 19 & 27 December 1917, 5 December 1918, 4 December 1920, New Zealand Times, 19 December 1917 (Papers Past) [08 March 1916; 04 & 05 May 2016; 04 December 2017]; Family Tree (ancestry.com.au) [09 March 2014]; Probate record (Archives NZ/FamilySearch) 20 June 2014]; School Admission records (South Canterbury Branch NZSG) [2014; 04 December 2017]; NZ Electoral Rolls (ancestry.com.au) [2014; 04 December 2017]
External Links
Related Documents
No documents available.
Researched and Written by
Teresa Scott, SC branch NZSG
Currently Assigned to
TS
Licensed under a Creative Commons Attribution-NonCommercial 4.0 International License unless otherwise stated.
Tell us more
Do you have information that could be added to this story? Or related images that you are happy to share? Submit them here!