WILLIAMS, Reginald Bealey
(Service number 7/2182)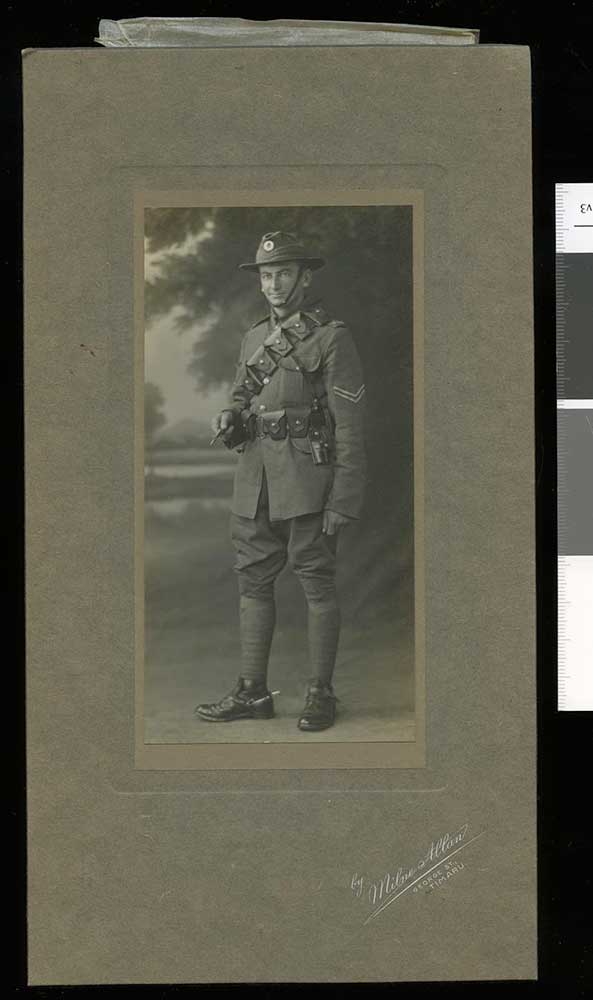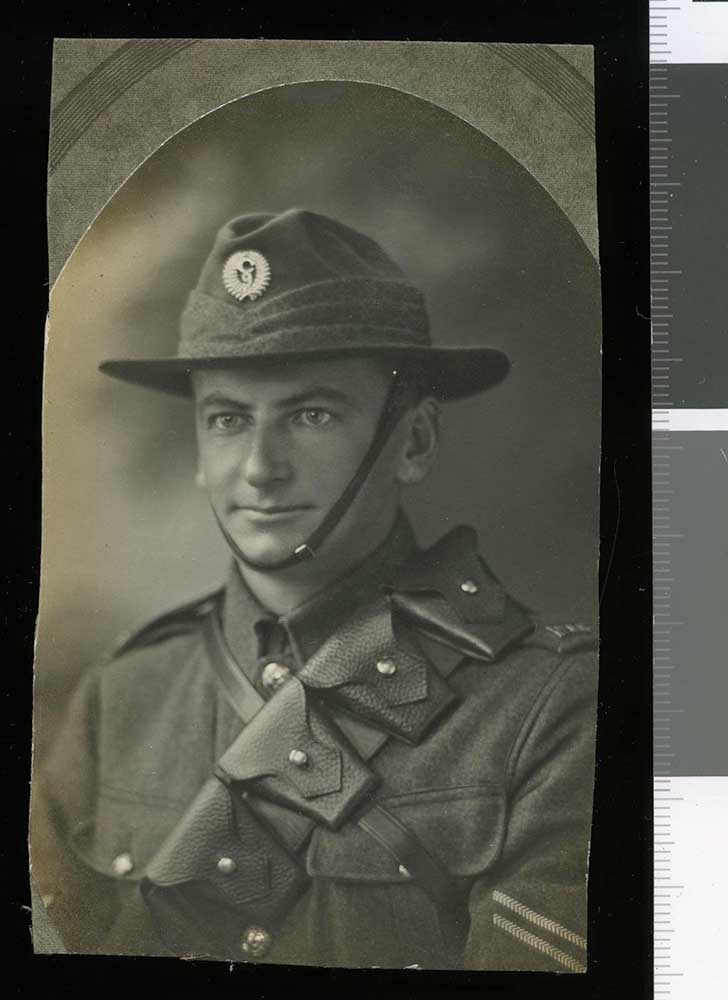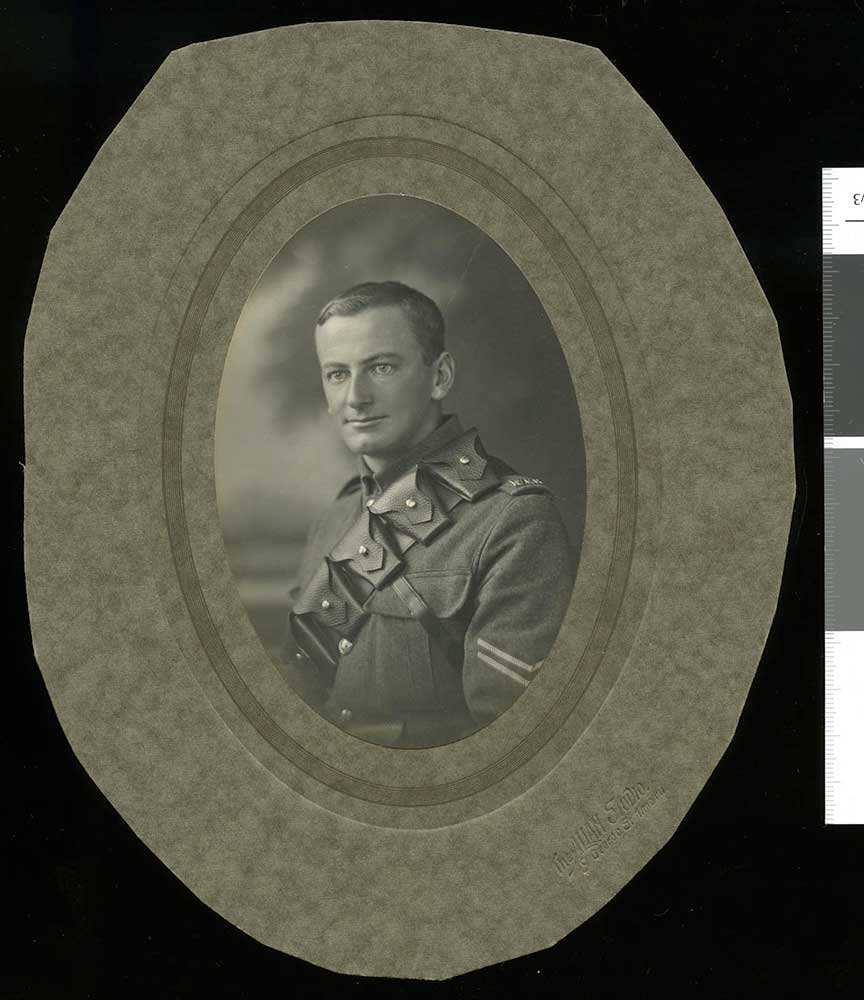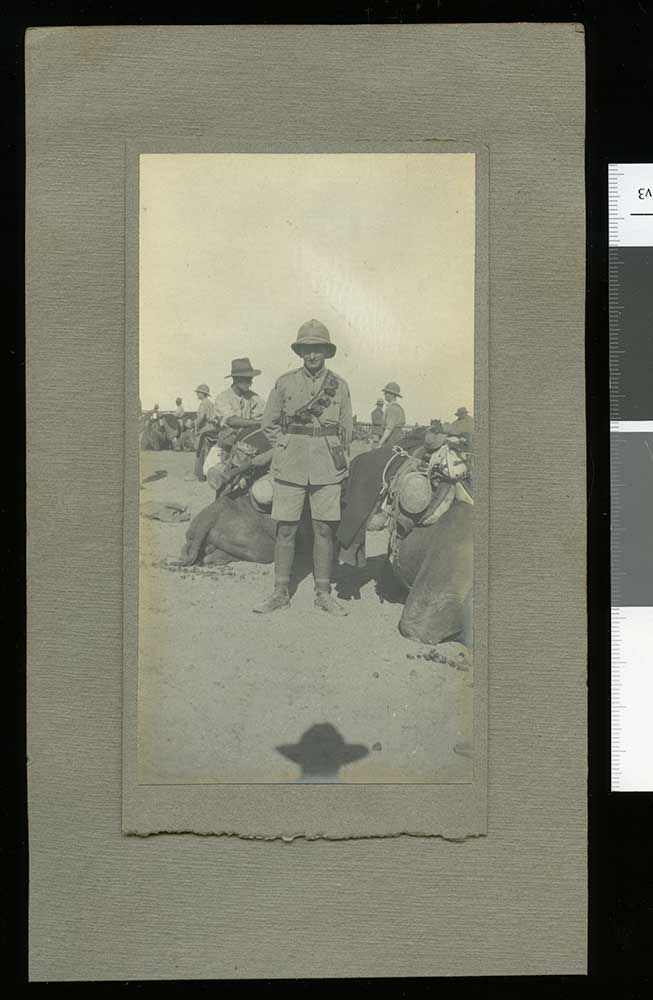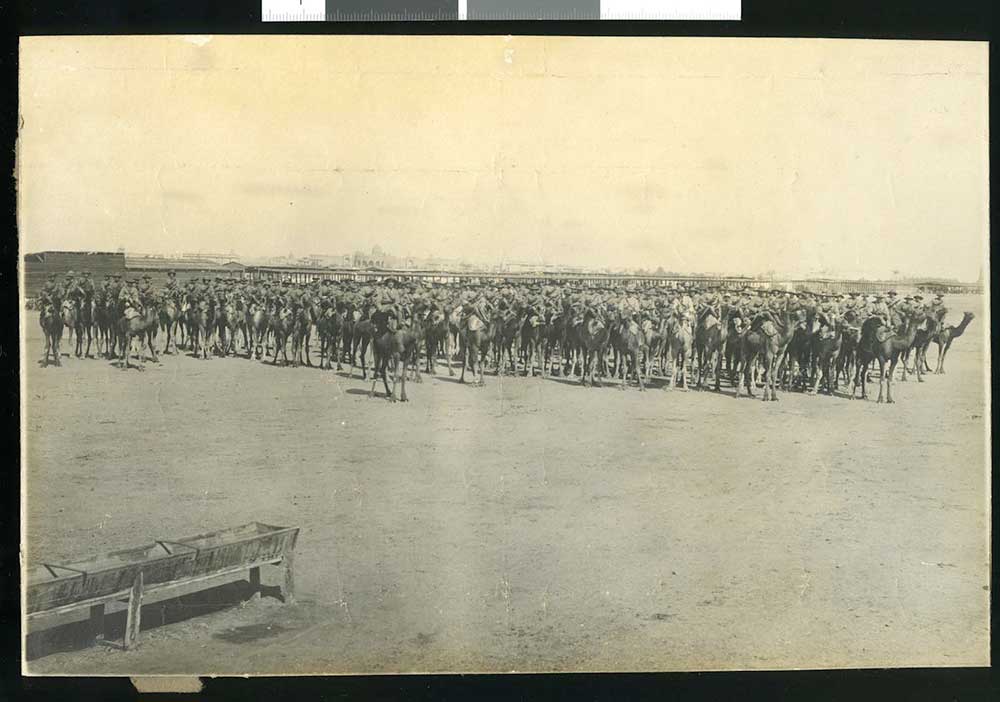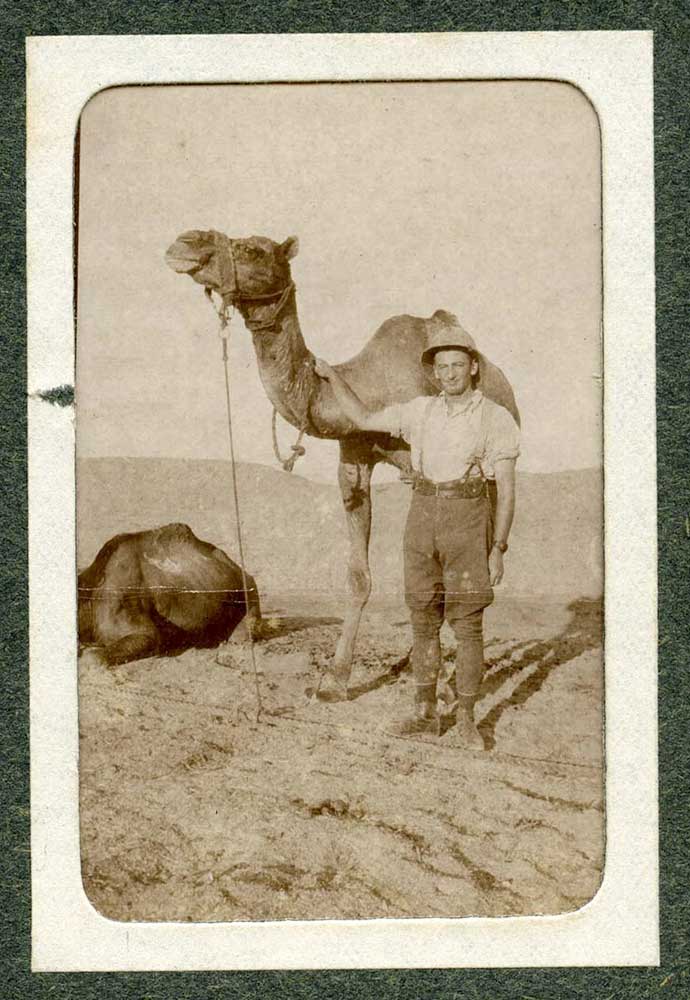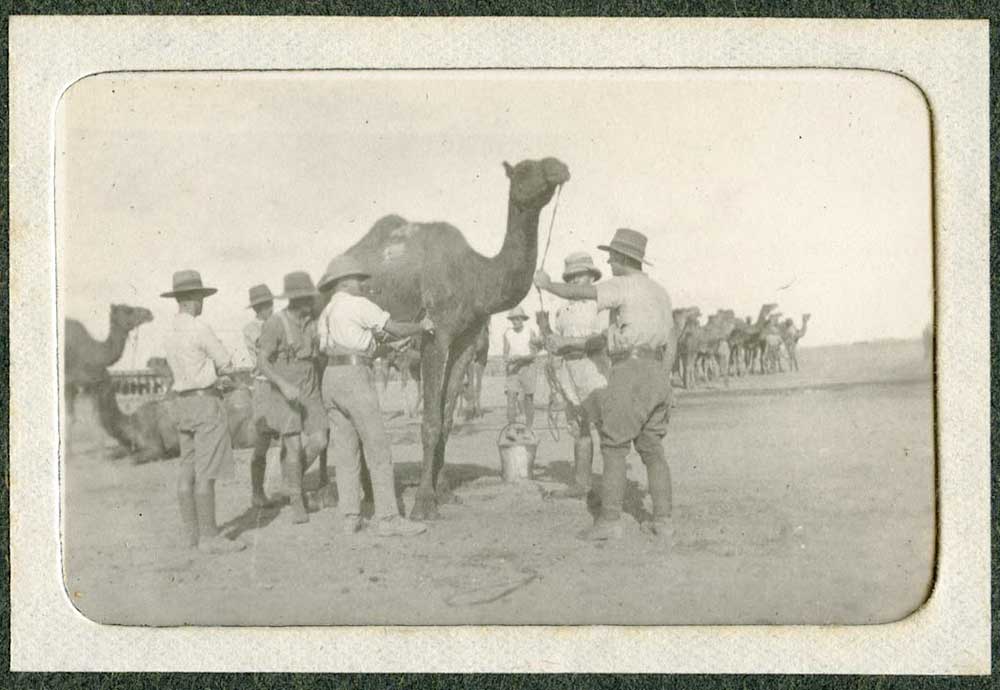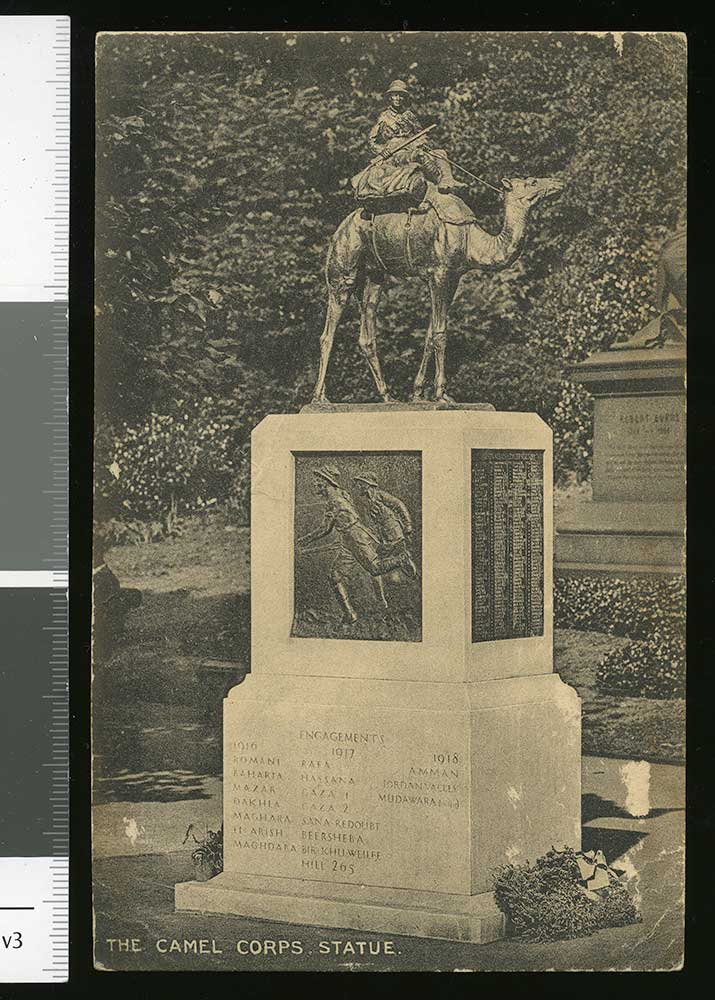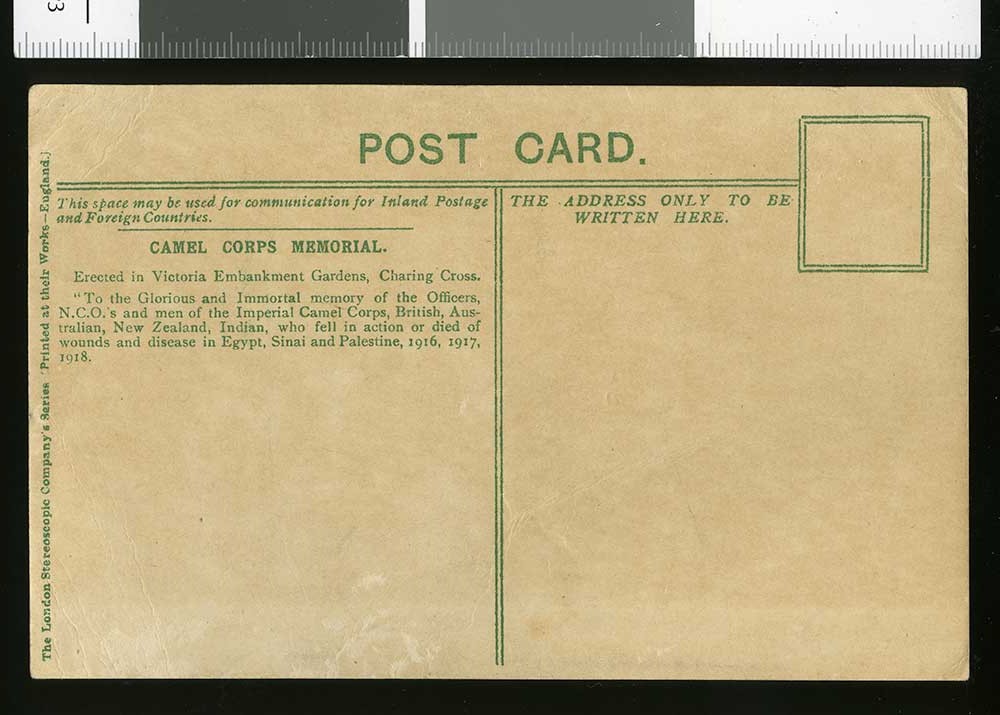 Aliases
Rex
First Rank
Trooper
Last Rank
Lance Corporal
Birth
Date
1 November 1887
Place

of Birth

Southbridge
Enlistment Information
Date
11 September 1915
Age
27 years 10 months
Address

at Enlistment

Charlcombe, St Andrews
Occupation
Farmer

Previous

Military Experience
Marital Status
Single
Next of Kin
Arthur Cuthbert WILLIAMS (father), Charlcombe, Saint Andrews, Canterbury
Religion
Church of England
Medical

Information

Height 5 feet 8 inches. Weight 171 lbs. Chest measurement 34½-37 inches. Complexion fair. Eyes grey. Hair brown. Sight and hearing both good. Colour vision correct. Limbs well formed. Full and perfect movement of joints. Chest well formed. Heart and lungs normal. Teeth - false upper & lower false except 4. Bronchitis - ? years ago. Free from hernia, varicocele, varicose veins, haemorrhoids, inveterate or contagious skin disease. Vaccinated. Good bodily and dental health. No slight defects. No fits.
Military Service
Served with
NZ Armed Forces
Served in
Army

Military

District
Embarkation Information
Body

on Embarkation

New Zealand Expeditionary Force
Unit

, Squadron, or Ship

9th Reinforcements Canterbury Mounted Rifles, C Squadron
Date
8 January 1916
Transport
Maunganui

Embarked

From
Wellington, N.Z.
Destination
Suez, Egypt
Other Units

Served With

Last Unit

Served With

Imperial Camel Corps
Military Awards
Campaigns
Egyptian
Service Medals
British War Medal; Victory Medal

Military

Awards
Award Circumstances and Date
No information
Prisoner of War Information
Date of Capture
Where Captured

and by Whom

Actions Prior to Capture
PoW Serial Number
PoW Camps
Days Interned
Liberation Date
Discharge
| | | | |
| --- | --- | --- | --- |
| Date | 23 March 1918 | Reason | No longer physically fit for War Service on account of illness contracted on Active Service. |
Hospitals, Wounds, Diseases and Illnesses
15 February 1916 admitted to hospital with measles; 22 April 1916 in hospital at Cairo with acute bronchitis; 5 May 1916 admitted to Convalescence Camp with acute rheumatism; 17 July 1916 admitted to No 17 General Hospital at Alexandria with bronchitis; 4 June 1917 admitted to No 2 Australian Stationary Hospital with diarrhoea; 7 June 1917 transferred to Cairo with diarrhoea, progress satisfactory; 4 August 1917 admitted to Convalescence Home at Heliopolis, with inflated stomach, satisfcatory; 5 September 1917 chronic diarrhoea; 12 November 1917 invalided home from the war.
Post-war Occupations
Farmer
Death
Date
11 July 1961
Age
73 years
Place

of Death

Timaru, N.Z.
Cause
Notices
Timaru Herald, 12 July 1961
Memorial or Cemetery
Esk Valley Cemetery, South Canterbury
Memorial Reference
N

ew

Z

ealand

Memorials
Biographical Notes
Reginald Bealey Williams, known as Rex, was the son of Arthur Cuthbert and Jane Pauline Harriet (née Lee) Williams. He was born on 1 November 1887 at Southbridge, and was educated at Southbridge School, at St Andrews (South Canterbury) School, when the family moved there in 1901, and at Christ's College, Christchurch. On 24 July 1907, a Christ's College football team stopped off at Timaru on their return to Christchurch from Dunedin, to play against a team of Christ's College Old Boys. That Old Boys team included both Reginald Williams and his brother Lawrence.
In May 1908, Mr R. Williams was second in the nail driving competition held at the bazaar organised by the St Andrews Church Guild. Both his parents were involved in the local church. Rex was a member of the St Andrews Rifle Club, and was especially active in 1909. He scored well in the competition for a trophy which was a Winchester repeater rifle, the trophy being won by his brother; and throughout the season he was regularly on the leader board. Later in the same month (January) he was a member of the team which hosted the South Canterbury Reserve Corps and won the match. The club was thanked for the kindly manner in which they had entertained the visitors and for the friendly match, such as created a deeper interest in rifle shooting. At the club's annual meeting and distribution of prizes, Mr RH Rhodes said he considered that Rifle Clubs were doing excellent work in aiding in the defence of the Dominion. How little would the members have contemplated what some would face a few years later! R. Williams was one of those who had donated prizes during the season.
By 1911 Reginald was farming at St Andrews. On 1 May 1914, at the fifth annual meeting of the St Andrews branch of the Farmers' Union, Mr RB Williams was elected a member of the branch.
His parents became regular supporters of the various war efforts. His father promised a saddle, bridle, cover, head rope, etc. for the war fund; he also donated to the pipe and tobacco fund for soldiers at the Front. Later in the war he was one who lent a car to convey returning soldiers to their homes in Timaru. Mrs Williams contributed a nurse's parcel. In late November 1915 Mr and Mrs Williams and their daughters hosted a party of wounded and invalided soldiers for afternoon tea on the lawn at their home and a demonstration of shearing in their shed. In August 1915 Mr AC Williams advertised his property. "Charlcombe Estate" at St Andrews, for private sale, his reason for selling being that his sons had volunteered for the front. Reginald's brothers Cuthbert Leslie Williams and Laurence Edward Williams also served in World War One, and the fourth brother in the family, Edward James Lee Williams, was later called up for service. In 1916 the property went to public auction but was passed in, and again in 1919; it was not until January 1920 that the block was sold (in two parts).
Reginald enlisted on 11 September 1915, passed the medical examination and was sworn in for service at the Front. Leaving Timaru in October 1915 to go into training camp, he was one of a large group who received a very enthusiastic farewell when they assembled in the drill shed for afternoon tea. The Ven. Archdeacon Jacob said that they were going to answer the call of duty and to help the brave boys who had gone before them and who were doing such splendid work. They were going to fight for King and country, to fight in the cause of right. They marched to the railway station, with the 2nd South Canterbury Regimental Band playing some soul-stirring patriotic airs. "Brave lads," said the Mayor in a voice broken with emotion, ". . . . . We are proud of you for the gallant way you have come forward to assist the Empire in its time of need, .. . . . You are going forward to fight .. . for truth, liberty and justice. . ."
Down on final leave from Trentham before departing for the front, Corporal Williams and two fellow soldiers were honoured at a gathering in the St Andrews Public Hall and presented with handsome wristlet watches, shaving sets and smokers requisites.
Before leaving New Zealand he was promoted to Lance Corporal then Corporal. Two months later he reverted to Lance Corporal and in April 1916 to trooper. He embarked on 11 January 1916 per the "Maunganui", with the Canterbury Mounted Rifles, destined for Egypt where he was to remain for the duration of his war service. A few days after reaching Suez, Reginald was admitted to hospital with measles. He suffered from debilitating illnesses throughout his time abroad – chronic bronchitis, acute rheumatism and diarrhoea. It was chronic diarrhoea which led to his being invalided home in November 1917.
It was in July 1916 that Trooper Williams transferred to the Imperial Camel Corps. In September 1916, when his brother Cuthbert was wounded, Rex was with the 3rd Battalion of the Imperial Corps in Egypt, while Lawrence was attached to the Headquarters Staff "Somewhere in France". The Imperial Camel corps was raised for service in the desert environment and grew to include four battalions, one of which included two companies drawn from the New Zealand Mounted Rifles, which took part in several battles in Egypt. The corps was disbanded in May 1919. Charles Edward Levett, a brother-in-law of RB Williams, also served in the Imperial Camel Corps; he was the one who, before he was killed in action in Palestine, photographed Rex and his camel.
RB Williams, 7/2182, arrived back in New Zealand just in time for Christmas 1917, coming by the "Wiltshire" and transferring to the "Manuka" in Australia. Though invalided home, it was reported that the men were in good fettle and many had benefited immensely from the sea trip. He was discharged soon after as he was no longer physically fit for war service on account of the illness he contracted while on service. Lance Corporal Reginald Bealey Williams was awarded the British War Medal and the Victory Medal.
Reginald returned to farming and lived initially near Temuka with his wife, Maud Helen née Levett, whom he had married in 1919. Their first child, a son, was born on 5 February 1920 at Whare Nana, Timaru. In 1926, when the home block came back into family ownership, Rex and his family returned to the St Andrews farm. He again became involved in local activities, being elected to the committee of the St Andrews Farmers' Union in 1929, and being appointed to the vestry of the Otaio and Bluecliffs Parish in 1929 and subsequent years. In 1935 at St Andrews, he was elected vice-president of the British and Foreign Bible Society.
At a meeting of the Farmers' Union in 1930, when the proposal to modify compulsory military training was discussed, Mr RB Williams said that personally he was a firm believer in Military training. He had been right through the war and knew the value of the training given to the youth of the country. He added that the new proposals would probably prove just as expensive but the welfare of the country should come first.
At the St Andrews gymkhana in January 1934, his horse named Overdraft won the Draught Horse Derby. Reginald was secretary and treasurer, and a committee member for the gymkhana. He filled the treasurer's office again in 1936. Later that year he was found selling 48 ewes at a good price at the Addington market.
Reginald died on 11 July 1961 at Timaru, pre-deceased by his wife and survived by two sons, Charles and Jock. He was laid to rest in St Mary's Churchyard at Esk Valley. Members of the Pareora-St Andrews RSA attended his funeral. His will, drawn up some fourteen years before his death, was comprehensive and made provision for his wife, his sons and his grandchildren and step-grandchildren.
Sources
Auckland War Memorial Museum Cenotaph Database [08 March 2014]; NZ Defence Force Personnel Records (Archives NZ Ref. AABK 18805 W5557 0122959) [21 October 2014]; Timaru Herald, 23 July 1907, 16 May 1908, 12 & 20 January 1909, 16 March 1909, 29 June 1909, 18 September 1909, 2 May 1914, 15 August 1914, 9 August 1915, 14 September 1915, 6, 14 & 21 October 1915, 27 & 29 November 1915, 20 December 1915, 27 September 1916, 27 December 1917, 9 February 1920, Dominion, 24 December 1917, 11 March 1919, Press, 8 May 1925, 4 & 30 May 1929, 5 April 1930, 2 June 1931, 16 January 1934, 13 September 1934, 24 August 1935, 14 January 1936 (Papers Past) [08 March 2014; 04 June 2014; 05 October 2014; 24 November 2015; 20 & 21 April 2016; 05 May 2016]; NZSG Cemetery Records (South Canterbury Branch NZSG microfiche collection) [23 March 2014]; Probate record (Archives NZ/FamilySearch) [20 June 2014]; SCRoll Web Submissions from J Williams, October-November 2014, 24 April 2016, & 10 April 2018; Timaru Herald, 12 July 1961 (Timaru District Library) [04 December 2015]; NZ Electoral Rolls (ancestry.com.au) [20 April 2016]; NZ BDM Indexes (Department of Internal Affairs) [21 April 2016]
External Links
Related Documents
No documents available.
Researched and Written by
Teresa Scott,South Canterbury branch NZSG
Currently Assigned to
TS
Licensed under a Creative Commons Attribution-NonCommercial 4.0 International License unless otherwise stated.
Tell us more
Do you have information that could be added to this story? Or related images that you are happy to share? Submit them here!