WILLIAMS, Herbert Stephen
(Service number 8/3790)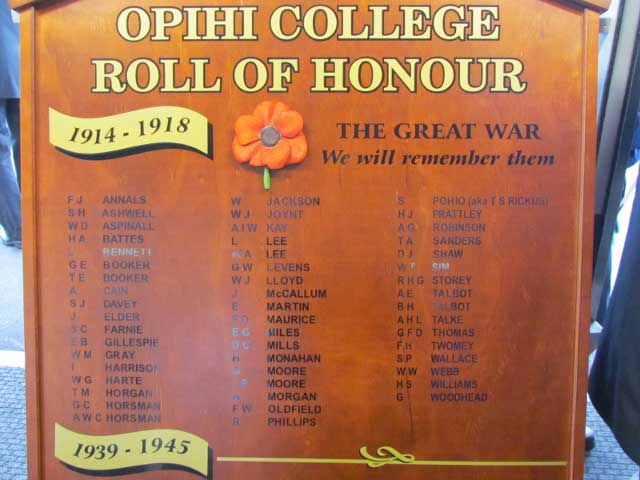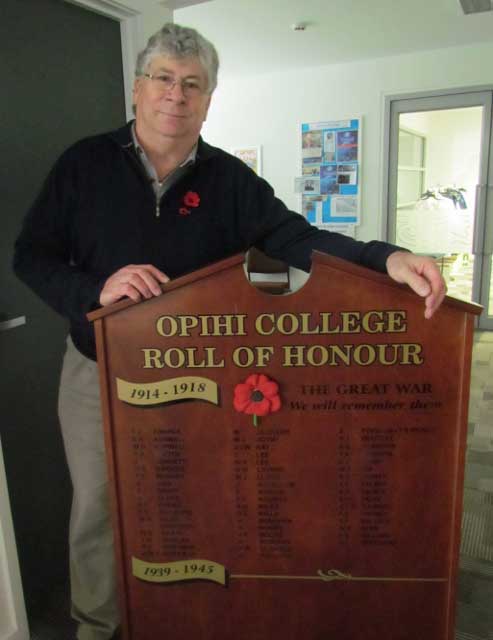 Aliases
Enlisted as Herbert Stevens WILLIAMS; also occurs as Herbert Stephens WILLIAMS.
First Rank
Private
Last Rank
Private
Birth
Date
23 September 1886
Place

of Birth

Temuka
Enlistment Information
Date
19 October 1915
Age
25 years
Address

at Enlistment

C/o Mrs Keish, North Rd, Oamaru
Occupation
Labourer (Woollen Mills)

Previous

Military Experience
Marital Status
Single
Next of Kin
Mrs E. R. WILLIAMS (mother), 58 John Street, Temuka. Later of 171 Bridge St, Temuka
Religion
Church of England
Medical

Information

Height 5 feet 6 inches. Weight 90 lbs. Chest measurement 33-37 inches. Complexion dark. Eyes brown. Hair dark. Sight, hearing and colour vision all good. Limbs nd chest well formed. Full and perfect movement of all joints. Heart and lungs normal. Teeth good. Free from hernia, variococele, varicose veins, haemorrhoids, inveterate or contagious skin disease. Vaccinated. Good bodily and mental health. No slight defects.
Military Service
Served with
NZ Armed Forces
Served in
Army

Military

District
Embarkation Information
Body

on Embarkation

New Zealand Expeditionary Force
Unit

, Squadron, or Ship

9th Reinforcements Otago Infantry Battalion, D Company
Date
8 January 1916
Transport
Maunganui

Embarked

From
Wellington
Destination
Suez, Egypt
Other Units

Served With

Last Unit

Served With

Otago Infantry Regiment
Military Awards
Campaigns
Service Medals
British War Medal; Victory Medal.

Military

Awards
Award Circumstances and Date
No information
Prisoner of War Information
Date of Capture
Where Captured

and by Whom

Actions Prior to Capture
PoW Serial Number
PoW Camps
Days Interned
Liberation Date
Discharge
| | | | |
| --- | --- | --- | --- |
| Date | 17 July 1917 | Reason | No longer physically fit for war service on account of pre-enlistment disability aggravated by active service. |
Hospitals, Wounds, Diseases and Illnesses
13 June 1916 admitted to No. 2 NZ Field Ambulance - stricture. 26 June 1916 sent to hospital, sick. 27 June 1916 admitted to No. 1 Convalescent Depot, Rouen. 14 July 1916 embarked for England - cystitis; admitted to Fulham Military Hospital, Grey Towers, London. 27 July 1916 admitted to Fulham Military Hospital, Grey Towers, London. September 1916 cable to family from Herbert in London that he had undergone a serious operation & was improving slowly. October 1916 cable received that he had undergone an operation for kidney trouble & was making fair progress towards recovery.By 27 October 1916 it was reported that the operation was for kidney stones & was successful, & he was doing well. Beginning of November admitted to Fulham Military Hospital - abscess liver. In January 1917 he was very ill but improving after his operation, and was facing another operation soon after. 22 January 1917 transferred to Walton-on-Thames Hospital - abscess liver. Altogether he had six operations in England. 15 February, England, finding of Medical Board - Classified unfit (renal fistula). In September 1917 he went to Hanmer Sanatorium for treatment; then underwent another operation in Christchurch Hospital. See Personnel File for details of illness, operations & hospitalization.
Post-war Occupations
Death
Date
17 September 1917
Age
30 years
Place

of Death

Christchurch Public Hospital
Cause
Kidney disease
Notices
Temuka Leader, 18 September 1917
Memorial or Cemetery
Temuka Cemetery
Memorial Reference
Services Section, Row 150, Plot 703
N

ew

Z

ealand

Memorials
Timaru Memorial Wall; Temuka War Memorial (addition, 2014)Opihi College Roll of Honour (created by David Ellena, 2015)
Biographical Notes
Herbert Stephen Williams, born on 23 September 1886 at Temuka, was the fourth son of Ragan and Emily (née Betteridge) Williams, of Temuka. Ragan and Emily had married in late 1873 in Gloucestershire, England, and must have come almost immediately to New Zealand, where the first of thirteen children was born in 1874. Along with his siblings, Herbert was educated at Temuka School, the family living at Arowhenua when he started in 1892. Herbert's father died on 31 October 1908, following a serious accident a few months before. He was either knocked off his bicycle or fell off when he came across a mob of horses when going home from work between 8 and 9 o'clock at night. He was taken unconscious to a private hospital in Temuka, having suffered concussion and a nasty scalp wound. He recovered, however, only to meet with another serious accident, in October 1908, again falling from his bicycle. Having suffered a broken collarbone and head wounds, he did not regain consciousness, dying a few days later. After leaving school, Herbert worked as a labourer, firstly at Temuka, and then at Lakeside in the Ellesmere district.
When he came to enlist (as Herbert Stevens Williams), on 19 October 1915, he gave his address as care of Mrs Keish, North Road, Oamaru and was a labourer in the woollen mills. He enlisted for the infantry section of the 9th Reinforcements from Group 15 district and was to leave Oamaru for camp on that day. The local Defence authorities were hoping to fill the quota before departure. Herbert did his bit. Herbert nominated his mother of Temuka as his next-of-kin, was single and reported in good health, and belonged to the Church of England. On 8 January 1916, per the Maunganui, he left Wellington destined for Suez, Egypt, attached to the Otago Infantry Battalion. He joined his unit at Moascar on 21 February 1916, a week after reaching Suez, and another six weeks later he embarked for France.
Serving in Egypt and France, Herbert spent ten weeks in the trenches before he took ill. On 13 June he was admitted to the 2nd New Zealand Field Ambulance - stricture. Only three days after rejoining his unit he was sent to hospital, sick, and was admitted to the No. 1 Convalescent Depot at Rouen on 27 June 1916. After being discharged to Marlborough Camp, and suffering with cystitis, he was invalided to England where he spent lengthy periods in the military hospitals as he battled sickness. There he was admitted to Fulham Military Hospital, Grey Towers, London. It was in August 1916 that the bad news started to filter through. His mother received the first of several cables – from London: - "Had operation, abscess, liver, doing splendidly now. Being looked after fine here. Don't worry. – Private Herbert Williams." He seemed to be bearing up well. A month or so after, relatives in Temuka received another cable form London, which stated that he had undergone a serious operation and was progressing slowly. Two weeks later, the cable stated that Private Herbert Williams had undergone an operation for kidney trouble and was making fair progress towards recovery. Two more weeks, and the outlook was good. Herbert had undergone a serious operation for kidney stones. The operation was successful, and he was doing well. He was admitted to Fulham Military Hospital again at the beginning of November 1916 – abscess of liver. By mid December his was reported as a not severe case, and he himself cabled that he was doing splendidly after his operation. On 22 January 1917 he was transferred to Walton-on-Thames Hospital, still with the abscess of liver. The tide was turning again. In late January 1917, Mrs Williams received yet another cable, this one reporting that her son had been very ill since his last operation, but was improving, and was expected to undergo another operation in a week's time. On 15 February came the finding of the Medical Board – Classified permanently unfit (renal fistula) and placed on New Zealand Roll.
Private Herbert Williams and fellow Temuka soldier Private Guy Aspinall were invalided home on the hospital Ship "Maheno" in April 1917 and were expected to reach Temuka early in May. He was very ill on the transport home and underwent a severe operation on the voyage. The contingent 368 sick and wounded soldiers, with ten nurses, reached Auckland in early May, and it was hoped that Privates John Lamb, Chapman (Waitohi), Aspinsall and Herbert S. Williams, labourer, would reach Lyttelton later in the week, and arrive home to a public welcome the next day. There was, however, another set-back for Herbert. On arrival at Auckland he was classified a "Cot Case". He had to stay in Christchurch to go before the Medical Board and undergo treatment at the Christchurch Hospital. The welcome home was transferred to 27 June, but . . . he had to appear before the Medical Service Board yet again and so there was further delay. Also he was not well enough to stand the journey from Christchurch. It was a week into July before the Medical Board have him permission to travel. The Patriotic Entertainment Committee planned to meet him on the arrival of the express train at the railway station at 3.20 p.m. on 7 July and convey him by motor car to the post office for the welcome proceedings. On the day quite a large crowd turned out, despite the rain, to welcome him to his home town. The Mayor and the Chairman of the Patriotic Committee met him at the station before he was driven to the Post Office to the accompaniment of the bagpipes. Appreciation of his time in the trenches was expressed and heart cheers given. The Mayor said that "they were welcoming one who had done his level best, though that level best had been frustrated by sickness. Private Williams did not bear on him marks or scars of the enemy's shot and shell, but he bears on him the marks of hardship, that had been borne to protect us and our homes."
He was discharged, after serving a total of 1 year and 271 days, on 17 July 1917, assessed as "No longer physically fit for war service on account of pre-enlistment disability aggravated by active service." He was deemed to be of good character, and was intending to reside at 58 Johns St, Temuka (home). It was noted that he had been assessed with pain in the right kidney and an abscess in the liver; the first attack had occurred when he was 20 years old. The condition was so aggravated by service that he was totally incapacitated and underwent seven operations in total while he was in the army. Although the wounds healed he still had problems and he bore the scar of a liver operation. It was further noted that he was permanently disabled and recommended that he receive further treatment from the Public Health Department after discharge. Yet, there had been no notification or detection when he underwent his medical examination on enlistment. Mr Herbert Williams, a returned soldier of Temuka, went to Hanmer Sanatorium in early September 1917, for treatment. Just a few days later it was reported that he had been admitted to Christchurch Hospital, very seriously ill. There he underwent another operation in Christchurch Hospital, where he died of kidney disease on 17 September, six days before his 31st birthday.
His funeral service was held in St Peter's Church, Temuka, followed by burial, with military honours, in the Temuka Cemetery. Territorials, Senior Cadets and Returned Soldiers paraded in uniform at the Drill Hall, and the Temuka Brass Band headed the procession. At the church prayers commemorative of the fallen and those serving at the war were offered, and a favourite hymn, "Jesus, Lover of My Soul", was sung. The cortege left the church and made its way slowly to the cemetery in the following order: Firing party of Cadets, with reversed arms, Temuka Municipal Brass Band, open hearse with remains covered with Union Jack, escorted by pall-bearers (four returned soldiers), chief mourners, Returned Soldiers, Territorials, Cadets, Mayor and public. Many others accompanied the procession to the cemetery, and the band played "The Garland of Flowers" and "The Dead March". The salute at the cemetery was fired by Senior Cadets and the "Last Post" was sounded. It was all very solemn and impressive. The deceased soldier was the first to be buried in the ground set apart for the burial of deceased soldiers in the Temuka Cemetery, and the plot selected was very near the main gates.
.
His mother received a letter from one of the hospital nurses in England, who said that he was an exemplary patient, bearing pain with the greatest patience and fortitude. Herbert was of a quiet, retiring disposition. Much sympathy was felt for his widowed mother and brothers and sisters. At the October 1917 meeting of the Temuka District High School Committee, the secretary referred to the death of three former pupils of the school, H. Williams being one of them, and moved that a vote of sympathy be passed to their relatives. The vote was carried, all members standing. After the Anzac Day service in the Victoria Park, Tcmuka, yesterday, the curator, Mr F. Daily, took the beautiful wreath that had adorned the front of the pavilion and placed it on the graves of Privates Williams and Connell, who have died since their return home. With the wreath was a card bearing the inscription — "ln remembrance of Privates Williams and Connell. From returned soldiers." (Temuka Leader, 26 April 1919)
His medals – British War Medal and Victory Medal - were sent to his mother, as were the memorial plaque and scroll. Mrs Williams died in 1941. Herbert's brother Thomas Owen Williams also served in World War I. His name is inscribed on the Timaru Memorial Wall, the Temuka War Memorial, and the Opihi College Roll of Honour (created 2015)
Sources
Auckland War Memorial Museum Cenotaph Database [19 February 2014]; NZ Defence Force Personnel Records (Archives NZ Ref. AABK 18805 W5557 0122816) [20 March 2014; CWGC [07 March 2014]; Temuka Leader, 23 June 1908, 31 October 1908, 3 November 1908, 27 January 1917, 3 & 20 April 1917, 8 May 1917, 26 & 28 June 1917, 7 & 10 July 1917, 11, 18, 20 & 22 September 1917, 26 April 1919, North Otago Times, 7 October 1915, Timaru Herald, 15 August 1916, 28 September 1916, 14, 15 & 27 October 1916, 27 October 1916, 7 December 1916, 26 January 1917, 20 April 1917, 9 July1917, 7 September 1917, 18 September 1917 [x 2], 20 September 1917 [x 2], 21 September 1917, 18 October 1917, Evening Post, 21 December 1916, Sun, 7 May 1917, New Zealand Times, 8 May 1917 (Papers Past) [07 & 08 March 2014; 23 November 2015; 04, 05 & 06 May 2016; 30 November 2017; 02 December 2017]; NZ BDM Indexes (Department of Internal Affairs historical records) [19 February 2014]; Temuka Cemetery headstone image (Timaru District Council) [07 March 2014]; School Admission record (South Canterbury Branch NZSG) [2014]; St Peter's Anglican Church, Temuka, burial record (South Canterbury Branch NZSG transcription); New Zealand Electoral Rolls (ancestry.com.au) [2014]
External Links
Related Documents
No documents available.
Researched and Written by
Teresa Scott, SC bracnh NZSG
Currently Assigned to
Not assigned.
Licensed under a Creative Commons Attribution-NonCommercial 4.0 International License unless otherwise stated.
Tell us more
Do you have information that could be added to this story? Or related images that you are happy to share? Submit them here!