SANDERS, Thomas Alfred
(Service number 12/865)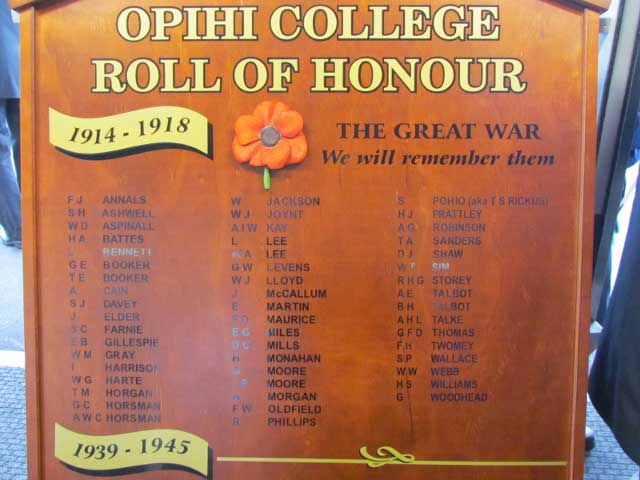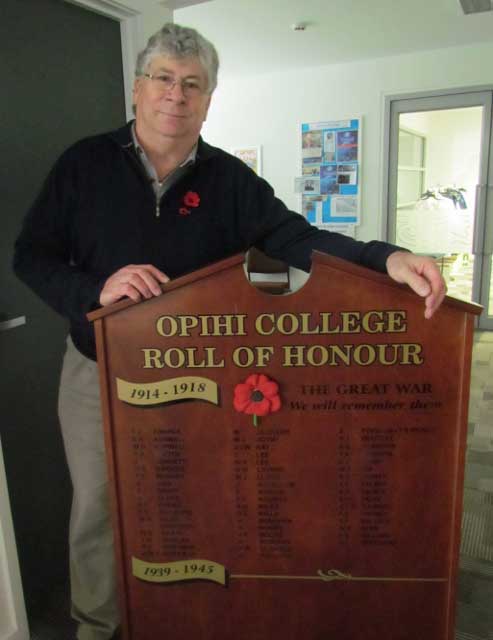 Aliases
SAUNDERS in some instances. Tom
First Rank
Private
Last Rank
Private
Birth
Date
26 April 1892
Place

of Birth

Temuka, South Canterbury
Enlistment Information
Date
14 August 1914
Age
22 years 6 months
Address

at Enlistment

Te Rapa Road, Hamilton
Occupation
Plumber

Previous

Military Experience
16th Waikato Regiment - still serving
Marital Status
Single
Next of Kin
Frank SANDERS, Temuka, South Canterbury
Religion
Anglican
Medical

Information

Height 5 feet 11 inches. Weight 162 pounds. Chest measurement 37-39 inches. Complexion dark. Hair brown. Eyes brown. Sight - right eye 6/6, left eye 6/12. Hearing and colour vision both normal. Limbs well formed. Full and perfect movement of all joints. Chest well formed. Heart and lungs normal. Teeth fair. Free from hernia, varicocele, varicose veins, haemorrhoids, inveterate or contagious skin dis ease. Good bodily and mental health. No slight defects. No disrinctive marks or marks indicating congenital pecularities or previous disease.
Military Service
Served with
NZ Armed Forces
Served in
Army

Military

District
Embarkation Information
Body

on Embarkation

Main Body
Unit

, Squadron, or Ship

Auckland Infantry Battalion
Date
16 October 1914
Transport
Star of India or Waimana

Embarked

From
Auckland, N.Z.
Destination
Suez, Egypt
Other Units

Served With

Last Unit

Served With

Auckland Infantry Regiment, 1st Battalion
Military Awards
Campaigns
Egypt 1914-1916; Balkans (Gallipoli); Western European (Somme)
Service Medals
1914-1915 Star; British War Medal; Victory Medal

Military

Awards
Award Circumstances and Date
No information
Prisoner of War Information
Date of Capture
Where Captured

and by Whom

Actions Prior to Capture
PoW Serial Number
PoW Camps
Days Interned
Liberation Date
Hospitals, Wounds, Diseases and Illnesses
Wounded at Gallipoli 25/28 April  right forearm. Admitted 15th General Hospital, Alexandria, and convalescing. August 1915 debility, septic knees, evacuated to Malta, admitted to Hospital in England. Wounded 20 September 1916 in 2nd London Hospital, Chelsea - right buttock, legs, and scalp - progressing favourably. Previously reported wounded now reported missing believed Killed in Action, result of a Court of Enquiry, 26 September 1916.
Post-war Occupations
Death
Date
26 September 1916
Age
24 years
Place

of Death

Somme, France
Cause
Killed in action
Notices
Memorial or Cemetery
Caterpillar Valley (New Zealand) memorial, Caterpillar Valley Cemetery, Longueval, Somme, France
Memorial Reference
N

ew

Z

ealand

Memorials
On Memorial wall, Timaru; Temuka War Memorial; Temuka RSA Roll of Honour; St Peter's Anglican Church, Temuka, Honour Board; Auckland War Memorial Museum World War I Hall of Memories; Temuka District High School Roll of Honour; Opihi College Roll of Honour
Biographical Notes
Thomas Alfred Sanders was the third son of Frank and Jane Sarah (née Tuthill) Sanders, of 47 Birket Street, Temuka, South Canterbury. Born on 6 April 1892, he was educated at Rangitira Valley and Temuka schools, and the Temuka District High School. It was at Rangitira Valley in 1900 that Thomas featured in the prize list. On 21 September 1904 he met with a painful accident in the Temuka District High School playground. He was running round the school when he collided with another lad and fell, injuring his leg. The doctors discovered that he had suffered a dislocated knee and a fracture of the leg above the knee. After the leg had been set in an adjoining house, he was taken home.
Thomas had learnt his plumbing trade at Temuka. About 1911 he went to the North Island, accepting an appointment with the Hamilton Hardware Company, at Hamilton. In 1914 Thomas and two brothers, Joseph and Frank, were all living in Hamilton.
Thomas enlisted at the outbreak of war, his next-of-kin being his father Frank Sanders of Temuka. He was already serving with the 16th Waikato Regiment. With the Waikato Company, he was at the mobilisation camp at Auckland in September 1914, one among some 2100 men. He was a well built young man, standing 5 feet 11 inches tall and weighing 162 pounds, and he was in good health. At the time of enlistment Thomas was employed as a plumber for Hamilton Hardware Co. On 16 October 1914 he was on his way, with the Auckland Infantry Battalion, to Egypt. At Alexandria, on 12 April 1915, he embarked for Gallipoli. Soon after landing, or on landing, Private 12-865 T. A. Sanders was wounded in the right forearm at the Dardanelles. He was admitted to the 15th General Hospital at Alexandria and then transferred to the convalescent camp. After recovering and being discharged from hospital, Thomas was sent to the front again. But before long – in August 1915 - he was evacuated to Malta, slightly sick, suffering debility and with septic knees. Sick and wounded, he was admitted to Suffolk Hall Hospital at Cheltenham, England.
On 14 November 1915 Tom was one of the men "ready again for the fray" who returned to active service. He was appointed acting lance corporal but relinquished the appointment the following day. He embarked for France in April 1916, and was transferred to a trench mortar battery. On 26 September 1916, however, after some ten months of further service, he was wounded again. His father received the following telegram from the Defence Department – "London advises to-day, Saunders in 2nd London Hospital, Chelsea, right buttock, legs, and scalp, and progressing favourably." Subsequently Tom was reported missing believed killed in action. The family received no further news until a Court of Enquiry confirmed on 5 January 1917 that he had been killed in action on 26 September 1916, at the Somme. The next telegram, in early January 1917, stated that "his [Mr F. Saunders'] son, Private T. A. Saunders, previously reported wounded, is now reported missing, and believed to have been killed in action on September 26th."
As news of his death reached Temuka folk, his name moved up the Roll of Honour published regularly by the Temuka Leader. Messages of sympathy were received from His Majesty, His Excellency the Governor, and Hon. James Allen. Tom's father was for many years a member of the Temuka District High School committee, which expressed sympathy to his family and all stood in silence when the chaiman proposed a motion of sympathy.
"Corporal Saunders was a fine type; of young man, whom to know was to like and respect, and much sympathy is felt for Mr and Mrs Saunders and family." (Temuka Leader, 11 January 1916) Gunner Thomas Alfred Sanders was remembered with love by his parents in September 1917 and again in September 1918.
At the annual meeting of the parish of Temuka and Winchester in May 1917, the names of Thomas Sanders and five other were added to those of nine members of the church who in the past year gave their lives for the Empire. "All gallant lads, the brave and the true who have died the death of honour and departed, as we trust in the hope of resurrection to eternal life" the vicar recorded. Tom's mother regularly gave flowers for the altar vases in that church and his father was a vestryman.
The Roll of Honour erected at the Temuka District High School to perpetuate the memory of the ex-pupils of the school who lost their lives in the Great War, was unveiled in June 1921 in the presence of large gathering, comprising nearly all the pupils of the school and some hundreds of adults. Proceedings commenced with the singing of "O God our help" and the saying of the Lord's Prayer. The chairman said "These men went forth to do battle for right against a strong and mighty foe, knowing that they might not return to their own again. It was therefore our duty as fellow citizens to do something to keep their names ever green in our minds and hearts."
Fourteen months later the Temuka Borough memorial was unveiled before a very large gathering in the domain, including Temuka Territorials and Cadets, Temuka and Geraldine returned soldiers, the Temuka Pipe Band, the Salvation Army Band, the children of the district schools , national and local dignitaries, and local folk. Opening proceedings, the Mayor said "We regret that this occasion has arisen, but having done so we must look back with pride at the actions of those who rose to the call of the Motherland, which was in peril. Many of those brave boys who left these shores did not return, and we have erected this memorial to their memory, . . . " Following hymns and scripture readings, His Excellency the Governor-General formally unveiled the monument and the local M.P. read out the names inscribed thereon.
He had made out a Will in favour of his mother. This went to probate in August 1917. As no executor was named the Public Trustee administered the estate – cash in Post Office Savings Bank, a freehold section worth £100, and balance of military pay. It was to his mother that his medals were sent, while the memorial plaque and scroll were sent to his father. His brother Albert Joseph SAUNDERS also served in World War I.
Thomas Alfred Sanders is remembered on the Caterpillar Valley (New Zealand) Memorial at the Somme, France. His name is inscribed on the Timaru Memorial Wall, the Temuka War Memorial; the Temuka RSA Roll of Honour; St Peter's Anglican Church, Temuka, Honour Board, the Auckland War Memorial Museum World War I Hall of Memories, the Temuka District High School Roll of Honour, and the newly constructed Opihi College Roll of Honour.
Sources
Auckland War Memorial Museum Cenotaph Database [03 April 2014]; CWGC [17 December 2015]; NZ Defence Force Personnel Records (Archives NZ ref. AABK 18805 W5550 0101625) [04 April 2014 & 27 July 2014]; NZ BDM Indexes (Department of Internal Affairs) [03 April 2014]; Timaru Herald, 1 January 1901, 22 September 1904, 17 October 1916, 17 November 1916, 9 & 10 January 1917, 16 February 1917, 7 May 1917, New Zealand Herald, 5 September 1914, 27 June 1931, Ashburton Guardian, 4 May 1915, 18 September 1915, Dominion, 5 May 1915, 4 August 1915, Evening Post, 5 June 1915, 25 November 1915, 16 October 1916, 8 January 1917, Star, 18 September 1915, Press, 25 September 1915, 9 January 1917, Auckland Star, 25 November 1915, Otago Daily Times, 17 October 1916, Temuka Leader, 1 January 1901, 6, 11 & 13 January 1917, 15 & 16 February 1917, 5 May 1917, 29 September 1917, 26 September 1918, 25 June 1921, 1 December 1921, 12 August 1922, Evening Star, 8 January 1917, Waikato Times, 25 August 1917 (Papers Past) [17 December 2015; 04 April 2016; 03 & 14 July 2016]; School Admission Records (South Canterbury Branch NZSG) [2014]; NZ Electoral Rolls (ancestry.com.au) [04 April 2016]; Probate record (Archives NZ/FamilySearch) [04 April 2016]
External Links
Related Documents
Researched and Written by
Teresa Scott, SC branch NZSG
Currently Assigned to
TS
Licensed under a Creative Commons Attribution-NonCommercial 4.0 International License unless otherwise stated.
Tell us more
Do you have information that could be added to this story? Or related images that you are happy to share? Submit them here!