RAE, Donald Alfred
(Service number 7/891)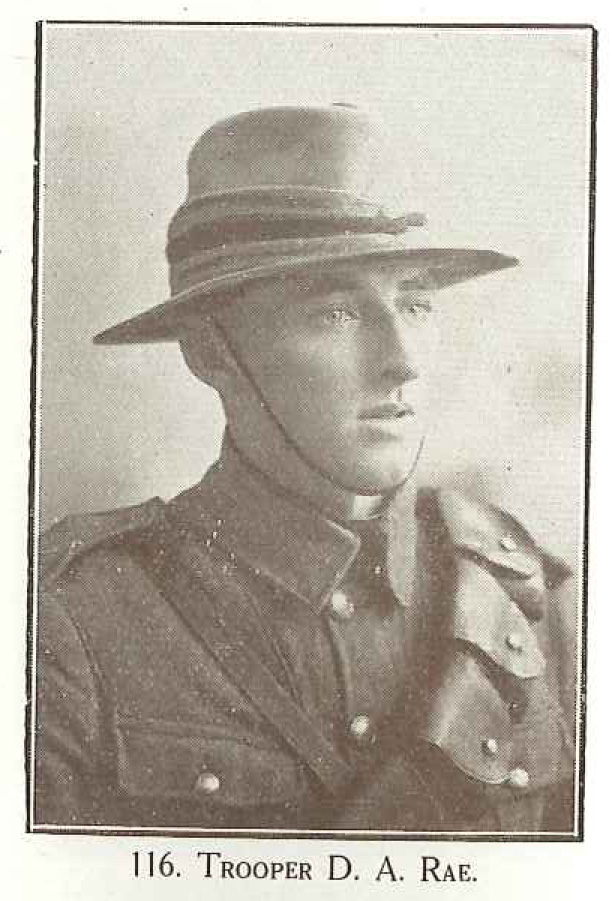 Aliases
Don
First Rank
Trooper
Last Rank
Trooper
Birth
Date
30 June 1892
Place

of Birth

Peel Forest, South Canterbury
Enlistment Information
Date
22 December 1914
Age
22 years 6 months
Address

at Enlistment

Lowcliffe, Hinds
Occupation
Shepherd

Previous

Military Experience
Marital Status
Single
Next of Kin
James RAE (father), Peel Forest, South Canterbury; Later Mrs Eliza RAE
Religion
Church of England
Medical

Information

Height 5 feet 7 inches. Weight 137 lbs. Chest measurement 34-37 inches. Complexion fair. Eyes blue. Hair brown. Sight - both eyes 6/6. Hearing and colour vision both normal. Limbs well formed. Full and perfect movement of all joints. Chest well formed. Heart and lungs normal. Teeth satisfactory - false set. Free from hernia, varicose veins, haemorrhoids, inveterate or contagious skin disease. Poor vaccination mark. Good bodily and mental health. No slight defects, save very slight varicocele, not sufficient to cause rejection. Scar of boil over . . . . .
Military Service
Served with
NZ Armed Forces
Served in
Army

Military

District
Embarkation Information
Body

on Embarkation

3rd Reinforcements
Unit

, Squadron, or Ship

Canterbury Mounted Rifles
Date
14 February 1915
Transport
Maunganui or Tahiti or Aparima

Embarked

From
Wellington
Destination
Suez, Egypt
Other Units

Served With

Last Unit

Served With

Canterbury Mounted Rifles
Military Awards
Campaigns
Egyptian; Balkans (Gallipoli)
Service Medals
1914-15 Star; British War Medal; Victory Medal

Military

Awards
Award Circumstances and Date
No information
Prisoner of War Information
Date of Capture
Where Captured

and by Whom

Actions Prior to Capture
PoW Serial Number
PoW Camps
Days Interned
Liberation Date
Hospitals, Wounds, Diseases and Illnesses
1915, August - Wounded in the shoulder & lung at the Dardanelles
Post-war Occupations
Death
Date
28 August 1915
Age
23 years
Place

of Death

At sea, HMHS Maheno, ex Gallipoli
Cause
Died of wounds
Notices
Memorial or Cemetery
Buried at sea. Lone Pine Memorial, Lone Pine Cemetery, Anzac, Turkey. Memorial stone at Church of the Holy Innocents, Mount Peel.
Memorial Reference
72
N

ew

Z

ealand

Memorials
Timaru Memorial Wall; Peel Forest War Memorial; Geraldine War Memorial; St Mary's Anglican Church, Geraldine; Ashburton War Memorial; Coldstream Lowcliffe Memorial Hall Memorial
Biographical Notes
Donald Alfred Rae (Don), the youngest son of James and Eliza (nėe Griffin) Rae, of Peel Forest, Canterbury, was born on 30 June 1892 at Peel Forest and christened on 18 September in the Geraldine Presbyterian Parish. James from the Highlands of Scotland married Eliza in 1875 at Geraldine. The Raes were early settlers at Peel Forest and one of the families which gave the name Scotsburn to the settlement. His father was very likely the J. Rae who, in August 1914, contributed 5 shillings to the War Fund, specifically to the Ladies of Geraldine Equipment Fund. Donald was educated at Scotsburn School at Peel Forest, leaving at 14½ years to go out to work. Donald worked on Mesopotamia Station. Like his Scottish forefathers, he was of good shepherd stock. In his youth he was a keen competitor in athletics, running in handicap events (75 yards and 880 yards) at the Geraldine St Patrick's Day sports in March 1912, and similarly (880 yards and one mile) at the South Canterbury Caledonian Society 1913 New Year sports. In April 1912, Donald and his brother Thomas participated in the Sheffield Handicap (135 yards) at the inaugural meeting of the Hinds Sports Club. An advertisement in the Ashburton Guardian on 26 August 1912, gave D. A. Rae, Lowcliffe, as a contact for 'Lost from Halswell - One Fawn-Coloured Dog; . . . . . answers to the name of "Tweed."', with offer of a £1 reward. Donald was listed in the 1914 electoral as residing at Lowcliffe, Hinds.
He enlisted early in the war, on 22 December 1914, joined the Third Reinforcements, and went away to serve his country, a fit healthy young man, just 22 years old. 5 feet 7 inches tall, weighing137 pounds, he had blue eyes and brown hair. He had a scar of a boil, a poor vaccination mark, and only slight varicocele. His teeth were satisfactory, being false. At the time he was employed as a shepherd at Lowcliffe, his address on enlistment. He was single, belonged to the Church of England, and nominated his father, James Rae, Peel Forest, as his next-of-kin. Leaving Wellington on 14 February 1915, as a trooper with the Canterbury Mounted Rifles, he disembarked at Suez on 27 March 1915 and landed at Gallipoli on 1 May 1915.
On 23 August 1915 he was posted to the 8th Squadron, Canterbury Mounted Rifles. Five days later he had died of wounds. The newspaper reported that he was wounded for the second time on 27 August 1915 and was dangerously ill. Donald suffered gunshot wounds through the left shoulder and lung at Gallipoli on 27 August, succumbing the next day - 28 August 1915 - on the hospital ship "Maheno" off Gallipoli, aged 23 years. He was buried at sea, his name recorded on the Lone Pine Memorial in Turkey. There is a memorial stone to both Donald Alfred Rae and his brother William John Rae in the Holy Innocents Burial Ground at Mount Peel. Alongside the memorial stone lie their parents. The Rae stones are near the big redwood tree in the bush.
Donald's father, James Rae, died in November 1915, after which his mother, Eliza, became his next-of-kin and the one to whom his medals – 1914-1915 Star, British War Medal and Victory Medal, plaque and scroll would be sent. In his short will drafted at the time of enlisting, Donald entrusted his affairs to an older brother, James Martin Rae, and instructed that the residue of his estate be divided between his parents. In August 1920 the names of both J. Rae and Mrs Rae were printed in the list of subscribers to the Geraldine Soldiers' Memorial.
Not only was Donald an enthusiastic amateur athlete, he was also a keen footballer; and he was popular with all who knew him. And a side to Donald that was perhaps little known – he was the gallant wearer of a gold medal awarded to him some six years before his death for conspicuous bravery in attempting to assist a comrade, Hugh Urquhart, in a fatal accident. Hugh had fallen over a cliff while rabbit-poisoning at Mesopotamia Station.
In addition to local memorials – the Timaru Memorial Wall, the Peel Forest War Memorial, the Geraldine War Memorial, and St Mary's Anglican Church, Geraldine - which recognise his roots and upbringing, Trooper Rae is remembered on the Ashburton War Memorial and the Lowclffe Memorial, marking the place where he was working, probably like several others on the Lowcliffe Estate. His mother, brothers and sisters remembered Trooper Donald A. Rae on 28 August 1916 –
He answered to the nation's call,
We ill could spare our one at all,
And prayed God would not let him fall —
Our loving son.
In 1918 they remembered again –
For King and Country he nobly gave his life,
He was a soldier good and true;
Loved on this earth by all he knew.
Now in a distant land he lies, at rest in a soldier's grave.
From January 1917 the name Trooper D. A. Rae, appeared regularly in Active Service lists published by the Temuka Leader.
The Peel Forest Soldiers' Memorial was unveiled in September 1921 by Mr Hardcastle, the Mayor of Geraldine, who said that he was grateful for the privilege of unveiling the "memorial to brave boys who had lain down their lives for their country." Bishop Julius observed that "New Zealand was richer for their death. . . . . and the sacrifice was not for anything tangible, but for righteousness and truth". The monument stands on a commanding position, its simplicity adding to its effectiveness. Inscribed on the pedestal is the inscription – "In memory of the men of Peel Forest who fell in the Great War, 1914-1919" and following the names "Their name liveth for ever." Among 17 names from this small country district are those of D. A. Rae and W. J. Rae.
Following the united memorial service on Anzac Day 1922 and before one of the largest gatherings seen at Geraldine (estimated to be at least 1500 people), the memorial cross erected in grateful memory of the men of the Geraldine district who fell in the war, was unveiled. The service was a very beautiful one, and commenced with the Funeral March, the audience standing. The hymn "O God Our Help in Ages Past," was then sung, the people heartily joining with the massed choir. Following the address, the organist then gave a very fine rendering of the "Dead March in Saul," and the bugler clearly and beautifully sounded "The Last Post." The service concluded with prayer, the singing of Kipling's "Recessional", the Benediction, and the National Anthem. Immediately following the service the crowd gathered for the dedication of the memorial. The Territorials were drawn up on the south of the memorial, a soldier standing at each corner with arms reversed., with heads bowed, in an attitude of mourning at the base of the monument. The Returned Soldiers were drawn up in a double line to the west. The memorial is in the shape of a Celtic Cross, which is of Timaru bluestone and is twenty feet in height. The proceedings opened with the National Anthem, followed by several addresses. The district's contribution in the Great War was probably second to none in the Dominion. The men and boys to whom they were that day paying tribute, had left a legacy to the Dominion, a legacy of freedom, peace and plenty, one speaker said. The National Anthem was sung. Before unveiling the memorial, Mr T. D. Burnett, M.P., said that the British Empire had always stood for liberty and justice. After a prayer of dedication and a hymn, the Territorials saluted and "The Last Post" was sounded. A piper played a lament and wreathes were placed around the memorial, which bears the words: "In Grateful Memory of the Men of the Geraldine District who fell in the Great War, 1914-1818. These gave up their own lives that others might live in freedom. Let those who come after see to it that their names be not forgotten." On the two side tablets appear the names of those who made the great sacrifice, including D. A. Rae and H. Rae (does this refer to W. J. Rae?). When the committee, which undertook the erection of the memorial, set about their task it had been decided that the names appearing on The Cross should be those of men who gave their lives in the Great War and who had enlisted in the Geraldine and Mount Peel Ridings of the County, or whose next of kin resided in those districts.
At the Geraldine Parish Church (St Mary's) in late June 1924, a beautiful stained glass window and brass tablet, erected in memory of men of the parish and church who gave their lives for their country in the Great War, were unveiled by Archbishop Julius. Perhaps some relatives of D. A. Rae and W. J. Rae were in the congregation. After the dedication of the memorial, "The Last Post" was sounded and the National Anthem sung. The window features Christ as the King of Glory above a soldier dedicating his sword to God. The ceremony was "very earnest and impressive", and the psalm and hymns of a comforting nature. The inscription on the brass tablet reads "To the Glory of God and in grateful remembrance of these our fellow churchmen of the Geraldine parish who gave their lives for their country in the the Great War, 1914-1918, this window is dedicated." The names follow, including those of D. A. Rae and W. J. Rae.
His brother William John (John) Rae was killed in action on 7 May 1917. Several Rae cousins also served in World War I – Adam, Alfred William (died of wounds in 1917), Bernard James and Robert Ernest. Seven Rae nephews from one family (that of Donald's brother Thomas) served in World War II. Portraits of Trooper Donald Alfred Rae are produced in the Auckland Weekly News 1915 [Cenotaph Database], the "South Canterbury Caledonian Roll of Honour" published by the South Canterbury Caledonian Society, 1916 [held by South Canterbury Museum ref# 17/15], and the "Otago Witness" of 6 October 1915 (Papers Past].
Sources
Auckland War Memorial Museum Cenotaph Database [12 August 2013]; N Z Defence Force Personnel Records (Archives NZ Ref. AABK 18805 W5550 0095575) [27 July 2014]; CWGC [03 November 2013]; Personal family information; Geraldine Presbyterian Parish Christening record; School Admission records (South Canterbury Branch NZSG; NZ Electoral Rolls; Memorial stone image, Church of the Holy Innocents (Find A Grave) [12 August 2013]; Timaru Herald, 28 May 1909, 15 March 1912, 15 April 1912, 30 December 1912, 21 & 23 September 1915, 28 August 1920, Ashburton Guardian, 26 August 1912, 23 September 1915, 28 August 1918, Sun, 20 & 23 September 1915, Press, 21 & 23 September 1915, 14 September 1921, 27 April 1922, 1 July 1924, Otago Daily Times, 21 September 1915, Colonist, 21 & 29 September 1915, Evening Star, 23 September 1915, Lyttelton Times, 23 September 1915, 28 August 1916, West Coast Times, 23 September 1915, Free Lance, 1 October 1915, Otago Witness, 6 October 1915 [x 2], Temuka Leader, January 1917, &c, 28 August 1920, 27 April 1922, 1 July 1924 (Papers Past) [03 April 2014; 05 May 2014; 30 August 2014; 04 December 2014; 07 January 2016; 29 & 30 April 2019]; Lowcliffe Memorial (Ashburton District Family History Group, August-Sept 2014 newsletter) [01 August 2014]; Probate record (Archives NZ/FamilySearch) [09 May 2015]; NZ Electoral Rolls (ancestry.com.au)
External Links
Related Documents
No documents available.
Researched and Written by
Teresa Scott, SC branch NZSG
Currently Assigned to
TS
Licensed under a Creative Commons Attribution-NonCommercial 4.0 International License unless otherwise stated.
Tell us more
Do you have information that could be added to this story? Or related images that you are happy to share? Submit them here!