PINK, Hubert Fair
(Service number 6/1066)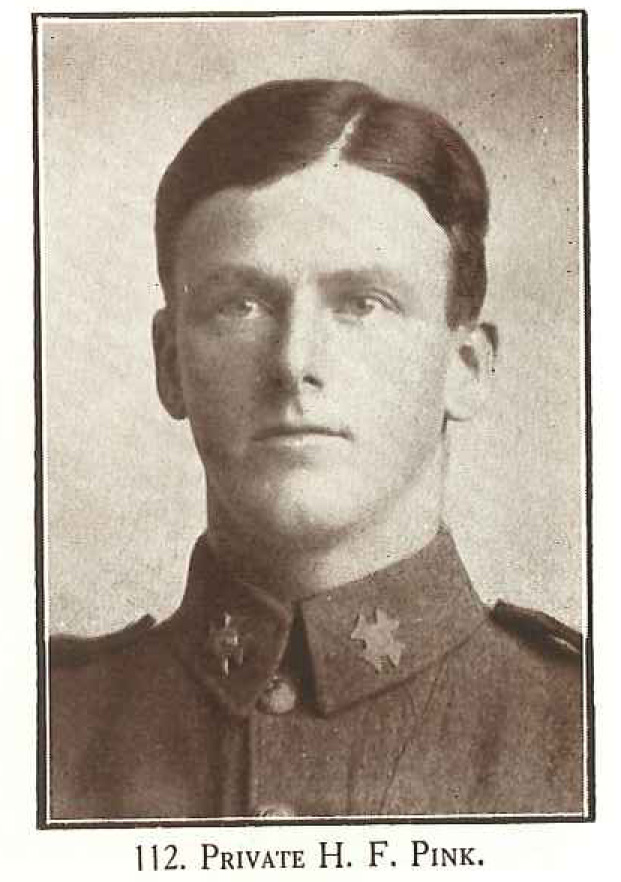 Aliases
Bert
First Rank
Private
Last Rank
Private
Birth
Date
4 July 1889
Place

of Birth

Milton, Bruce County, Otago
Enlistment Information
Date
11 August 1914
Age
24 years 1 month
Address

at Enlistment

Dominion Hotel, Timaru
Occupation
Hotel porter

Previous

Military Experience
Marital Status
Single
Next of Kin
Henry John PINK (father), 16 Catherine Street, Caversham, Dunedin
Religion
Anglican
Medical

Information

Height 5 feet 6 inches. Weight 136 lbs. Chest mear\surement 33¼-35¾ inches. Complexion fair. Eyes grey. Hair brown. Eye sight and colour vision normal. Hearing good. Limbs well formed. Full and perfect movement of all joints. Chest well formed. Heart and lungs normal. Teeth - false set of upper teeth, well fitting. Free from heernia, varicocele, varicose veins, haemorrhoids, inveterate or contagious skin disease. Vaccinated. Good bodily and mental health. No physical defects.
Military Service
Served with
NZ Armed Forces
Served in
Army

Military

District
Embarkation Information
Body

on Embarkation

Main Body
Unit

, Squadron, or Ship

Canterbury Infantry Battalion
Date
18 October 1914
Transport
Tahiti or Athenic

Embarked

From
Lyttelton, Canterbury
Destination
Suez, Egypt
Other Units

Served With

Last Unit

Served With

Canterbury Infantry Battalion
Military Awards
Campaigns
Egypt; Balkans (Gallipoli)
Service Medals
1914-15 Star; British War Medal; Victory Medal

Military

Awards
Award Circumstances and Date
No information
Prisoner of War Information
Date of Capture
Where Captured

and by Whom

Actions Prior to Capture
PoW Serial Number
PoW Camps
Days Interned
Liberation Date
Hospitals, Wounds, Diseases and Illnesses
Post-war Occupations
Death
Date
25 April 1915
Age
25 years
Place

of Death

Dardanelles, Gallipoli, Turkey
Cause
Killed in action
Notices
Evening Star, 25 May 1915; Otago Witness, 26 May 1915; Otago Daily Times, 26 May 1915
Memorial or Cemetery
Lone Pine Memorial, Lone Pine Cemetery, Anzac, Turkey
Memorial Reference
Panel 75
N

ew

Z

ealand

Memorials
Memorial wall, Timaru; Lovells Flat War Memorial, Otago; Lawrence District High School Roll of Honour
Biographical Notes
Hubert Fair Pink was the second son of Australian-born Henry John Pink and his New Zealand wife Catherine née Kavanagh, of Caversham, Dunedin, and formerly of Lovells Flat and Waitahuna districts. He was born on 4 July 1889 at Lovells Flat, near Milton, South Otago. Hubert attended Manuka Creek and Waitahuna schools, and maybe Lovells Flat School, where his father was on the school committee in 1896, although he was said to be not a resident householder according to the Act. He was, however, elected for another term. In 1904 Hubert went on to the Lawrence District High School. Also in 1896, Mr Pink was one who supplied music for the Lovells Flat Leap Year Ball. The following year he was serving on the committee of the Tokomairiro Farmers' Club. As vice-president of the South Otago Cricket Association, he was, in 1898, involved in resolving a dispute over a match played between the Milton and Lovells Flat clubs. When the Chairman vacated the chair, Mr Pink was voted to take his place. After some considerable discussion, it was decided that the match should be replayed.
Bert was a good all-round athlete and footballer. He was surely one of three Pink boys selected to play in the Waitahuna Juniors football team in a match against the Young Men's Bible Class in June 1907. The following year he may have been the H. Pink who played for the Phoenix Company in a seven-a-side tournament in Dunedin; and in 1911 a member of the Kaikorai Juniors rugby team. At the annual Waitahuna Sports held on 1 January 1910 – 'the only thing of the kind held in the district" – H. Pink ran second in the Hurdle Race. This may have been Hubert or his brother Harry who was also competing on the day. It was Hubert who finished in second place from seven entries in the Middle-Weight Wrestling. His father was on the committee of the Waitahuna Sports Club and gave gifts for prize trophies. Hubert's parents moved from Waitahuna to Dunedin between 1911 and 1914. After leaving school Bert, as he was known, was residing with his parents in Dunedin and working in the Traffic Department of the Railways, but not wanting a transfer to Auckland he resigned and took up labouring employment in Timaru. At the time of enlistment he was employed as a porter at the Dominion Hotel, Timaru. Perhaps he is the Hugh Pink, labourer, 26 Butler Street, recorded on the 1911, 1914 and 1919 Timaru electoral rolls, these being the only instances found of this Hugh Pink.
Responding to the first call for men to enlist, Hubert – 24 years and 1 month old - was one of many keen and determined applicants at the Timaru Drill Shed on 11 August 1914. He was not one of those rejected, mostly for defects to the teeth and one or two on account of height; he passed the medical exanimation and was sworn in. He stood at 5 feet 6 inches, weighed 136 pounds and had a chest measurement of 33¼-35¾ inches. Of fair complexion fair, he had grey eyes and brown hair. His eyesight, hearing and colour vision were all good; as were his limbs, chest, heart and lungs. He was free of all diseases and had been vaccinated. He had false upper teeth – a well-fitting set. The successful applicants were liable to be called up at any moment, and it was quite probable that they would leave Timaru in a matter of days for the central camp at Christchurch as part of the 2nd South Canterbury Regiment's quota. Single and Anglican, he nominated his father as next-of-kin his father, Henry John Pink, 16 Catherine St, Caversham. He duly left Timaru with the infantry contingent under Captain Grant and Captain Houlker. Private H. F. Pink embarked with the Canterbury Infantry Battalion of the Main Body at Lyttelton on 18 October 1914, bound for Egypt, arriving there on 3 December.
All too soon came the dreaded news – Hubert Fair Pink had been killed in action at the Dardanelles, Gallipoli, Turkey on that disastrous day - 25 April 1915. He was just 25 years old. It appears that Hubert may have landed on the beach at Gallipoli with Captain Grant and followed up the steep gully to attack Baby 700. There the men came under heavy fire. Bert was one of too many South Canterbury men serving with the New Zealand Expeditionary Force at the Dardanelles, whose deaths at Gallipoli between 25 April and 1 May were mentioned in Casualty List No. 31 - "first big list of killed" - issued at midnight on 23 May 1915. New Zealand casualties to that date totalled 1507, the Canterbury Battalion suffering very heavily. An Otago Daily Times article of 29 April 1915, and a re-print in the Otago Witness of 5 May 1915, commended Otago footballers for their splendid response to the war effort. The secretary of the Kaikorai Rugby Club noted that "we have also lost through their removal from town such promising players as . . . . . ., . . . . . ., and H. Pink, who would have worthily filled the places of those who have gone." Little did he know that H. Pink had also left for the front and was not coming home. "PlNK.—Killed in action at the Dardanelles, between 25th April and Ist- May, 1915 Hubert Fair, dearly beloved second son of Mr and Mrs H. J. Pink, Dunedin; aged 25 years. Deeply mourned." (Otago newspapers, 25 & 26 May 1915).
At the time of his death he was one of 72 ex-pupils of the Lawrence District High School who had answered the country's call and one of six to have been killed in action. The latter number regularly increased – eight killed by July 1915, 20 a year later, and 30 by April 1917. In April 1918 the school committee purchased a Roll of Honour, on which were to be inscribed the names of ex-pupils who had laid down their lives in the service of their country. The first name so inscribed was that of Private Hubert Pink. At the end of the war the names were to be transferred to a marble tablet. The Bruce Herald of 8 February 1917 invited parents and friends to send in the names of all district men who have taken their places in the firing line. Already included in the Death Roll was "Pink -, Lovells Flat", amended a few months later to "Pink H. F., Lovells Flat", and among those who had enlisted at other centres "Pink Hubert B.[sic], Lovells Flat, at Dunedin [sic]". 16 December 1925 was the "day of note in the history of Lawrence and particularly in the history of its school." The memorial tablet of the old pupils who had given their lives in the Great War was unveiled. The children of the school, a large number of visitors, and some very old residents of the district gathered. The proceedings opened with a prayer, the hymn "O God our Help in Ages Past" and the chairman's expression of sympathy to those who had lost relatives in the war. The Minister of Mines, Labour, and Marine, the Hon. G. J. Anderson, himself an old boy of the school, congratulated all concerned on the erection of the memorial tablet – the ex-pupils "did not enter the conflict for selfish ends but gladly sacrificed their prospects and lives at the call of duty." He hoped that all who passed through that school would be inspired with the spirit that tablet represented, and do their utmost to keep and guard that peace which our men so honourably fought for. The mother of one commemorated on the tablet then unveiled it while all present stood in silence. The tablet, which contains the names of 51 ex-pupils, including that of Hubert Pink, is a very fine slab of black granite. The ceremony concluded with the hymn "O Valiant Hearts", a minute's silence, the mournful strains of "The Pipers' Lament", played by two pipers of the Argyll and Sutherland Band from Dunedin, the sounding of the "Last Post", the benediction, and the National Anthem.
For his service in Egypt and at Gallipoli in the Balkans, Private Pink was awarded the 1914-15 Star, the British War Medal and the Victory Medal. Hubert's medals were sent to his father, as were the plaque and scroll. Hubert's mother, Mrs Catherine Pink, was the sole beneficiary of his Will drafted on 15 September 1914 – life policy and 5 shillings two pence in the bank. Portraits were printed in the Auckland Weekly News 1915 (see Cenotaph Database), in the Otago Witness of 9 and 16 June 1915, and in Onward: Portraits of the New Zealand Expeditionary Force, Volume 1. His brothers Charles Clarence Pink and Harry Bartholomew Pink also served in World War I, Harry dying in 1922 from wounds inflicted. Hubert Fair Pink's name is inscribed on the Lone Pine Memorial at the Lone Pine Cemetery, Anzac, Turkey (Panel 75); and he is remembered on the Timaru War Memorial Wall, the Lovells Flat War Memorial and the Lawrence District High School Roll of Honour. Each year for some time after his death, his family would insert an In Memoriam notice in the Otago Daily Times.
"Day breaks upon our silent grief;
Day dies, and still we think of thee;
Whose life, so brave and bright and brief,
Sleeps now beside the Ǣgean Sea."
Sources
Auckland War Memorial Museum Cenotaph Database [19 November 2013]; NZ Defence Force Personnel Records (Archives NZ ref. AABK 18805 W5550 0093152) [20 November 2013]; CWGC [19 November 2013]; Bruce Herald, 25 February 1896, 1 May 1896, 31 July 1896, 16 April 1897, 1 April 1898, 27 May 1915, 8 February 1917, 16 July 1917, Tuapeka Times, 12 June 1907, 8 January 1910, 23 June 1915, 21 July 1915, 24 June 1916, 28 April 1917, 28 July 1917, 24 April 1918, Evening Star, 4 September 1908, 8 September 1911, Timaru Herald, 12 August 1914, 24 May 1915, Press, 14 August 1914, 24 [x 2], 25 & 26 May 1915, Sun, 5 September 1914, 24 May 1915, Otago Daily Times, 29 April 1915, 24 & 26 May 1915, 25 April 1916, 25 April 1917, 25 April 1919, 17 December 1925, Otago Witness, 5 & 26 May 1915, 9 & 16 June 1915, New Zealand Times, 24 & 25 May 1915, Evening Star, 25 May 1915 [x 2], Oamaru Mail & North Otago Times, 27 May 1915, Star, 27 May 1915 (Papers Past) [18, 19 & 22 November 2013, 02 December 2013; 10 & 11 May 2015; 16 & 26 April 2019]; Lovells Flat War Memorial image (ancestry.com.au) [02 December 2013]; NZ Electoral Rolls (ancestry.com.au) [11 May 2015]; Probate record (Archives NZ/FamilySearch) [10 May 2015]; NZ BDM Indexes (Department of Internal Affairs) [2013]; School Admission records (Dunedin Branch NZSG); Onward: Portraits of the New Zealand Expeditionary Force, Volume 1 – P J Beattie & M J Pomeroy (held by South Canterbury Branch NZSG)
External Links
Related Documents
No documents available.
Researched and Written by
Teresa Scott, SC branch NZSG
Currently Assigned to
TS
Licensed under a Creative Commons Attribution-NonCommercial 4.0 International License unless otherwise stated.
Tell us more
Do you have information that could be added to this story? Or related images that you are happy to share? Submit them here!