MILLAR, William David
(Service number 6/508)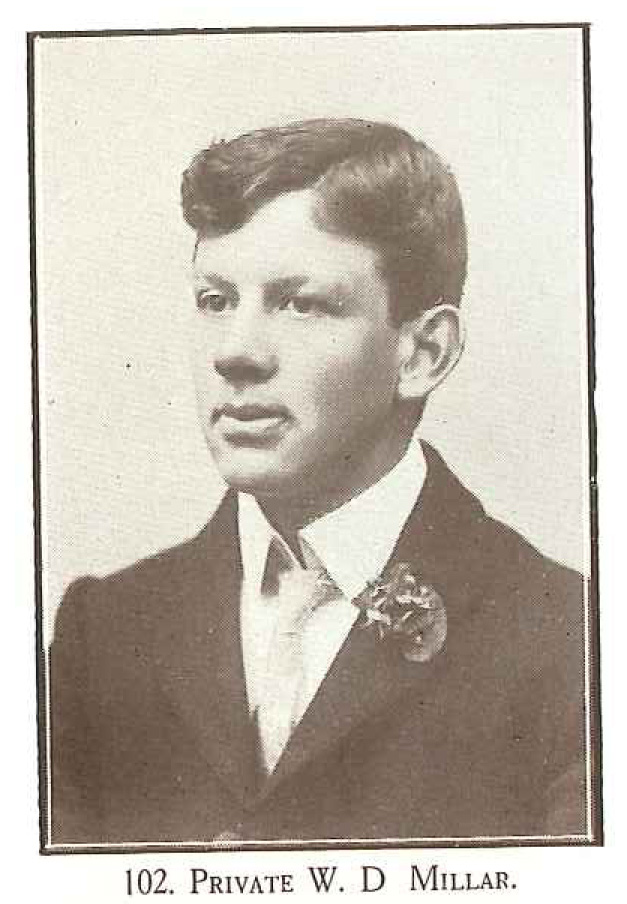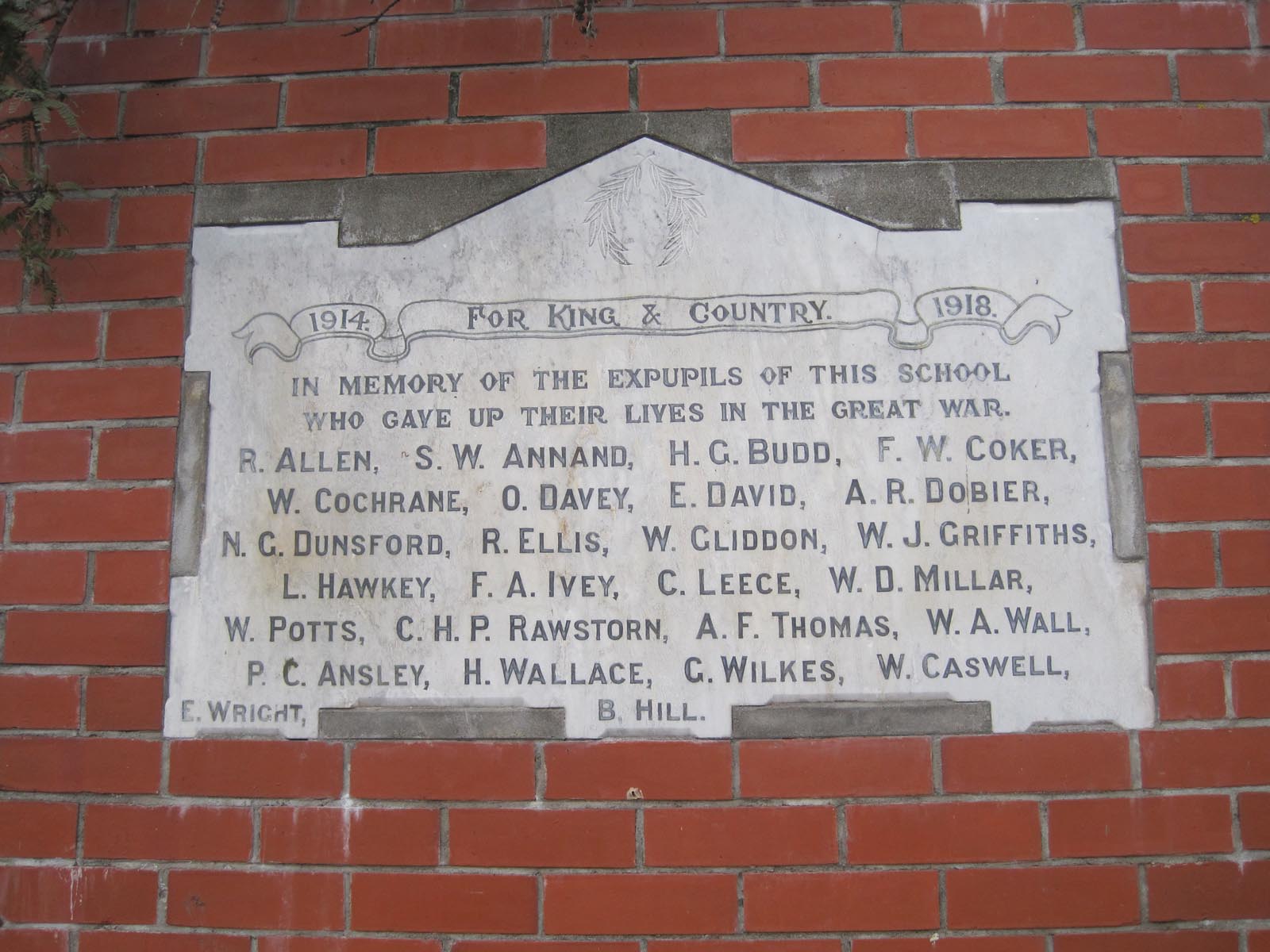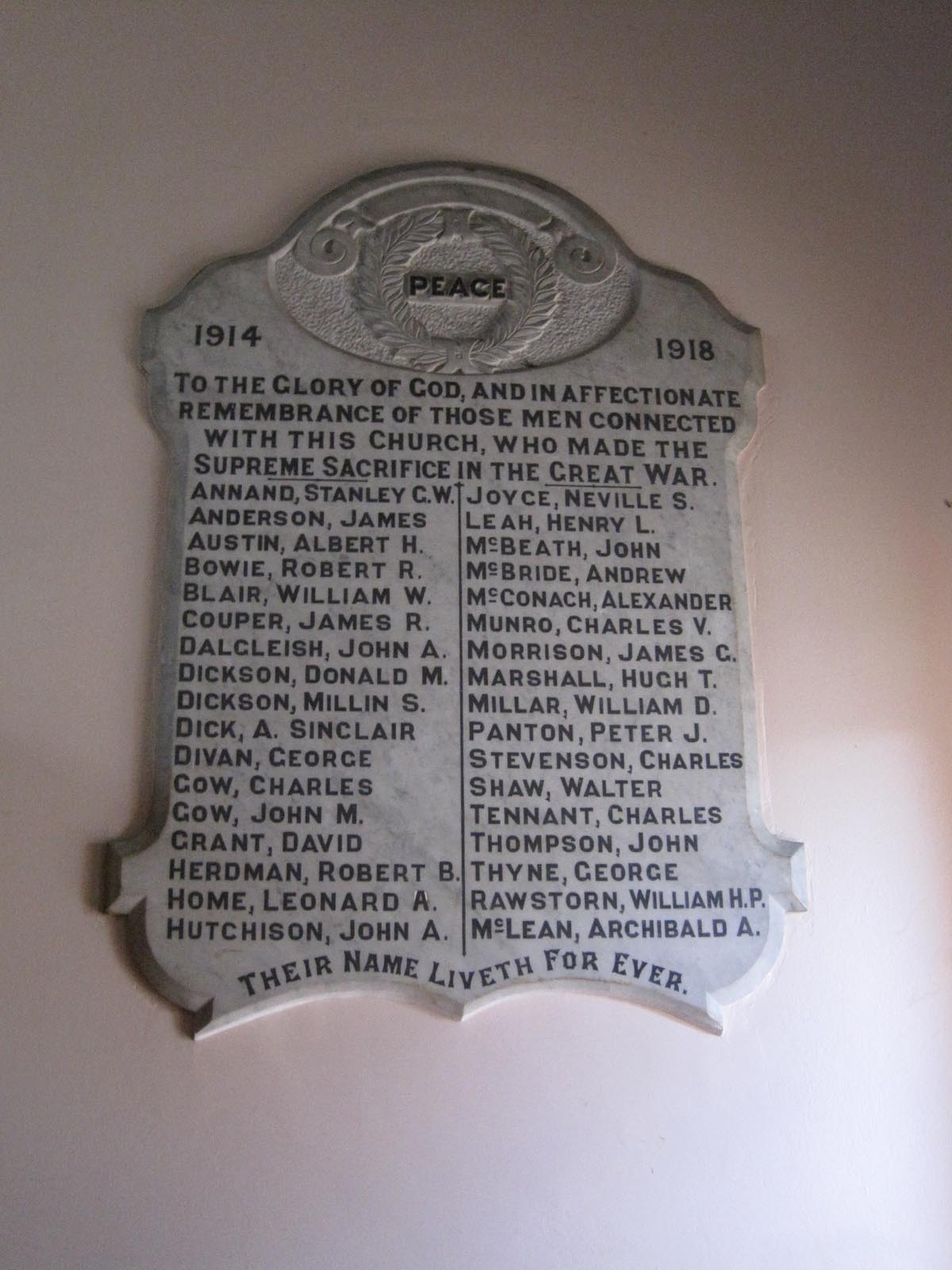 Aliases
Born David William MILLER. Willie
First Rank
Private
Last Rank
Private
Birth
Date
6 August 1879
Place

of Birth

Timaru
Enlistment Information
Date
12 August 1914
Age
35 years
Address

at Enlistment

1 Princes Street, Timaru
Occupation
Labourer; bridge carpenter

Previous

Military Experience
Timaru Rifle Volunteers. Completed 6 years.
Marital Status
Single
Next of Kin
Mrs Alice MILLAR, 1 Princes Street, Timaru
Religion
Presbyterian
Medical

Information

Height 5 feet 10 inches. Weight 152 lbs. Chest measurement 34-37 inches. Complexion dark. Eyes light brown. Hair black. Sight, hearing, colour vision all normal. Limbs and chest well formed. Full movement of joints. Heart and lungs normal. Teeth - 3 false upper, remainder good. Free from hernia, varicocele, varicose veins, haemorrhoids, inveterate or contagious skin disease. Vaccinated. Good bodily and mental health. No slight defects. Mole.
Military Service
Served with
NZ Armed Forces
Served in
Army

Military

District
Embarkation Information
Body

on Embarkation

Main Body
Unit

, Squadron, or Ship

Canterbury Infantry Battalion
Date
16 October 1914
Transport
Tahiti or Athenic

Embarked

From
Lyttelton, Canterbury
Destination
Suez, Egypt
Other Units

Served With

Last Unit

Served With

Canterbury Infantry Battalion
Military Awards
Campaigns
Balkans (Gallipoli)
Service Medals
1914-15 Star; British War Medal; Victory Medal

Military

Awards
Award Circumstances and Date
No information
Prisoner of War Information
Date of Capture
Where Captured

and by Whom

Actions Prior to Capture
PoW Serial Number
PoW Camps
Days Interned
Liberation Date
Hospitals, Wounds, Diseases and Illnesses
April 1915 - admitted to 1st Australian Casualty Clearing Station, with gunshot wound to head - died
Post-war Occupations
Death
Date
29 April 1915
Age
35 years
Place

of Death

Dardanelles, Gallipoli, Turkey
Cause
Died of wounds
Notices
Memorial or Cemetery
Beach Cemetery, Anzac, Turkey
Memorial Reference
I. B. 16.
N

ew

Z

ealand

Memorials
Timaru Memorial Wall; Timaru South School Memorial plaque; Chalmers Church Honour Roll; Loyal Timaru Lodge of Oddfellows memorial tablet
Biographical Notes
William David Millar, known as Willie, was born on 6 August 1879 at Timaru, the second son of Robert and Alice (née Orr) Millar, of Princes Street, Timaru. He attended Timaru South and Timaru Main schools. It was at the Side School (South) that he first gained recognition – in 1887 Mrs Nelson's prize for General Improvement in Standard I, in 1888 Standard II boys' Writing prize, and in 1889Mr Hill's Writing prize for Standard III. Success continued at Main School, with the Standard IV Mapping prize in 1890. Willie was enrolled at Timaru Technical School in 1907, 1908, 1911, 1912 and 1913 for building construction, woodwork and carpentry. A member of the Timaru Rifles, W. D. Millar fired for the single team in a match against the married team in November 1903, contributing to the singles win. A few months later he finished well up in the scoring when the company fired for two prizes. The next month he finished top equal and won the prize presented by Priest and Holdgate. At the Caroline Bay Bazaar held in July 1912, Willie won one of the raffled works of art. Robert Millar, senior, died in 1905, and in October 1912 the family suffered further sadness, when the elder daughter and sister, Sarah Catherine Millar (Kate), died as the result of a bicycle accident. William gave information at the inquest.
Before enlistment Willie lived at home with his mother, working as a bridge carpenter. He enrolled and passed the medical examination on 12 August 1914, in a very lively and busy Drill Shed; he was not one of those rejected because they were over or under age, insufficiently developed, had no experience, or were over-weight (the regulation weight was 12 stone). A few days later he and his brother Bob were confirmed as privates in B Company (2nd South Canterbury Regiment). In fact, Willie was among those who did leave under Captain Grant on 17 August. Arriving in camp, the men of the second detail of South Canterbury infantry "quickly settled down in the quarters prepared for them." Single and Presbyterian, he nominated his mother, Mrs Alice Millar, as next-of-kin. Also recorded was a. C. Craigie, 48 Denbigh Street, Belgrave,London. He was a well-built man, standing at 5 feet 10 inches, weighing 152 pounds, and with a chest measurement 34-37 inches. His complexion was dark, his eyes light brown, and his hair black. His sight, hearing and colour vision were all normal, as were his heart and lungs. His limbs and chest were well formed. He had three false upper teeth; the remainder were good. And he had a pedunculated mole at the angle of his right scapula. He was in good bodily and mental health, and free of diseases and defects. He had already served for six years with the Timaru Rifle Volunteers. Private W. D. Millar embarked with the Canterbury Infantry Regiment of the Main Body on 16 October 1914 at Lyttelton, destined for Suez, Egypt, reaching there in December.
He was a well built, healthy man, but such is no defence against gun shot. The next mention of Private Millar, 6/508, was the dreaded one. On 29 April 1915, he died of a gunshot wound to the head in the 1st Australian Casualty Clearing Station at the Dardanelles, Gallipoli, without seeing another birthday. The thirty-first casualty list recorded heavy losses in the Canterbury Battalion, the overall losses creating uncertainty with actual dates from 25 April to 1 May. William David Millar was buried in Beach Cemetery, Anzac, Turkey. Beach Cemetery, which contains 391 burials in a large curved plot, is situated on what was called Hell Spit, facing the sea, and was used throughout the occupation of Anzac. When the thirty-third casualty list was received in Timaru on 23 May, very sincere sympathy was expressed for the bereaved parents and the flag at the Municipal Chambers was flown at half-mast. The Mayor of Timaru asked the citizens to fly their flags at half-mast on 24 May, "out of respect to the memory of the gallant men who have fallen in defence of their country", several local men having fallen.
William was a prominent, active and valued member of Chalmers Church, where the Dead March in Saul was played at the close of the Sunday service on 23 May 1915, out of respect for his memory. He had been a deacon of the church, a member of the choir, a Sunday School teacher, and a member of the young men's Bible class. "In all this work he had proved himself faithful," noted the Rev Harris. "No doubt, he had proved as faithful a soldier, indeed, he had been faithful unto death." And the annual report of Chalmers Church in August 1915 referred sympathetically to the deaths of members who had lost their lives in their country's cause; especial regret was expressed in regard to William's death in several of the reports presented. His name is one of 34 recorded on the church honour roll beneath the inscription – "To the glory of god, and in affectionate remembrance of those men connected with this Church, who made the Supreme Sacrifice in the Great War." He was also a Brother of the Loyal Timaru Lodge, I.O.O.F., where his name is inscribed on a memorial tablet. Under the headline "Oarsmen at the Front", the Lyttelton Times of 28 October 1916 notes from the annual report of the Canterbury Rowing Association – "During the past twelve months, the number of members who are wearing kkahi has greatly increased, . . . . Many have been wounded, and some have made the supreme sacrifice. Our sorrow at their loss is mingled with pride at the splendid record which the rowing clubs have made, and, beyond doubt, the stamina that hard training has given to our men has stood them in good stead in this sterner game of war." In the roll which follows for the Timaru Rowing Club is the name of W. D. Millar (Killed), among the names of ninety men. At the meeting of the South School Committee of 9 June 1915, a resolution was passed of sympathy with the mother of William, an ex-pupil of the school. His name is inscribed on the tablet in memory of ex-pupils who fell in the Great War, which was unveiled at Timaru South School on 18 September 1919 in a memorable and unique ceremony. "No nobler boys had left the shores of New Zealand than ex-pupils of the Timaru South School," said one long-term committee member.
He was a brother of Robert James Millar (6/507) who also served in World War I and of Letitia Annie Millar who served in the Nursing Corps in World War I. William and Bob embarked together in October 1914, bearing consecutive service numbers and being among the first to enlist to serve their country. Little did they know that less than five months after reaching Egypt, William would die of wounds received in action. His medals - 1914-15 Star, British War Medal and Victory Medal, plaque and scroll were all sent to his mother, and a sum of £26 was granted to her from the pensions fund. William David Millar did leave a will, which he had drawn up on 7 October 1912. His eldest brother, John Alexander Millar (Alex), was one of the executors, and to him was bequeathed all of William's property, real and personal. All proceeds of any sales were to be invested and the income from investments to go to his mother and, after her death, to all his brothers and sisters. His portrait was printed in the Auckland Weekly News 1916; an image was include in "South Canterbury Caledonian Roll of Honour" published by the South Canterbury Caledonian Society, 1916 and held by South Canterbury Museum ref# 17/15; South Canterbury Museum #2006/064.12; and a portrait is included in "Onward – Portraits of the New Zealand Expeditionary Force", Volume I. Private William David Millar is remembered on the Timaru Memorial Wall, the Timaru South School Memorial plaque, the Chalmers Church Honour Roll, and the Loyal Timaru Lodge of Oddfellows memorial tablet.
Sources
Auckland War Memorial Museum Cenotaph Database [16 March 2014]; NZ Defence Force Personnel Records (Archives NZ ref. AABK 18805 W5549 0080816) [27 August 2014]; CWGC [16 March 2014]; South Canterbury Times, 23 December 1887, 20 December 1888, 19 December 1889, 18 December 1890, Timaru Herald, 24 December 1887, 7 November 1903, 2 February 1904, 8 March 1904, 15 July 1912, 7 October 1912, 13 & 18 August 1914, 24 May 1915 [x 2], 10 June 1915, 28 August 1915, 19 September 1919, 6 July 1920, Ashburton Guardian, 14 August 1914, Press, 18 & 21 August 1914, 25 May 1915, Star, 18 August 1914, Sun, 5 September 1914, Dominion, 24 May 1915, Lyttelton Times, 25 & 26 May 1915, 28 October 1916, New Zealand Times, 25 May 1915 (Papers Past) [16 March 2014; 30 May 2014; 03 August 2014; 01 September 2014; 27 April 2019; 13 & 15 March 2020]; School Admission Registers (South Canterbury Branch NZSG) [March 2014; 01 September 2014]; NZ Birth Indexes (Department of Internal Affairs) [March 2014; 01 September 2014]; NZ Electoral Rolls (ancestry.com.au) [01 September 2014]; Mountainview High School Roll of Honour [13 May 2016]
External Links
Related Documents
Researched and Written by
Teresa Scott, SC branch NZSG
Currently Assigned to
TS
Licensed under a Creative Commons Attribution-NonCommercial 4.0 International License unless otherwise stated.
Tell us more
Do you have information that could be added to this story? Or related images that you are happy to share? Submit them here!