McGREGOR, Philip Donald
(Service number 6/1656)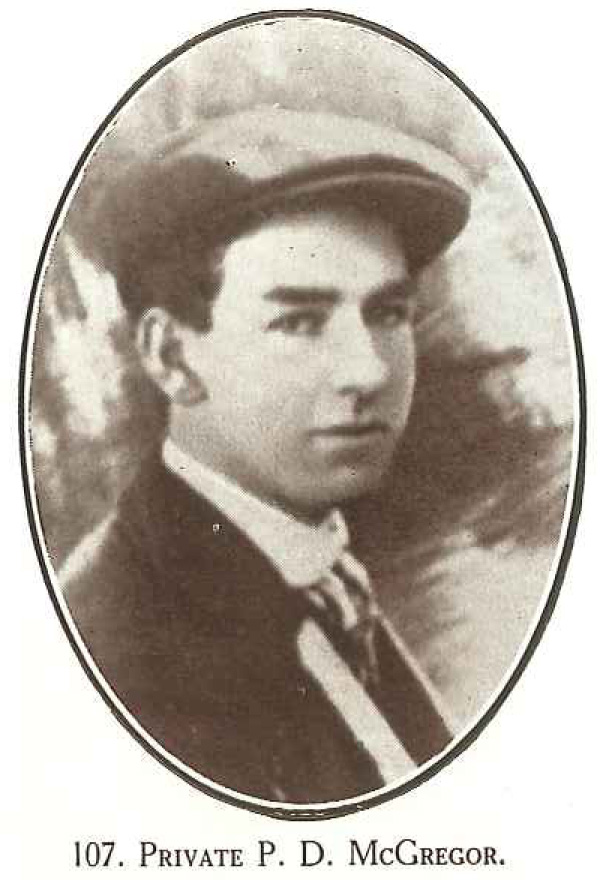 Aliases
First Rank
Private
Last Rank
Private
Birth
Date
23 October 1894
Place

of Birth

Burkes Pass, Mackenzie Country, New Zealand
Enlistment Information
Date
20 December 1914
Age
20 years
Address

at Enlistment

7 Cashel Street, Christchurch
Occupation
Sheep station hand

Previous

Military Experience
Territorial.
Marital Status
Single
Next of Kin
John McGREGOR (father), Fairlie, South Canterbury
Religion
Roman Catholic
Medical

Information

Height 5 feet 8 inches. Weight 134 lbs. Chest measurement 33-36 inches. Complexion medium. Eyes hazel. Hair brown. Eyes both 6/6. Hearing and colour vision normal. Limbs well formed. Full and perfect movement of all joints. Heart and lungs normal. Teeth good. Free from hernia, varicocele, varicose veins, haemorrhoids, inveterate or contagious skin disease. Vaccinated. Good bodily and mental health. No defects. Mole in angle of right jaw. Fit.
Military Service
Served with
NZ Armed Forces
Served in
Army

Military

District
Embarkation Information
Body

on Embarkation

3rd Reinforcements
Unit

, Squadron, or Ship

Canterbury Infantry Battalion
Date
14 February 1915
Transport
Maunganui or Tahiti or Aparima

Embarked

From
Wellington
Destination
Suez, Egypt
Other Units

Served With

Last Unit

Served With

Canterbury Infantry Battalion
Military Awards
Campaigns
Balkan (Gallipoli); Egyptian
Service Medals
1914-15 Star; British War Medal; Victory Medal.

Military

Awards
Award Circumstances and Date
No information
Prisoner of War Information
Date of Capture
Where Captured

and by Whom

Actions Prior to Capture
PoW Serial Number
PoW Camps
Days Interned
Liberation Date
Hospitals, Wounds, Diseases and Illnesses
7 August 1915 wounded at the Dardanelles - gunshot wounds to the neck. 8 August 1915 admitted to Hospital Ship "Delta". 11 August 1915 admitted to N.Z. Gen. Hosp, Cairo. 19 August 1915 dangerously ill of typhoid in the New Zealand General Hospital, Cairo, before he died there on 20 August 1915.
Post-war Occupations
Death
Date
29 August 1915
Age
20 years
Place

of Death

New Zealand General Hospital, Cairo
Cause
Died of gunshot wounds in the neck and endocarditis complicating typhoid.
Notices
Memorial or Cemetery
Cairo War Memorial Cemetery, Egypt
Memorial Reference
M. 63.
N

ew

Z

ealand

Memorials
Timaru Memorial Wall; Mackenzie District War Memorial, Fairlie
Biographical Notes
Philip Donald McGregor was the youngest son of John and Sarah Josephine (née Stent) McGregor, of Fairlie. He was born on 23 October 1894 at Burkes Pass, Mackenzie Country, and baptised on 25 November 1894 at the Timaru Catholic Church. Philip's father, John McGregor, had arrived in New Zealand from Banffshire, Scotland in 1863. Almost immediately he became associated with the Mackenzie district, bringing the first sheep down from Christchurch for the Grampians run. He bought the Glenmore run in 1874, and 16 years later he acquired a large property near Burke's Pass. In 1878 at St Joseph's in Dunedin he married Australian-born Sarah Josephine Stent. John was very much involved in local public affairs. The famous Lake Alexandrina trout were released into the lake in 1881 by John McGregor. Nearby Lake McGregor is named after this family. With his brothers and sisters Philip attended Burkes Pass School, transferring to Albury School at the age of twelve and leaving there for work at the age of fourteen. It was at Burkes Pass School in 1904 that Philip was awarded a prize for Standard IV and an attendance prize. He gained a certificate of proficiency in the annual examinations of Standard VI pupils in his last year (1908) at Albury.
Philip was only 20 years old, not old enough to vote, and was already serving in the Territorial force when he enlisted on 20 December 1914. At the time he was residing at his brother Lake's Christchurch address and, in family tradition, working as a sheep station hand for this brother. Single and Roman Catholic, he nominated his father – John McGregor, of Fairlie, South Canterbury, as next-of-kin. He was 5 feet 8 inches tall, weighed 134 pounds, and had a chest measurement of 33-36 inches. His complexion was medium, his eyes hazel, and his hair brown. His sight, hearing and colour vision were all normal, as were his heart and lungs. His limbs were well formed and the movement of his joints perfect. With good teeth; vaccinated, and free of diseases and defects, he was deemed fit. He had a mole in the angle of his right jaw.
He left Wellington, New Zealand on 14 February 1915, two months after enlisting, and disembarked at Suez, Egypt, on 28 March. He was one of a "heaving mass" of men who had volunteered, Philip joining the 3rd Reinforcements of the Canterbury Infantry. He had been inoculated for typhoid on 24 January 1915 and for measles on 3 March. Wounded on 7 August 1915 at the Dardanelles, Philip was admitted to the Hospital Ship "Delta" the following day, with gunshot wounds to the neck. The casualty lists issued at the time were the heaviest to date. On 11 August 1915 he was transferred to the New Zealand General Hospital at Cairo, where, on 19 August, he was reported, in a telegram from Base Records Office, Wellington, to be dangerously ill with typhoid. Ten days later, on 29 August 1915, he died there of gunshot wounds in the neck and malignant endocarditis complicated by typhoid, aged 20 years 10 months; he was buried in the Cairo War Memorial Cemetery, Egypt.
On 6 September 1915 Philip's father received advice and expressions of sympathy from the Minister of Defence, Mr Allen, from Mr Massey, and from the Governor's secretary. Philip was described as "a bright intelligent lad". At a sitting of the Magistrate's Court at Fairlie on 14 September 1915, a letter of condolence was presented to his father (John McGregor was a JP) on behalf of the Justices of the Peace of the Fairlie district: - "Dear Sir, - We the undersigned Justices of the Peace . . . [extend to you] and to Mrs McGregor our sincere sympathy with you both in the loss of your son who died in action at the Dardanelles. We feel that it will be some consolation to you to realise that he died a glorious death in fighting for the Empire." This was signed by all the Justices. Mr McGregor feelingly thanked them. Back at the front, on 4 November, John Duncan McLeod (originally also from Fairlie in the Mackenzie, but serving with Australian forces) wrote in his diary on Gallipoli that he too had received a letter from his mother (Sept 10th) telling him of the death of Philip in hospital.
Philip's medals (1914-15 Star, British War Medal and Victory Medal), plaque and scroll were all sent to his oldest brother Francis Lake McGregor in 1921. His next-of-kin had been his father John, but both parents had died in 1918. As Philip McGregor died intestate, the Public Trustee administered his estate - £31.5.11 in cash and £1. 18 shillings in pay accrued to death. The family of John and Sarah had a good war record. Philip was a brother of Andrew Ewan McGregor who was at the Dardanelles when Philip died and who himself died in 1920 at Christchurch of wounds inflicted while on active service. Both Philip and Andrew were wounded at the landing at Suvla Bay, Philip died as a result and Andrew was later badly wounded at the Somme. His brothers Alexander Joseph McGregor and James Allan McGregor also served in World War I. Alexander was severely wounded in France; Allan went later and appears to have suffered on his return. A fifth son may have volunteered twice and been turned down twice. Two older brothers, Francis Lake McGregor and John Gladstone McGregor were listed in the Reserves. Lake, as he was known, had married in 1914 at Timaru, and in September 1918 he was medically classified C2, his appeal being adjourned sine die. His brother Francis Lake McGregor had a son named Philip Donald who served in World War II and brother John Gladstone McGregor had a son named Philip Donald who died in infancy. Lake and John both died in 1945. Mrs McGregor provided old linen and material for pillow cases to the Fairlie Ladies' Patriotic Society. Mr and Mrs McGregor died within three months of each other in 1918 and are buried in the Timaru Cemetery.
The Lady Liverpool Committee received from Miss Ettie Rout, secretary of the Volunteer Sisterhood, in June 1916, over two hundred addressed envelopes containing dried flowers taken from the graves of soldiers who were buried in the old Cairo Cemetery, Cairo, and the Chatby Cemetery, Alexandria. The flowers – English roses, pale lilies and vivid native blooms - had been placed on the graves in the morning of 25 April 1916. Some were taken from the wreaths in the evening of the same day by the Sisters to be sent as a message of comfort to the grieving relatives of the fallen soldiers. The relatives could apply to the depot in Christchurch to receive the flowers. One of those fallen soldiers, from whose graves the flowers had been sent, was Private P. D. McGregor.
Philip Donald McGregor is honoured on the Timaru War Memorial Wall and on the Mackenzie District War Memorial at Fairlie. The original Mackenzie County War Memorial was unveiled on 16 December 1929. It has since been rebuilt. The parade, including the Timaru Municipal Band, 49 Returned Soldiers, the Executive Committee of the War Memorial, the Mackenzie Pipe Band, and School children from Mackenzie County Schools, formed up at the Post Office and marched to the site of the memorial. After the singing of the National Anthem, and a verse of the Canadian Anthem, the Chairman addressed the gathering, expressing gratification at the fact that at long last they were met to unveil and dedicate the memorial to the soldiers from the Mackenzie County who fell in the Great War. The design was unique in South Canterbury. Ii was not a cenotaph, or solely a monument of those buried else-where. It expressed more than that. It was a catafalque, a cairn upon which symbolically the remains of the Unknown Warrior were elevated, and were contained in the representation of a casket at the top of the structure. The base was composed of glacial boulders, and the shaft of limestone blocks. The whole erection was therefore constructed of indigenous stone. Thus symbolically the Warrior rested on his native soil. The wreath above the tablet, composed of laurel leaves carved in stone symbolised victory. The tablet on which the names were inscribed is of marble. There is a photo of Private P. D. McGregor in Onward: Portraits of the NZEF, Vol. 1.
Sources
Auckland War Memorial Museum Cenotaph Database [18 November 2013]; NZ Defence Force Personnel Records (Archives NZ ref. AABK 18805 W5544 0073593) [20 November 2013]; CWGC [21 November 2013]; Timaru Herald, 26 December 1905, 29 April 1914, 13 February 1915, 18 & 25 [x 2] August 1915, 7 [x 2] & 9 September 1915, 21 October 1915, 3, 6, 7 & 10 July 1918, 11 October 1918, Temuka Leader, 24 December 1908, Sun, 13 February 1915, 18 August 1915, 30 June 1916, Evening Post, 17 August 1915, Auckland Star, 18 August 1915, 10 December 1945, Press, 7, 8 & 15 September 1915, 30 June 1916, 22 October 1945, New Zealand Herald, 7 September 1915, Waimate Daily Advertiser, 7 September 1915, Southland Times, 7 September 1915, New Zealand times, 7 September 1915, North Otago Times, 9 September 1915, Sun, 10 September 1918 (Papers Past) [18, 25 & 26 November 2013; 12, 13 & 17 May 2015; 03 July 2015; 03, 04 & 08 November 2019]; School Admission Records (South Canterbury Branch NZSG) [15 May 2015]; NZ Electoral Rolls (ancestry.com.au) [2014]; NZ BDM Indexes (Department of Internal Affairs) [22 November 2013]; Probate record (Archives NZ/FamilySearch) [10 May 2015]; Baptism records (Catholic Diocese of Christchurch CD, held by S C Branch NZSG) [17 May 2015]; SCRoll web submission from M Konings, 29 October, 2015; McLeod, J D (Sergeant), fl 1915-1917. McLeod, John Duncan, 1887-1938 : First World War diary. Ref: MS-Papers-1382. Alexander Turnbull Library, Wellington, New Zealand. http://natlib.govt.nz/records/22847648; Alexander Turnbull Library blog - http://natlib.govt.nz/blog/posts/a-queer-mixture-of-men; Onward: Portraits of the NZEF, Vol. 1 – P. J. Beattie & M. J. Pomeroy (held by South Canterbury Branch NZSG) [2014]; Timaru Herald, 17 December 1929
External Links
Related Documents
Researched and Written by
Teresa Scott, SC branch NZSG
Currently Assigned to
TS
Licensed under a Creative Commons Attribution-NonCommercial 4.0 International License unless otherwise stated.
Tell us more
Do you have information that could be added to this story? Or related images that you are happy to share? Submit them here!