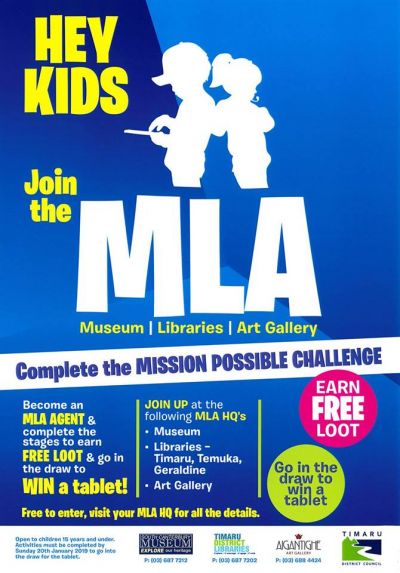 We have your January covered - join us for some fun activities!
We're part of a new programme - the MLA - a Museum | Library | Art Gallery programme that has Timaru District Council facilities offering the chance to have fun doing a range of activities - and being able to win prizes!
Kids can pick up a passport at any one of the facilities, and then start collecting stamps for doing activities. Passports will be available from Thursday 20 December.
We'll be offering a range of activities here at the Museum including some field trips and activity sessions within the Museum - each one qualifies kids fro a MLA stamp. Join with us and the other facilities to give your kids a great January! The Art GAllery and Library will also be offering activities too - contact them to find out what activities they have on offer too.
Of course, if you're a Museum Explorer, you can get your Museum Explorer's passport stamped for each visit at the same time.
Check out the drop in sessions and field trips we are offering below.
No charge, no need to book, but all children under 10 need adult supervision.
Contact us if you need to know more!